House of Gucci is one of the biggest awards contenders this season, with Lady Gaga being the top contender for best actress for her portrayal of Patrizia Reggiani in the biographical crime drama film.
Promoting the film's award season run, Lady Gaga made an appearance on Jimmy Kimmel Live on Monday night.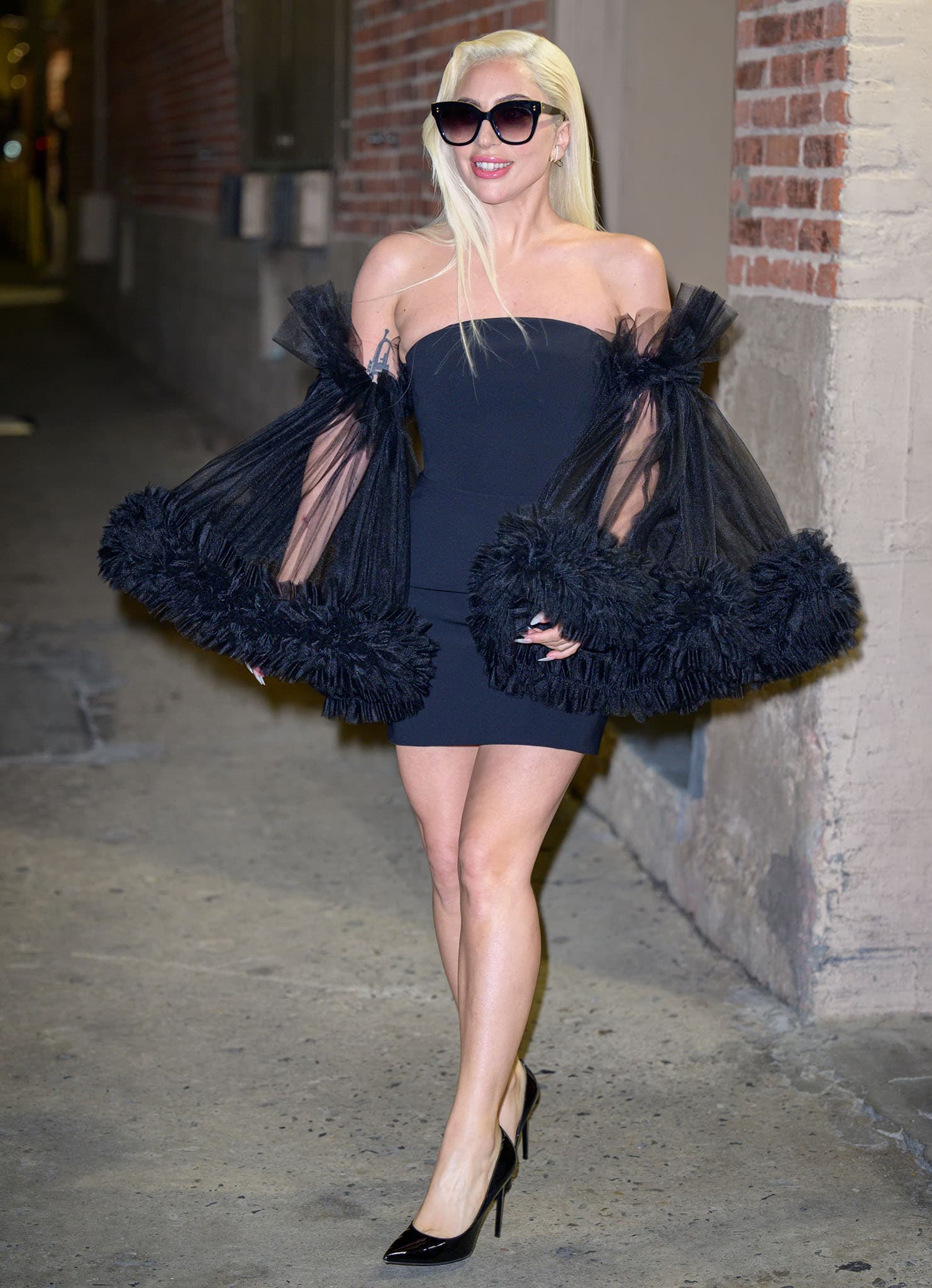 Lady Gaga arrives to tell Jimmy Kimmel about her House of Gucci sex scene in Los Angeles on January 24, 2022 (Credit: Mega / WENN)
She told the talk show host about a sex scene she filmed with Salma Hayek that was ultimately cut from the final version of the movie.
"I'll never forget when I told Salma," Gaga recalled about telling the From Dusk Till Dawn actress about her idea for a sex scene.
"I was like, OK listen, so, before we do this scene, I just want your consent to do something together. And she's like, OK, OK, OK, what do you want to do? And I said, OK, so I was thinking, you know, after the hit gets put out on Maurizio, and you get the phone call that he's dead, that I walk over to you and kiss you. And she's like, what?!"
"[Salma's] walking around the house and the camera was following her feet and all her cats were following her, and Salma – in order to get the cats to follow her – she put a bunch of catnip in her boots and the cats are following her," Gaga revealed as the audience laughed.
"Then we're surrounded by cats and we start making out – and I made out with Salma Hayek," Gaga added about the scene that director Ridley Scott decided not to include in the movie.
"I'm like that really, you know, that really annoying kid in school that's like bragging that they made out with the popular girl, but has no proof."
The Mother Monster paraded her flawless legs in a statement LBD from Christian Siriano's Pre-Fall 2022 collection as she arrived at the studio.
While the base of the dress itself looked simple with a strapless silhouette, the gathered sleeves made of tulle with frills at the bottom added volume and dramatic glamour to the look.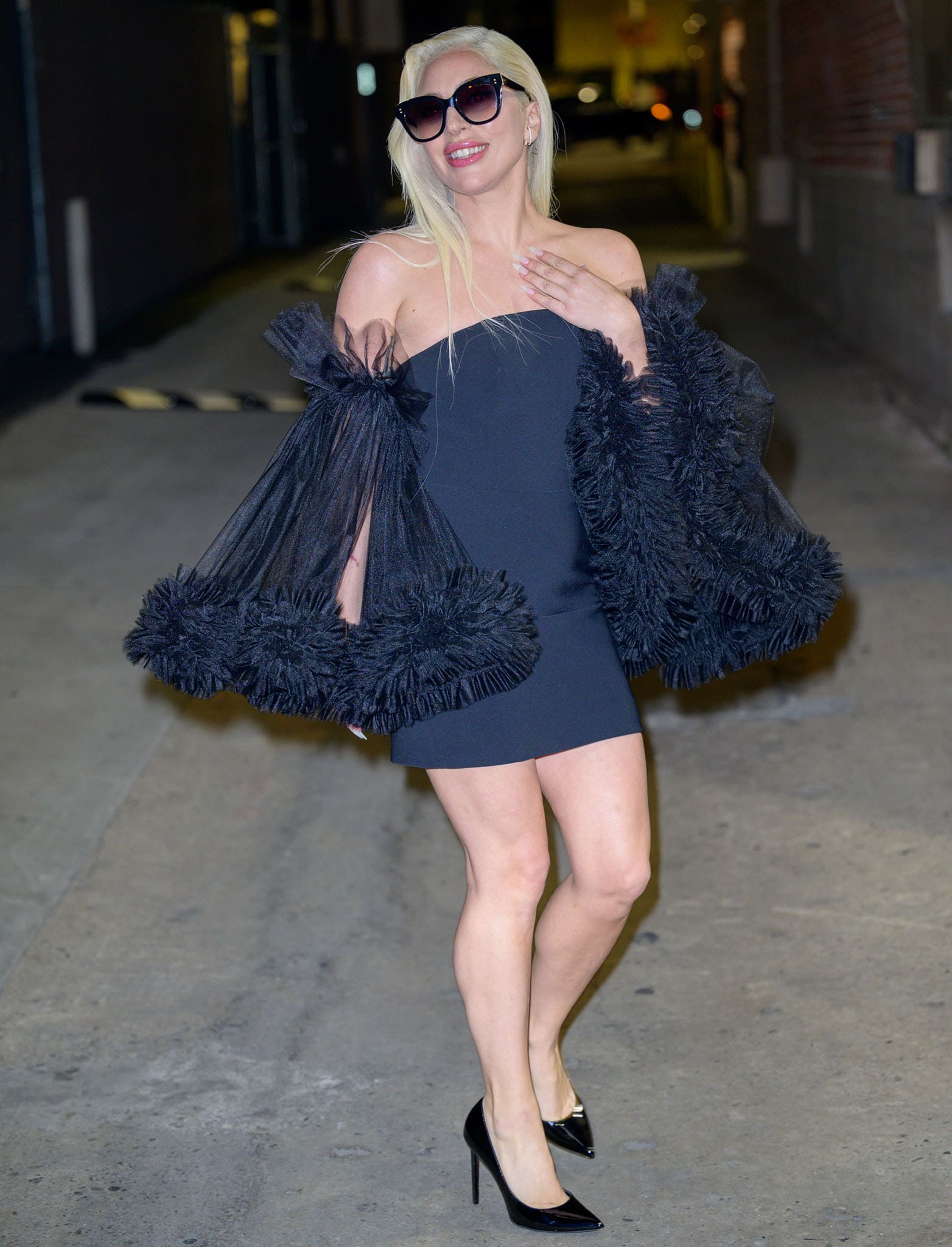 Lady Gaga parades her legs in a Christian Siriano Pre-Fall 2022 LBD with frilly tulle sleeves (Credit: Mega / WENN)
Allowing the $2,200 mini party dress to take center stage, the Born this Way singer kept the styling simple.
She accessorized with gold jewelry from Katkim, including a $2,850 mono pave earring, a pair of $876 Peak earrings, and a $3,800 Eternal Cloud ring.
Her little black dress contrasted with her long blonde tresses, which were styled straight and parted to one side.
Lady Gaga wears a sleek side-parted hairstyle and adds a pop of pink lip color to her look (Credit: Mega / WENN)
Completing her chic look were a set of $625 Dita "Day Tripper" sunglasses and Giuseppe Zanotti black patent pumps.
Surprisingly, they're not platforms. These pumps are rather simple with pointed toes and 4-inch stiletto heels.
Lady Gaga completes her outfit with Gianvito Rossi pumps (Credit: Mega / WENN)