Journey 2: The Mysterious Island actress Vanessa Hudgens is pretty notorious for her hippie-chic outfits and boho-chic vibes… and apparently, her love of unkempt, free-spirited style extends to her car.
In July 2016, the Disney Channel star was spotted going on her usual lunch and shopping run before hopping into her dusty car in Los Angeles.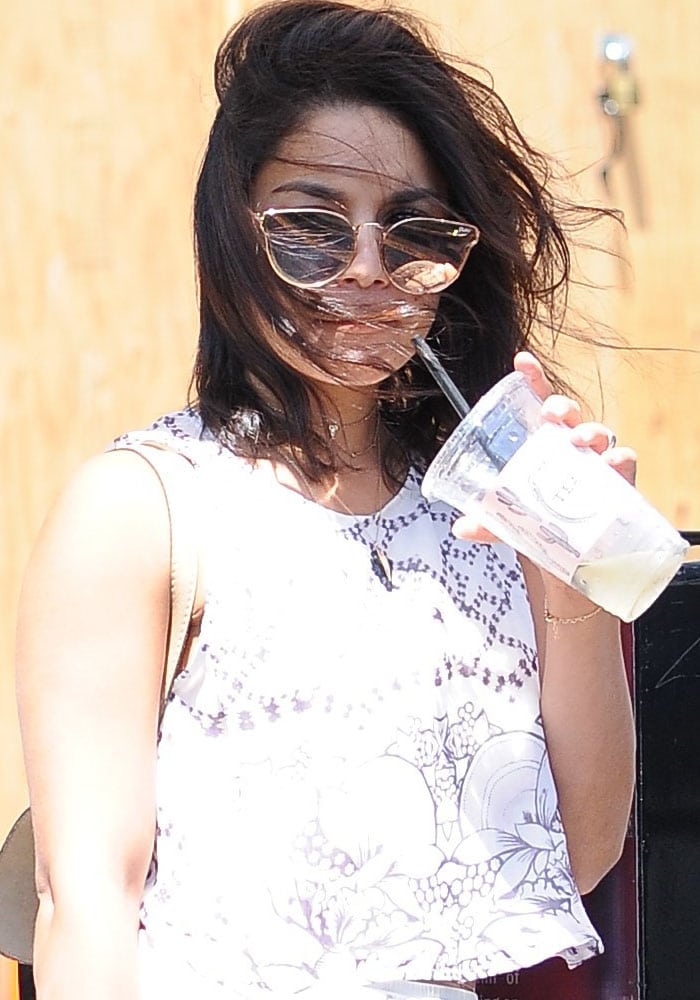 Vanessa Hudgens's hair blows in the wind as she waits for her car after a shopping trip on July 8, 2016, in Los Angeles (Credit: WENN)
Four years earlier, Vanessa Hudgens co-starred alongside Dwayne Johnson and Josh Hutcherson in the science fantasy action-adventure film Journey 2: The Mysterious Island – a sequel to the 2008 film Journey to the Center of the Earth.
Josh Hutcherson was the only actor to return from the previous movie.
Vanessa Hudgens (L) and Josh Hutcherson arrive for the world premiere of "Journey 2: The Mysterious Island" at Village Cinemas Jam Factory on January 15, 2012, in Melbourne, Australia (Credit: Anthony Licuria / INFevents)
She played Josh Hutcherson's romantic interest in the movie. Despite mixed to negative reviews from critics, the movie was a box office success, earning $325 million worldwide during its theatrical run, surpassing the earnings of its predecessor.
Playing the role of Kailani, a strong-willed islander who helps Sean (Josh Hutcherson) and his team navigate the dangers of the mysterious island, her performance in the movie was well-received, and her chemistry with Hutcherson was praised by critics.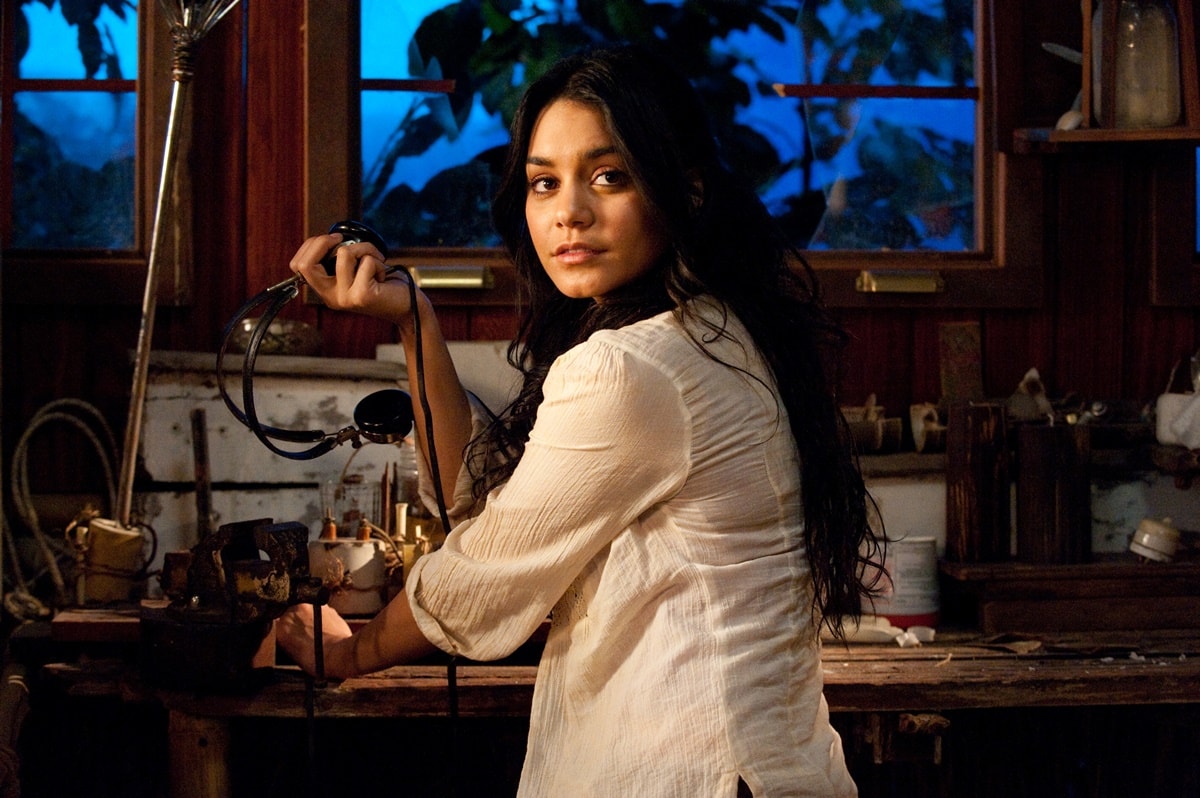 Vanessa Hudgens played the character of Kailani Laguatan in Journey 2: The Mysterious Island (Credit: Warner Bros. Pictures)
When "Journey 2: The Mysterious Island" was released in cinemas on February 10, 2012, Dwayne Johnson was 39 years old, Vanessa Hudgens was 23 years old, Josh Hutcherson was 19 years old, Michael Caine was 78 years old, and Luis Guzmán was 55 years old.
Vanessa Hudgens hides her eyes behind mirrored sunglasses while out on a Los Angeles coffee run (Credit: WENN)
The Bad Boys actress looked comfy in high-waisted white pants with an elastic waistband.
Vanessa paired them with a printed crop top, a cream-colored backpack, mirrored sunglasses, and metallic slides.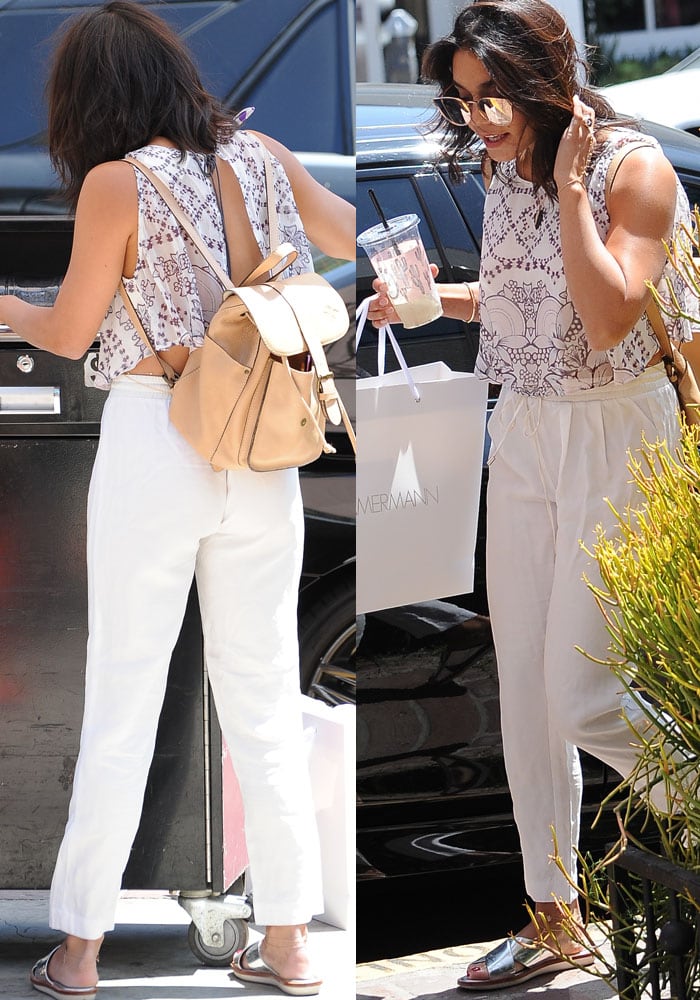 Vanessa Hudgens wears a printed crop top and white pants while running errands in Los Angeles (Credit: WENN)
Vanessa ditched her typical metallic Birkenstocks for a pair of "Adalla" slide sandals from Louise et Cie.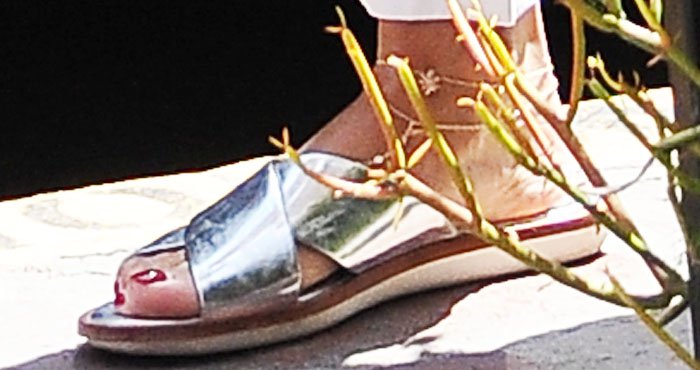 Vanessa Hudgens's feet in silver metallic Louise et Cie slide sandals (Credit: WENN)
\Check out the video of Vanessa and her extremely dusty car below.
These shiny slides have sold out, but you can order similar Calvin Klein metallic slides on Amazon and Zappos.
Louise et Cie Footwear 'Adalla' Slide Sandal, $69.97

Calvin Klein Women's "Whitley" Slide Sandal, $24.75 – $99