Jean-Michel Cazabat is perhaps the most eccentric of all the seasoned luxury shoe designers. His shoes can undoubtedly be described as sophisticated, but they're always doused in a layer of rock n roll-inspired boldness.
Vibrant colors, exotic skins, and rich textures made Jean-Michel Cazabat the go-to luxury shoe brand for cool girls and rock stars around the globe. However, his career has taken an interesting turn in recent years.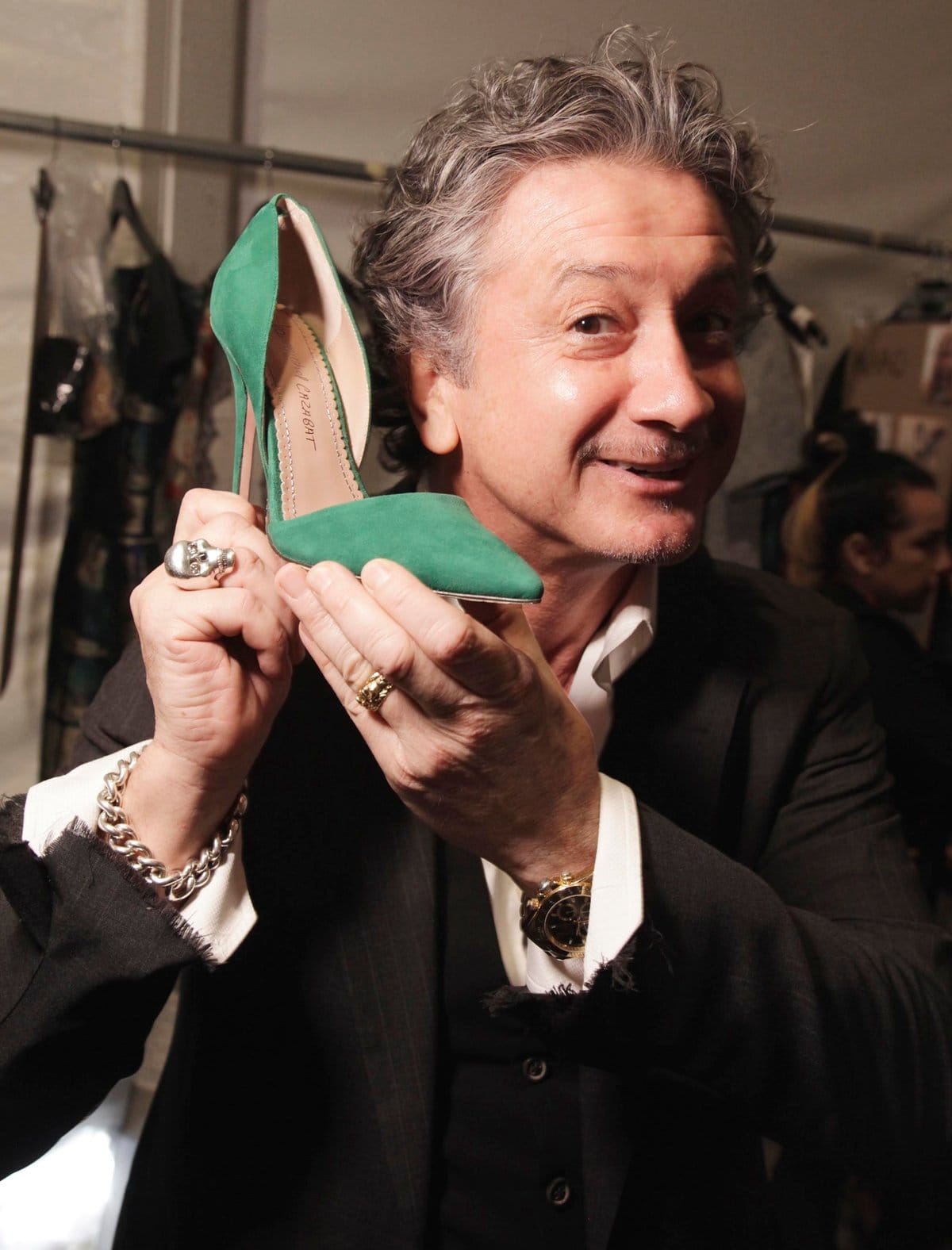 Legendary French shoe designer Jean-Michel Cazabat started his career as a buyer and store manager for fashion designer Charles Jourdan (Credit: Gerardo Somoza / Startraksphoto)
Find out what happened to Jean-Michel Cazabat's eponymous label and what he's working on now as we delve into the evolution of his design career below.
Bold Beginnings
Born in the Gascony region of Southern France, Jean-Michel Cazabat has never been afraid to make moves to achieve his dreams. His career began in Paris, where he worked as a buyer and store manager for the iconic French shoe designer Charles Jourdan from 1980-1985.
Cazabat then moved to New York in 1985 to work as the president of luxury shoe brand Stephane Kélian, where he oversaw operations for the North American market.
He returned to Charles Jourdan a decade later as the label's creative director, a role that would prepare him for the launch of his eponymous label.
Actress Jess Weixler, actress Jaime King, and shoe designer Jean-Michel Cazabat attend the Lela Rose Fall 2013 Mercedes-Benz Fashion Show at The Studio at Lincoln Center on February 10, 2013, in New York City (Credit: Gerardo Somoza / Startraksphoto)
Cazabat branched out on his own in 2000 after noticing a gap in the luxury shoe market for daring, edgy designs. While his contemporaries focused on classic femininity, Cazabat's designs stood out with their audacious silhouettes and subversive details.
Think cobalt blue and snakeskin color block pumps, ankle boots completely covered in fringing, and sculptural strappy sandals in canary yellow and cerulean blue.
His line was quickly picked up by prestigious retailers including Nordstrom, Shopbop, and Zappos.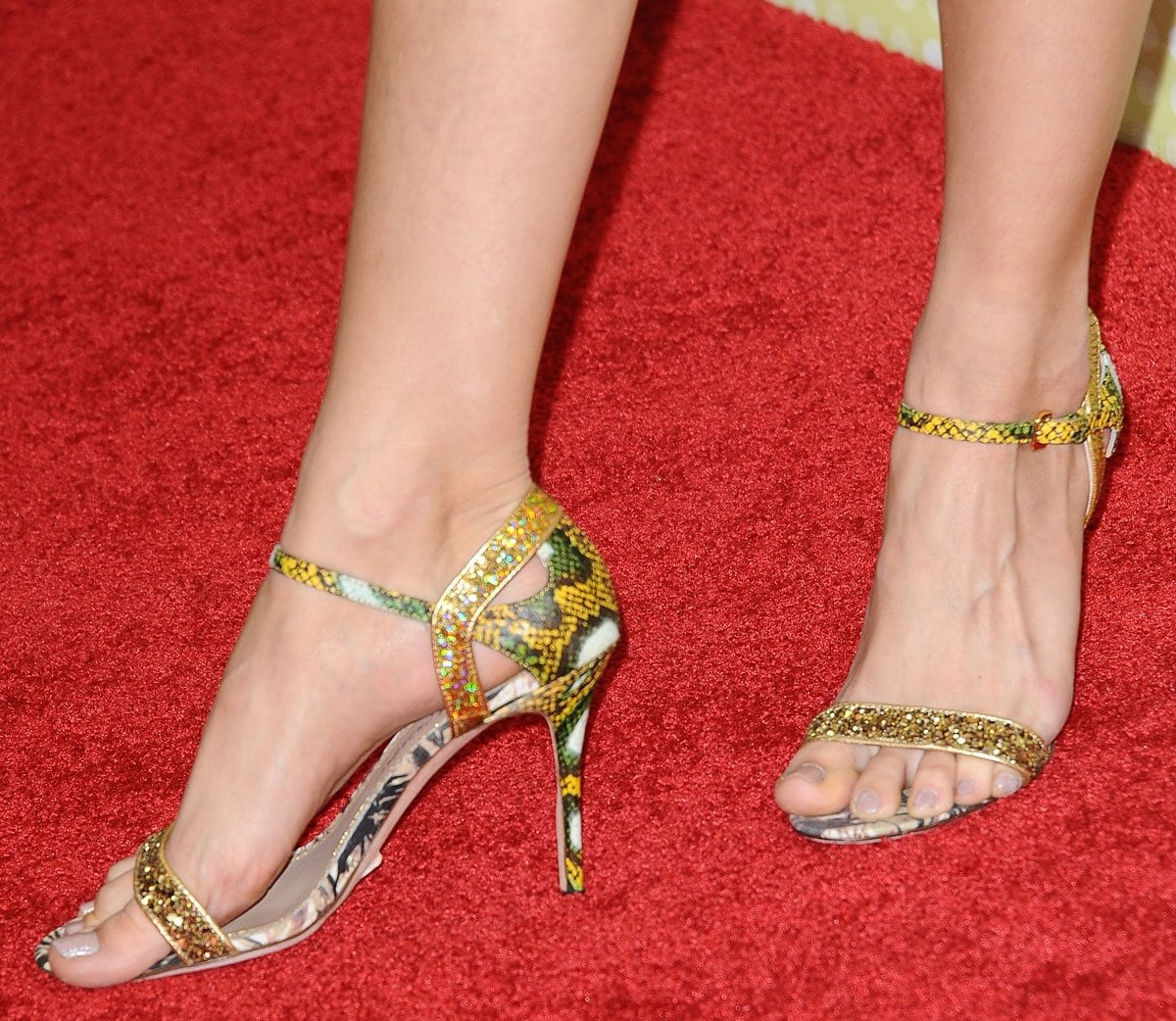 Debby Ryan shows off her feet in yellow and green snake-print Jean- Michel Cazabat 'Oka' glitter sandals (Credit: Sara De Boer / Startraksphoto)
Inspired by music, nightlife, and spirited women, Cazabat gained a celebrity following of Hollywood's coolest style icons.
His designs were spotted on trendsetters such as Kourtney Kardashian, Miley Cyrus, and Kristen Stewart, while his men's range was a favorite of rock stars like Lenny Kravitz and Elton John.
Cazabat had cemented his status as one of the top contemporary French luxury shoe designers using his natural whimsy and eccentricity.
Sustainable Futures
Jean-Michel Cazabat has shifted gears after almost two decades at the helm of his own label. In 2019 he joined Aera, a luxury vegan shoe label, as a co-founder after selling his own company for reasons currently unknown.
The French-born designer now works alongside Tina Bhojwani, former Senior Vice President of Theory, and Alvertos Revach, the founder of sustainable business investment fund Humble Holdings, to create chic vegan leather shoes that "don't look vegan."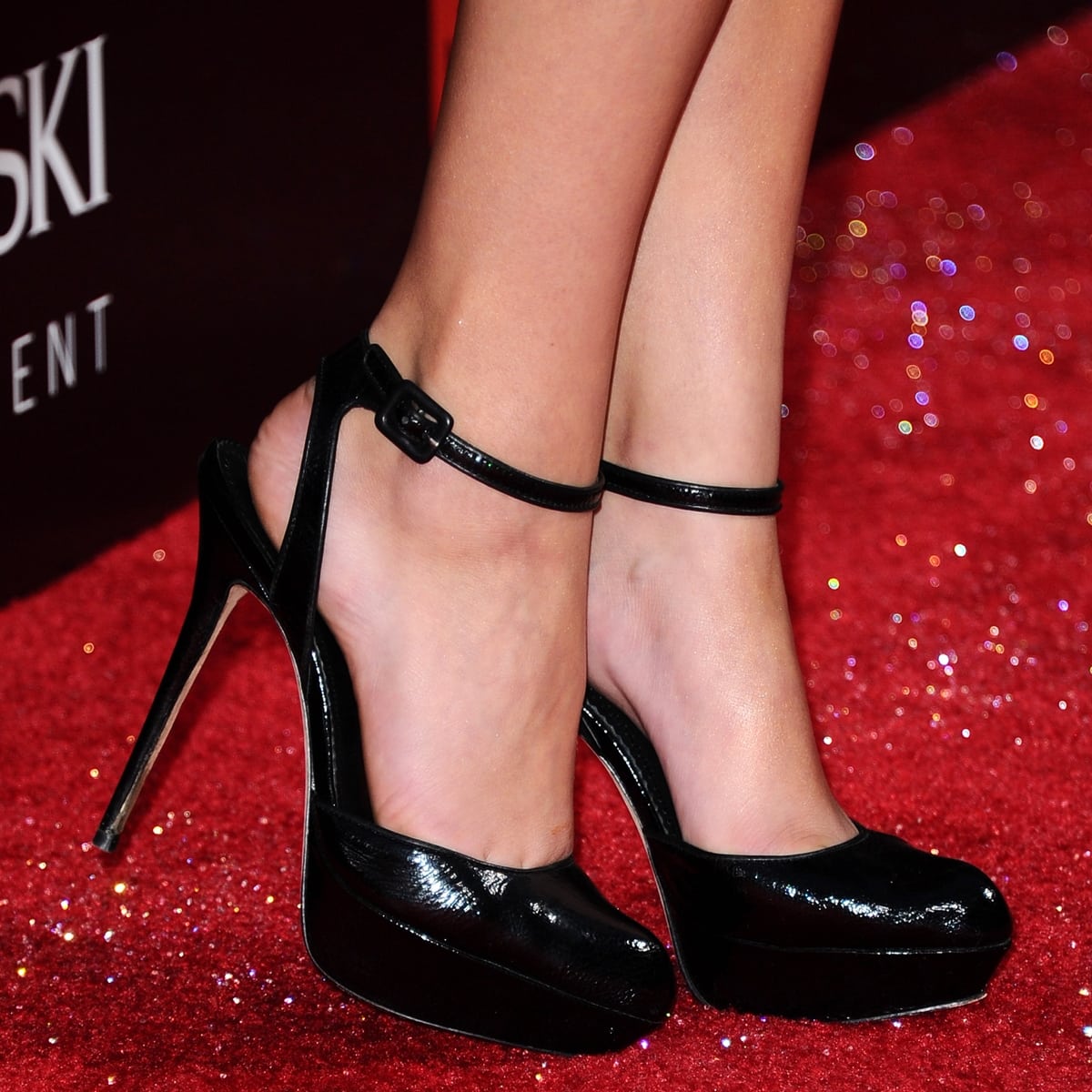 Bailee Madison shows off her feet in black patent leather Jean-Michel Cazabat 'Lex' ankle-strap pumps (Credit: Sara De Boer / Startraksphoto)
Cazabat was at a turning point in his career and wanted his future to focus on something that made a difference. Bhojwani came up with the idea for Aera with exactly that goal in mind.
After seeing how wasteful and damaging the fashion industry often is, she wanted to launch a brand that would change the detrimental norms of manufacturing.
Chloe Bailey in a gold plunging Area gown with Jimmy Choo shoes at the 2022 Costume Institute Benefit celebrating In America: An Anthology of Fashion at the Metropolitan Museum of Art on May 2, 2022, in New York City (Credit: Startraksphoto / John Nacion)
The trio are using their decades of combined experience to prove that sustainability and luxury fashion can go hand in hand.
Aera, named after the Greek word "to light up", has already been met with rave reviews from fashion editors and sustainability bloggers alike.
Cazabat uses his design prowess and his connections to create high quality, Italian-made shoes that are timelessly elegant and comfortable.
Flavia Lucini in an Alena Akhmadullina dress and Jean-Michel Cazabat shoes at the 2017 Unitas Gala at Capitale on September 12, 2017, in New York City (Credit: Nancy Rivera / INSTARimages)
Although Aera's designs are a bit tamer than Cazabat's eponymous collection, you can still find his signature accents of animal prints, metallic finishes, and pops of vibrant colors.
The line is filled with shoe wardrobe staples, including strappy sandals, ballet flats, and heeled ankle boots. Brittany Snow wore Aera Alexandra slingbacks at the 2019 Teen Choice Awards.
The new label combines the best of Cazabat's design expertise with forward-thinking practices for a better future.
Flavia Lucini shows off her feet in strappy Jean-Michel Cazabat 'Aria' sandals (Credit: Nancy Rivera / INSTARimages)
Aera offset their environmental impacts by 110% by working with organizations such as the Green Trees Reforestation Project, BEF Water Restoration Certificates, and Social Plastic Collection Credits to plant trees and restore clean waterways around the USA and the globe.
Cazabat's evolution has been nothing short of inspiring, and we can't wait to see him turn into the face of ultra-cool sustainable footwear.