Jennifer Aniston continues to shine brightly in the ever-evolving entertainment world, even after three decades in the limelight.
Thanks to her iconic role in Friends during the mid-'90s, she became a household name and a fixture in pop culture.
Jennifer Aniston became a household name due to her iconic role as Rachel Green in the beloved sitcom Friends (Credit: NBC)
Beyond her acting career, her love life has remained a topic of interest for fans, from her high-profile marriage to Brad Pitt to her deep connection with her second husband, Justin Theroux.
The Emmy Award-winning actress has always approached her romantic journey with a positive perspective.
In a candid interview with Elle in December 2018, Aniston reflected on her view of her relationships, saying, "My marriages, they've been very successful, in [my] personal opinion. And when they came to an end, it was a choice that was made because we chose to be happy, and sometimes happiness didn't exist within that arrangement anymore."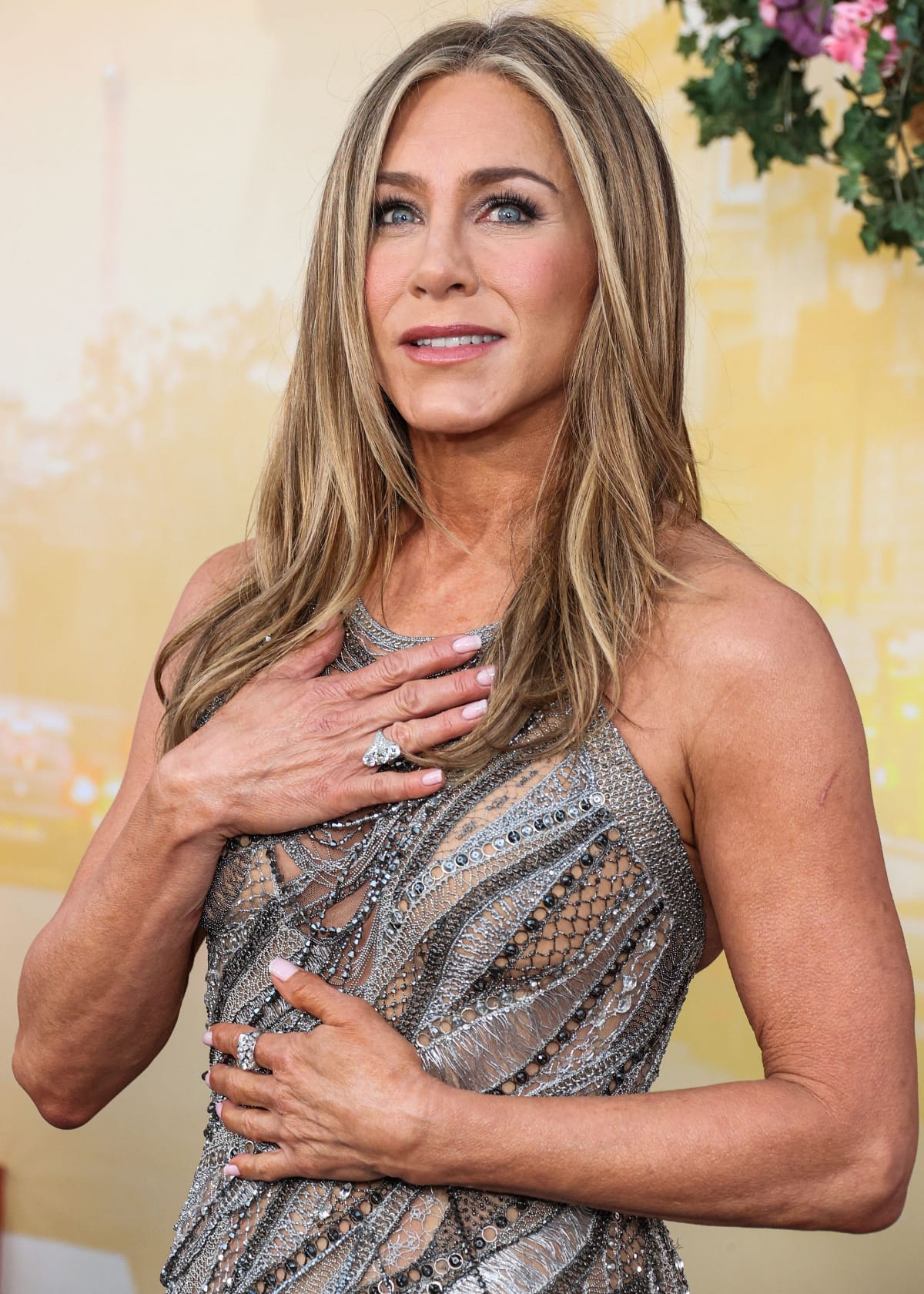 Jennifer Aniston always looks back on her romantic journey with a positive perspective (Credit: Abaca Press / INSTARimages)
Acknowledging the ups and downs of any relationship, the 54-year-old star emphasized that she wouldn't cling to a situation out of fear.
She explained, "Sure, there were bumps, and not every moment felt fantastic, obviously, but at the end of it, this is our one life and I would not stay in a situation out of fear. Fear of being alone. Fear of not being able to survive."
While Aniston has not been linked to any specific person recently, she has indicated that her heart has room for a new chapter. In a December 2022 interview with Allure Magazine, she shared that she "would love a relationship."
She also discussed the possibility of marriage again, saying, "Never say never, but I don't have any interest. I'd love a relationship. Who knows? There are moments I want to just crawl up in a ball and say, 'I need support.' It would be wonderful to come home and fall into somebody's arms and say, 'That was a tough day.'"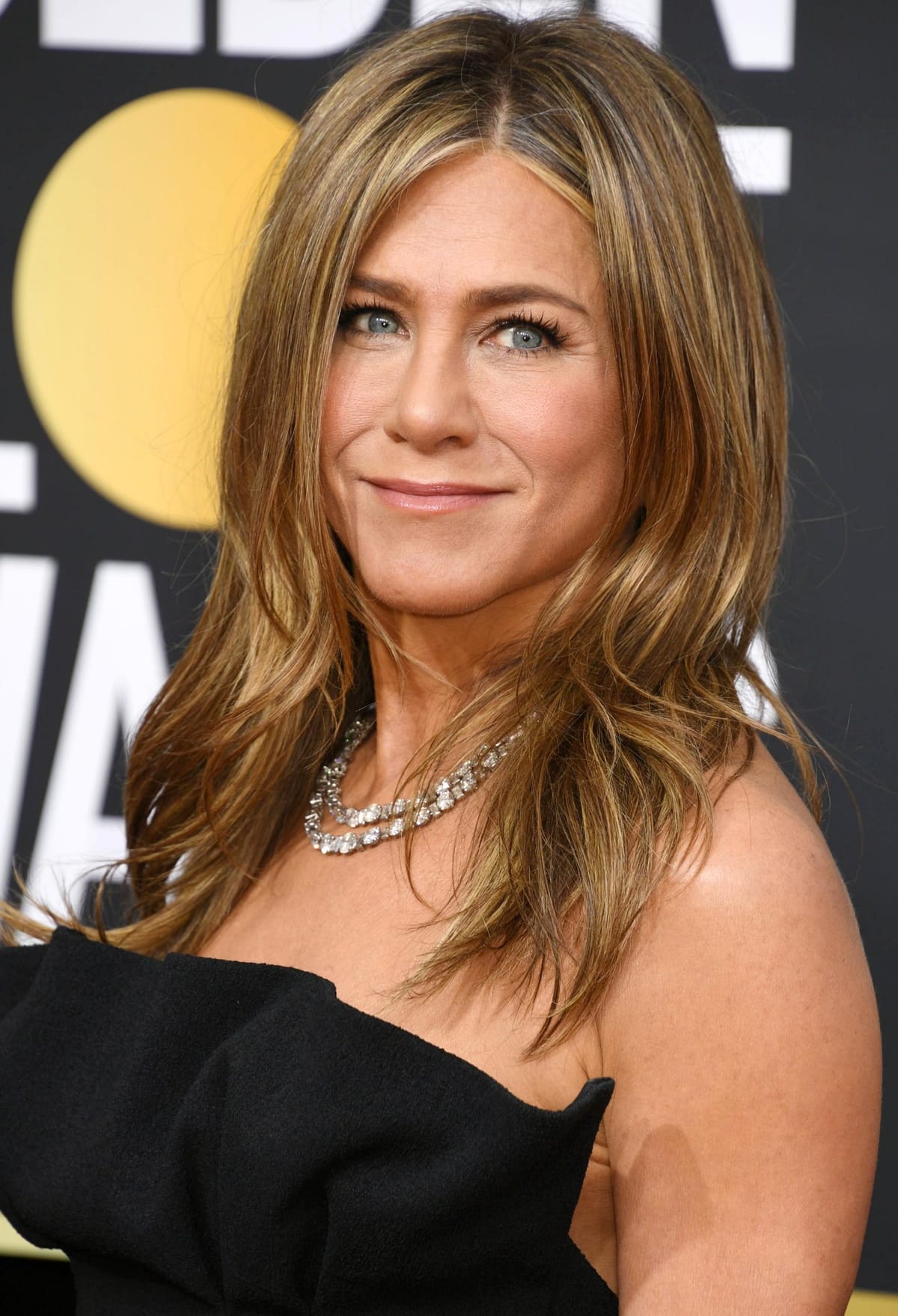 Jennifer Aniston has stated that her heart has room for a new relationship (Credit: JENNIFER GRAYLOCK / INSTARimages)
Continue reading to look at Jennifer Aniston's romantic past and explore her relationships, flings, and marriages that have shaped this remarkable actress' life.
1. Charlie Schlatter (1990)
Then 21-year-old Jennifer Aniston starred in the 1990 NBC sitcom Ferris Bueller, a TV adaptation of the movie Ferris Bueller's Day Off, which only ran for 13 episodes.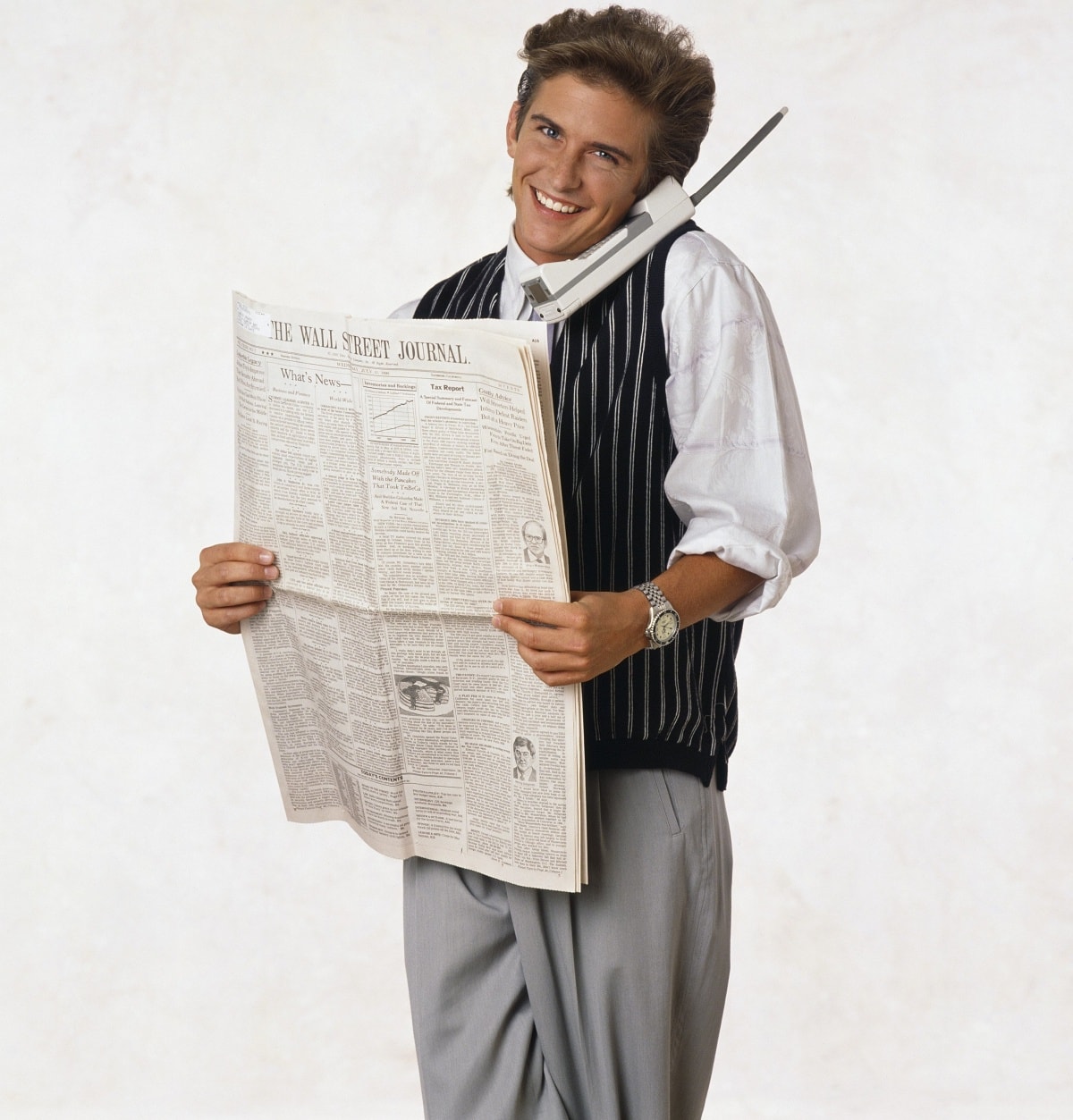 Promo shot featuring Charlie Schlatter as Ferris Bueller in the short-lived American sitcom Ferris Bueller (Credit: NBC)
During this project, Aniston, who portrayed Jeannie Bueller, the main character's sister, met 57-year-old Charlie Schlatter, who played the leading role of Ferris Bueller. Their on-screen chemistry led to rumors of a real-life romance.
In 2014, Jim Nelson, the Editor-in-Chief of GQ, shared that he had witnessed a "brief, torrid" relationship between Aniston and Schlatter while he was a writer's assistant on the show.
2. Daniel McDonald (1990 to 1995)
During the early 1990s, Aniston's heart found a special connection with American actor Daniel McDonald.
Their love story lasted five years, from 1990 to 1995. Unfortunately, tragedy struck when McDonald passed away from brain cancer in February 2007 at age 46.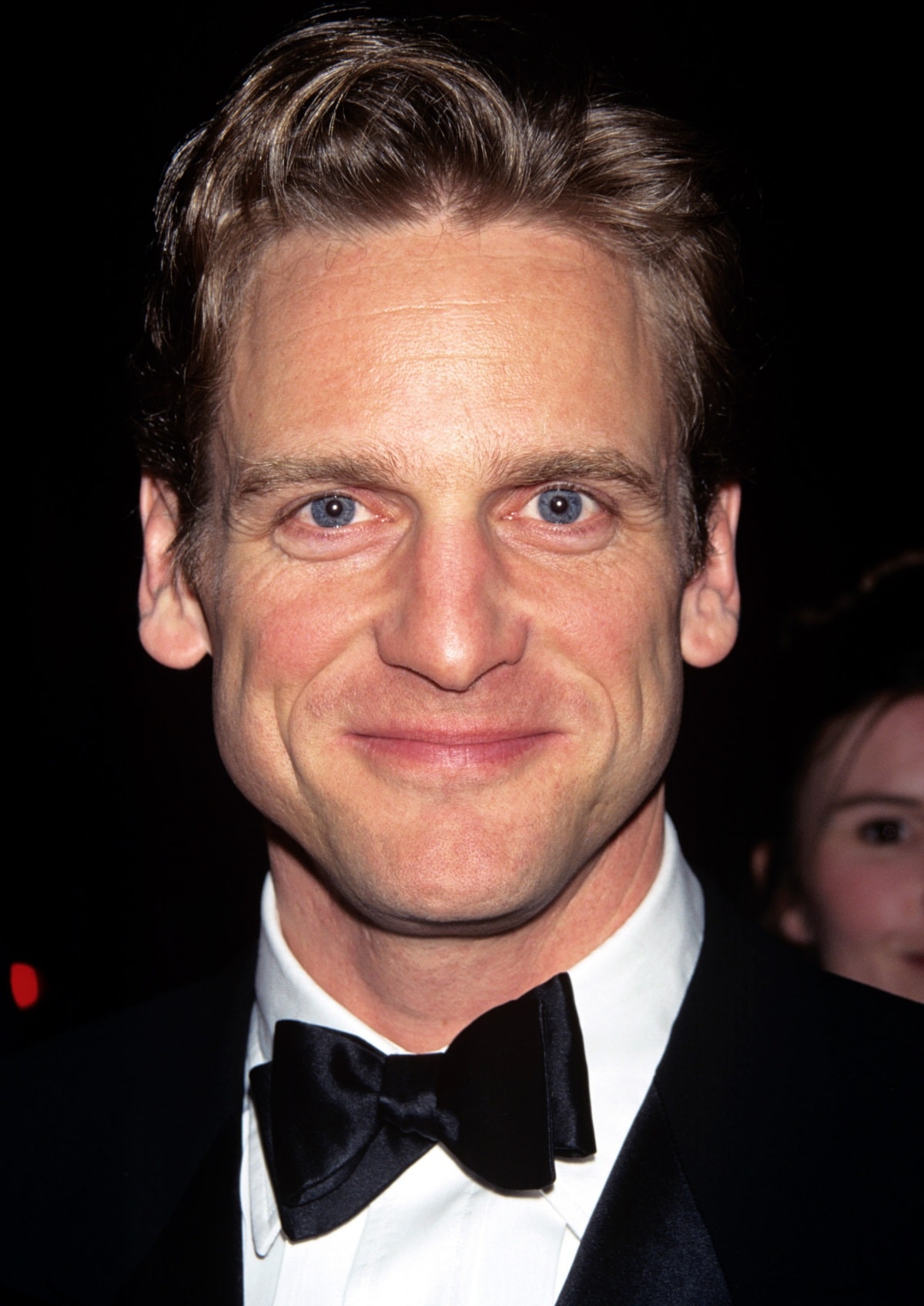 Jennifer Aniston refers to Daniel McDonald as her "first love" (Credit: Walter McBride / INFphoto)
In an interview with The New York Times in January 2015, she described their relationship as her "first love."
Aniston expressed a deep and genuine affection for McDonald: "He was my first love—five years we were together. He would have been the one. But I was 25, and I was stupid. He must have sent me Justin [Theroux] to make up for it all."
3. Adam Duritz (1995)
Jennifer Aniston and 59-year-old Adam Duritz, the lead singer of Counting Crows, briefly dated in 1995 after meeting at The Viper Room, a popular nightclub.
Jennifer Aniston briefly dated Adam Duritz of the American rock band Counting Crows in 1995 (Credit: Albert Ferreira / Startraksphoto)
Duritz recalled in Entertainment Tonight's exclusive sneak peek in July 2021 that he "met Jennifer Aniston there 'cause a bunch of my friends lied to me and told me she had a crush on me. And those same friends lied to her and told her I had a crush on her. I honestly had no idea who she was."
Even though the romance didn't last long, he remembered Aniston as "nice, really funny, really pretty. Those are pretty good requirements for me and also she liked me. [It] didn't last long, but she's a nice girl."
4. Tate Donovan (1995 to 1998)
In 1995, Aniston began a relationship with Tate Donovan, who had recently ended his romance with Sandra Bullock. They dated for three years, sharing a connection beyond their on-screen roles.
Donovan was cast as Rachel Green's love interest shortly after his real-life relationship with her ended in 1998. However, their off-screen breakup posed a challenge when he joined the Friends cast.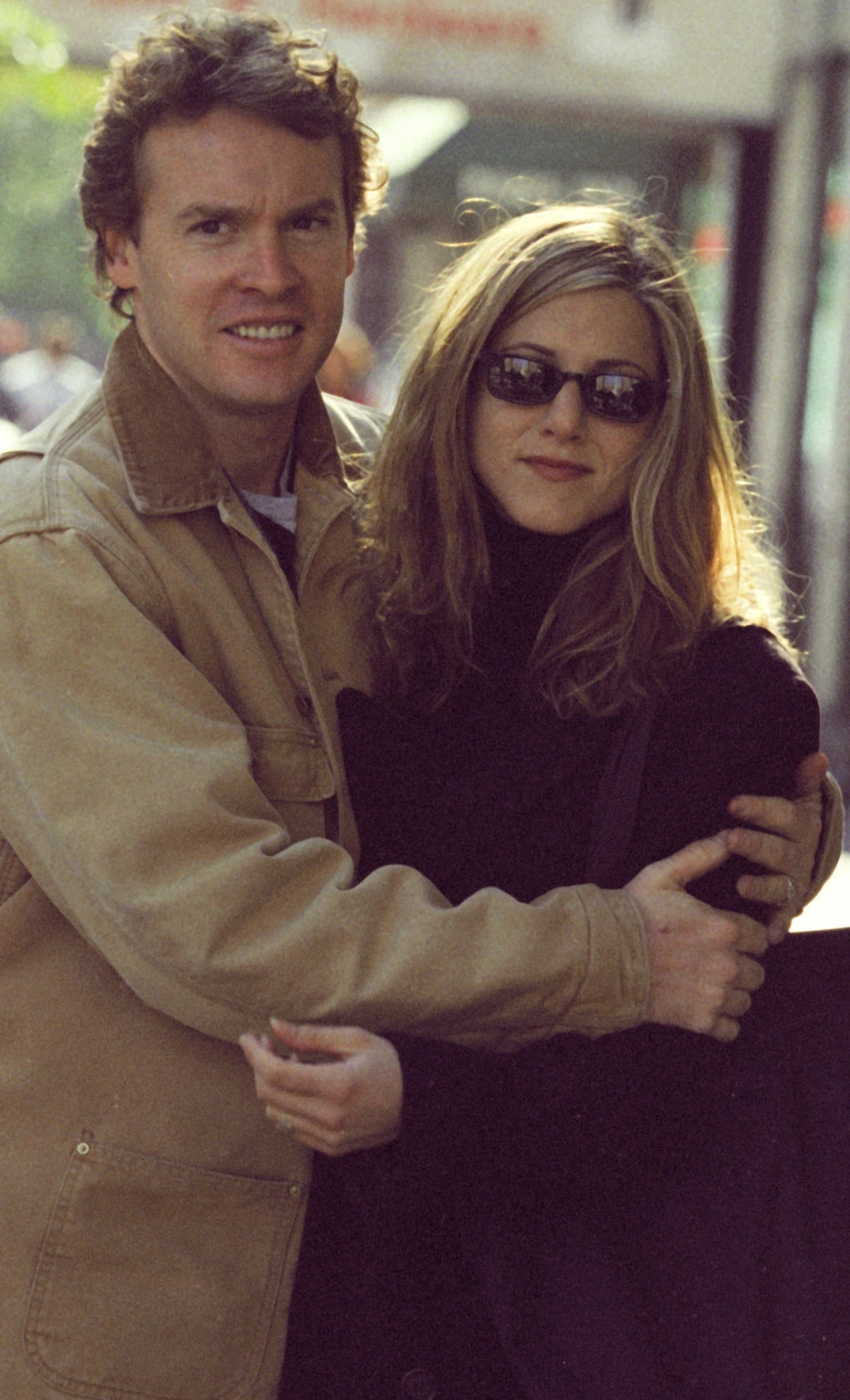 Jennifer Aniston and Tate Donovan dated for about three years, from 1995 to 1998 (Credit: Alex Oliveira / Startraksphoto)
The 59-year-old actor told Us Weekly in 2018, "The only bummer was that Jennifer and I were breaking up at the time. And so that was tricky to sort of act, and act like we are just meeting each other, and falling in love, or whatever, interested in each other, when we're sort of breaking up. That was just tough."
Donovan added, "The people that know that we dated think that we met on Friends. But in fact, we had dated for two years before then, and it was over by the time we were on Friends together."
5. Paul Rudd (1998)
Jennifer Aniston's path crossed with Paul Rudd's as they starred in the 1998 movie The Object of My Affection, portraying friends who discovered deeper feelings for each other.
While the exact timeline of their romantic connection remains unclear, Aniston and Rudd began dating not long after meeting on set.
Paul Rudd and Jennifer Aniston met on the set of the 1998 romantic comedy-drama film The Object of My Affection (Credit: STARTRAKSPHOTO)
Their on-screen chemistry extended off-screen as they worked on various projects together. They also appeared in the 1998 film The Newton Boys and shared the screen in 2012's Wanderlust. Additionally, the 54-year-old actor became a part of the beloved cast of Friends from 2002 to 2004.
While rumors circulated about their relationship, Aniston initially kept things under wraps. However, in her trademark candid style, she revealed they were "together when we were, like, 12," confirming their romantic involvement.
6. Brad Pitt (1998 to 2005)
In Hollywood romance, few names shine as brightly as Jennifer Aniston and Brad Pitt. Their iconic love story began with a manager-arranged introduction in 1994, but it wasn't until 1998 that they embarked on their first date.
Their relationship soon bloomed, and they took their love to the spotlight. In 1999, they graced the red carpet together at the 51st Emmy Awards, marking a significant moment for the couple.
Jennifer Aniston and Brad Pitt had a high-profile marriage that lasted for nearly five years (Credit: STARTRAKSPHOTO)
The year after, they delighted fans by announcing their engagement on stage during a Sting concert, revealing Aniston's dazzling ring. Their journey culminated in a spectacular wedding on July 29, 2000, where 200 guests witnessed their union on a private estate overlooking the Pacific Ocean.
As time passed, Aniston hinted at the possibility of starting a family with the 59-year-old actor, and their love seemed unbreakable. However, in January 2005, they shared the unexpected news of their separation after nearly five years of marriage.
The rumors of Pitt's connection with his Mr. & Mrs. Smith co-star, Angelina Jolie, further fueled the media frenzy. Amidst the speculation, the couple maintained a graceful parting. Aniston filed for divorce in March, and the split was finalized by October.
7. Vince Vaughn (2005 to 2006)
After her divorce from Pitt, Aniston's heart found a new rhythm with her 53-year-old co-star Vince Vaughn while filming The Break-Up in Chicago in the summer of 2005.
The duo's on-screen chemistry translated into a real-life romance that captured attention. Vaughn affectionately shared, "She's awesome. She has just a wonderful warmth and likability about her."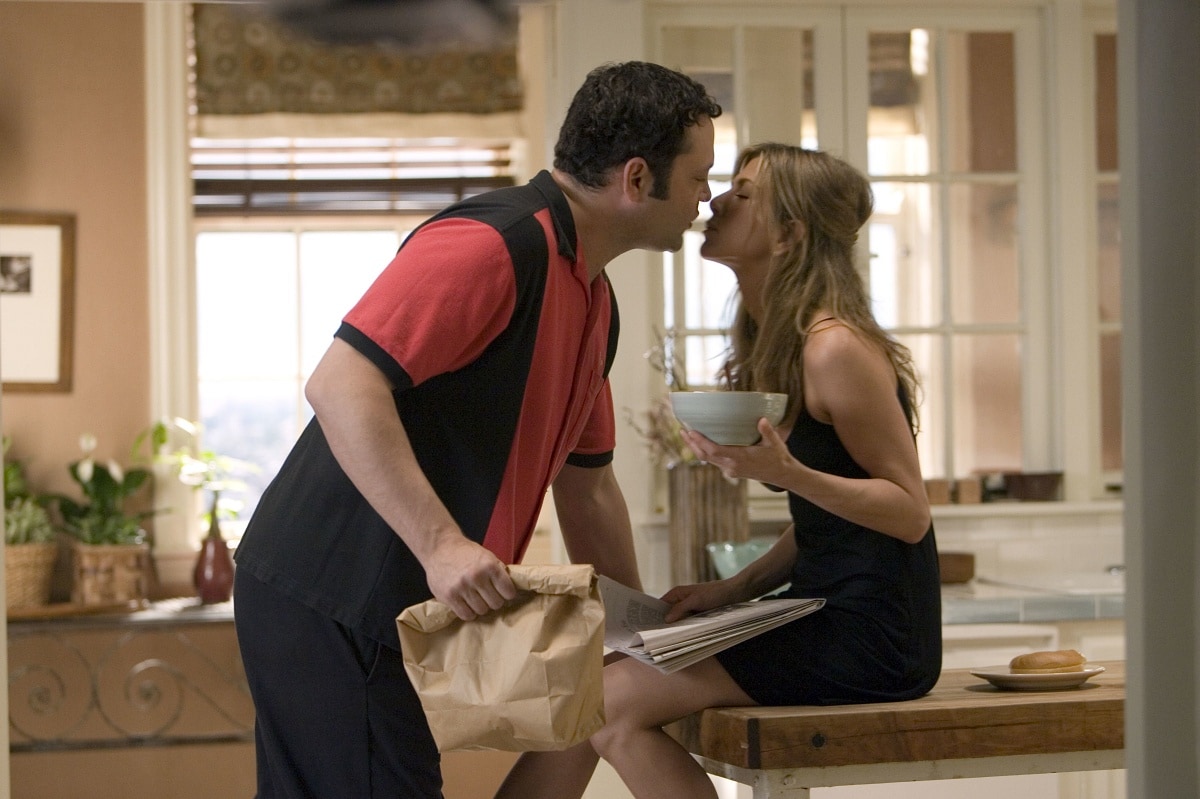 Vince Vaughn and Jennifer Aniston met on the set of the romantic comedy-drama film The Break-Up (Credit: Universal Pictures)
Yet, by December 2006, the chapter came to an end. Aniston and Vaughn decided to part ways, with their representatives expressing, "Jennifer and Vince mutually agreed to end their relationship but continue to be good friends today."
Although their romantic involvement ended, Aniston's outlook on their time together remained entirely optimistic.
In a 2008 interview with Vogue, she referred to Vaughn as her "defibrillator," saying, "He literally brought me back to life. My first gasp of air was a big laugh! It was great. I love him. He's a bull in a china shop. He was lovely and fun and perfect for the time we had together. And I needed that. And it sort of ran its course."
8. Paul Sculfor (2007)
Jennifer Aniston's world briefly intertwined with 52-year-old British model Paul Sculfor. They reportedly spent a couple of months together in 2007, but their romance was short-lived.
Jennifer Aniston had a short-lived romance with Paul Sculfor in 2007 (Credit: Matt Crossick / PA Images / INSTARimages)
Despite the lack of drama, their relationship faced challenges due to Sculfor's demanding modeling commitments and never evolved into something more serious.
Friends of Aniston revealed that while chemistry existed, the spark faded as she aimed for a settled life with a reliable partner and dreamed of starting a family.
9. John Mayer (2008 to 2009)
In early 2008, Aniston crossed paths with 45-year-old musician John Mayer at an Oscars party, sparking a romantic journey that would last about a year.
As the months passed, the couple navigated the complexities of their connection. By August, Mayer shared that he ended the relationship to find personal clarity, telling PEOPLE, "I ended a relationship to be alone because I don't want to waste somebody's time if something's not right."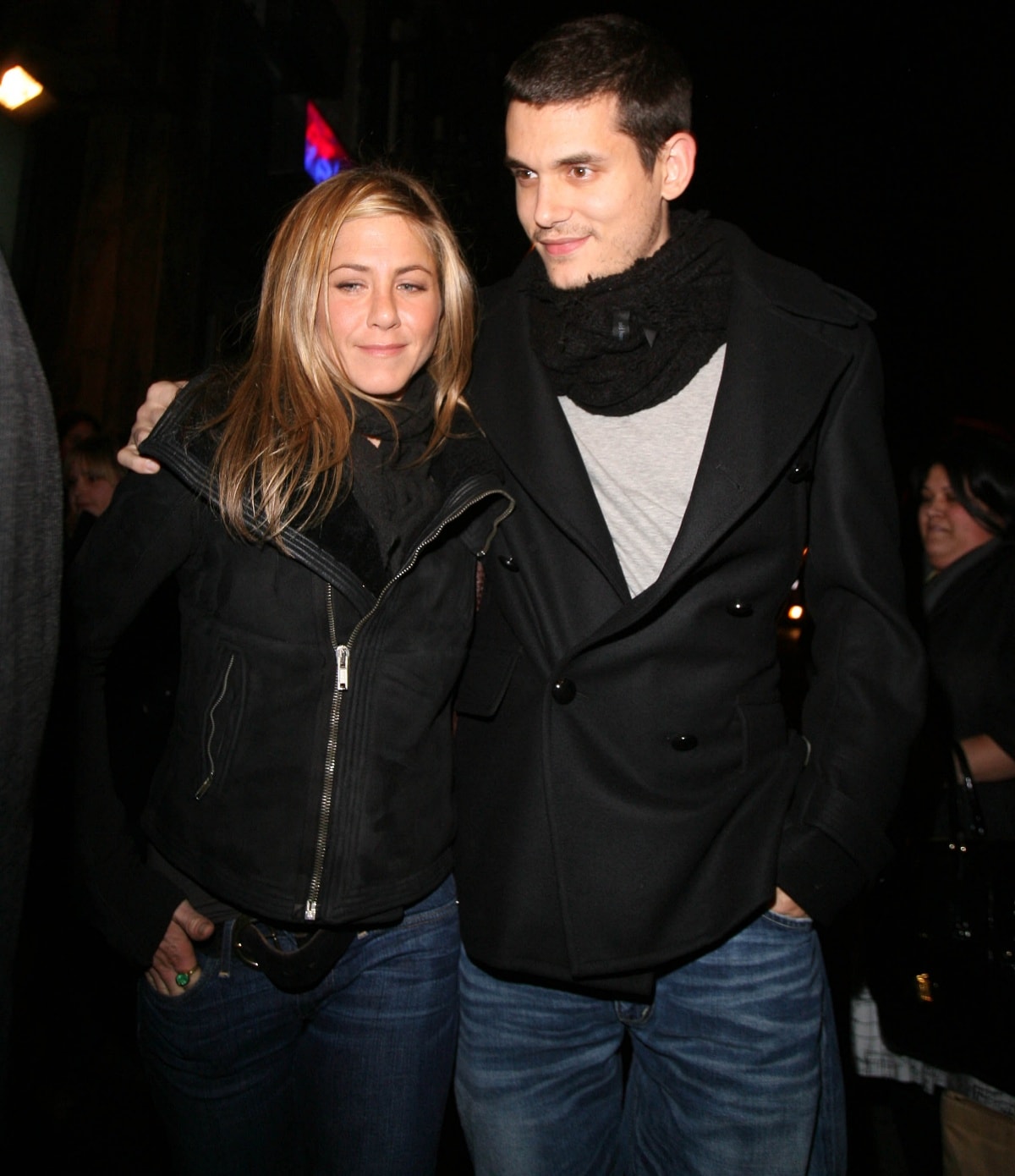 Jennifer Aniston and John Mayer had an on-again-off-again romance for about a year (Credit: INFphoto)
In February 2009, Aniston and Mayer reunited briefly when they attended the Oscars. However, this second chapter of their on-and-off romance was short-lived, and they parted ways again.
The dynamics of their relationship weren't always smooth. Disagreements led to their final split in March, but Aniston, as always, moved forward. Mayer later reflected on their time together, admitting he made mistakes, stating, "I was just a jerk" during their dating period.
10. Bradley Cooper (2009)
Sparks flew between Jennifer Aniston and 48-year-old Bradley Cooper in the summer of 2009, ignited by their collaboration in the film He's Just Not That Into You.
Jennifer Aniston and Bradley Cooper briefly dated after meeting on the set of the 2009 romantic comedy-drama film He's Just Not That Into You (Credit: Abaca Press / INSTARimages)
In light of the relationship's brevity, Aniston and Cooper transitioned back to being friends, keeping their connection intact.
11. Gerard Butler (2009 to 2010)
When Jennifer Aniston and Gerard Butler worked together on The Bounty Hunter, romance rumors added an extra spark to their on-screen chemistry.
Gerard Butler and Jennifer Aniston quietly dated while filming the action romantic comedy film The Bounty Hunter (Credit: Sony Pictures Releasing)
The duo quietly dated in 2009 during filming, but both downplayed the media frenzy, with the 53-year-old Scottish actor stating, "It's a little bit ridiculous. But then you think, 'Oh, you know what … it's just silly.'"
Although their relationship didn't stretch beyond 2010, the connection they established during their time together remained.
12. Justin Theroux (2012 to 2018)
It was on the set of Tropic Thunder where Aniston and 52-year-old Justin Theroux first met in 2007, but their love story truly unfolded in 2010 during the making of Wanderlust. By August 2011, their connection had deepened, leading to them moving in together.
On August 5, 2015, Aniston and Theroux exchanged vows in an intimate ceremony at their Bel Air, California home. They surprised their friends and family by disguising the event as Theroux's 43rd birthday party.
Justin Theroux and Jennifer Aniston shared a deep connection and finally tied the knot in 2015 before ending their two-and-a-half years of marriage in 2018 (Credit: INFphoto)
However, their love story took a turn just days after Aniston's birthday in 2018. After two-and-a-half years of marriage, the couple decided to part ways. They addressed the public with a joint statement, emphasizing their mutual decision and commitment to maintaining a cherished friendship.
Since their divorce, Aniston and Theroux have proven that their bond remains unbroken. They've continued to support each other, celebrating milestones and staying connected as friends.