Jesse Metcalfe was joined by his longtime girlfriend Cara Santana at the 2019 AFI Life Achievement Award ceremony honoring Denzel Washington held at the Dolby Theatre in Hollywood.
Cara Santana and Jesse Metcalfe attend the 47th AFI Life Achievement Award honoring Denzel Washington at Dolby Theatre on June 6, 2019, in Hollywood, California
Jesse Metcalfe, an American actor who has an estimated net worth of $12 million dollars, started dating Cara in 2009. While they took a break in 2011, he proposed on a 50-foot sailboat in August 2016 and they've been engaged since then.
"Jesse and I have been together for a really long time, like 13 years, and I think that's the great thing about having that comfortability in a relationship is knowing that you have a support system, one another, and we listen to each other," she told Us Weekly.
"We're there, we're supportive when everything happens. This past week, he was like, 'Okay, I'm giving you 24 hours. Do I need to go get chocolate chip cookie dough? What is it? And then we're gonna brush this off and move on because we gotta keep going.' So it's great. He's my best friend."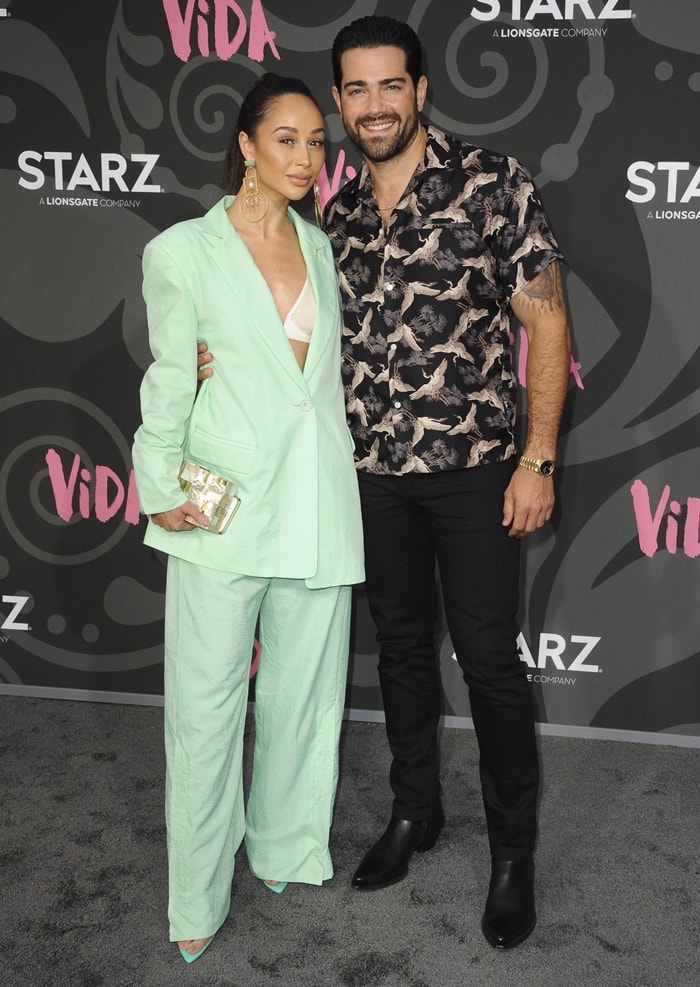 Cara Santana and Jesse Metcalfe attend the premiere of the new Starz series Vida held at the Regal LA Live Stadium 14 in Los Angeles on May 1, 2019
4 years earlier, the beautiful actress/entrepreneur was spotted going out for lunch at Fig and Olive, an upscale restaurant & bar serving seasonal Mediterranean fare, sans her boyfriend.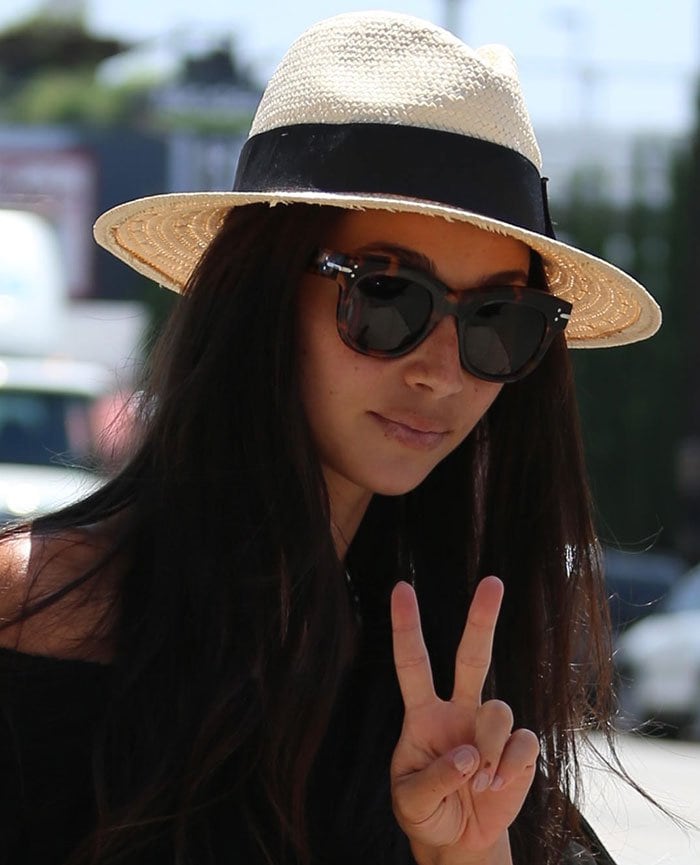 Cara Santana's long hair fell loosely on her shoulders
The 31-year-old actress dressed down, wearing a loose-fitting off-the-shoulder black dress with small tassel details and a short hem hitting a few inches above her knees, which she paired with white flat sandals.
Cara Santana paraded her legs in a loose-fitting off-the-shoulder black dress
She updated her simple outfit with summery accessories, including a straw hat with black ribbon detail, a leopard-printed clutch, and a pair of sunglasses.
Keeping the rest of her look simple, she went makeup-free and let her long hair fall loosely on her shoulders.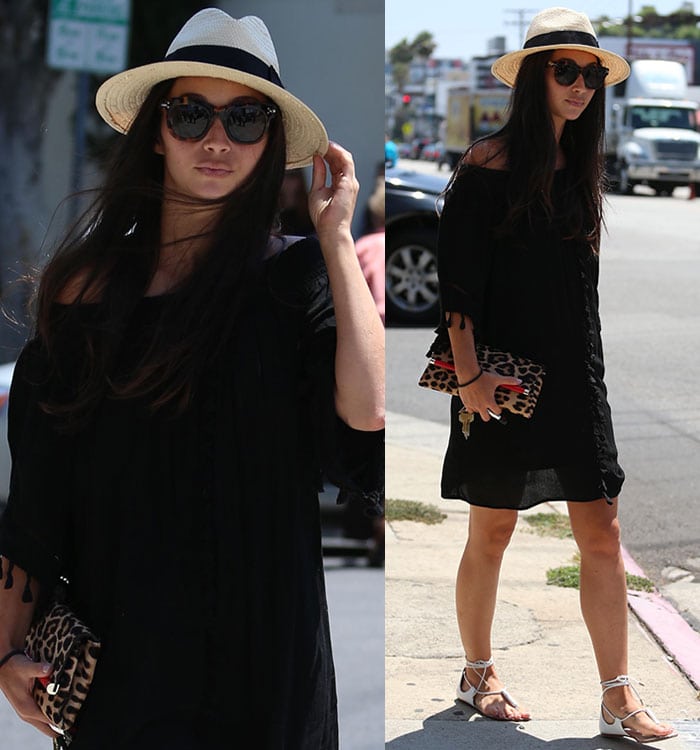 Cara Santana going out for lunch at Fig & Olive in Los Angeles on August 11, 2015
Cara's chic shoes are the Aquazzura "California" flat sandals made of nappa leather. They feature coiled toe thongs, ankle ties with gold-tone aglets, and curved top lines.
Cara Santana displays her pretty toes in white thong sandals
These Aquazzura sandals are a must-have this season. You can get them in white and gold versions at Farfetch and Nordstrom.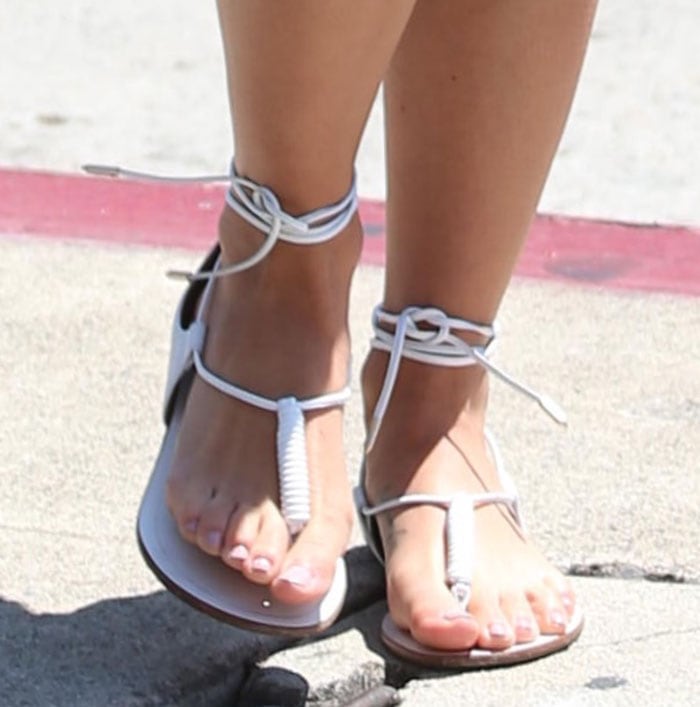 Cara Santana shows off her sexy feet in Aquazzura flat sandals
Aquazzura California Flat Sandals, $550 at Farfetch and Nordstrom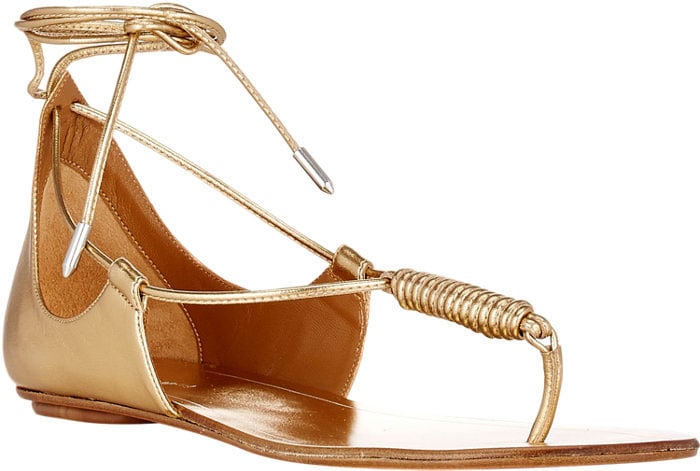 Credit: WENN / Apega