Jessica Alba headed to Madrid, Spain on Monday to promote her new Bad Boys spin-off TV series, L.A.'s Finest, at a photocall held at the Villa Magna Hotel.
Jessica Alba at the L.A.'s Finest AXN TV Series photocall held at Villa Magna Hotel in Madrid, Spain, on June 10, 2019
Shedding all traces of the tough cop character she plays on the show, the 38-year-old actress was ladylike in Alaia Spring 2019 separates. She balanced out her boxy cropped shirt and a voluminous striped skirt with a cinched waist.
The mom-of-three completed her look with a high ponytail, heavy gold hoop earrings, and an Alaia white-leather handbag.
Jessica Alba in an Alaia Spring 2019 teal boxy shirt and matching teal-and-white striped skirt accessorized with an Alaia white-leather handbag and Jimmy Choo 'Peachy' sandals
While we love Jessica's choice of Jimmy Choo 'Peachy' platform sandals, we can't get over how much they look like wedding cake shoes. To us, the swirly white embroidery looks like icing. The off-white color of the leather uppers makes the shoes' base look like chiffon cake.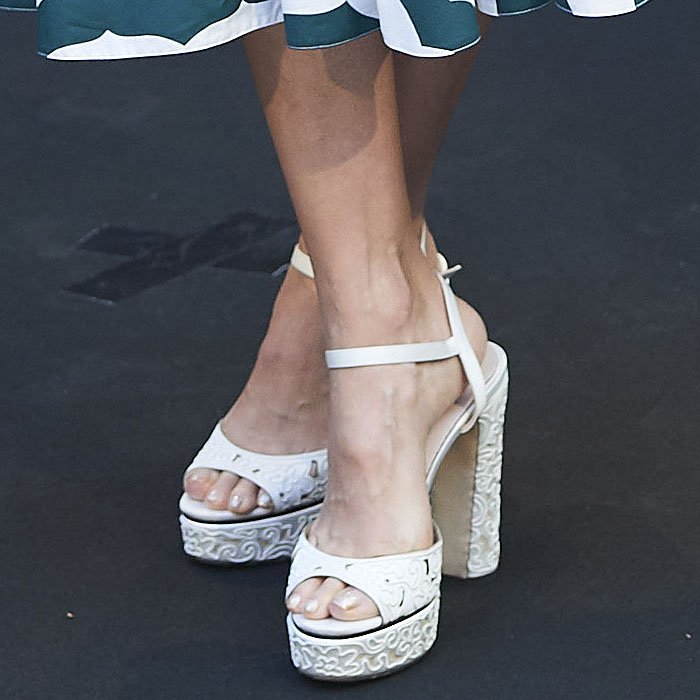 Jessica Alba's feet in Jimmy Choo 'Peachy' sandals aka wedding cake shoes
We're sure Jessica's shoes look much prettier in real life. For now, however, the way they photograph makes them look like they belong amongst Shoe Bakery shoes that look good enough to eat.
Jimmy Choo 'Peachy' Embroidered Sandals, $357.98 to $578 (before: $895) at Farfetch and Nordstrom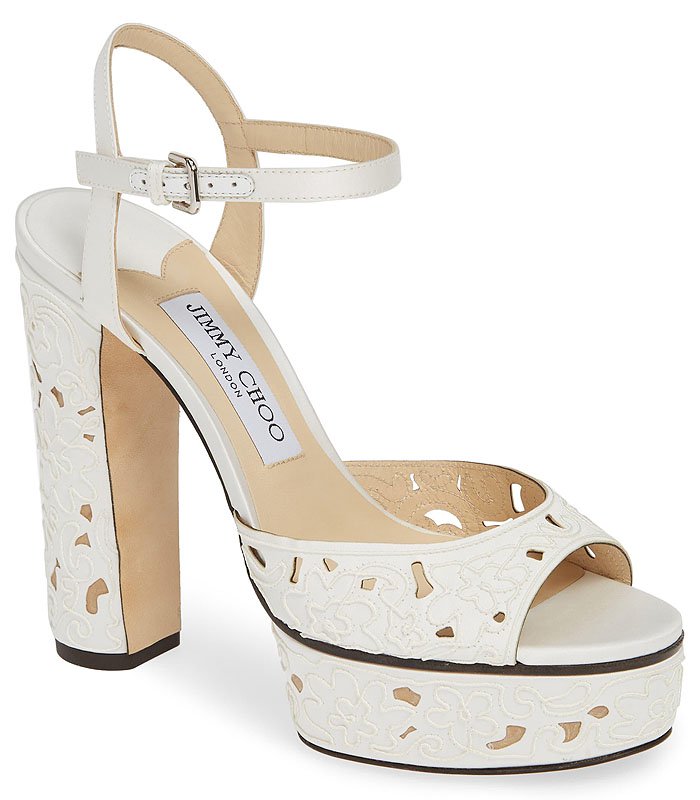 Jessica was joined by her L.A.'s Finest co-star Gabrielle Union, who also was wonderfully womanly in a black-and-white outfit.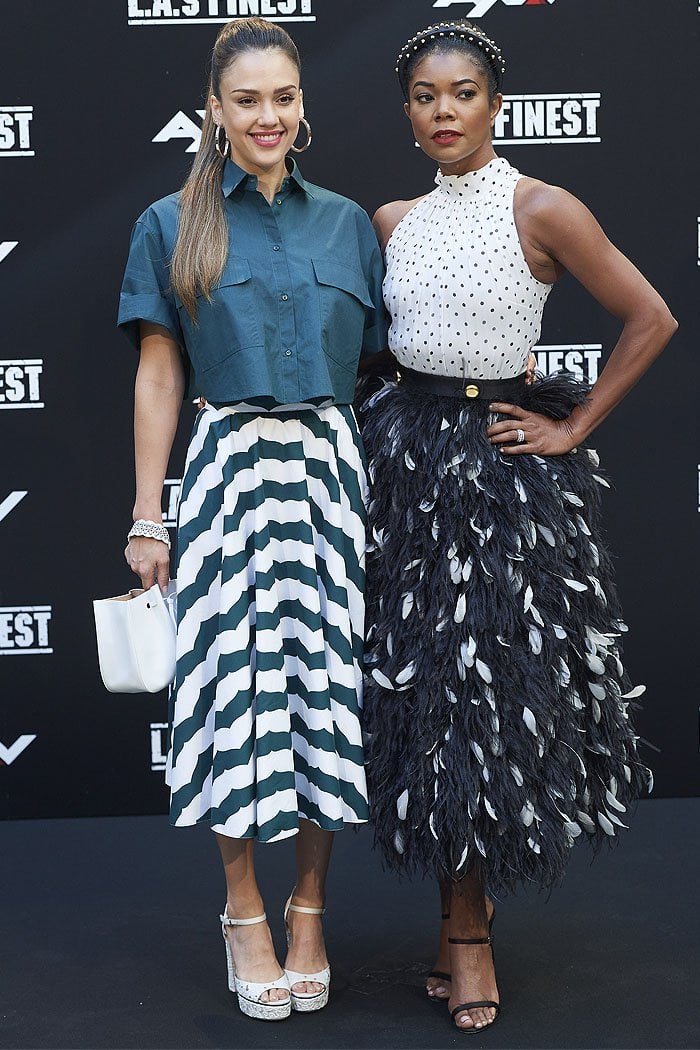 L.A.'s Finest co-stars Jessica Alba and Gabrielle Union
Gabrielle bared her toned arms in a Prada halter dress featuring a polka-dotted bodice and a fluffy ostrich-feather skirt. She pulled her hair back with an accessory-of-the-moment padded headband.
The 46-year-old actress rounded out her look with black-satin skinny-strap sandals.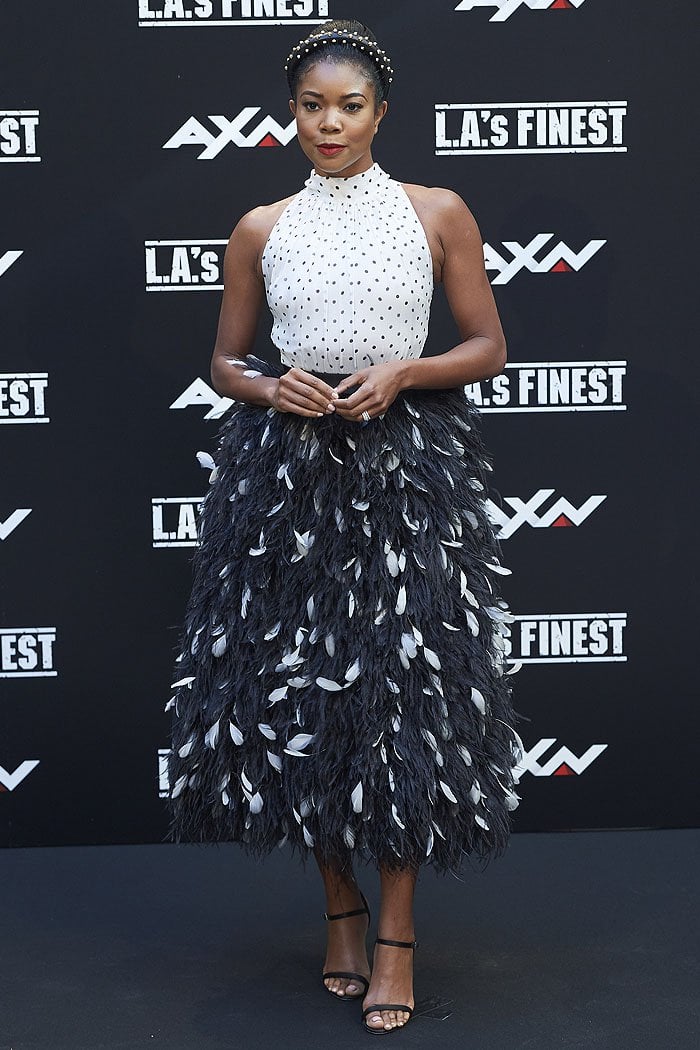 Gabrielle Union in a Prada polka-dotted ostrich-feather-skirt dress and black skinny-strap sandals at the L.A.'s Finest Madrid photocall
Credit: Oscar Gonzalez / WENN