Have you seen the 'Bandra' platform from Christian Louboutin? It's a beautiful criss cross sandal fashioned with ruched nappa leather straps. Chances are, you've already caught a glimpse or two of this shoe. You can even find it in classic back and purple suede at Neiman Marcus and Saks Fifth Avenue.
Christian Louboutin 'Bandra' Zip Back Sandal in Black, $995
Christian Louboutin 'Bandra' Zip Back Sandals in Purple Suede, $995
Do you like it?
If you do, then here's another Christian Louboutin style that might interest you – the 'Applique'. It's a lot like the 'Bandra' with its ruched straps. However, it doesn't come with criss cross details:
Christian Louboutin 'Applique' in Black and Bordeaux, $1195
Jessica Chastain was spotted wearing a pair early last week. Hers however, were of a different kind – printed, patterned, and multi-hued. She wore it to cap off a red Alexander McQueen dress for her appearance on TimesTalk: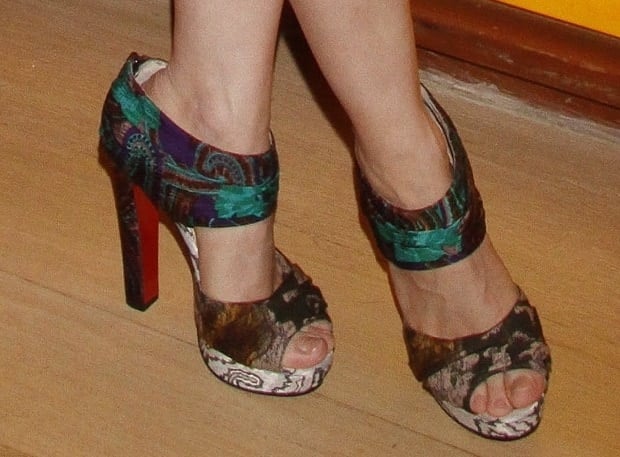 Charles McGrath and Jessica Chastain at TimesTalk Presents An Evening With Jessica Chastain at The Times Center in New York City on September 10, 2012

Now if you had the money to grab a pair, which of these ruched red bottoms would you spend on? If you can't make up your mind, we'd understand. They look so much alike that it probably wouldn't matter to some of you.
But if we here at Your Next Shoes had to make a choice, we'd probably go with the 'Bandra'. Not only is it less expensive by $200, we also think those criss cross straps are a lot sexier on the feet. Do you agree?
Credit: Joseph Marzullo/WENN