Julia Fox, known for her fearless fashion sense that constantly challenges conventions, never fails to stir up conversation with her wardrobe choices. However, her bizarre accessories truly take her outfits to the next level.
Once again, she turned heads with her bold fashion statement at the premiere of Tommy Dorfman's film, Something You Said Last Night, which took place at the Quad Cinema in New York City on a Friday night.
The 33-year-old Italian-American model and the movie's executive producer showcased her signature shock-and-awe aesthetic, and her outfit of choice was unquestionably daring.
Kanye West's ex-girlfriend graced the high-profile event in a stunning silver caged corset top, leaving little to the imagination as she bravely went braless.
Julia Fox showcasing her fearless fashion sense while going braless in a silver caged corset top and low-waisted maxi skirt at the premiere of Something You Said Last Night in New York City on September 22, 2023 (Credit: Janet Mayer / Startraksphoto)
She paired the futuristic metallic top with a crinkled black satin low-waisted maxi skirt that elegantly swept the floor, forming a subtle train behind her.
This daring ensemble was elevated with a pair of black sheer tulle gloves that gracefully extended along her arms, creating a captivating contrast between edginess and elegance.
Her makeup featured a monochromatic brown palette, accentuating her full lashes and dark, glossy lips, while her voluminous brunette locks fell in bouncy, loose curls.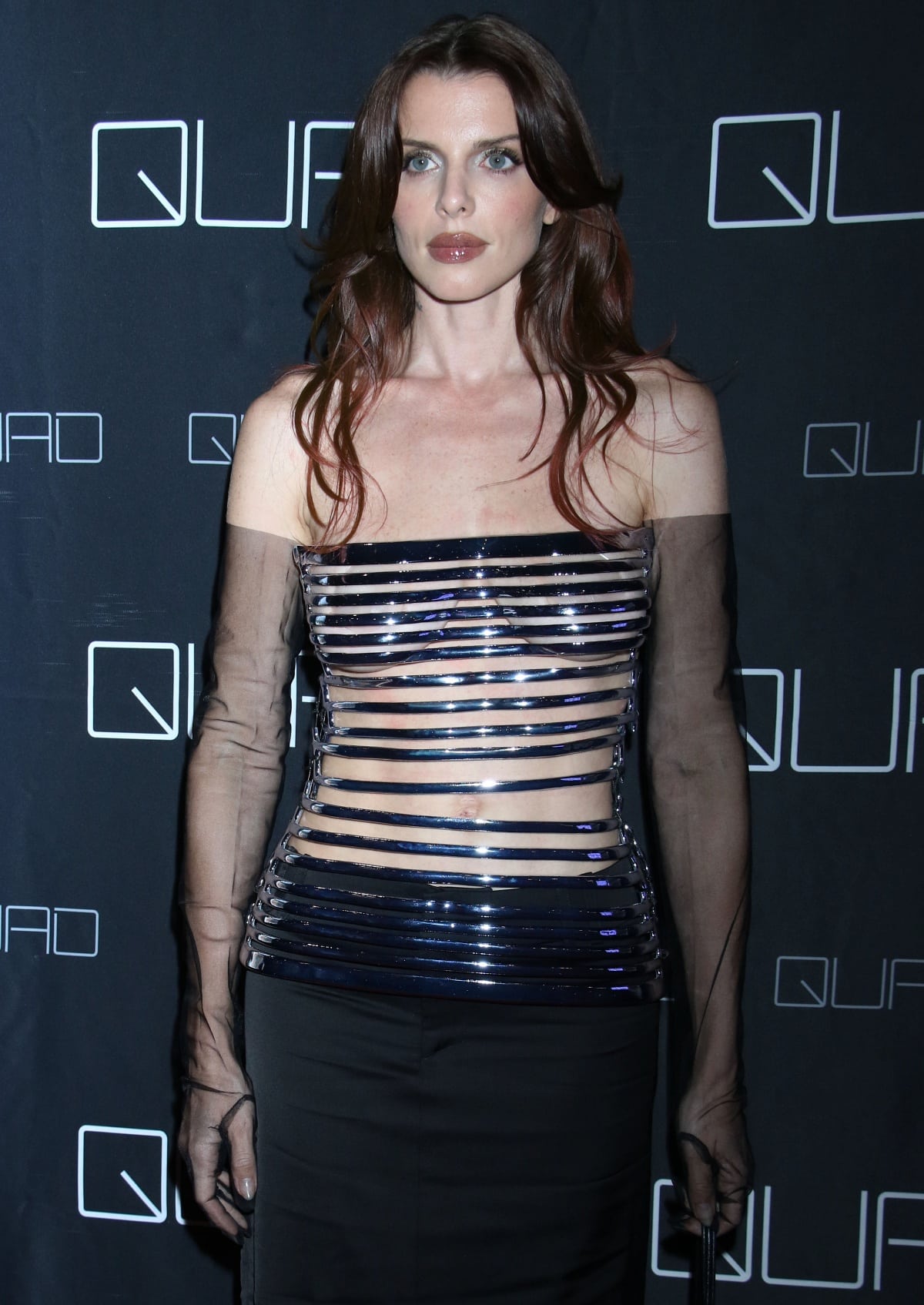 Julia Fox brings on the drama with sheer black tulle gloves and keeps her beauty look simple to maintain the focus on her bold outfit (Credit: Roger Wong / INSTARimages)
Yet, her striking feathery accessory set Julia Fox apart – a black crow-shaped shoulder bag adorned with intricate detailing, including a lifelike beak and bird feet, adding a whimsical touch to her overall look.
In a playful twist, Fox took her handbag game to the next level by whimsically dangling it down to the ground as if it were on a leash, infusing a touch of camp into her ensemble.
Julia Fox carrying a black crow-shaped shoulder bag that dangled down to the ground (Credit: Janet Mayer / Startraksphoto)
And, of course, we can't overlook her choice of footwear – a pair of black mules that serve as the ideal transitional piece for the shift from summer to fall. These mules featured glossy leather uppers effortlessly blending into open, rounded toes.
Her shoes also boasted of a backless design that most likely led to sleek stiletto heels, giving the stylish star a subtle height increase.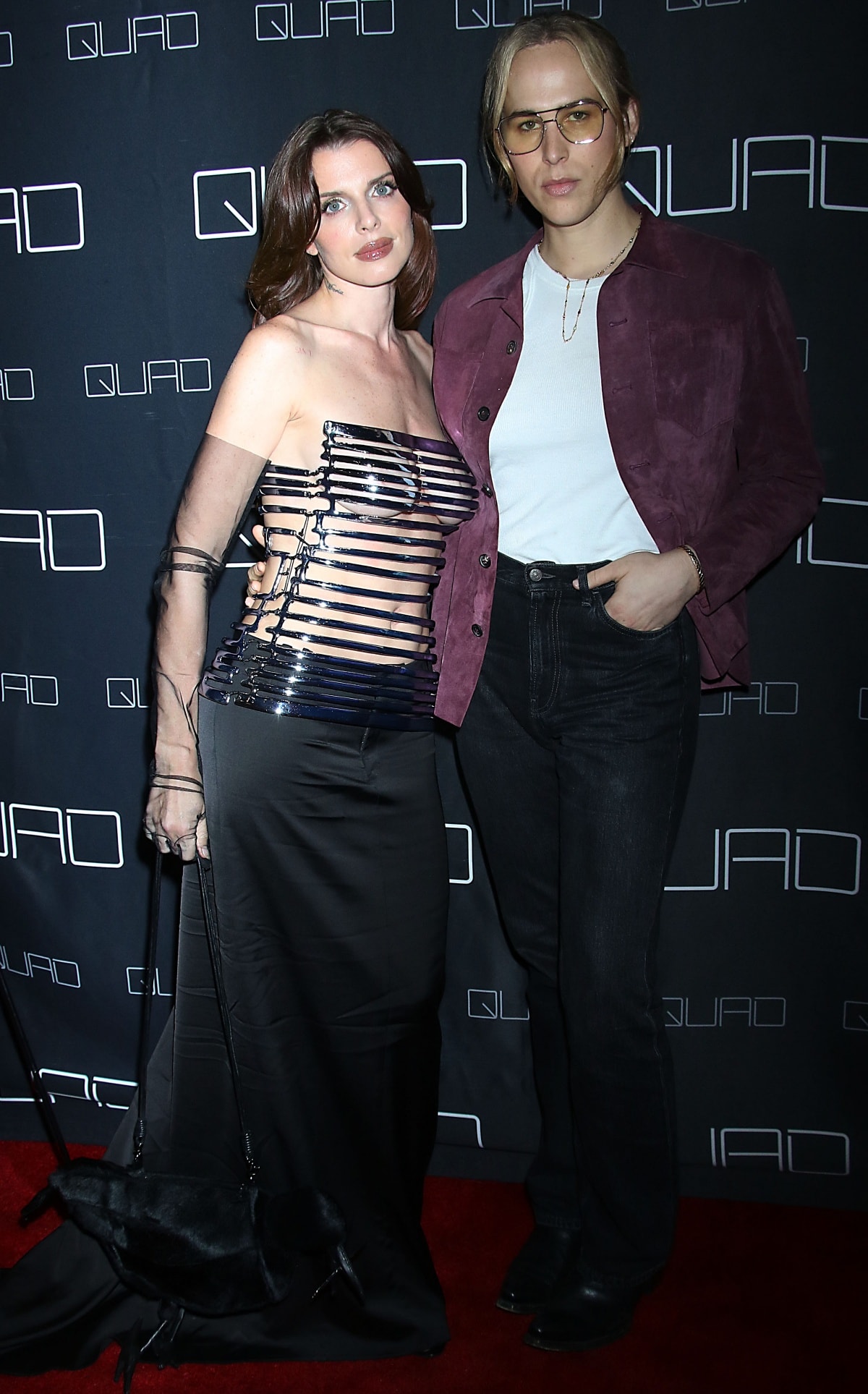 Julia Fox posing with Tommy Dorfman on the red carpet (Credit: Roger Wong / INSTARimages)
On the red carpet, Julia Fox posed with 31-year-old Tommy Dorfman, who held his own in the style department. The 13 Reasons Why star sported a purple suede button-down, a crisp white T-shirt, and sleek black jeans.
Dorfman's blonde tresses were effortlessly styled in a chic updo, perfectly complemented by tinted silver-framed specs. A dainty gold necklace and cuff bracelet further enhanced his look.
After their red carpet moment, Julia Fox also shared the spotlight with starring actress Carmen Madonia.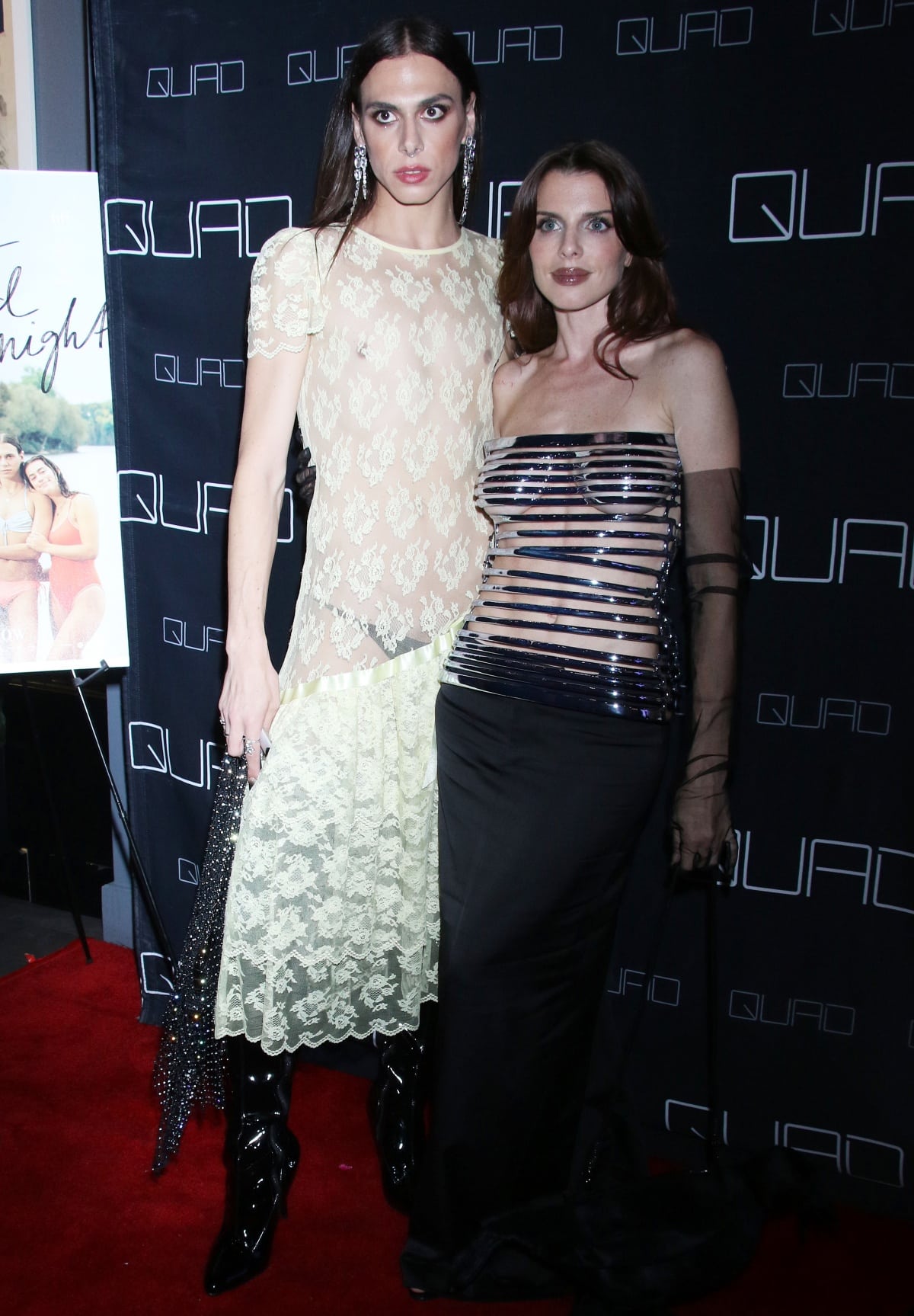 Carmen Madonia towering over Julia Fox as they posed for photographs together on the red carpet (Credit: Roger Wong / INSTARimages)
What Is Something You Said Last Night About?
Something You Said Last Night is a comedy-drama film that follows the story of Ren, portrayed by Carmen Madonia, an aspiring writer in her twenties, and her younger sister Siena, played by Paige Evans. Together, they embark on a family vacation, albeit reluctantly, with their parents.
This coming-of-age movie was written and directed by Luis De Filippis and boasts of an ensemble cast including Joey Parro and Ramona Milano. Julia Fox took on the role of executive producer for the film, which premiered earlier this year in July.
It has garnered acclaim and recognition at various film festivals, including Toronto in 2022, where it received the Shawn Mendes Change Maker Award and won major accolades at San Sebastian, Cairo, and Rotterdam.