Milan Fashion Week reached its grand finale on Sunday, September 24, as Giorgio Armani's illustrious show took center stage.
The Italian luxury fashion house's Spring-Summer 2024 collection left fashion enthusiasts spellbound, mirroring a dusk sky's shifting colors and ethereal light.
This celestial concept was masterfully conveyed through the mesmerizing color transformations on the showroom's back wall in Armani's historic Milan headquarters.
The front row of this stellar event glittered with A-list luminaries featuring the likes of Juliette Binoche, Lily Allen, Pom Klementieff, and Toni Garrn, who graced the occasion with their presence.
However, none of the stars who attended shone brighter than Cate Blanchett, who effortlessly seized the spotlight with her entrance.
Cate Blanchett stealing the spotlight at the photocall before the Armani Spring/Summer 2024 runway show during Milan Fashion Week in Milan, Italy on September 24, 2023 (Credit: IPA / INSTARimages)
As a global ambassador for Armani Beauty and a passionate advocate for sustainable fashion, the 54-year-old Australian actress and film producer dazzled in an exquisite black jumpsuit that impeccably embraced her figure.
Styled by Elizabeth Stewart, who counts Zoey Deutch, Julia Roberts, and Jessica Chastain among her clients, Cate opted for a daring low-cut design, showcasing ample cleavage in a plunging V-neck outfit.
The shimmering one-piece ensemble also featured labels and cut-out long sleeves, which transformed into eye-catching capes, injecting a dash of drama and glamour.
A cinched waist accentuated her frame, while sequin embellishments adorned the bodice, adding a distinctive flair to her look.
Cate Blanchett re-wearing the Armani Privé Autumn/Winter 2009 sequined jumpsuit for the brand's Spring/Summer 2024 fashion show (Credit: Abaca Press / INSTARimages)
This extraordinary ensemble hails from Armani Privé's Autumn/Winter 2009 Couture collection, highlighting Cate's long admiration for the luxury designer brand.
It wasn't the first time she graced an event in this vintage jumpsuit; back in January, she sported the same iconic piece at the 34th Annual Palm Springs Film Festival Awards Gala at the Palm Springs Convention Center.
On that occasion, she paired it with classic stiletto heels and beachy waves while receiving the Desert Palm Achievement Award for portraying a world-renowned conductor in Tár.
View this post on Instagram
In her signature style, Cate allowed her ensemble to take center stage by keeping her accessories minimal, adorning only a white pearl bracelet that elegantly encircled her wrist.
Her shoulder-length blonde hair cascaded in voluminous waves, complemented by a radiant makeup palette featuring sultry brown smokey eyes and a subtle nude lip.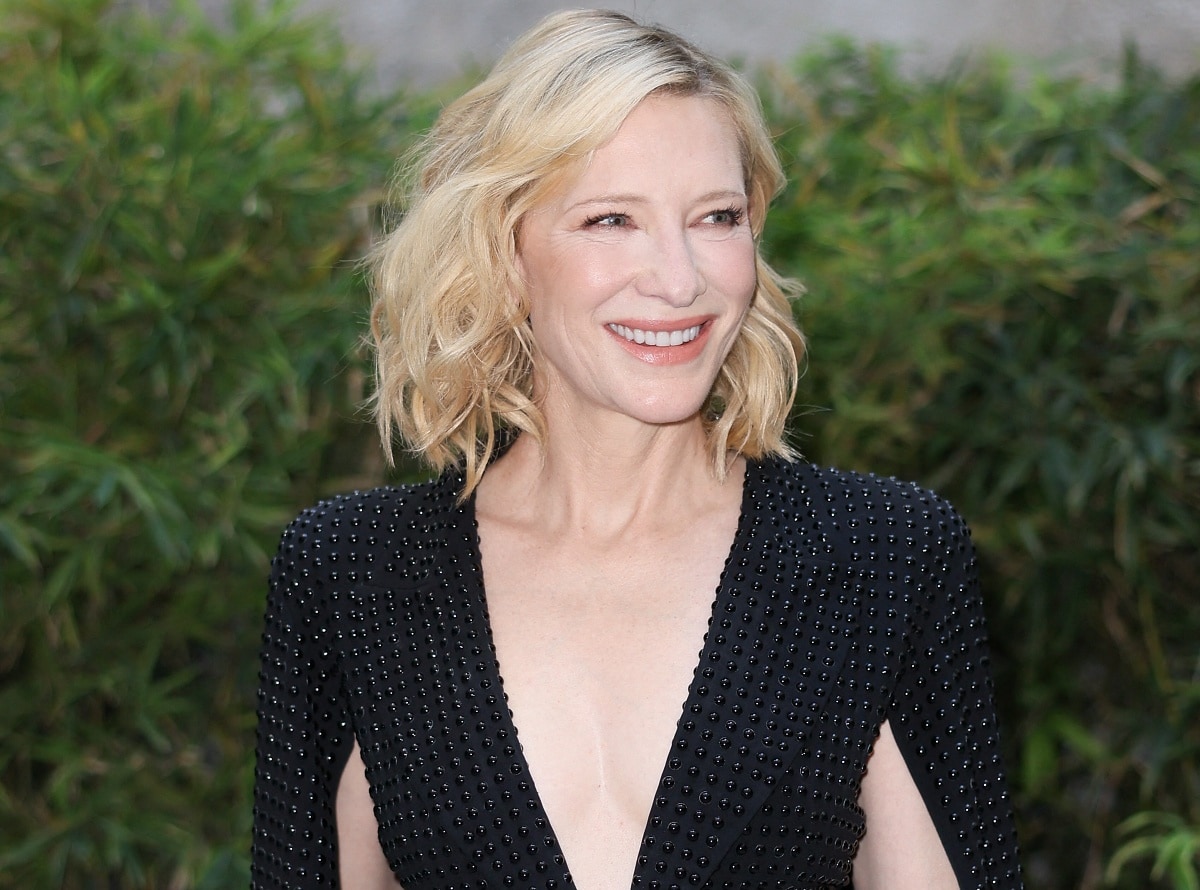 Cate Blanchett's beauty look consisted of voluminous blonde waves, smokey eyes, and a subtle nude lip (Credit: Abaca Press / INSTARimages)
She elevated the beaded suit with towering Aquazzura Matignon boots to complete her show-stopping look, adding stature to her already statuesque silhouette.
They're available as booties and knee-high boots at Mytheresa and Farfetch. Which version do you prefer?
View this post on Instagram
Her Italian-crafted boots, fashioned from sumptuous black suede, feature a sleek pointy toe perfectly balanced atop a pin-thin stiletto heel.
Cate Blanchett wearing Aquazzura Matignon boots to finish off her look (Credit: Abaca Press / INSTARimages)
Cate's illustrious partnership with the Italian luxury designer Armani was sealed with an astounding $10 million deal in 2013, and her association with the fashion house has been nothing short of spectacular, cementing her status as a true fashion icon.