Fashion month is a family affair for Jodie Turner-Smith, who's been making headlines with bold style choices.
Notably, she recently stole the spotlight at the Vogue World 2023 event in London, captivating the crowd with her daring no-pants ensemble.
However, Jodie didn't stop there; she continued to turn heads as she graced Milan Fashion Week with her remarkable presence. Adding a touch of magic to her appearance was the company of none other than Jodie's mother, Hilda Smith.
Born on September 7, 1986, in Peterborough, Northamptonshire, England, Jodie Stephanie D. Turner-Smith is of African-Jamaican ethnicity, attributed to her Jamaican parents.
Jodie Turner-Smith with her mom, Hilda Smith, at the Gucci Spring/Summer 2024 runway show during Milan Fashion Week in Milan, Italy, on September 22, 2023 (Credit: IPA / INSTARimages)
Jodie Turner-Smith is the only one among her siblings not born in Jamaica. She lived in Peterborough until the age of 10.
Following her parents' divorce, she moved to the United States, settling in Gaithersburg, Maryland, with her mother, brother, and half-sister.
Her mother, Hilda, a proud Jamaican, ensured their culture was a constant in their lives. She prepared Jamaican dishes, maintained ties with family abroad, and spoke in patois at home, immersing Turner-Smith in their cultural traditions.
"I never felt far from traditions," Turner-Smith told Ebony in an interview. "My mom always integrated our Jamaican culture into our lives. She taught us how to cook Jamaican food and was always speaking to my brother, my sister and me in patois at home. The influence was constantly around me."
Patois, often called Jamaican Patois or Jamaican Creole, is an English-based Creole language with West African influences spoken primarily in Jamaica.
This dynamic mother-daughter duo showed up in style at Gucci's star-studded Spring/Summer 2024 runway show on Friday, setting the bar high for fashionable family moments.
For this special occasion, both Jodie and Hilda rocked some stunning ensembles from the Italian luxury clothing brand to impress the fashion-savvy Milanese crowd.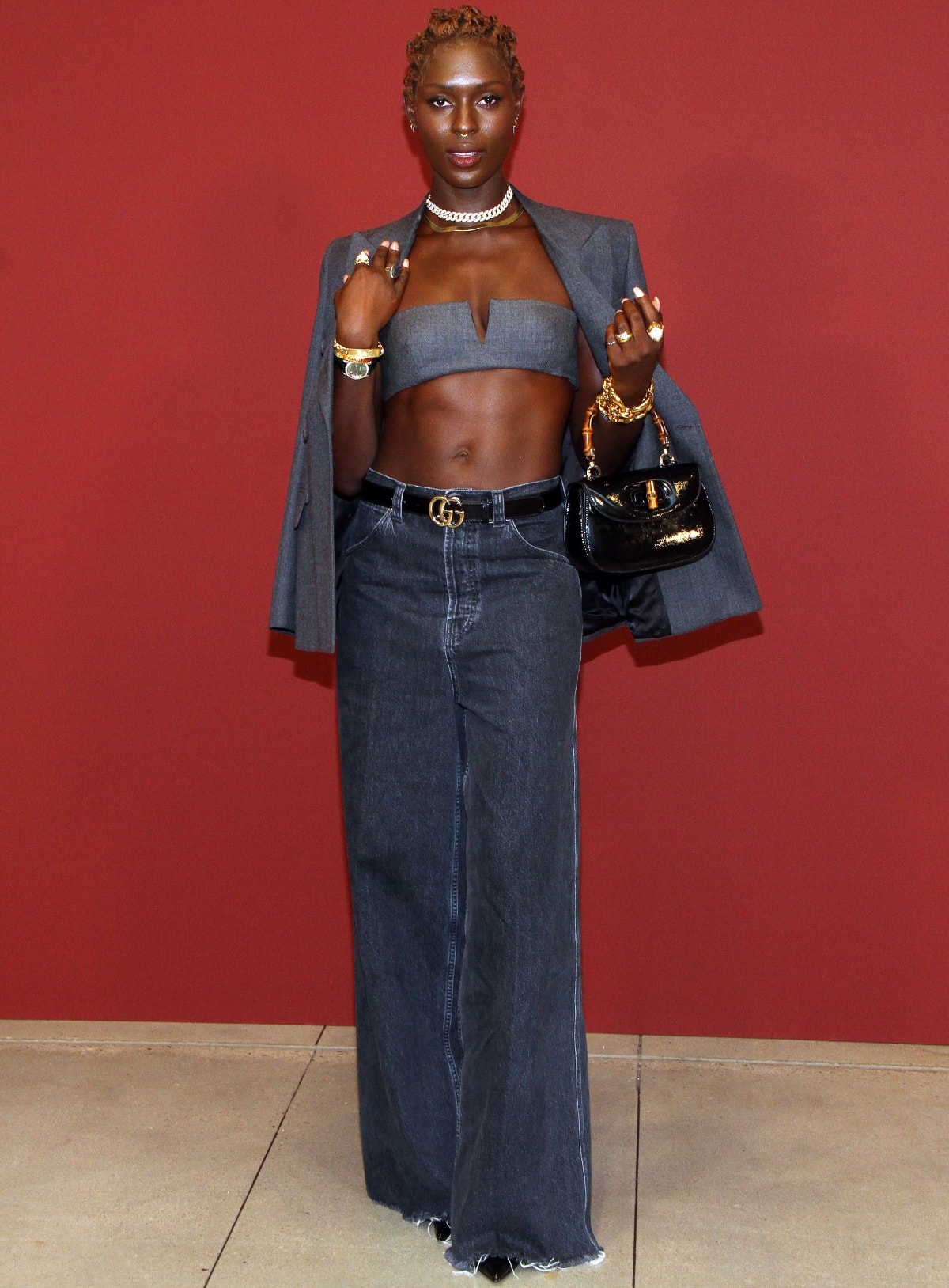 Jodie Turner-Smith looks stunning in a gray bandeau top layered with a double-breasted blazer and styled with wide-leg denim jeans (Credit: IPA / INSTARimages)
Known for her impeccable taste in fashion, Jodie sported an outfit that was a true fashion statement. Her ensemble was a delightful blend of fabrics and metals, primarily featuring a chic slate color palette – a nod to Gucci's new creative direction.
The 37-year-old actress flaunted her toned midriff in a gray bandeau bra top with a daring v-shaped slit down the center. Layered atop was a double-breasted blazer in the same elegant gray hue, gracefully draping her shoulders.
Embracing a relaxed yet chic vibe, Jodie further elevated her appearance with dark, wide-leg denim jeans adorned with frayed edges.
She expertly cinched them with one of Gucci's signature sleek black "GG" belts, perfectly complementing her look's metal and leather accents.
Although blending suiting with denim isn't groundbreaking, Jodie infused her unique flair by incorporating a collection of statement accessories.
Jodie Turner-Smith added her own flair to her outfit with an assortment of statement accessories (Credit: IPA / INSTARimages)
The Murder Mystery 2 star's accessory game was on point, with abundant gold and silver jewelry seamlessly channeling Gucci's aesthetic. Jodie's necklaces comprised a dazzling mix of a flashy gold herringbone chain and a crystalized link choker.
Not to be overshadowed were her striking cocktail rings, featuring stunning emerald, silver, and gold accents. She adorned her wrists with gold sculptural bracelets and silver and crystal chains, underscoring her fashion prowess.
Jodie's penchant for accessories didn't stop there. She carried a leather Gucci Bamboo 1947 mini top handle bag adorned with brown bamboo hardware at the straps and center – a perfect choice for her essentials. To complete her look, she opted for retro-style sunglasses, a final touch of chic.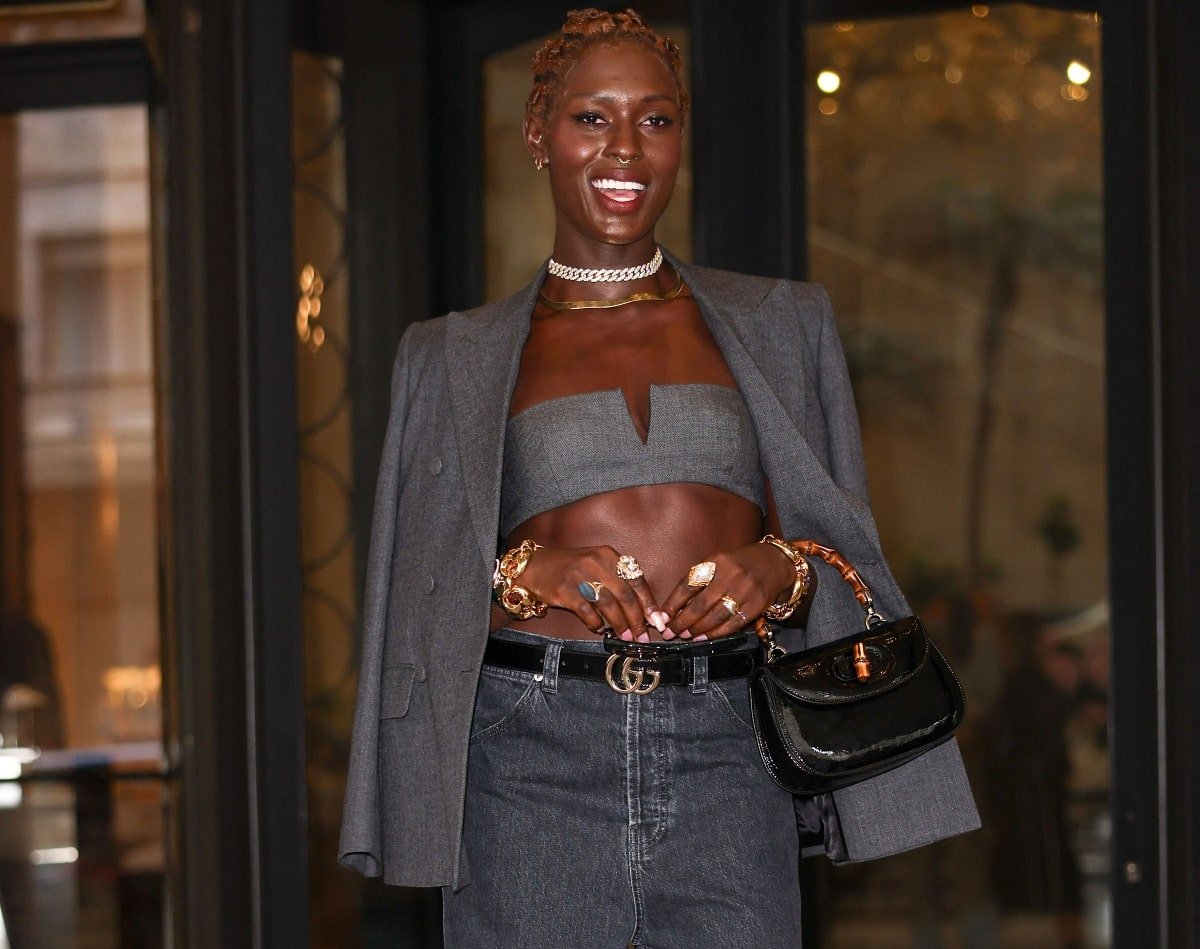 Jodie Turner-Smith showing off her striking cocktail rings and Gucci Bamboo 1947 mini top handle bag (Credit: Abaca Press / INSTARimages)
While her footwear remained hidden beneath her pants, Jodie kept the leather theme going with her black pointed-toe heels, adding a touch of sophistication to her ensemble.
Joining Joshua Jackson's wife was her equally stylish mother, Hilda, who exuded elegance in a blue checkered Gucci collared shirt dress, radiating joy alongside her daughter.
She made her fashion statement by adorning herself with sparkling silver jewelry, including large hoop earrings, bracelets, rings, and necklaces.
Her look was accentuated by a rose-beige Gucci Horsebit Chain small shoulder bag and oversized sunglasses, adding an extra layer of glamour. Hilda slipped into a pair of white Gucci heels, perfectly completing her outfit.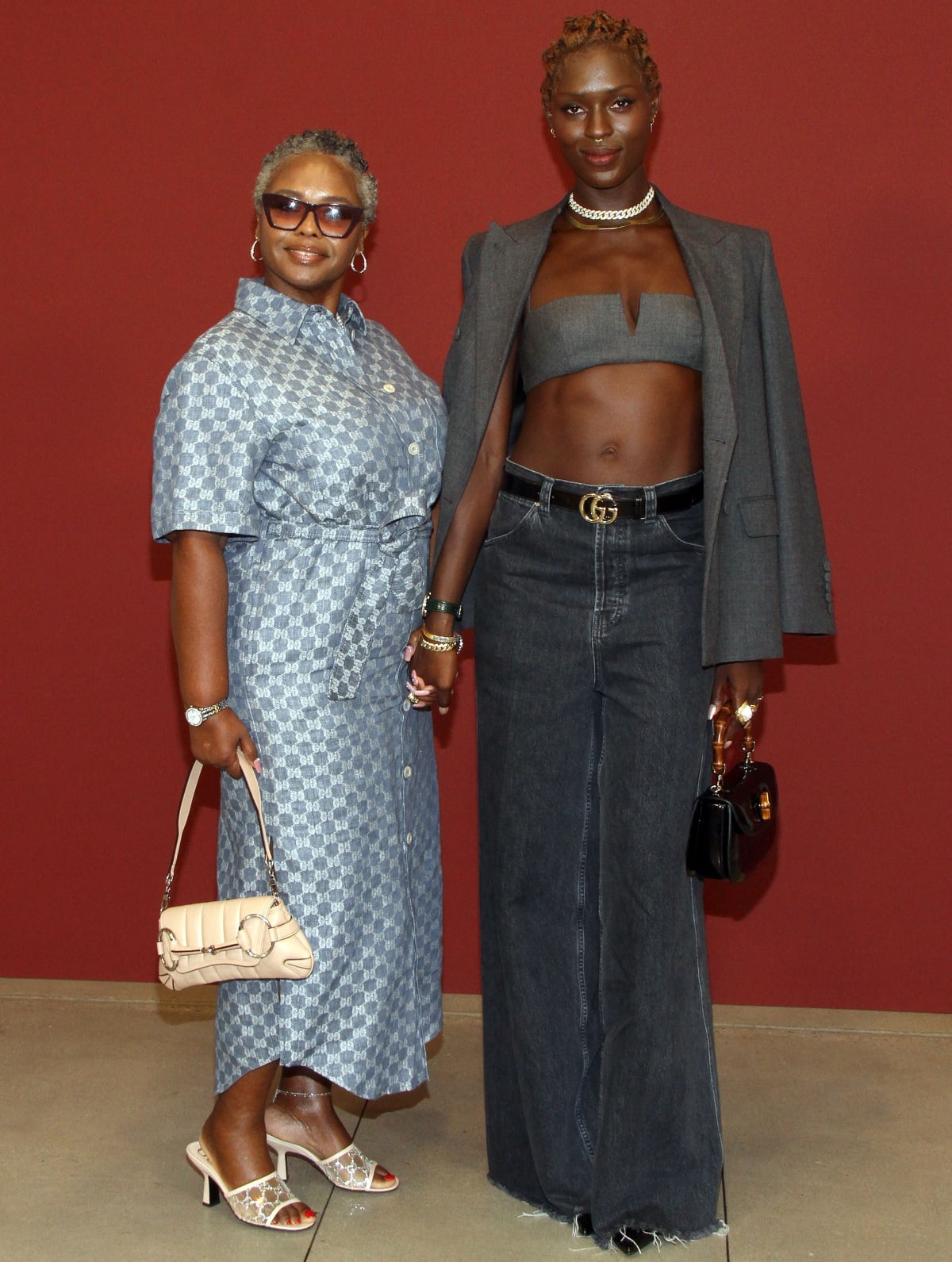 Not to be outdone by her stylish daughter, Hilda Smith stepped out in a Gucci ensemble that consisted of a blue checkered shirt dress, white heels, and a Horsebit Chain shoulder bag (Credit: IPA / INSTARimages)
Jodie had previously opened up about her relationship with her mom, Hilda, in Another Magazine's Spring/Summer 2022 issue, sharing, "I feel so lucky that I have my mom with me to not only just be there for my daughter, but to teach me how to be a mom. My mother is a really, really good mother. And now I have her teaching me how to mother my daughter."