Jodie Turner-Smith once again proved that she knows how to make a fashion statement when she attended the Los Angeles premiere of Murder Mystery 2.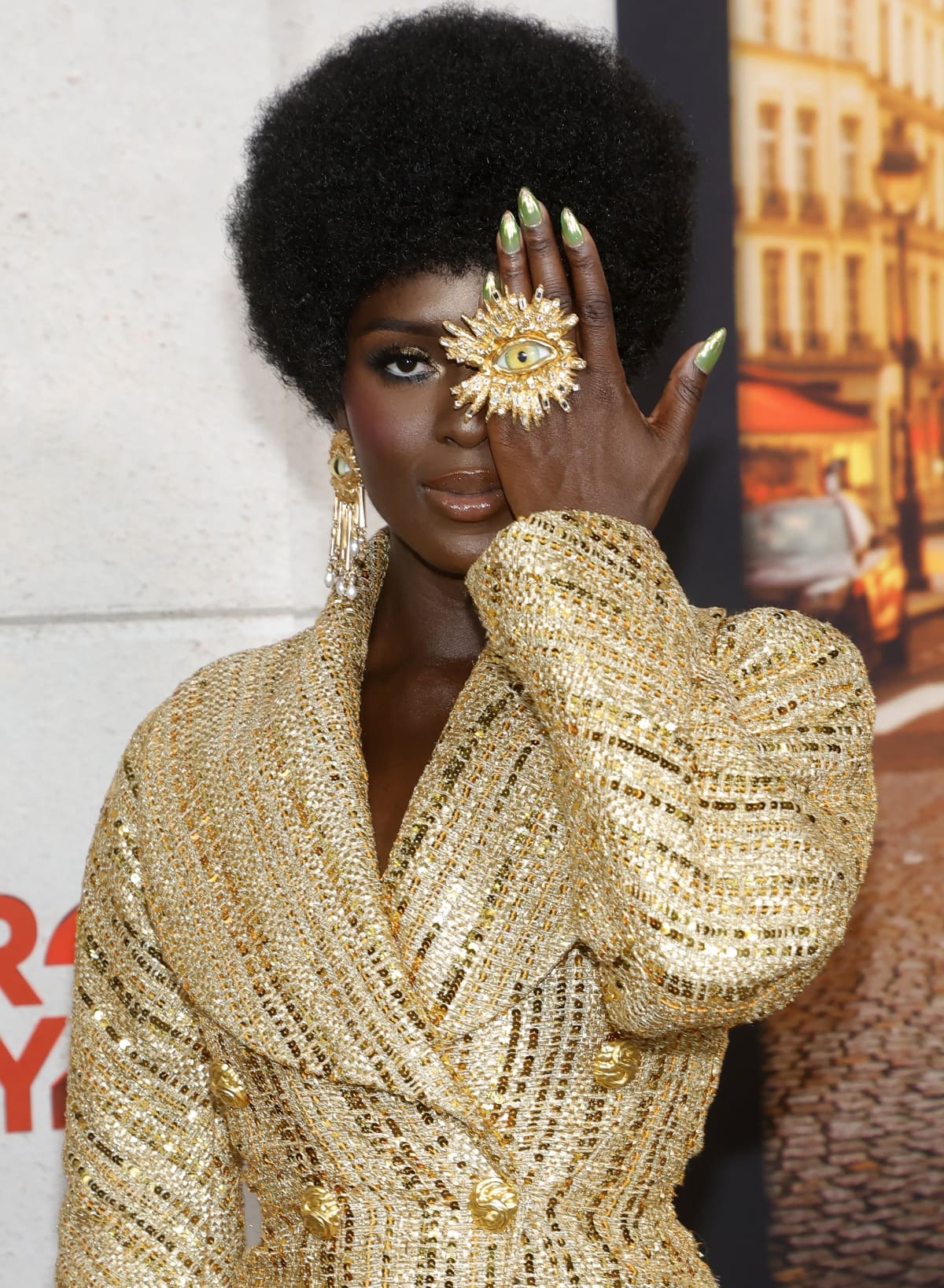 All eyes were on Jodie Turner-Smith at the premiere of Murder Mystery 2 held at the Regency Village Theatre in Los Angeles, California, on March 28, 2023 (Credit: Faye's Vision / Cover Images)
The stunning actress joined her co-stars Jennifer Aniston and Adam Sandler, but it was Jodie who captured all the attention.
Jodie flaunted her dazzling green manicure while flashing her avant-garde eye ring over her face, but her stunning ensemble truly stole the show.
The gorgeous model-turned-actress looked like a golden goddess straight out of the '70s in an ornate double-breasted gold coat from Schiaparelli's spring 2023 ready-to-wear collection.
Jodie Turner-Smith exuding retro glamour at the Los Angeles premiere of Murder Mystery 2 (Credit: Abaca Press / INSTARimages)
Her dress was embellished with gold buttons, and an oversized collar perfectly complemented her vintage-inspired all-gold outfit.
Jodie's striking complexion was further enhanced by her sparkling gold eyeshadow and glossed lips. She added a pair of black heels featuring gold buckles to elevate her look, along with gold earrings and a striking ring with an eye motif that added an element of intrigue to her glamorous outfit.
But Jodie's bold fashion statement didn't stop at her outfit. Her afro perfectly completed her vintage look and cemented her place as a fashion icon.
You can always count on Jodie Turner-Smith to have the most flawless beauty look that complements her outfit (Credit: Abaca Press / INSTARimages)
At the 2023 Vanity Fair Oscar Party in March, Jodie also turned heads as she graced the red carpet in a jaw-dropping jewel-adorned gown by Gucci that exuded goddess-like beauty.
The Art Deco-inspired dress featured a plunging red velvet bra that was playfully contrasted with sheer black mesh.
Her sleeves and skirt had a diamond-shaped pattern covered in white crystals, while the bodice had a tiered half-moon design adorned with sparkling embellishments.
The black lace panels that alternated between matte and sheer created a mesmerizing effect on the skirt and sleeves.
Always the belle of the ball wherever she goes, Jodie Turner-Smith looked stunning at the 2023 Vanity Fair Oscar Party (Credit: PA Images / INSTARimages)
To complete the look, the actress accessorized with a Messika spirited wind ring and black drop earrings and slipped into a pair of Gucci Angel leather platform pumps. Her silver nose ring added an edgy touch to her look.
Her glamorous makeup was on point, with a glittery crimson lip, an inky cat eye, rosy cheeks, and smoky black eyeshadow that perfectly complemented her outfit.
Jodie Turner-Smith has been a name to watch since her breakthrough performance in Melina Matsoukas' feature film debut, Queen & Slim.
She also garnered attention in Kogonada's After Yang alongside Haley Lu Richardson and recently became a fashion icon while promoting her absurdist drama White Noise.
Jodie Turner-Smith cozied up to her husband Joshua Jackson at the star-studded event (Credit: PA Images / INSTARimages)
Joshua Jackson's wife portrayed the title character, Anne Boleyn, in the Channel 5 psychological thriller miniseries chronicling the cursed Queen months before her execution, where her performance received recognition and demonstrated her versatility in any genre she chooses.
In an exclusive interview with Discussing Film on March 27, Jodie addressed her interest in Murder Mystery 2, stating that working alongside Jennifer Aniston and Adam Sandler was a huge draw.
Jodie Turner-Smith with Adam Sandler, Jennifer Aniston, and the rest of her co-stars at the Los Angeles premiere of Murder Mystery 2 (Credit: Faye's Vision / Cover Images)
Jodie explained, "When Adam Sandler and Jennifer Aniston – two iconic actors, comedic heavyweights, and movie stars – want you to be in their movie, it's kind of like a no-brainer. I was like, 'Yeah, absolutely.' They want me to do this, yes! You know, I felt like no one had really seen me in this light."
The 36-year-old British model continued, "I was also interested in [Murder Mystery 2] for that reason. It just felt like it was going to be an amazing opportunity to learn something new, to grow, and to flex a muscle that I hadn't really flexed before. I think I got all of those things in, and then the locations were insane, Hawaii and Paris!"
Murder Mystery 2 boasts of a wonderfully diverse cast of characters (Credit: Netflix)
Aside from starring in Murder Mystery 2, Jodie will also appear in season 4 of the popular teen comedy Sex Education on Netflix and the upcoming Star Wars series The Acolyte.