Have you ever wondered what it would be like to share your name with a popular celebrity?
Well, there are at least nine women — named Julia Roberts — who know exactly what that's like.
Julia Roberts wears her hair down as she attends a taping of "Jimmy Kimmel Live!" November 12, 2015, in Los Angeles
Jimmy Kimmel took the liberty of introducing them to the famous Julia Roberts on an episode of his show — "Jimmy Kimmel Live!" — taped last Thursday.
One lady from Toronto said she attended a long yoga retreat in an ashram in India, during which "nobody called me Julia, they called me Eat, Pray, Love," she explained. "Thank you so much for this beautiful life!"
Julia Roberts wears leather pants and a blazer as she arrives on the set of "Jimmy Kimmel Live!"
Another woman from Arizona recalled getting an upgrade when checking in at a Palm Springs hotel for a vacation: "My room was awesome! It was the best room!"
While we, too fell in love with Julia Roberts from Beaumont, Texas we loved the famous Julia's reactions even more. We also loved her simple yet elegant ensemble.
Julia Roberts hides her eyes behind dark sunglasses
The 48-year-old actress was on the show promoting her new movie "Secret in Their Eyes."
She wore tight leather pants and a loose top under a blazer paired with black leather pumps.
Julia Roberts' feet in black leather pumps
We think her black leather pumps are from Salvatore Ferragamo — however, we aren't certain.
Salvatore Ferragamo High-Heel Leather Pumps, $402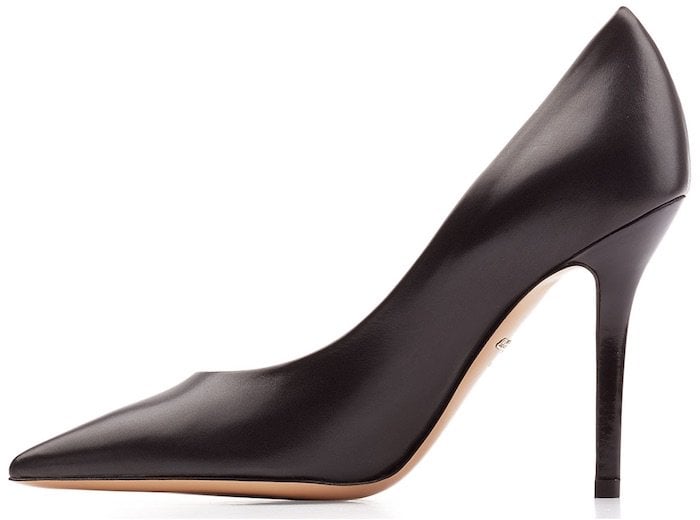 Credit: Michael Wright / Guillermo Proano / WENN