One of the things a girl must always have in her wardrobe is a classic blazer. Not only is this imperative for your office garb, but it's also necessary for a more stylish flair in your daily outfits.
That being said, how do you draw the line between office wear and casual wear? How will you make your casual outfits look different from your office ensembles when you wear your chic blazer?
Here are 10 styling solutions. Allow these celebrities to show you the ropes:
1. Balance out the formal flair with casual skinny jeans
The jeans and blazer tandem never fails. Never! Former 'Charmed' actress Alyssa Milano showed us that this nifty trick won't fail you.
The jacket's dressy vibe is tamed down a tad by the denim jeans. Punctuate the look with a pair of pumps.
Alyssa Milano at the Grove to appear on entertainment show Extra! with Mario Lopez in Los Angeles on January 1, 2014
2. Tie together an outfit composed of mixed-media pieces
Rita Ora combined leather with lace. It's an interesting mix because the lace is feminine and the leather is edgy. The black blazer made these elements seem cohesive.
Rita Ora in Mayfair for a late birthday dinner in London, England, on November 27, 2013
3. Punch up your look with printed trousers.
We were totally smitten with Sharon Stone's striking airport outfit. First, can we take a moment to appreciate her gorgeous gold-tone blazer?
The gold is definitely a startling piece, but the whole outfit gives off a relaxed, no-nonsense vibe. She owes that to her pair of pants, which are slouchy and boasting an abstract print.
'Basic Instinct' actress Sharon Stone departing from LAX with a friend, wearing a copper-colored jacket, printed trousers, and white shoes in Los Angeles on November 12, 2013
4. Basic white tee and oxford shoes.
We had to include another Rita Ora look just because she managed to make it appear casual despite the formal elements. See, the blazer and white button-down shirt combo can be taken in either direction.
Wear it with tapered pants and a pair of pumps, and it will look formal. Alternatively, wear it with a slightly slouchy pair of pants and a cute pair of oxford shoes, and the effect is casually stylish!
Plus, take note of the deliberately unkempt look of the button-down shirt. Rita undid one button up and one button down and left it untucked for an easy-going style.
Rita Ora spending just under 4 hours in the hairdresser's chair and looking totally different when she emerged with a new blonde bob haircut in London, England, on August 8, 2013
5. Solid-colored dress with your blazer.
Solid-colored dresses are sophisticated and classic, sure, but sometimes, they are just a tad too boring!
If you want to play around with layers, a chic blazer is the best way to go. It's also a great idea to throw in a blazer if you want to update dresses that you have worn countless times in the past already.
Kate Moss wears a blazer while leaving Loulou's in London, England, on June 17, 2013
6. Blazer with denim cutoffs.
Jamie Chung wore this outfit summer of 2013, but we think this style is still great to copy this year. That tweed jacket is timeless, and we love how she made it look low-key by wearing denim cutoffs and a white tank top with it.
You can even wear sneakers with this outfit, but her sandals are just as perfect.
Jamie Chung out shopping in a Juicy Couture jacket on Melrose Avenue in Los Angeles on June 7, 2013
7. Make a feminine fit-and-flare dress look edgy.
Fit-and-flare dresses are adorable, but if you want to tame down the cuteness a little bit, a blazer will help immensely. Hayden Panettiere did just that with this look.
Hayden Panettiere at Glamour Magazine Women of the Year Awards 2013 in London, England, on June 5, 2013
8. Add volume to a shift or body-con dress with a boxy blazer.
Balance is the key to a striking look. So, if you are wearing something figure-hugging, a boxy blazer may come handy. Lily Collins' outfit is a spot-on example. Her boxy blazer added volume to her silhouette.
Lily Collins at the ITV Studios in London, England, on June 3, 2013
9. Go the boho route with a maxi skirt and a cropped top.
It's casual, but it's definitely not lacking in style. Jennifer Lawrence was a boho babe in her slitted skirt and knotted top. She amped up the formal meter by adding a structured black blazer.
Jennifer Lawrence spotted helping a friend pick out a wedding dress at a Vera Wang boutique in West Hollywood on April 27, 2013
10. Colored pants add an interesting touch.
Monochromatic outfits are cute, but if you get tired of the same formula, try a colored pair of pants. Take a look at Kourtney Kardashian's outfit.
She paired her preppy blazer with red pants. She also made the look edgier by wearing knee-high hunter boots and oversized sunnies.
Kourtney Kardashian paired her preppy blazer with red pants
Start saturating your wardrobe with these blazers from Amazon: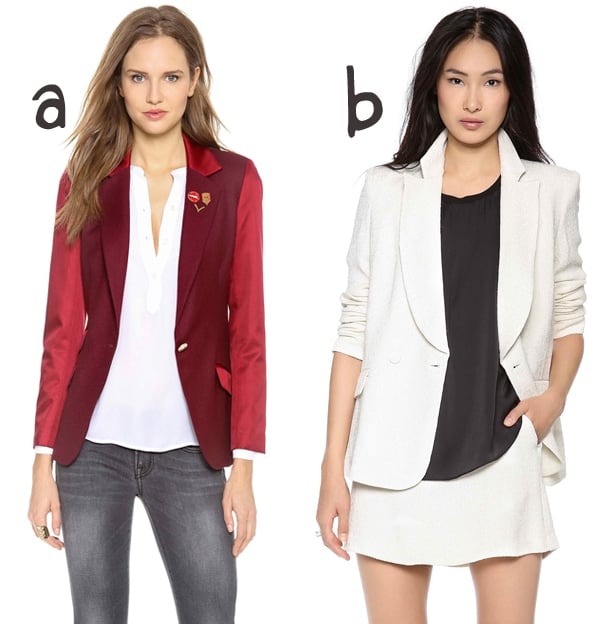 a. LAVEER Trophy Revelry Blazer, $269.50
b. Theysken's Theory Jousse Blazer, $556.50
c. Faith Connexion Suit Jacket, $508
d. O'2nd Merci Detachable Collar Jacket, $450
e. Rag & Bone Roseburg Blazer, $346.50
f. Band of Outsiders Shrunken Double-Breasted Blazer, $1,095
g. SMYTHE Boy Blazer, $595
h. LAVEER Swivel Revelry Blazer, $711
These outfits are chock-full of inspiration, don't you agree? They just prove how versatile a blazer can be. So, don't just relegate this key piece in your wardrobe for work attire only. Try incorporating it in your casual, everyday ensembles, and see what difference it can make!
Credit: SIPA / WENN / Will Alexander / Ricardo Vigil / Ryan /
Credit: Craig Harris / Lia Toby / Cousart-JP / JFXimages