Kourtney Kardashian and Travis Barker surprised everyone by getting married in Las Vegas after the 2022 Grammys.
The wedding of the 42-year-old reality star and 46-year-old musician has been confirmed by One Love Wedding Chapel owner Marty Frierson.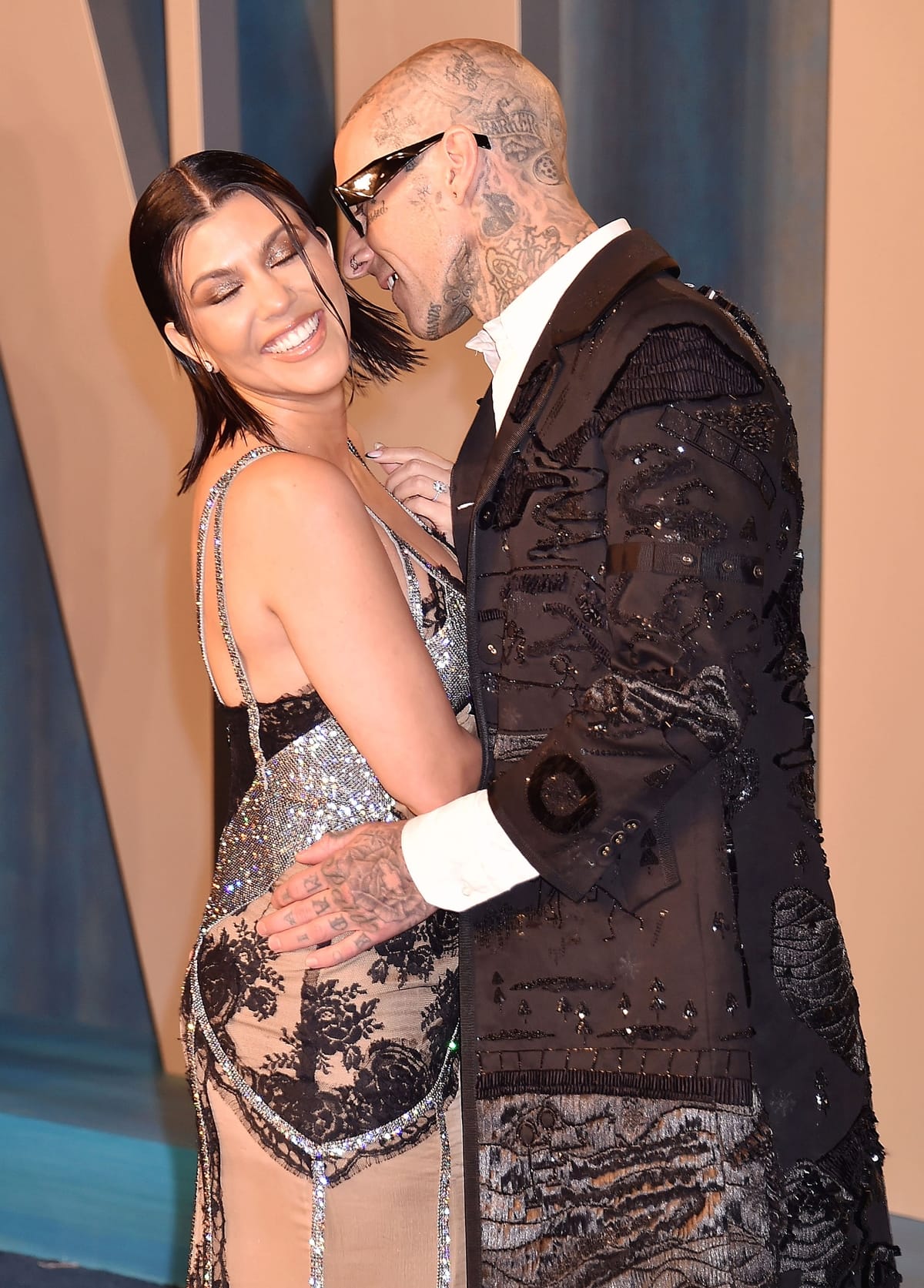 Kourtney Kardashian and Travis Barker are officially husband and wife after marrying in Las Vegas on April 3, 2022 (Credit: PAPIXS / INSTARimages)
"I didn't know who it was until they pulled up. I advertise as 24-hours but they wanted to make sure I was still there. They paid and they requested Elvis Presley, that was mandatory. I called back 5 minutes later and was like, I got an Elvis, and there they were," he told People of the ceremony that lasted 30 minutes.
"They came, got married, tossed the bouquet in the driveway, and danced to Elvis. They showed a lot love and had a lot of fun," Marty Frierson added about the couple who got engaged in October 2021.
View this post on Instagram
In September 2012, Kourtney Kardashian, along with other members of her Kardashian and Disick families, were seen out and about in Miami, Florida.
Kourtney Kardashian rocks Illesteva Claire sunglasses while out with her son Mason Dash Disick (Credit: WENN)
They were searching for a possible new location for another branch of their clothing store DASH, one of which was already on Miami Beach's Washington Avenue, the area's main business and shopping street.
By 2018, all DASH stores had closed with no sign of reopening. "After nearly 12 years, my sisters and I have decided to close the doors of our DASH stores," Kim Kardashian said in a statement posted on her app.
"We opened our first store as a family in 2006 and since then we have made so many lifelong memories. From opening locations in Los Angeles, Miami and New York, to having our Dash Dolls spin-off show, it's been such a huge part of our lives. We've loved running DASH, but in the last few years we've all grown so much individually. We've been busy running our own brands, as well as being moms and balancing work with our families. We know in our hearts that it's time to move on. We love our DASH Dolls and are so grateful for the amazing memories—and we have to give a special thanks to the DASH employees and all of the incredible fans and customers who have supported us throughout the years! We couldn't have done it without you. Thank you to everyone!"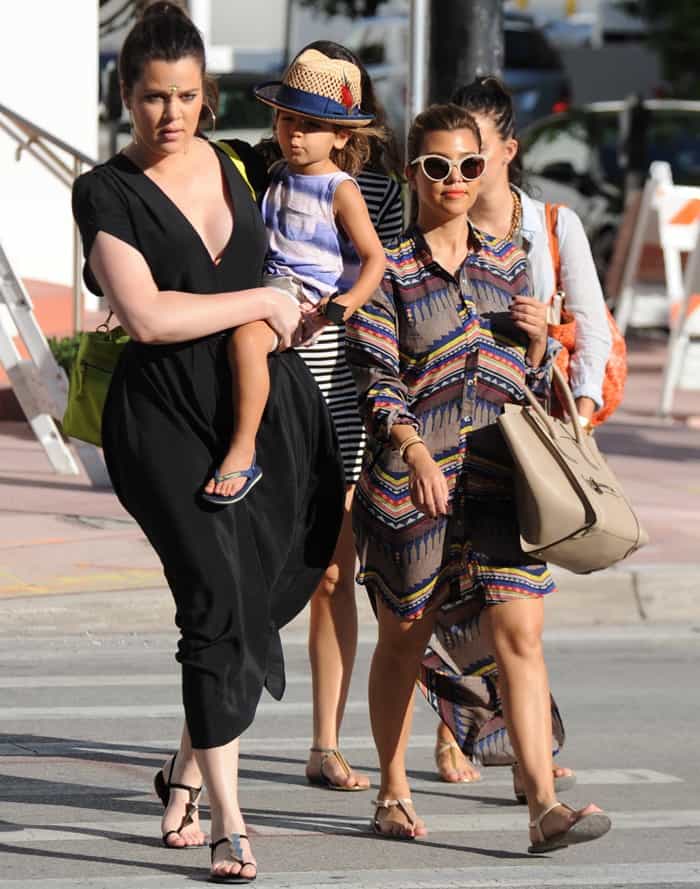 Kourtney Kardashian steps out with her sister Khloé and her son Mason Dash Disick to search for a new retail space for their clothing store DASH in Miami, Florida on September 19, 2012 (Credit: WENN)
Kourtney looked fresh, cute, and ready to tackle the busy day in this easy and breezy tassel-printed shirtdress with a high-low hem.
The dress's loose fit looks uber comfortable but its trendy design keeps it far from being frumpy. It's a great outfit choice for running errands, and for Kourtney who had just given birth two months earlier, it was also a great choice for fitting and flattering a post-baby body.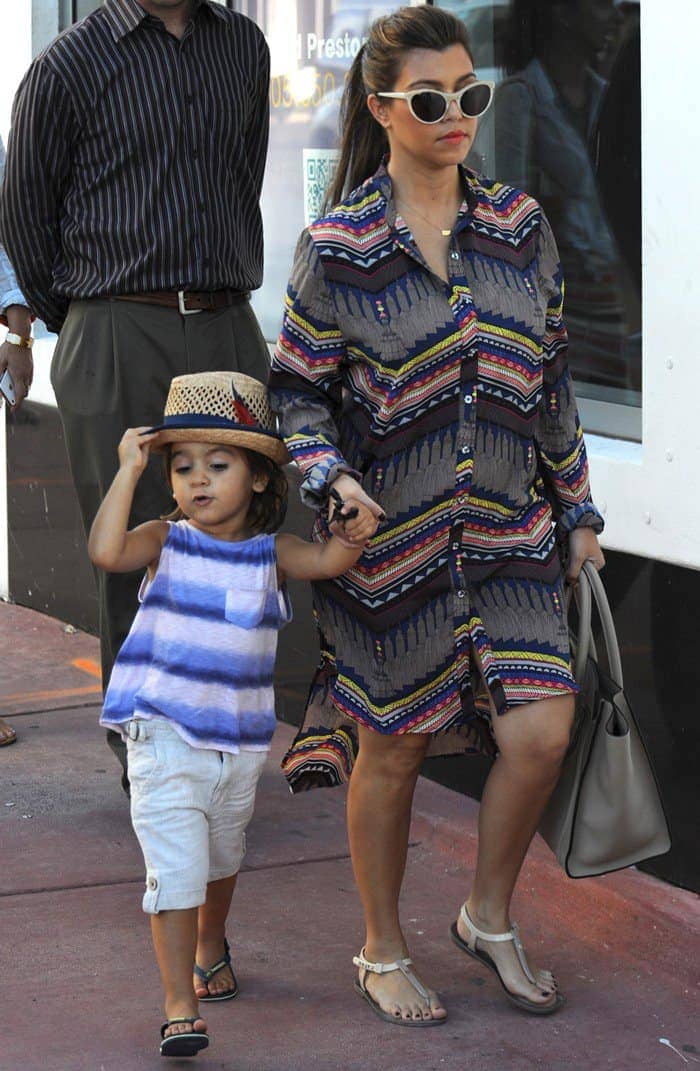 Kourtney Kardashian styled a Mara Hoffman stepped hem dress with Fendi jelly flat thong sandals (Credit: WENN)
The American television personality, socialite, businesswoman, and model completed her busy-day look with Fendi jelly flat thong sandals, a Celine Boston bag, and white cat-eye sunglasses.
Kourtney Kardashian's cool and comfortable dress is this Mara Hoffman stepped hem shirtdress:
Mara Hoffman Stepped Hem Shirtdress in Tassels Navy, $349.00
It also comes in this black and lighter blue color combo:
Mara Hoffman Stepped Hem Shirtdress in Tassels Black, $352.00