Fresh off filming Flag Day alongside actor and director Sean Penn, Katheryn Winnick received word of a once-in-a-lifetime offer to star in ABC's Big Sky by legendary creator David E. Kelley.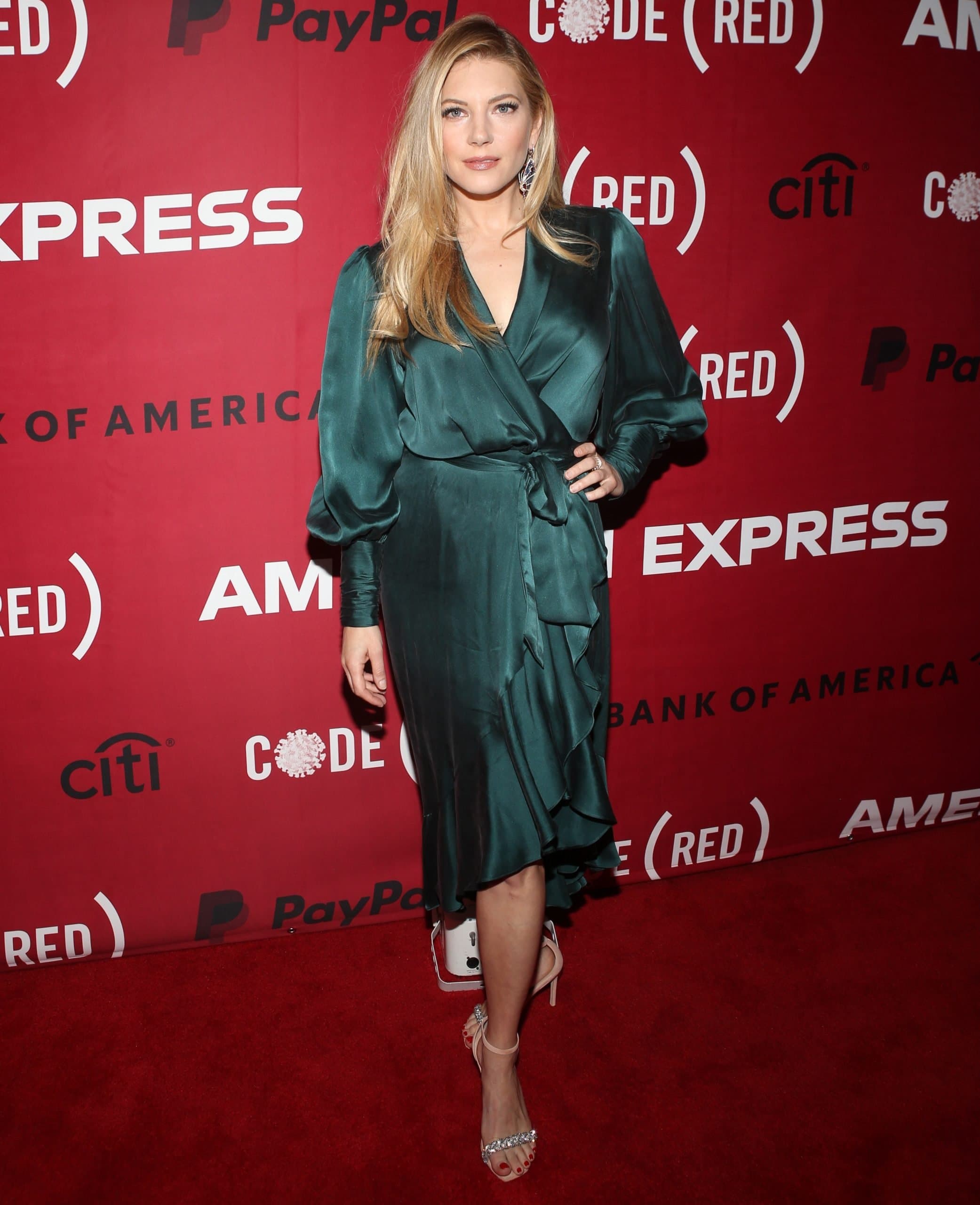 Canadian actress Katheryn Winnick was cast as Jenny Hoyt on the ABC crime drama series Big Sky in February 2020 (Credit: Derrick Salters / WENN)
Just how did Katheryn Winnick land the starring role of ex-cop Jenny Hoyt in the ABC crime drama thriller Big Sky?
What Is Katheryn Winnick Known For?
For the uninitiated, Winnick, the blonde, Canadian bombshell with piercing blue eyes, has screen credits that stretch over two decades.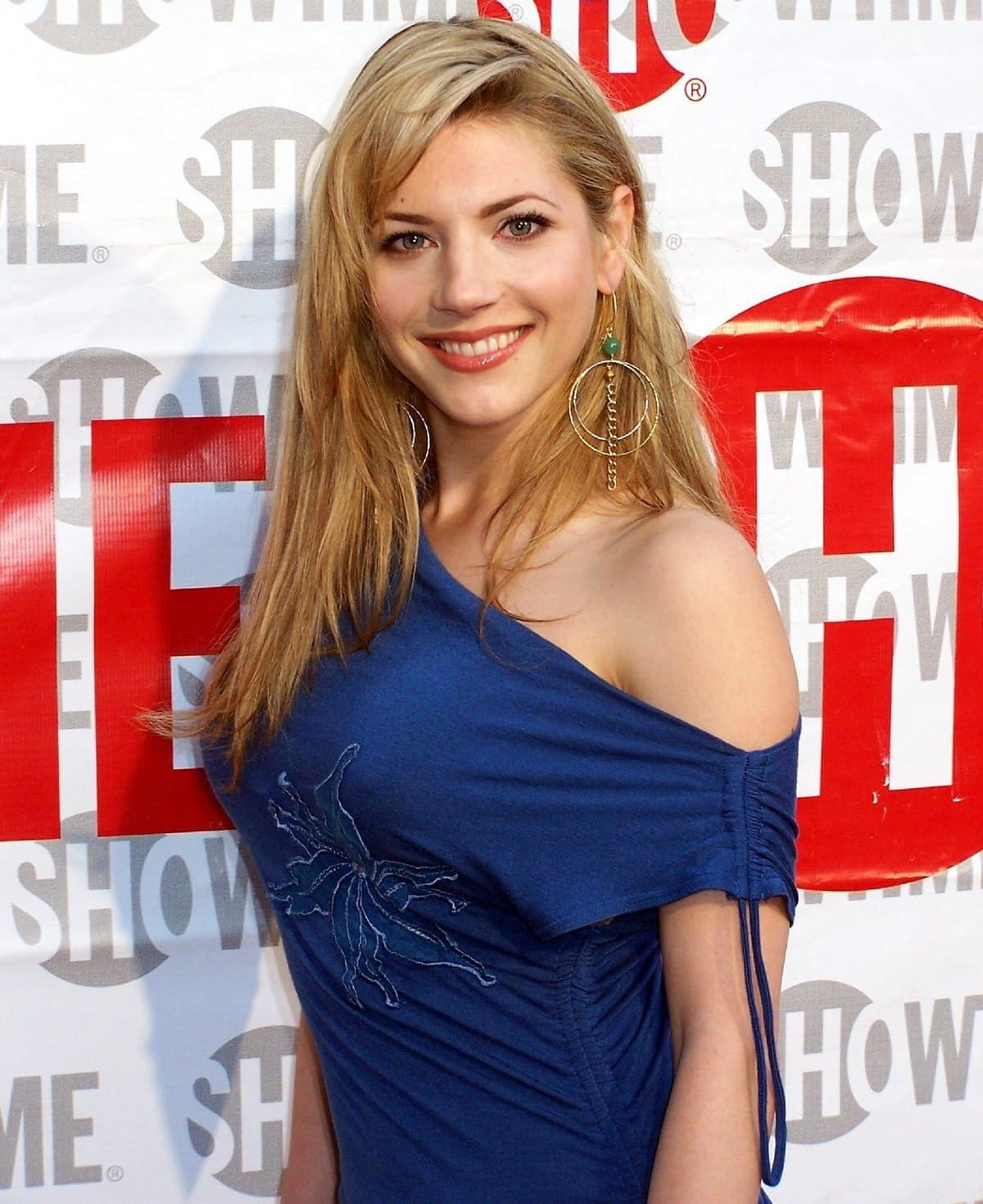 Actress Katheryn Winnick in a blue dress at the Showtime's Premiere Of "Our Fathers" held at The Directors Guild of America on May 10, 2005, in Los Angeles, California (Credit: George Brandon / WENN)
She's not unfamiliar with the television series format, having appeared in shows like Bones, Law & Order: Criminal Intent, House, and most recently a seven-year arc on Vikings, where she played Lagertha until her character was assassinated in season six.
What is Big Sky About?
The ABC hit Big Sky is a thrilling crime drama that follows detective Jenny Hoyt and Cassie Dewell, played by Kylie Bunbury.
Their investigation of a car accident leads them on a quest to discover the fate of two girls missing from the wreckage.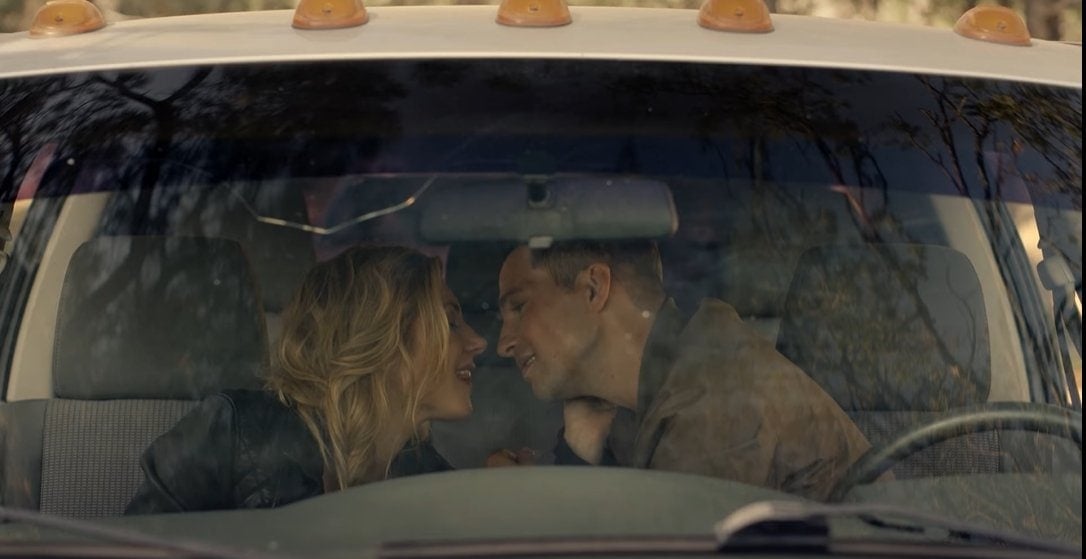 Katheryn Winnick as Jenny Hoyt and Logan Marshall-Green as Travis Stone get ready to kiss in Big Sky (Credit: ABC)
The team soon learns that their disappearance is one of many in the area with similar circumstances. The thriller also has several sinister twists that send viewers reeling along the journey.
Katheryn Winnick Didn't Want to Work in Television Again
Especially after working on Flag Day, Winnick was looking forward to pursuing further work in feature-length films when she was contacted about Big Sky.
"I wasn't really looking to do television, but they called and said that this was a straight offer, and David E. Kelley was interested in having me star in the show," Winnick told Collider in December 2020.
Michelle Pfeiffer's husband David E. Kelley asked Katheryn Winnick to star in Big Sky (Credit: Avalon / WENN)
Having been hand-picked by such an iconic storyteller was an honor yet still threw a wrench in what she had planned for her career. To complicate matters, filming was scheduled to start in only three weeks!
"Obviously, when you get those calls, you pay attention," she says. "But it was a quick decision. Sometimes you just need to go with instinct."
Filming was later postponed due to the pandemic and moved to Vancouver, British Columbia for the first season. This allowed Winnick time to spend more time developing her character and taking a well-deserved rest after wrapping Vikings and filming several movies.
Why Did Katheryn Winnick Accept the Role on Big Sky
Winnick, despite her reservations about working on the small screen, jumped at the chance to work alongside the legendary David E. Kelley.
"I had [been a fan] for so long and grew up with Ally McBeal and grew up watching so many of these iconic, powerful, relatable characters – especially female characters and female voices – that I kind of just said, okay," said Winnick.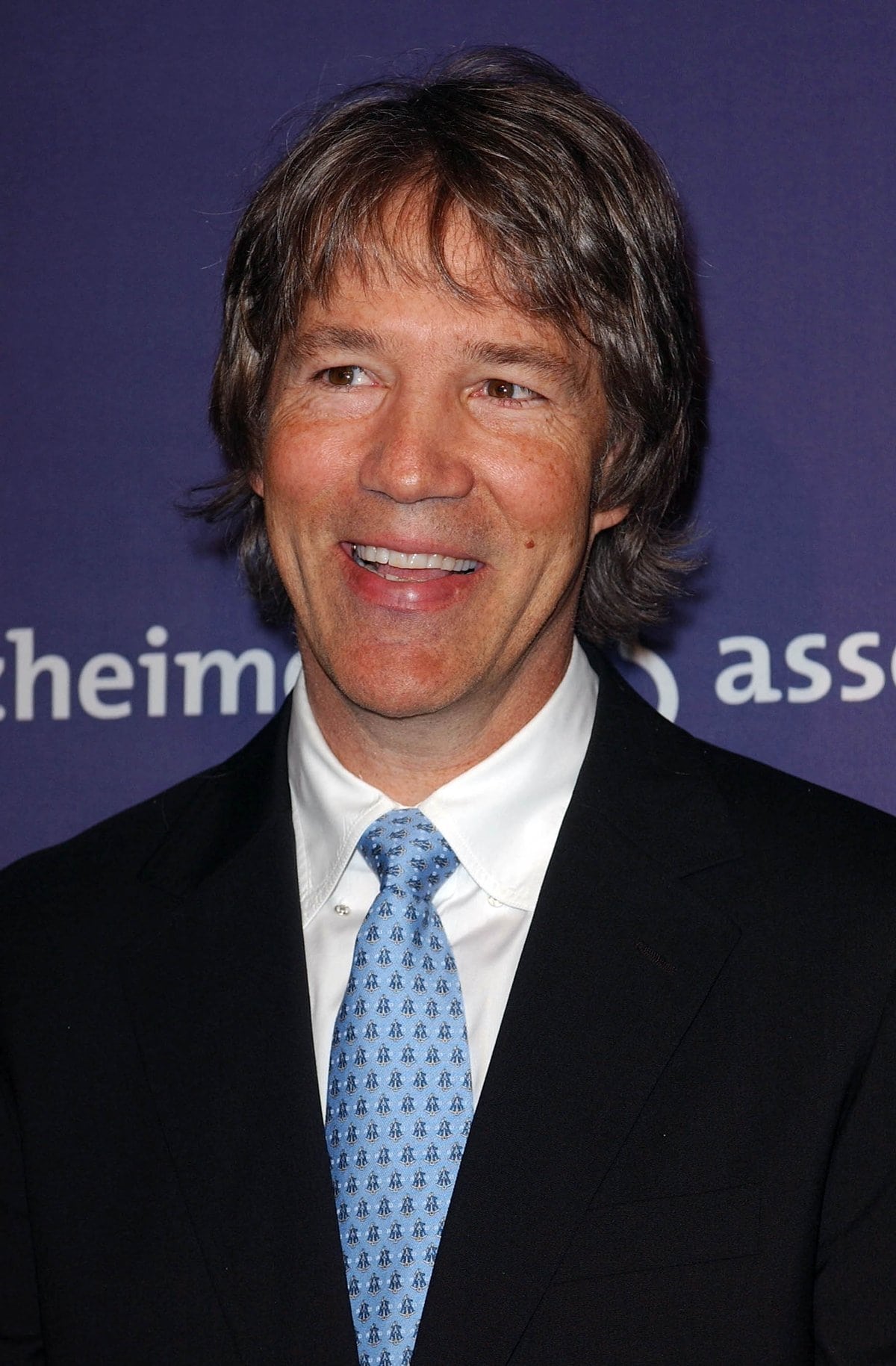 Legendary television writer and producer David E. Kelley is the creator of popular series such as Doogie Howser, M.D., Picket Fences, Chicago Hope, The Practice, Ally McBeal, Boston Public, Boston Legal, Harry's Law, Goliath, Big Little Lies, Mr. Mercedes, Big Sky, and Nine Perfect Strangers (Credit: WENN / Apega)
Big Sky is a much darker series than Disney-owned ABC usually offers, so she was also attracted to the opportunity to push the boundaries of mainstream, network television.
But there were other factors about her character on the show that appealed to her. For one, her wardrobe for Big Sky is far less laborious than for her previous role as Lagertha in Vikings, which took hours to prepare.
Katheryn Winnick shows off her size 5 (US) feet in black patent leather ankle-strap sandals (Credit: Michael Boardman / WENN)
"I don't have to be [in] three and a half hours of wardrobe and braids, covered in dirt as well," she joked.
Katheryn Winnick's Powerful Role as Jenny Hoyt
Winnick is continually finding inspiration to develop her role as the gritty detective and ex-cop Jenny Hoyt. Hoyt is a strong female lead that creator David E. Kelley is known for.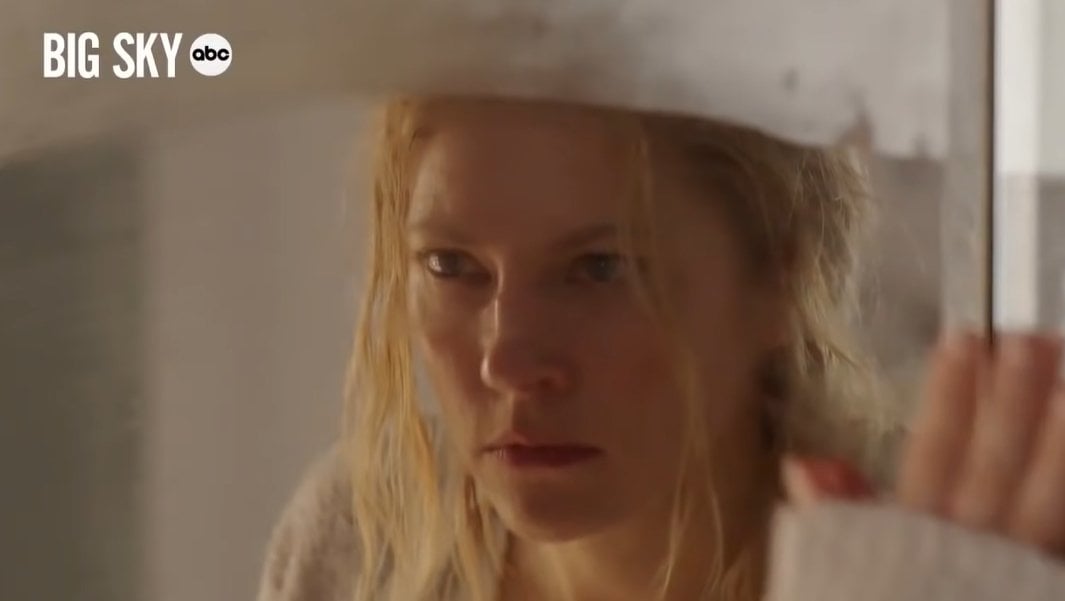 Vikings veteran Katheryn Winnick has one of the leading roles in ABC's drama series Big Sky from prolific producer David E. Kelley (Credit: ABC)
Winnick describes Hoyt as "direct" and "ambitious," yet we still get to see Winnick carefully reveal a softer, sensitive, and more complex character with a meaty backstory.
At the core of it, she's also trying to find [her] own way, trying to figure out who she is right now, and trying to figure out her own identity outside of her husband and her son," Katheryn says.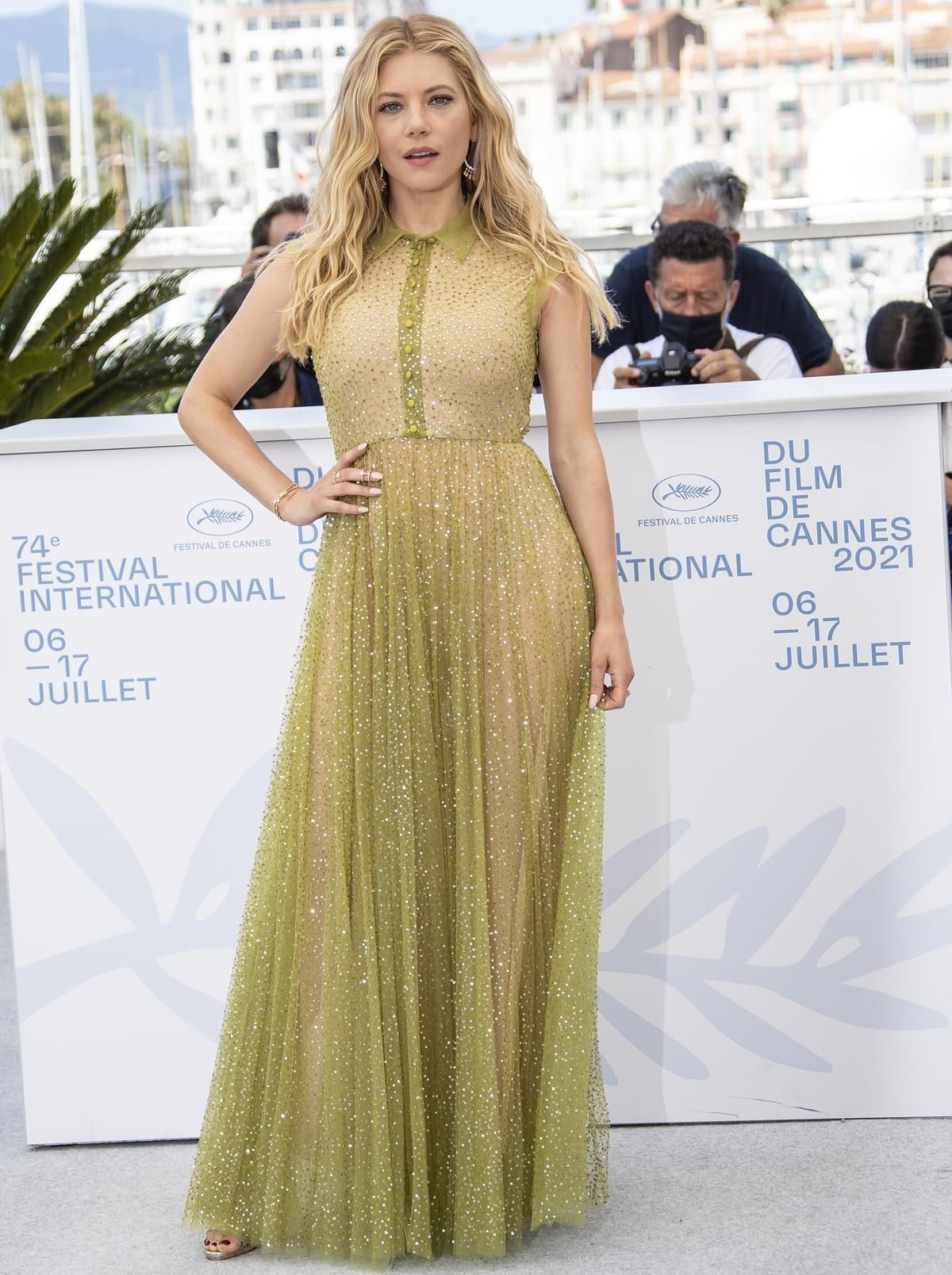 Katheryn Winnick in a green Christian Dior Pre-Fall 2021 dress at the "Flag Day" photocall during the 74th annual Cannes Film Festival on July 11, 2021, in Cannes, France (Credit: MEGA / WENN)
The show gets filmed in blocks, so even the actors aren't fully aware of their character's arc until the release of the new scripts.
"So I'm yet to see where she's gonna go. I feel there's so much more still to discover with her. We just scratched the surface, so that allows me creatively to be able to explore the character even further, peel the onion, and discover who she is," Winnick says about her role.
Katheryn Winnick's Next Level Commitment to Auditions
While Katheryn was offered the role of Jenny Hoyt in Big Sky directly, her audition process hasn't always been so easy.
Take Vikings, for example. Winnick went so far as to rent a costume to lend authenticity to her callback audition. She even worked with a dialect coach to formulate what they considered to be a Viking accent.
Katheryn Winnick starred in the role of Lagertha in History Channel's Vikings (Credit: History Channel)
"The Norse way of speaking, no one really knew what the Vikings sounded liked, they were Norsemen. The accent is really a combination of a Scandinavian accent, maybe with a Swedish accent and an old way of speaking," Winnick says.
Who Is Katheryn Winnick's Partner?
While not believed to be married, she's believed to be dating businessman Michael Persall. He could even be her husband, but the actress has never commented on her marital status.
Katheryn Winnick and her rumored boyfriend Michael Persall at the 2020 Directors Guild of America Awards on January 25, 2020, at the Ritz Carlton in Los Angeles (Credit: Avalon / WENN)
Michael Persall was her date at the 2020 Directors Guild of America Awards held at the Ritz Carlton in Los Angeles.
Katheryn Winnick Facts
| How much is Katheryn Winnick's net worth? | She is a Canadian actress with an estimated net worth of $1 million dollars. |
| --- | --- |
| Full Name: | Katheryn Winnick |
| Born: | December 17, 1977, in Etobicoke, an administrative district of the city of Toronto, Canada |
| Did Katheryn Winnick get married? | While she's not known to have a husband, Katheryn Winnick has never shared details about her dating life. |
| How tall is Katheryn Winnick? | 5′ 6″ (168 cm) |
| Feet/Shoe Size: | 5 (US) |
| Is Katheryn Winnick in Game of Thrones? | Yes, she played Kiyara the Maiden, a minor character in the fifth season of GoT. |
Actress Katheryn Winnick in a black dress with Suzanne Kalan jewelry at the 22nd Annual Critics' Choice Awards at Barker Hangar on December 11, 2016, in Santa Monica, California (Credit: Michael Boardman / WENN)