Kathy Hilton, who recently shone at the 2023 MTV Video Music Awards alongside her daughter Nicky Hilton, graced the iconic Beverly Hills Hotel in Los Angeles on Thursday, September 21, for the Elizabeth Taylor Ball to End AIDS fundraising gala, accompanied by her husband, Richard Hilton.
This star-studded affair united Hollywood luminaries like Angela Bassett, Courtney B. Vance, Paris Jackson, EJ Johnson, and Jennifer Tilly, all coming together for a noble cause.
Famous for her role in The Real Housewives of Beverly Hills, 64-year-old Kathy exuded elegance in a striking black creation by the renowned Australian designer Rebecca Vallance.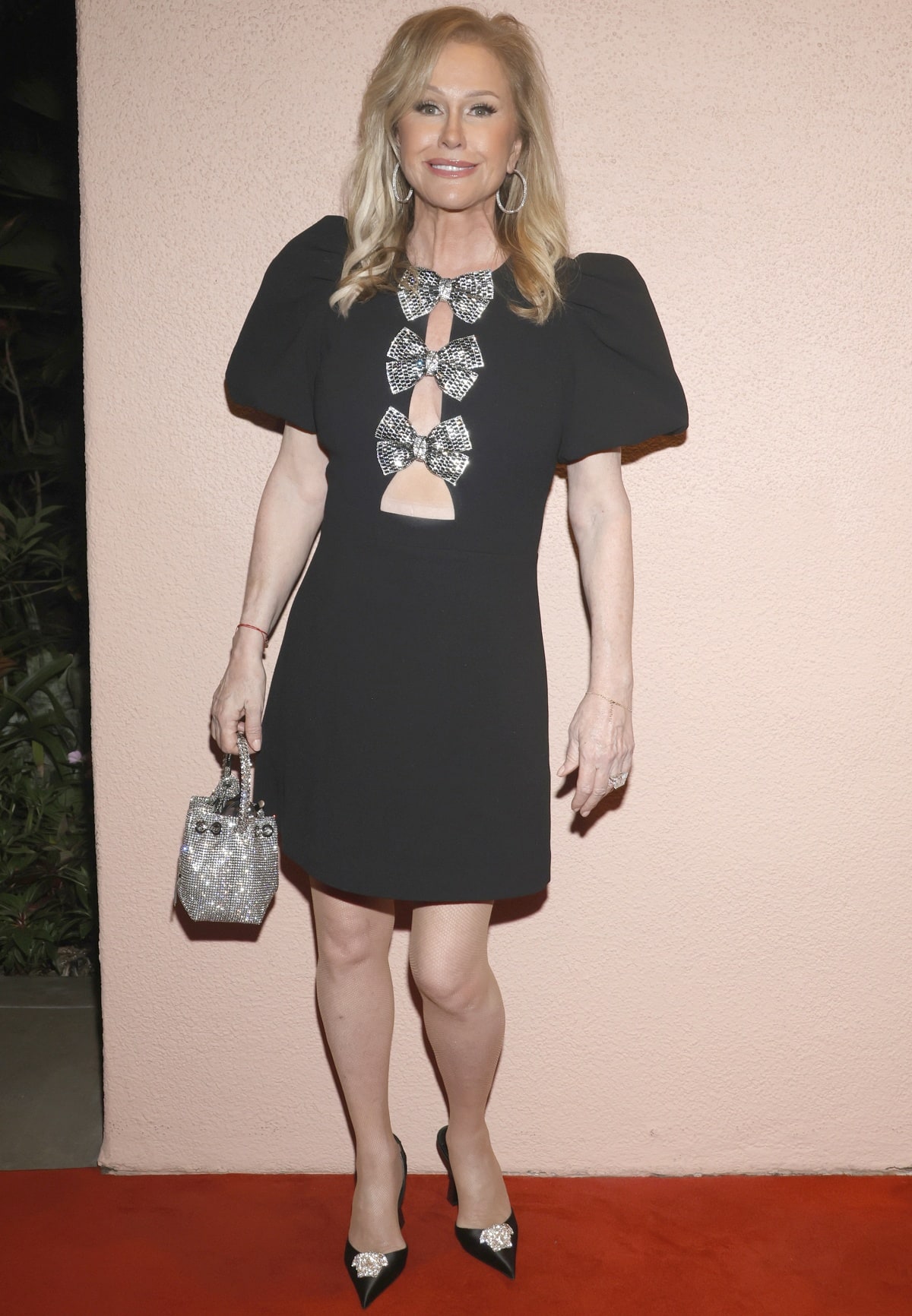 Kathy Hilton making a head-turning entrance in a striking black minidress from Rebecca Vallance at the Elizabeth Taylor Ball to End AIDS held at The Beverly Hills Hotel in Beverly Hills, California on September 21, 2023 (Credit: Faye's Vision / Cover Images)
The Katie minidress, featuring voluminous puffed short sleeves and a plunging neckline beautifully enhanced by three sparkling taffeta bows adorned with lustrous crystals, struck the perfect balance between modesty and allure.
As the wealthy American fashion designer and actress walked the red carpet, glimpses of skin peeked through the intricate bodice cutouts, creating a mesmerizing visual. The form-fitting silhouette effortlessly transitioned into an A-line skirt, elegantly skimming just above her knees.
Kathy carried a small silver Jimmy Choo rhinestone evening bag, glistening like a disco ball and epitomizing glamour and style, housing her essentials for the event. She added extra sparkle to her ensemble with silver diamond-studded hoop earrings.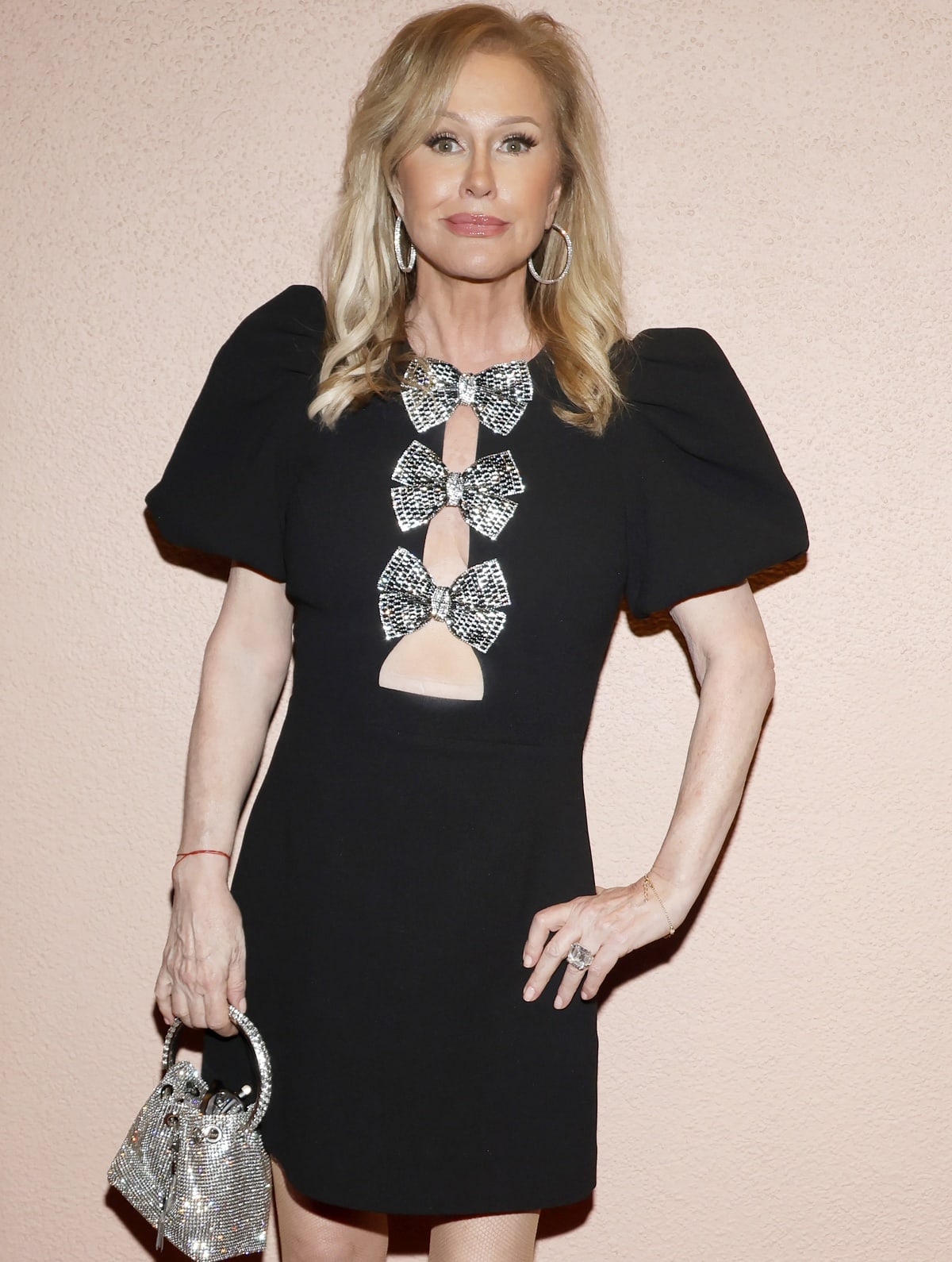 Kathy Hilton carrying a silver rhinestone evening bag from Jimmy Choo for added sparkle to her look (Credit: Faye's Vision / Cover Images)
Her makeup radiated with sun-kissed tones that accentuated her natural beauty. Her blonde hair, elegantly parted and styled in beach waves, added to the overall sophistication of her appearance.
To complete her impeccable look, Kathy chose black satin Jimmy Choo pumps embellished with a crystal accent detail on the toes, infusing a touch of elegance to her footwear, featuring a pointed toe and slingback style with an angular architectural design.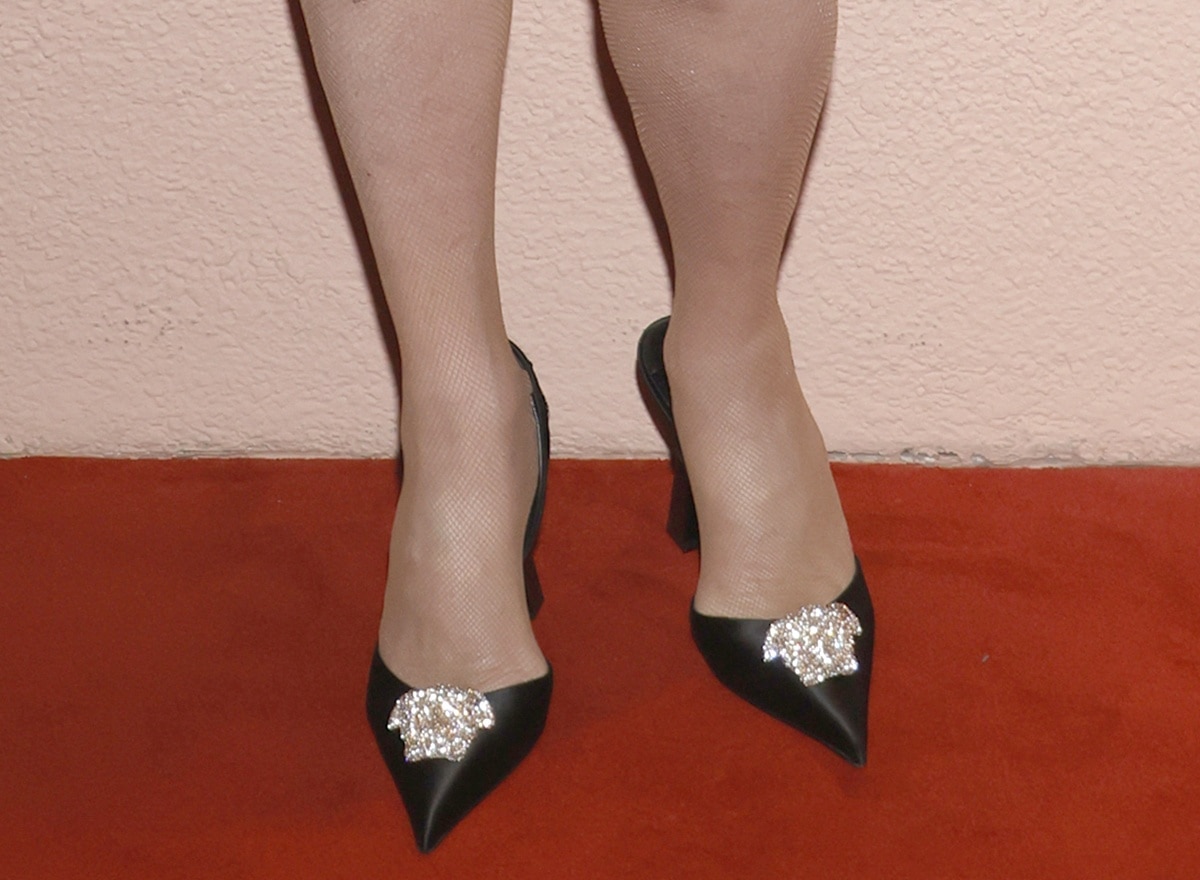 Kathy Hilton wearing black satin pumps from Jimmy Choo with a crystal accent on each pointed toe (Credit: Faye's Vision / Cover Images)
Kathy didn't just flaunt her fashion sense but also shared some heartwarming insights into her daughter Paris Hilton's journey into motherhood.
Speaking exclusively to People at the event, the mother-of-two revealed that Paris is absolutely "over the moon" about her newfound role as a mother.
Kathy exclaimed, "I've never seen my daughter happier in her life. I've never seen her so happy."
She added, "Yes, and the three of them," referring to Paris, her husband, Carter Reum, and their son Phoenix Barron, whom they welcomed via surrogate in January.
Ever the proud mom, Kathy Hilton gushed about her daughter Paris Hilton and her journey to motherhood (Credit: Faye's Vision / Cover Images)
The proud mom continued, "She's always very upbeat and very even keel. She's never moody."
Kathy further unveiled the deep bond between Paris and her husband, expressing her joy that her 42-year-old daughter had found her "special partner in life" and embarked on this beautiful journey of parenthood, emphasizing, "And then to have this baby, I think she's just over the moon."
In discussing her daughter's parenting, Kathy shared that Paris occasionally seeks advice from her and her sister Nicky Hilton, stating, "You know, she'll call me for certain advice or Nicky. I'm up there a lot."
Highlighting Paris' "very gentle" and receptive nature as a mother, Kathy noted that she doesn't get upset when corrected about parenting, acknowledging, "Everybody needs to learn, right? It's not easy. It's a lot. Even if you have somebody to help you, it's a lot."