What egging incident? By the way Kendall and Kylie Jenner sashayed into LAX on Wednesday, it was as if the news that vandals threw eggs at the stage during their Australian guest appearance didn't happen at all.
Anyway, the eggs didn't hit their targets, the mischief-makers were arrested, and as for Kendall and Kylie? They were still in-step and at the top of their game. Despite getting no sleep, going on a Australian promo blitz, and flying halfway around the world and back, the Hollywood It sisters looked impeccably put-together as they touched down at their hometown in LA.
Kendall and Kylie Jenner flying in from an international flight and making their way out of LAX in Los Angeles, California, on November 18, 2015
Older sis Kendall Jenner was comfortable yet chic in a nude-tone crop top, striped bandage pants, and a long bandage coat all from the Balmain spring 2016 collection. She toted her essentials in a black Givenchy "Lucrezia" handbag. Completing her look were her favorite aviator shades and matching nude crisscross sandal booties with gold bamboo heels from the same Balmain collection.
Kendall Jenner sporting a head-to-toe Balmain spring 2016 look in nude tones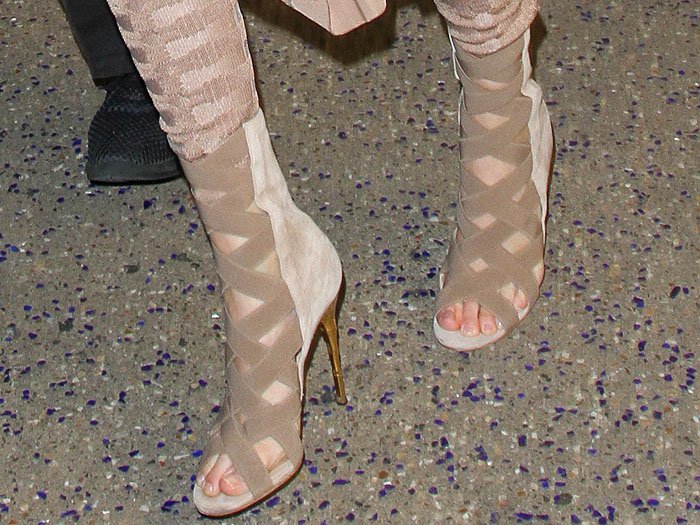 Balmain spring 2016 nude crisscross sandal booties with gold bamboo heels on Kendall Jenner
Check out the sandal booties as they were worn on the runway in this Instagram video:
As for Kylie Jenner, she also wore a beige crop top but paired it with roomier, high-waisted wide-leg pants. Choosing all-black for her accessories, Kylie topped off her ensemble with oversized sunnies, a Hermès Birkin bag, and Gianvito Rossi suede pumps.
Kylie Jenner wearing a beige crop top and black high-waisted wid-leg pants accessorized with oversized sunglasses, a Hermes Birkin bag, and Gianvito Rossi suede pumps
Kylie Jenner masterfully concealing her face from the paparazzi behind dark sunglasses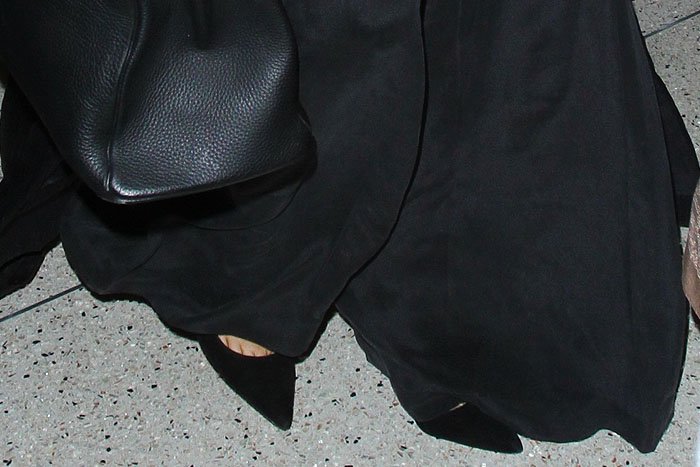 Gianvito Rossi black suede pumps on Kylie Jenner
Grab Kylie Jenner's exact pumps at Bergdorf Goodman, Farfetch, and Luisa Via Roma: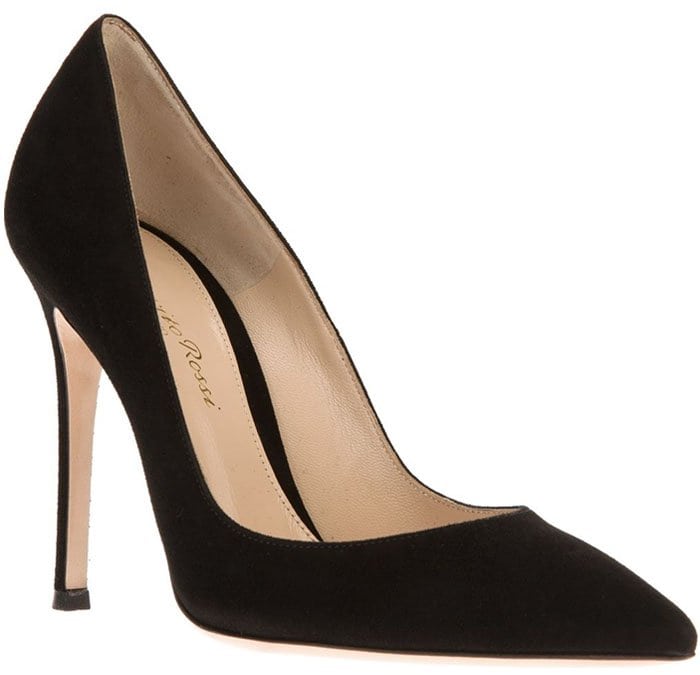 Gianvito Rossi Suede Pointed-Toe Pumps, $522.89 to $670 at Bergdorf Goodman, Farfetch, and Luisa Via Roma
Credit: WENN