Celebrities are often paid to promote products, and we all know this. Let's be honest; even though they are being paid, we still rush out there hoping that whatever they promote will also work for us. The fact that they are prepared to stake their name and reputation on a product lends it credibility.
But there is this all-important thing called disclosure when it comes to anything that can be construed as investment advice. And this is where Kim Kardashian found herself on the wrong side of the Securities and Exchange Commission (SEC) when she promoted EMAX tokens, a crypto asset security, on Instagram with a link to the EthereiumMax website.
She started the June 2021 post by asking her millions of fans, "ARE YOU INTO CRYPTO??? THIS IS NOT FINANCIAL ADVICE BUT SHARING WHAT MY FRIENDS JUST TOLD ME ABOUT THE ETHEREUM MAX TOKEN."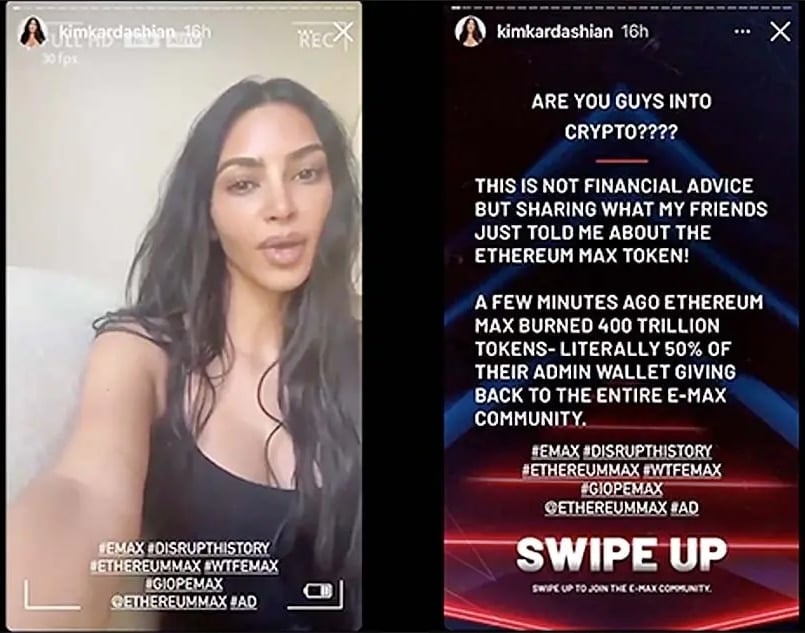 Kim Kardashian was paid $250,000 to promote crypto security tokens sold by EthereumMax on her Instagram account but had to pay US regulators more than $1m to settle charges for failing to disclose that it was a sponsored post (Credit: Kim Kardashian's Instagram)
With around 332 million followers on Instagram, any company that has her promoting their product on Instagram gains immediate exposure to a huge audience.
SEC Findings
According to the commission's findings, "Kardashian failed to disclose that she was paid $250,000 to publish a post on her Instagram account about EMAX tokens, the crypto asset security being offered by EthereumMax,"
The commission said, "Kardashian violated the anti-touting provision of the federal securities laws. Without admitting or denying the SEC's findings, Kardashian agreed to pay the aforementioned $1.26 million, including approximately $260,000 in disgorgement, which represents her promotional payment, plus prejudgment interest, and a $1,000,000 penalty. Kardashian also agreed to not promote any crypto asset securities for three years."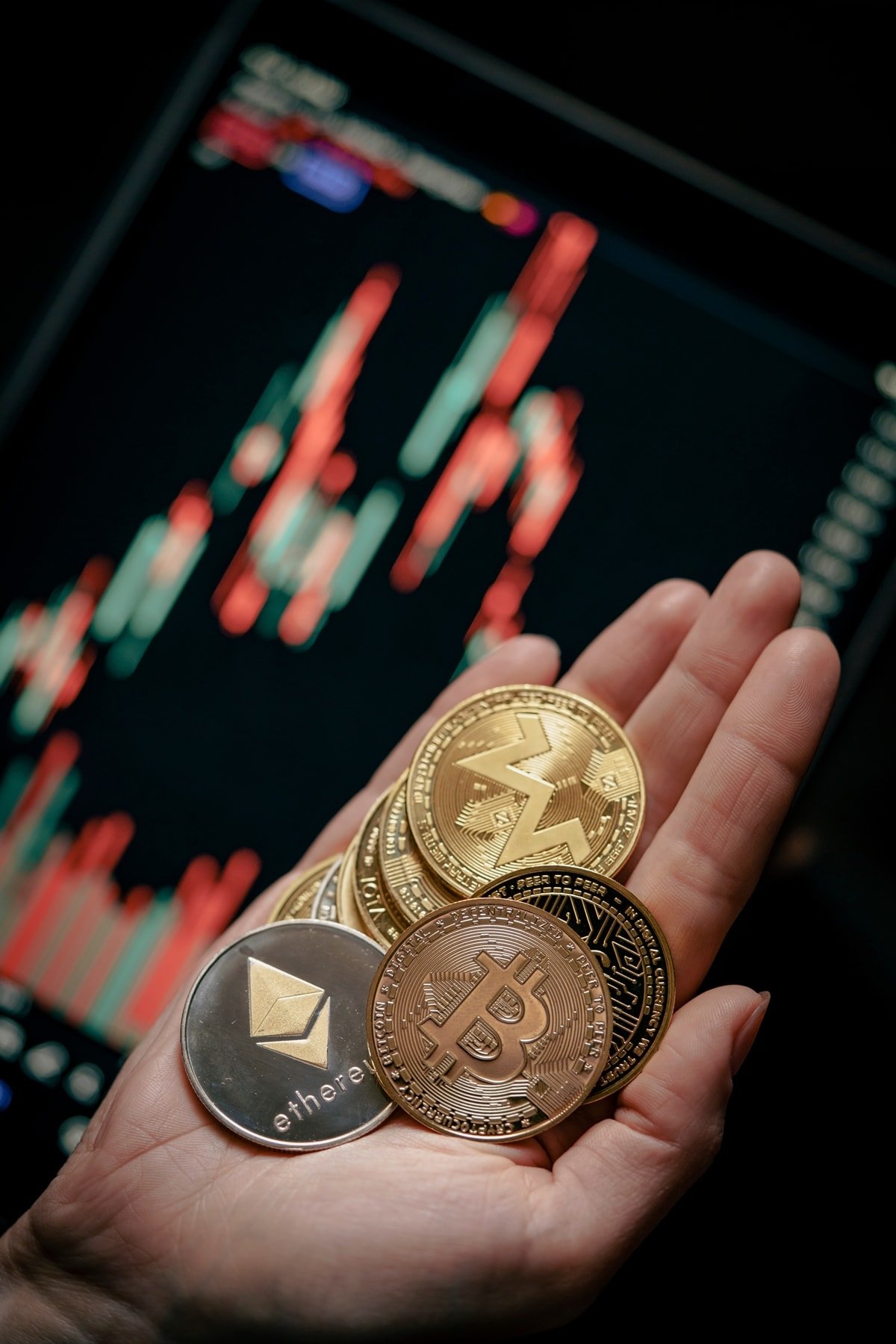 Kim Kardashian violated federal securities laws by failing to disclose that she was paid to promote a crypto asset in a post on her Instagram page (Credit: Alexandru Nika / Shutterstock)
In a statement issued by SEC Chair Gary Gensler, he advised, "This case is a reminder that, when celebrities or influencers endorse investment opportunities, including crypto asset securities, it doesn't mean that those investment products are right for all investors. We encourage investors to consider an investment's potential risks and opportunities in light of their own financial goals. Ms. Kardashian's case also serves as a reminder to celebrities and others that the law requires them to disclose to the public when and how much they are paid to promote investing in securities."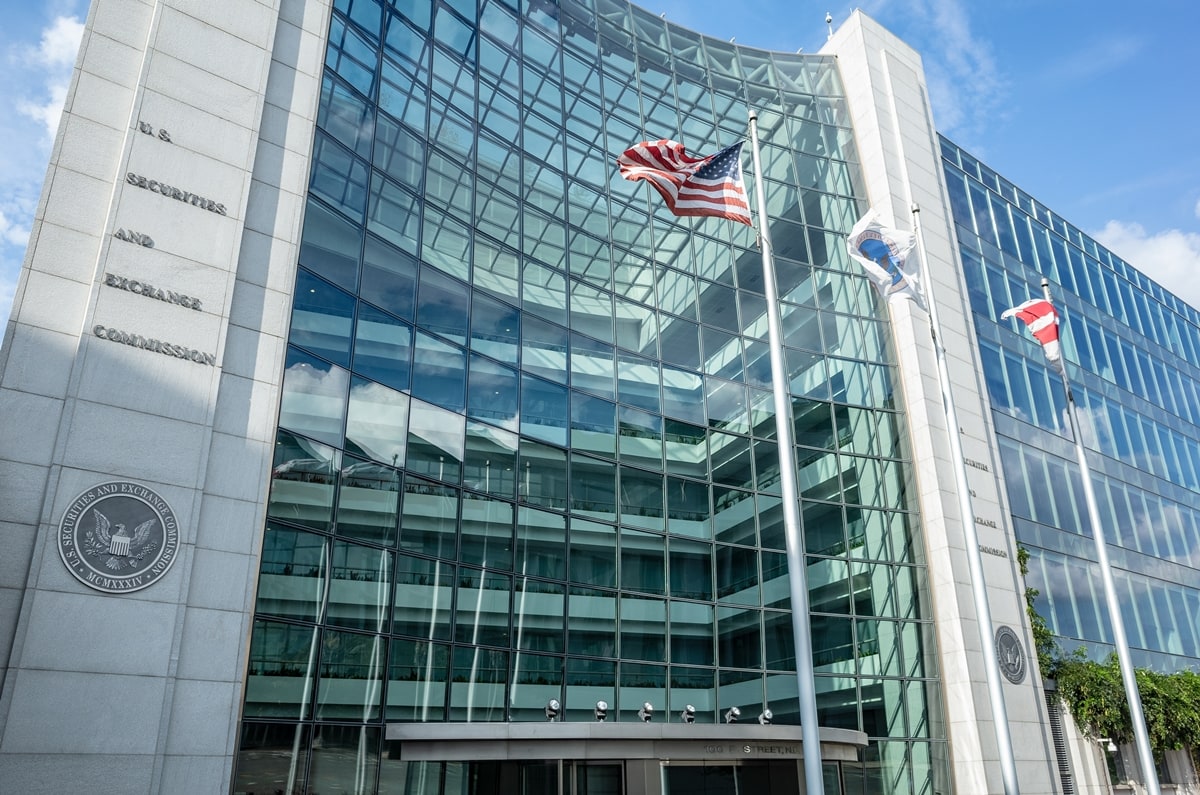 Kim Kardashian agreed to pay more than $1 million after the U.S. Securities and Exchange Commission (SEC) charged her for "unlawfully touting" a "crypto security" (Credit: Taylor McKnight / Shutterstock)
After the SEC's decision was made public, Kim's lawyer, Michael Rhodes released the following response. "Ms. Kardashian is pleased to have resolved this matter with the SEC and fully cooperated with the SEC from the very beginning and she remains willing to do whatever she can to assist the SEC in this matter. She wanted to get this matter behind her to avoid a protracted dispute."
He concluded by saying, "The agreement she reached with the SEC allows her to do that so that she can move forward with her many different business pursuits."
Although this appears to be a hefty fine at first glance, before you start feeling remotely sorry for her, remember she is worth around $1.4 billion, so we don't think she will be having any sleepless nights over it.
Kim Kardashian wears her hair center-parted as she attends Stephane Rolland's show held January 21, 2014, during Paris Fashion Week Haute Couture Spring/Summer 2014 in France (Credit: SIPA / WENN)
After seeing Kim Kardashian in an unusually demure look in London, later in January 2014, the reality TV star seemed to be back to her standard, skin-baring style.
The ShoeDazzle founder sat in the front row at the Stephane Rolland show held during Paris Fashion Week Haute Couture Spring/Summer 2014.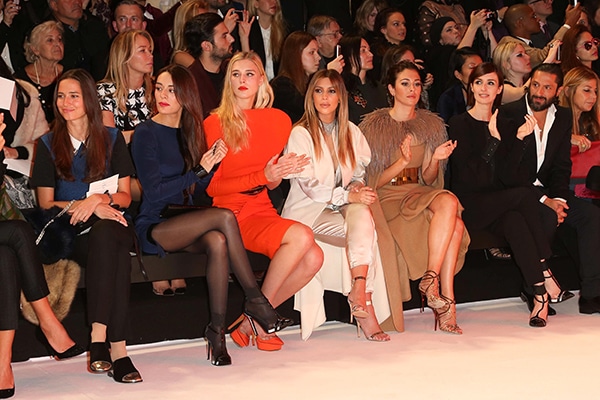 Kim Kardashian sits front row during the Stephanie Rolland show (Credit: SIPA / WENN)
Kim Kardashian kept herself partially covered with a long coat, but it did little to hide her spilling cleavage beneath.
Her racy silk jumpsuit featured a plunging neckline that left little to be imagined.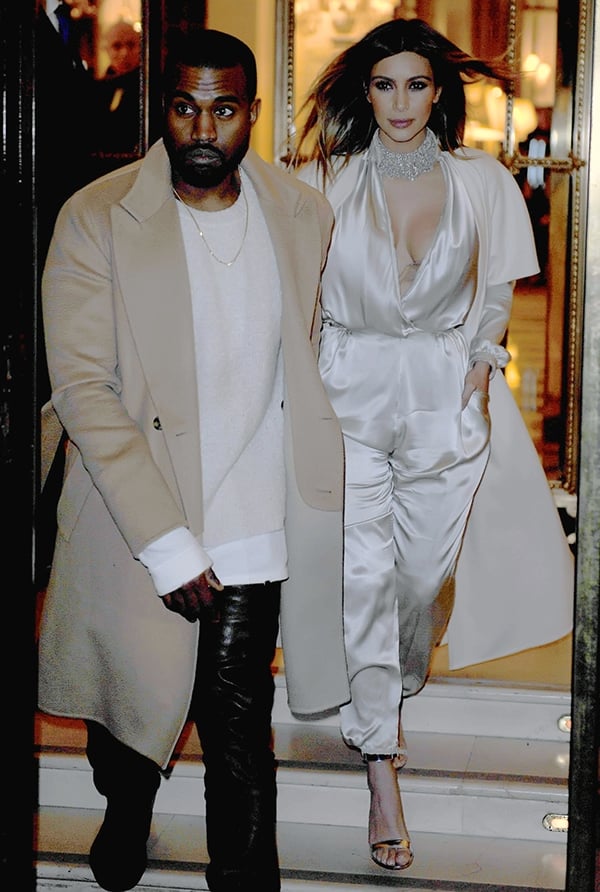 Kim Kardashian exits her hotel during Paris Fashion Week with her husband Kanye West (Credit: SIPA / WENN)
Although her outfit appeared modest enough while she was seated during the show, she narrowly escaped a full-frontal flash while exiting her hotel afterward with fiancé Kanye West.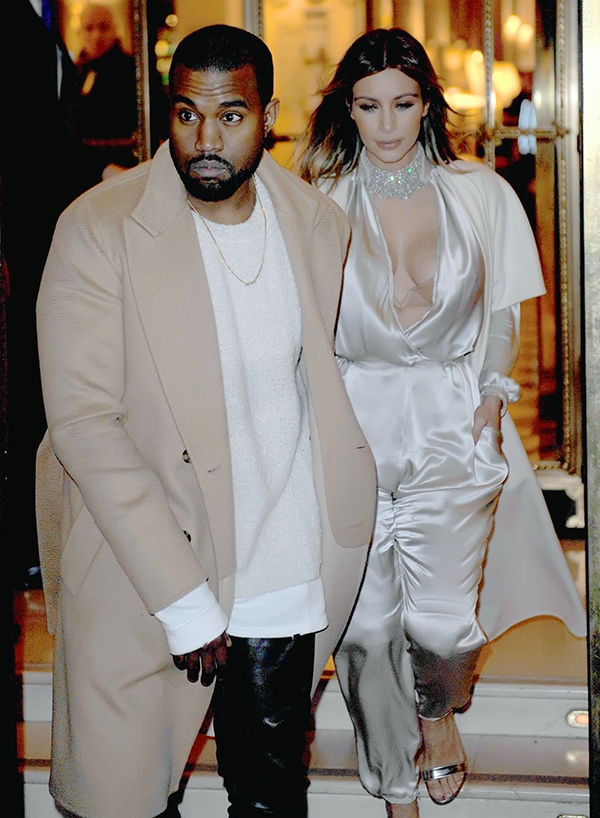 Kanye West and Kim Kardashian dress in matching neutrals in Paris (Credit: SIPA / WENN)
Kim opened her coat a bit and tugged the naval-deep neckline apart, exposing even more of her chest.
She has impressive cleavage alright, but she looked a little more sloppy than sexy, as the underwire of her bra was also visible.
Kim Kardashian exposes the underwire of her bra in a low-cut silky jumpsuit (Credit: SIPA / WENN)
While it was difficult to turn away from Kim Kardashian's exposed upper half, we still managed to set our eyes on her glamorous metallic heels by Gianvito Rossi.
Kim Kardashian's feet in metallic silver Gianvito Rossi heels (Credit: SIPA / WENN)
Their simple, silver patent leather design makes them a perfectly-versatile addition to any closet.
Kim Kardashian's feet in patent leather Gianvito Rossi heels (Credit: SIPA / WENN)
Round buckles at the ankle straps give these shoes a classic vibe, and straps across the toes complete the flawless look of these 4-inch beauties. You can order her heels at Farfetch and Nordstrom: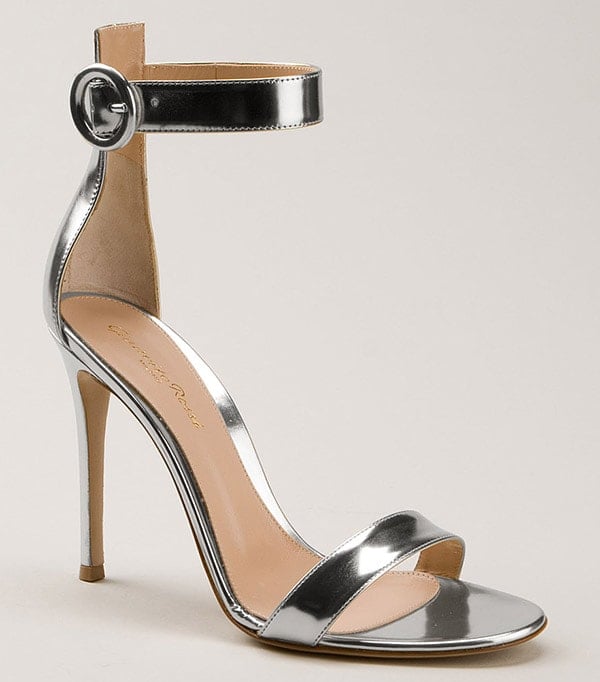 Gianvito Rossi Silver Polished Leather Sandals, $704