The one thing you have to love about the rich Kardashians is that they always give us something to talk about. There is never a dull moment, and nothing is sacred, especially when it comes to their private lives, well, not-so-private lives.
During the recent Kardashians episode, which aired on the 13th of October, Kim Kardashian didn't hold back on sharing intimate details about her sex life with ex-boyfriend Pete Davidson.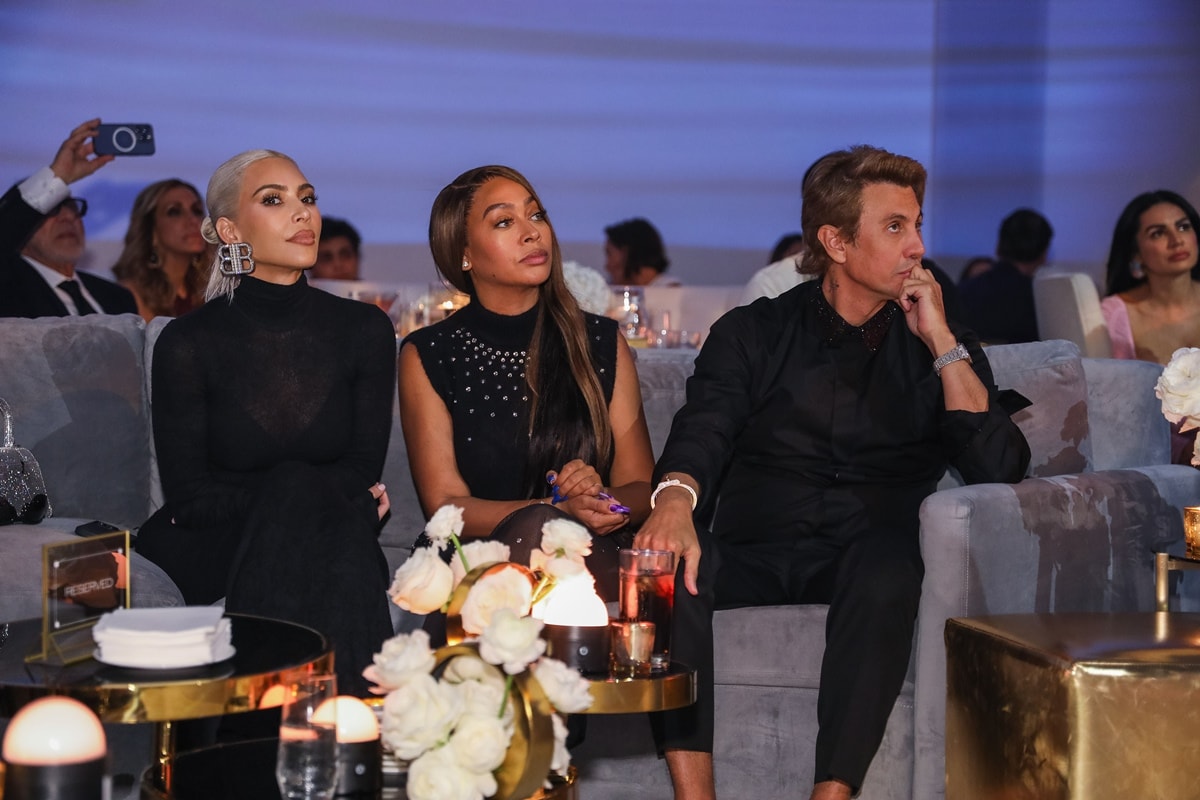 Kim Kardashian, Lala Anthony, and Jonathan Cheban attend JR Ridinger Celebration Of Life at Faena Forum on October 8, 2022, in Miami Beach, Florida (Credit: Seth Browarnik / Startraksphoto / Cover Images)
Not the usual conversation you have with your grandmother, but this is the Kardashians, after all. During a conversation with grandmother Mary Jo Campbell, generally referred to as MJ, Kim shared that she and Peter had sex in her honor.
Before you think we have completely lost the plot, here is what Kim shared with her 88-year-old grandmother, "You know what's so crazy? Pete and I were staying at the Beverly Hills Hotel last weekend, and we were sitting in front of the fireplace, just talking for hours. And I was like, 'My grandma told me that you really live life when you have sex in front of the fireplace,' and so we had sex in front of the fireplace in honor of you."
In her defense, Kim did add laughingly, "I know that's really creepy." To which MJ replied, "Not in the lobby?" Kim responded, "Not in the lobby!" and added, "But how creepy to think about your grandma before you have sex?"
As we said, definitely not the usual conversation you have with your grandmother, but MJ wasn't at all fazed, saying, "I know, but I was younger once. I was younger once."
Who Is the Unflappable Mary Jo?
We can't resist starting with the fact that, believe it or not, Mary Jo was previously an etiquette school teacher!
Her career also involved modeling, and she was quite the entrepreneur, opening an exclusive children's boutique called Shannon & Company in 1980.
Kim Kardashian shared intimate details with her grandmother Mary Jo "MJ" Shannon (born Campbell) about her sex life with her now-ex-boyfriend Pete Davidson (Credit: INFphoto)
Mary Jo, 88, is Kris Jenner's mother and grandmother to all the Kardashian children. She is known for being blunt and for her dry sense of humor but mostly for her kind spirit.
This is one tough lady. She won't let anything get her down, not even cancer – she managed to beat both breast and colon cancer; as we said, she is one tough lady.
She was born in Arkansas on the 26th of July in 1934 and married her first husband when she was 18, the marriage didn't last, and she later married Robert Houghton; the couple had two daughters, Karen and our famous Kris.
Mary Jo "MJ" Shannon is Kris Jenner's mother and a grandmother to Kris's six children (Credit: Larsen / Dharma / INFphoto)
Unfortunately, that marriage was also not to be, but her last marriage was a match made in Heaven. Mary Jo married Harry Shannon, and the couple was together for 40 years before he sadly was killed in a car crash in 2003.
Khloe Kardashian's Leaked Bikini Photo
Mary Jo is the legal owner of Khloe Kardashian's unedited bikini photo, which went insanely viral last year.
But let's delve into that photo, as it caused quite a controversy. The photo was taken at Kris Jenner's home in Palm Springs of Khloe in a rather small leopard print bikini. The issue was all around the editing or, should we say, lack of editing.
According to The Sun, a source close to the Kardashians told them, "Khloe "freaked out" as her unedited viral photo was posted "by mistake" by her team and now feels "embarrassed." The article went on to say, "According to the informant, there was a "miscommunication" between the KUWTK star and her team about "what was supposed to be posted at the time."
Nothing like having your unedited photo posted online, which goes to show what you see is not necessarily reality. We all try and aim for that look which, in all honesty, is unobtainable.
But back to Kim and the latest on Season 2 of the 'Kardashians.'
Kim Kardashian's Leopard Pantaleggings
September saw Kim heading off to appear on Good Morning America promoting Hulu's Kardashians – Season 2.
Nothing like her classic look of showing off her curves with a figure-hugging outfit which we loved. All we can say is Balenciaga, Balenciaga.
Kim Kardashian styled her leopard-printed boot pants with sunglasses and a black turtleneck with built-in gloves (Credit: Roger Wong / INSTARimages / Cover Images)
She looked incredible in a pair of their animal signature boot pants – skintight leggings with built-in pointy stiletto boots.
Kim Kardashian carries a black Balenciaga Hourglass bag made from fluffy faux shearling into a mini silhouette (Credit: Roger Wong / INSTARimages / Cover Images)
The SKKN by Kim founder finished her outfit off with another one of their designs, a black turtleneck with fitted gloves. Accessories were kept to a minimum, rectangle black Balenciaga earrings inspired by credit cards, sunglasses, and a beautiful black Hourglass fuzzy bag.
Kim Kardashian wears Balenciaga animal print Pantaleggings on her way to an appearance on Good Morning America in New York City on September 20, 2022 (Credit: Roger Wong / INSTARimages / Cover Images)
On the show, Kim described Season 2 as her "season of independence." She explained, "I just think you see me making decisions for myself. Obviously, always thinking about my kids but generally just doing things for myself."
She went on to discuss the lack of promos for the Season and shared her thoughts on the premiere episode, saying, "It's like a really seriously deep, vulnerable episode that we really haven't talked about, so I think people will be really just surprised and hopefully they will enjoy getting to see the first episode."
This family certainly does keep us entertained – you can't help but get caught up in their world of drama, oversharing, empire-building, and, our favorite, fashion!!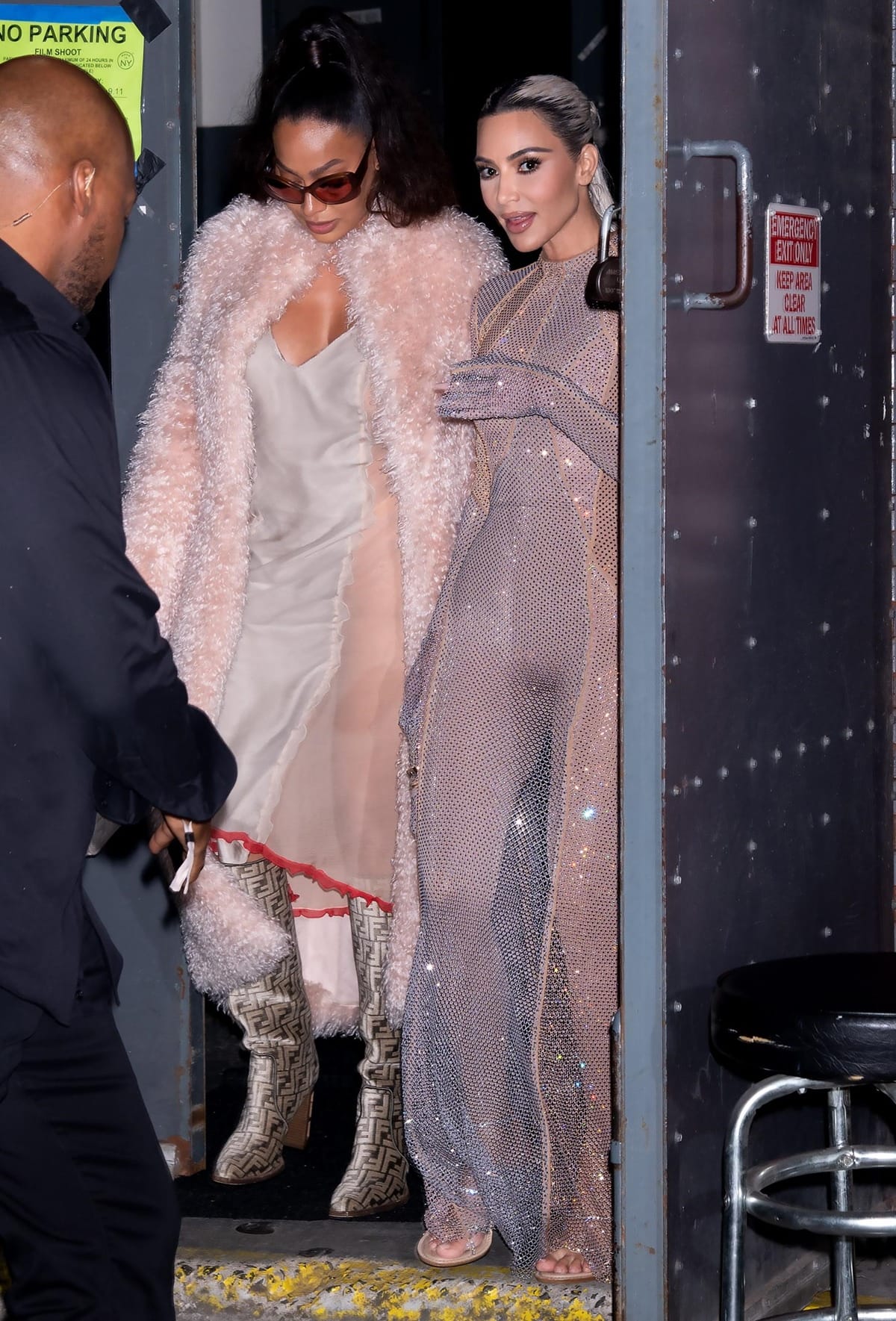 Kim Kardashian and LaLa Anthony make their way to the Fendi after party on September 9, 2022, in New York City (Credit: Janet Mayer / Startraksphoto / Cover Images)