After celebrating Easter with their extended family at what looked like an all-white party, Kim Kardashian and Kanye West were seen catching a flight out of town at LAX yesterday morning.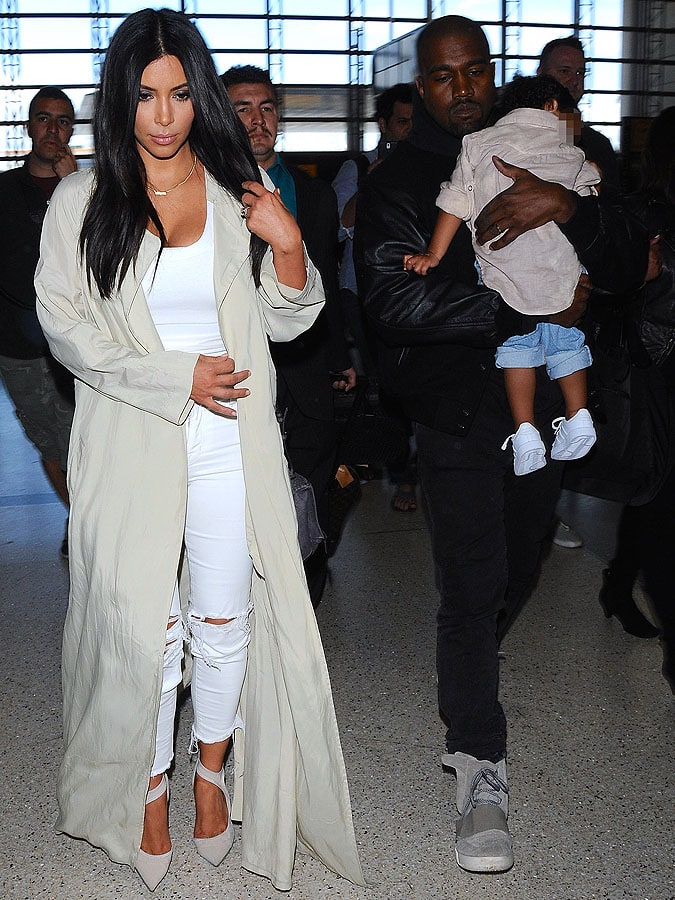 Kim Kardashian, Kanye West, and their daughter, North, catching a flight out of the Los Angeles International Airport in Los Angeles, California, on April 7, 2015
Kim retained the all-white look and wore a white tank, white ripped jeans, a beige trench coat, and tonal Balenciaga elastic-strap d'Orsay pumps.
Kanye, on the other hand, not only ditched the theme but went the complete opposite in a black stadium jacket, a black t-shirt, and faded black jeans.
The only thing breaking up the all-black was the sand-colored "Yeezy 750 Boost" sneakers, Kanye's very own sneaker design that he collaborated on with adidas.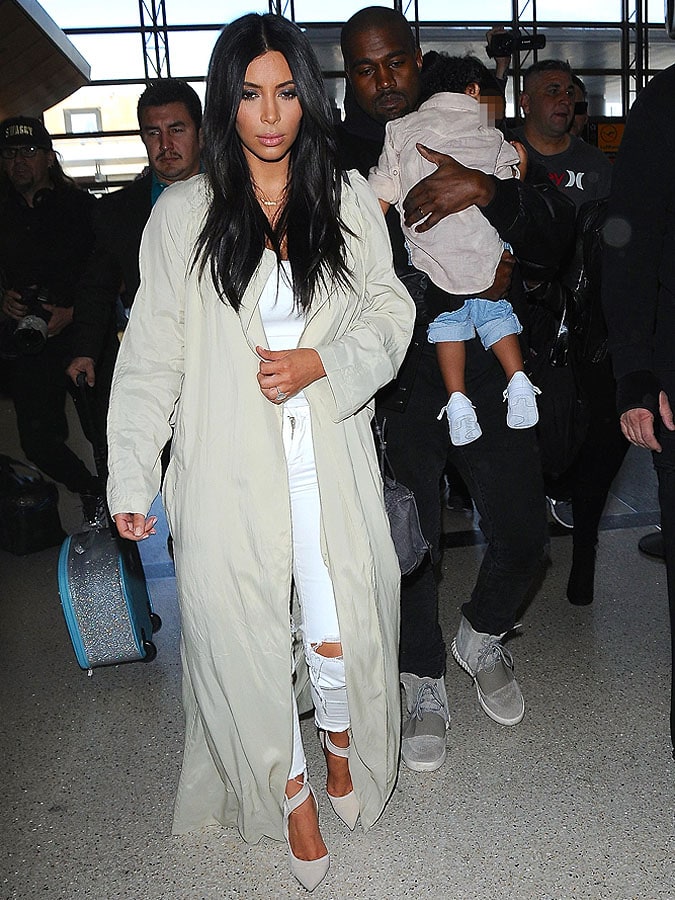 The Wests making their way through a throng of paparazzi inside LAX
Kim was just spotted wearing the adidas x Kanye West Yeezy 750 Boost sneakers, so it seems that the husband-and-wife are taking turns wearing the sneakers.
Not only that, but it seemed the two also swapped moods that day; expressionless Kim was bordering glum, while usually surly Kanye was uncharacteristically smiley at the paparazzi.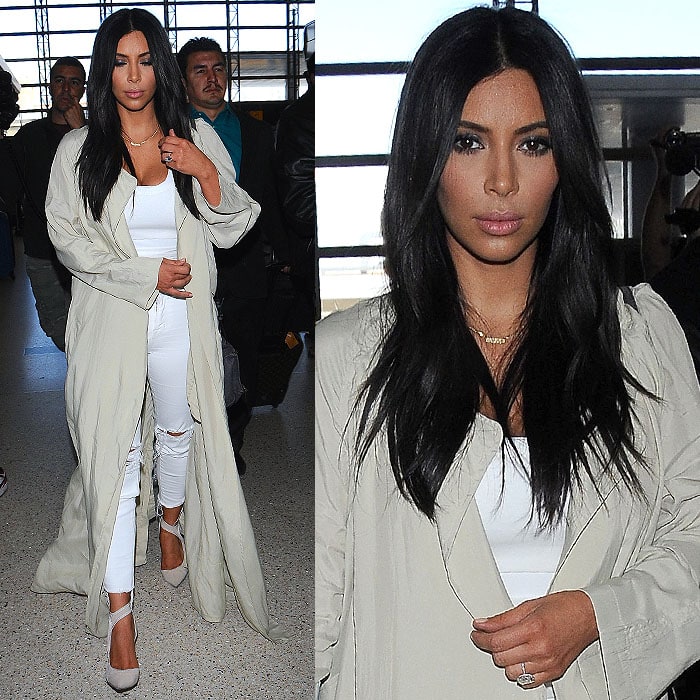 Kim Kardashian remaining expressionless
Kanye West flashing a rare smile at the paparazzi
Kim wore her old Balenciaga half d'Orsay ankle-strap pumps for their flight out of LAX that day.
She has called them her favorite shoes and has worn them on numerous occasions including the 2014 Teen Choice Awards and a visit to a London art gallery.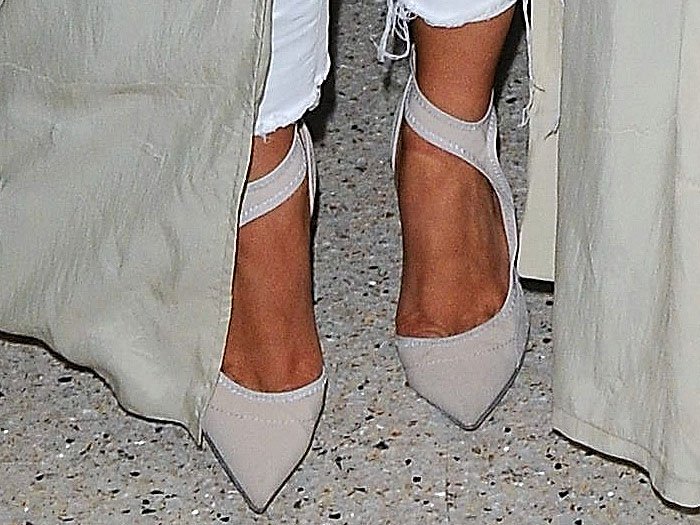 Kim Kardashian's feet in Balenciaga half d'Orsay ankle-strap pumps
Balenciaga Perforated-Suede and Elastic-Strap Half d'Orsay Pumps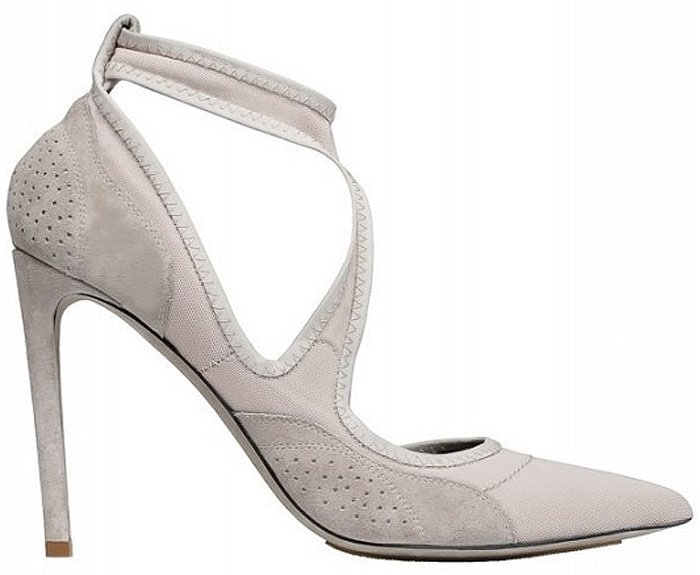 Kanye's own sneakers quickly sold out after the launch. Make sure you don't end up with a pair of fakes!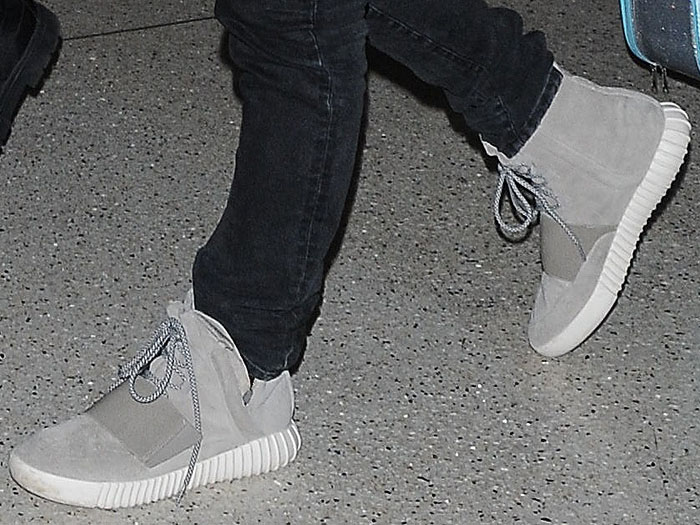 Kanye West wearing his own design, the adidas x Kanye West "Yeezy 750 Boost" sneakers
adidas Originals x Kanye West Yeezy "750 Boost" Sneakers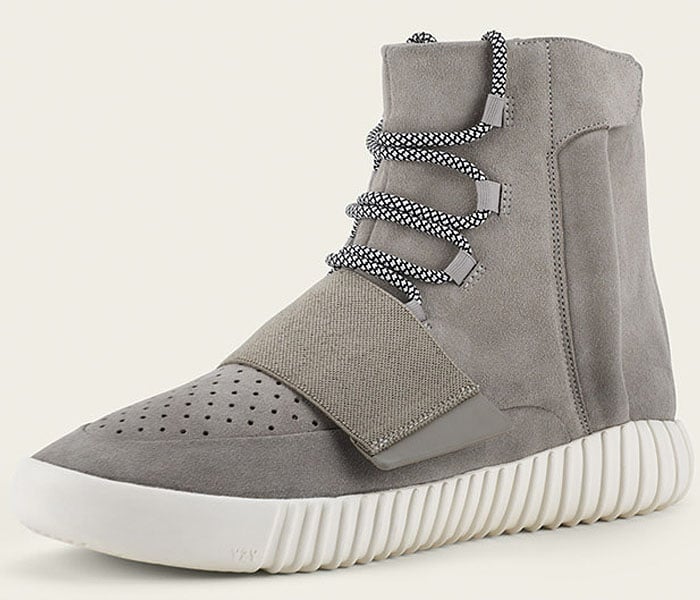 Credit: WENN