On a recently aired — and previously taped — episode of "Keeping Up with the Kardashians," Kendall Jenner mentioned that she had been feeling a little left out.
"It really annoys me when you come to the city and don't hang out with me," Kendall tells her mom Kris Jenner and her sister Kourtney Kardashian. "You forget about me… I don't want to be forgotten about because I have to work a lot."
The reality-star-turned-model had been traveling a lot for work, and therefore had little time to spend with her family.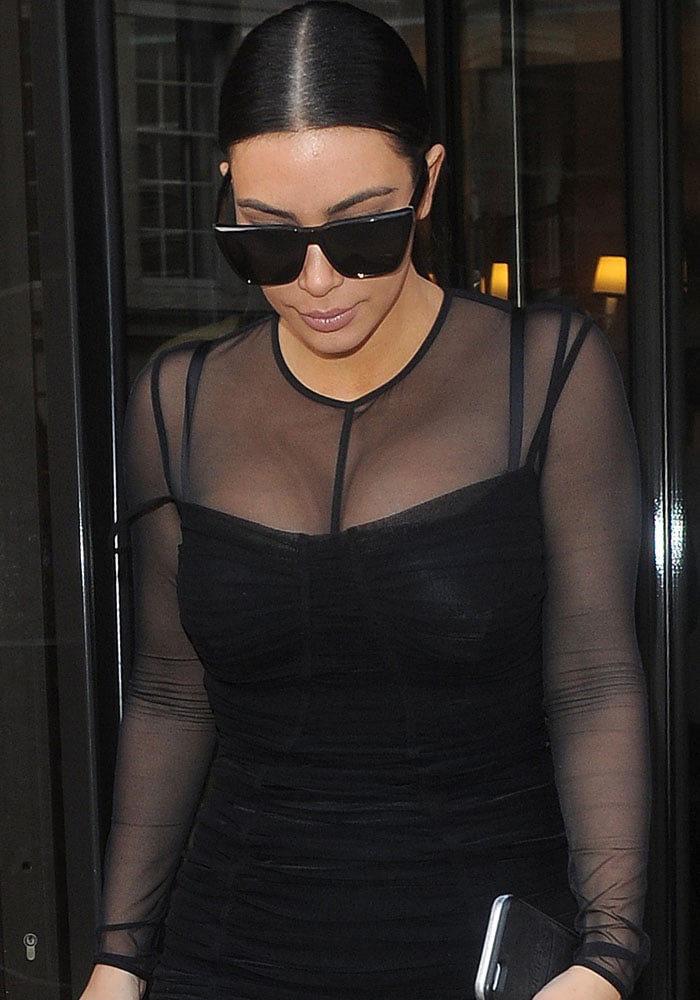 Kim Kardashian wore a Dolce & Gabbana draped tulle dress
But, since the episode was filmed a long time ago, we can safely assume Kendall is feeling much more included. Recently, the young star was spotted on a London lunch date with her sister Kim Kardashian.
Kim Kardashian styled her dress with an Ann Demeulemeester open back sheer bodysuit for a visit to C Restaurant in London on May 23, 2016
Kim flew into London with her husband Kanye West as a part of their anniversary trip around Europe.
The ShoeDazzle founder took some time to meet her half-sister in a Dolce & Gabbana ruched sheer dress worn with Saint Laurent GV 7002/S sunglasses, the now-iconic Hermés bag, and a pair of her husband's Yeezy boots.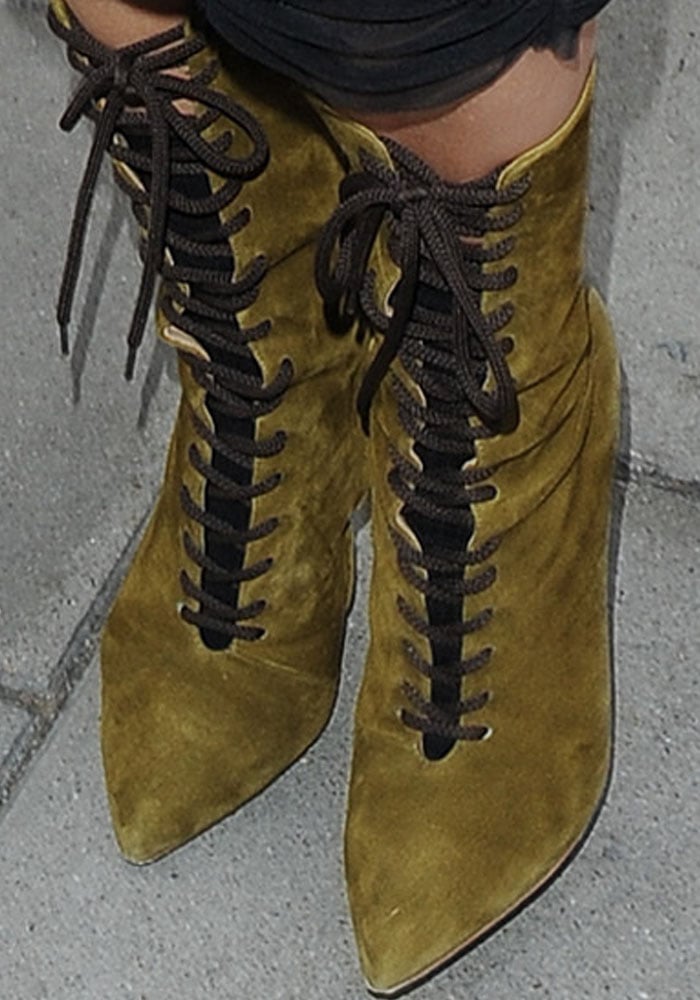 Kim supports her husband by wearing a pair of unreleased Yeezy boots
Kendall wore a plain white tee with distressed denim from Citizens of Humanity, worn beneath a long army green cardigan by Erika Cavallini.
The model wore a Rockins Snakes scarf around her neck, a pair of Oliver Peoples sunglasses, and her favorite Kenneth Cole "Krystal" boots.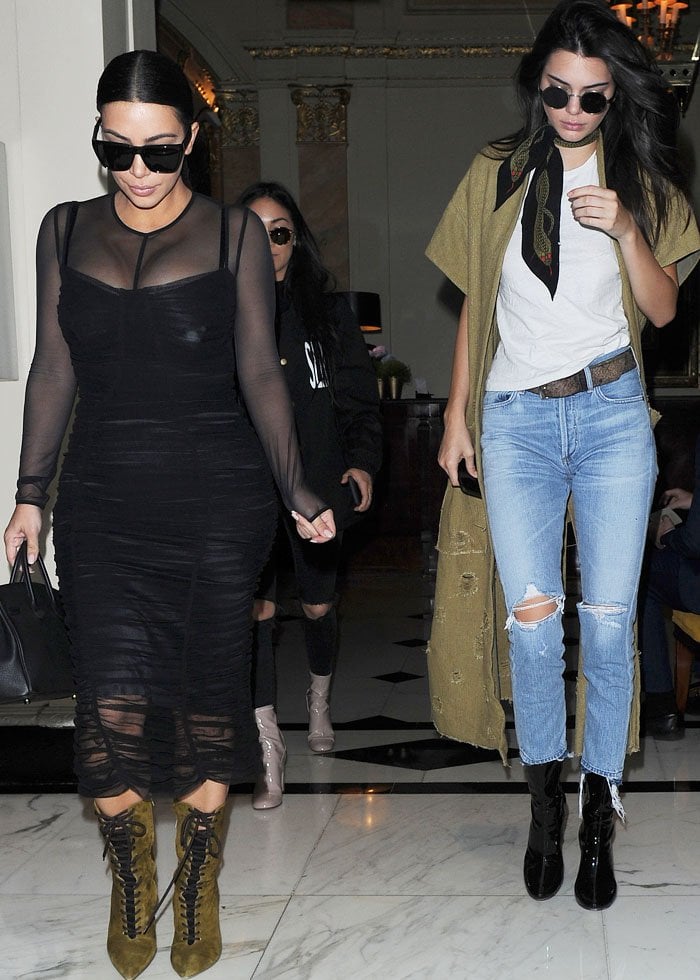 Sibling love: the two sisters took a few hours out in London to bond over lunch
The two looked matchy-matchy as Kim's Yeezy boots were in a similar shade of green as Kendall's Erika Cavallini coat.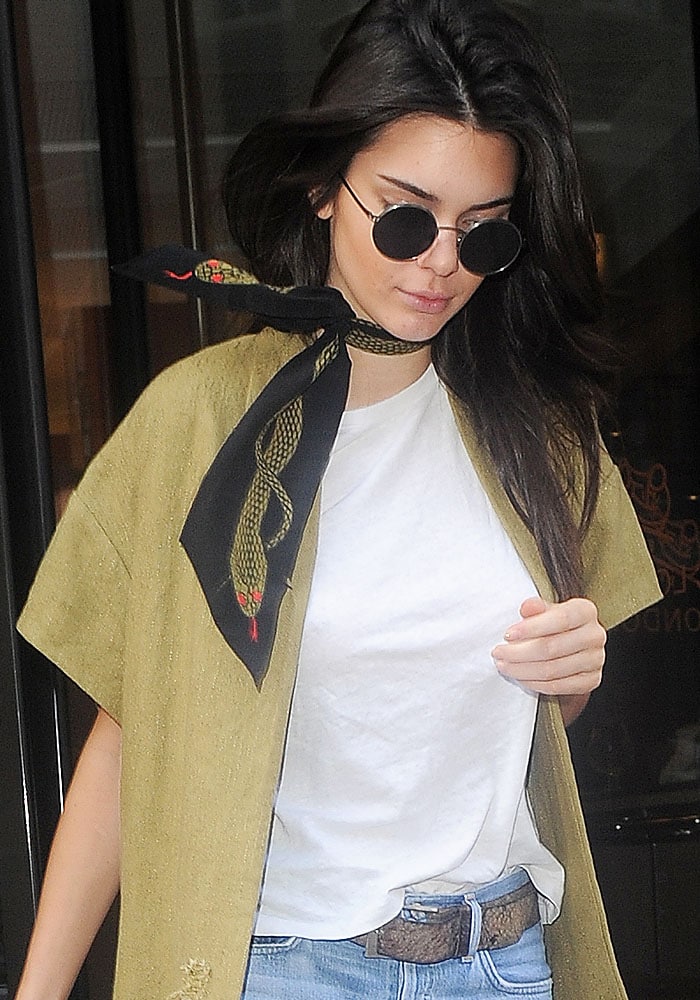 Kendall Jenner wears a Rockins Snakes super skinny scarf with a coat from Erika Cavallini
We're guessing Kendall feels like she fits back into the family again, thanks to her big sister's efforts.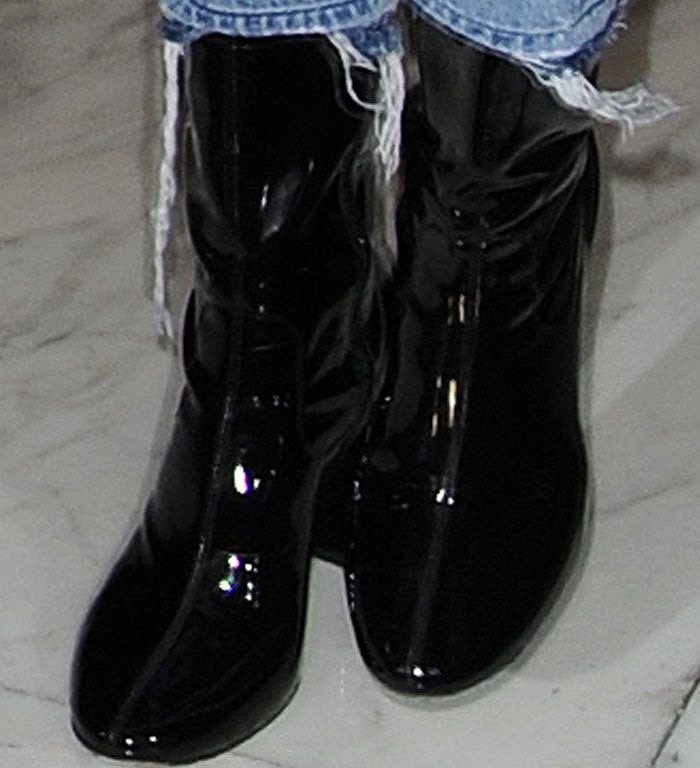 Kendall Jenner's black Kenneth Cole Krystal leather patent boots
Kim's Yeezy's have yet to be released but you can check out a similar lace-up bootie pair from Steve Madden at Zappos. Grab Kendall's it-boot "Krystal" from Amazon.
Steven Madden Freemee Green Nubuck Boots, $149.95 – $149.99
Kenneth Cole "Krystal" Patent Leather Boot, $495
Credit: Will Alexander / Tony Oudot / Will ALexander / RV / WENN