Kristen Stewart at the "The Twilight Saga: Eclipse" photocall in Berlin, Germany was one of the few times her stylists got her look right. The American actress and model looked fashionable, fun and most importantly comfortable, and that gave Kristen the confidence to ditch the awkward stances and show the cameras some fierce poses.
Taylor Lautner and Kristen Stewart at the "The Twilight Saga: Eclipse" photo call in Germany on June 18, 2010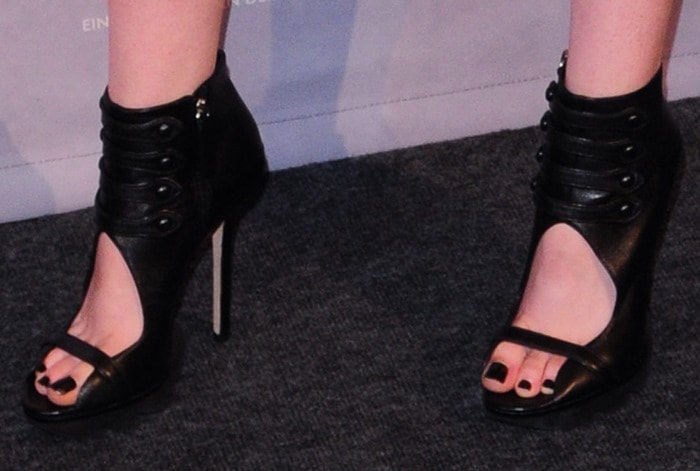 Kristen wearing heels by Camilla Skovgaard

It's easy to make a PYT (pretty young thing) like Kristen look good, but the sweet, frilly dresses should really be left to other PYTs like Taylor Swift. Someone like Kristen Stewart needs a bit of edge and rock n' roll. This Versace Fall 2010 color block mini dress with zipper details was perfect for Kristen and just by the way she was standing, you can tell that she knew it too.
The popular actress finished off her look with these booties that you can find at Shopbop.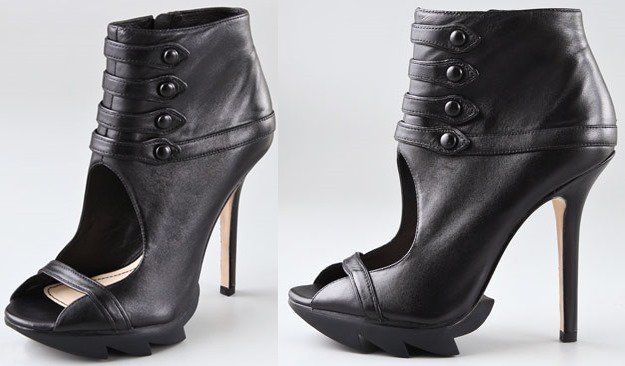 Camilla Skovgaard Open Toe Button Booties, $565.00
Ever since I saw this Camilla Skovgaard shoe collection, I've been crossing my fingers that Kristen Stewart's stylists would make her wear at least one of the shoes. Today, my wish was finally granted. I am overjoyed that they chose these booties and that they paired them with a just-as-edgy Versace dress to make an overall winning look for Kristen Stewart.
Calling out to Kristen's stylists: I better see more of Kristen Stewart in Camilla Skovgaard shoes! She looks great in them!
Credit: WENN