Kristen Stewart or K. Stew, as Twilight fans often call her, has seriously upped her shoe game this year.
The actress has been spotted out several times this year showing off her pretty feet in very noteworthy heels, which is a vast improvement from her days of wearing only super comfy Chuck Taylor sneakers.
To honor the super hot celeb's amazing heel selections, we put together a list of 5 favorites below. Check 'em out in detail, and tell us which style you'd make your next shoes!
1. Black-and-White Barbara Bui Pumps
Kristen styled a pair of Barbara Bui pumps with a fluorescent yellow stretch silk-cotton dress from the Christian Dior Spring/Summer 2013 collection.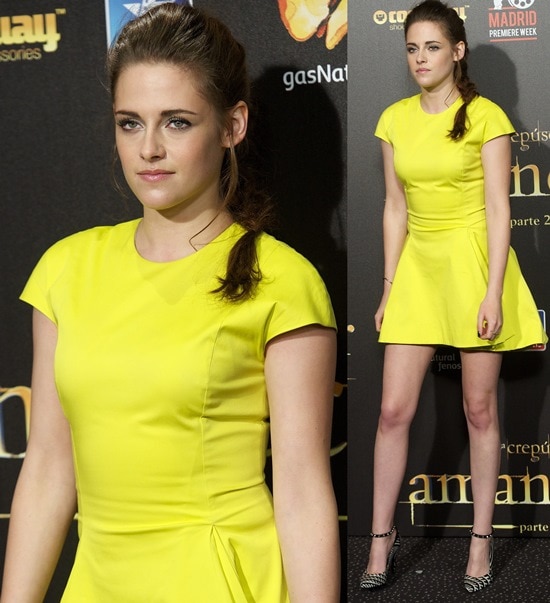 Kristen Stewart flaunts her toned legs at 'The Twilight Saga: Breaking Dawn – Part 2' photocall at Kinepolis Cinema on November 15, 2012, in Madrid, Spain
Kristen Stewart's feet in Barbara Bui pumps
2. Bright Orange Louboutin Pumps

Kristen Stewart's endless legs at the New York premiere of On the Road presented by Grey Goose Vodka at The School of Visual Arts in New York City on December 13, 2012
How do you like her unbelievably risqué and entirely inappropriate negligee outfit?
Kristen Stewart flaunts her sexy feet and legs in orange pumps
3. Strappy Christian Louboutin Booties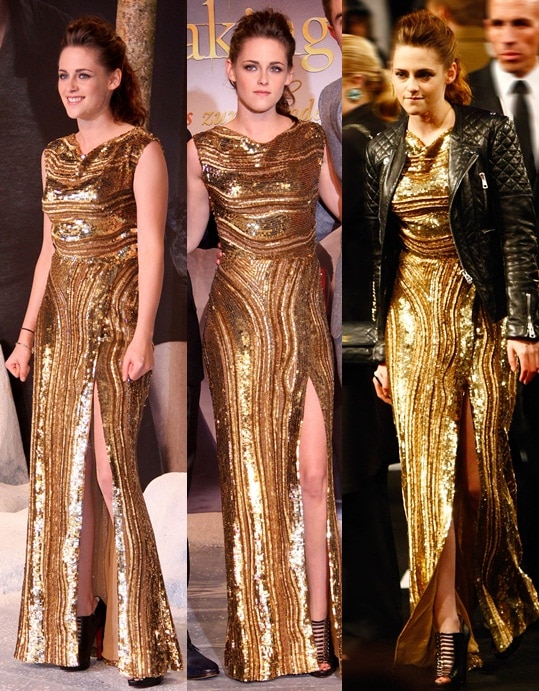 Kristen Stewart at the premiere of Twilight Saga: Breaking Dawn — Part 2 in Berlin, Germany on November 16, 2012
She styled her booties with a gilded floor-length gown from the Elie Saab Fall 2012 collection.
Kristen Stewart's sexy toes in Christian Louboutin booties
4. Black-and-White Balenciaga Lace-Up Pumps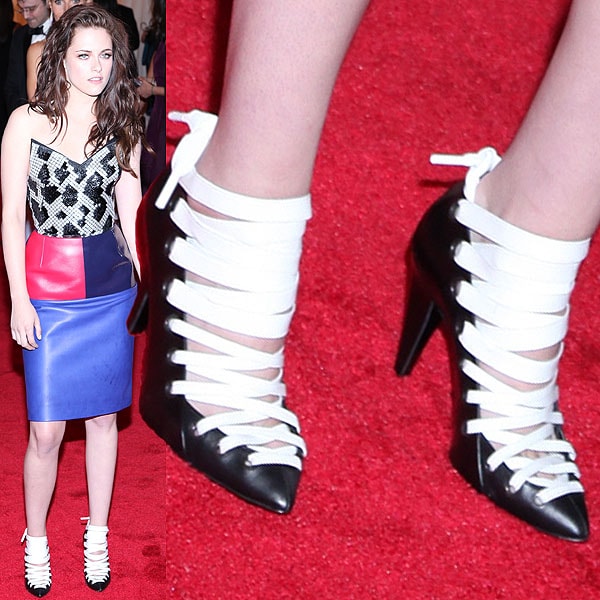 Kristen Stewart at the "Schiaparelli and Prada: Impossible Conversations" Costume Institute Gala at the Metropolitan Museum of Art in New York City on May 7, 2012
Do you hate her dress as much as the fashion critics?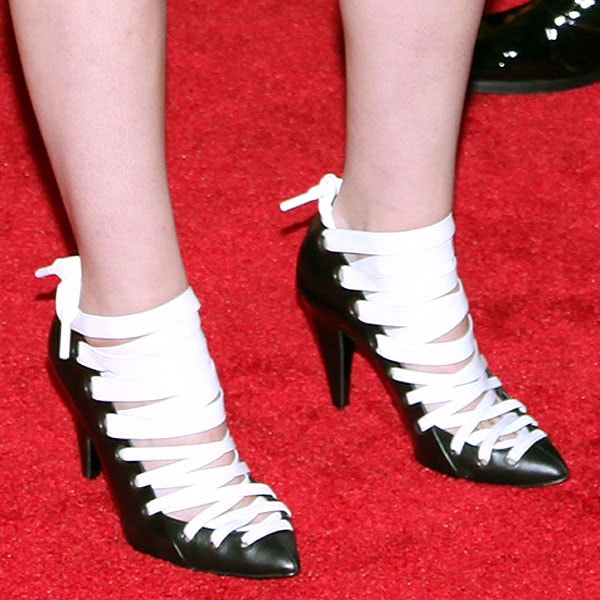 Kristen Stewart paraded her legs in white and black Balenciaga pumps
5. Blue Suede Pumps
Kristen Stewart attends the 2012 Nickelodeon Kids' Choice Awards at Galen Center on March 31, 2012, in Los Angeles
How could you possibly not love her guipure embroidered lace and crepe mini dress?
Kristen Stewart revealed toe cleavage in blue Barbara Bui pumps
Which of the above pairs is your favorite? Please let us know by leaving a comment below!
Credit: Patrick Hoffmann / Michael Carpenter / WENN / Ivan Nikolov / Sean Thorton