Lady Gaga opted for comfort in a simple frock, her favorite hairstyle, and her favorite pair of platform boots as she waved goodbye to fans on her last day in London.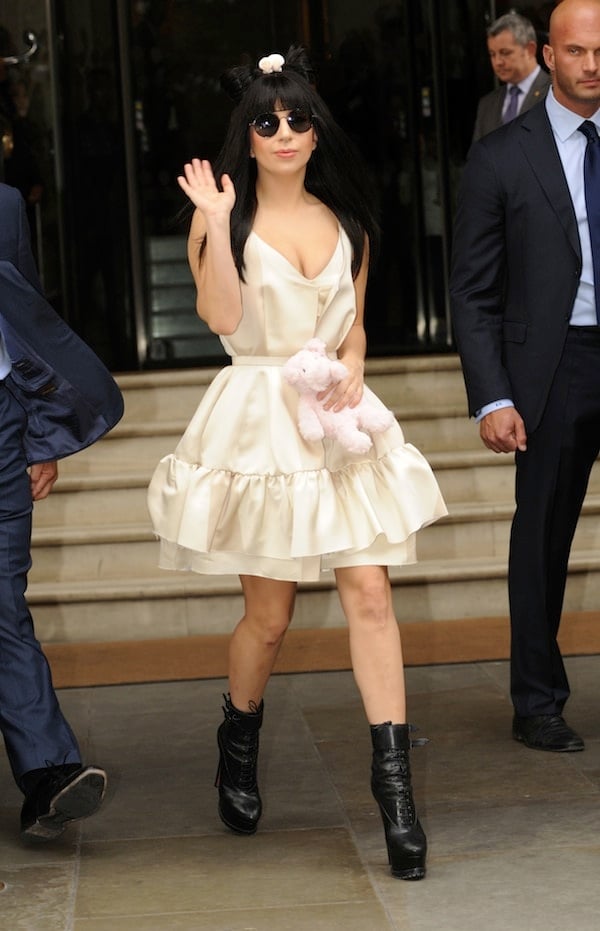 Lady Gaga bidding her fans farewell as she leaves her hotel in London on September 3, 2013
The public has been treated to multiple eye-popping costume changes from the pop star as she promotes her new album, 'Artpop'. From a black unitard to a white dress that actually makes bubbles, Lady Gaga has definitely left an indelible mark in her short stay in London.
The self-proclaimed "Queen of the Universe" stepped out from her hotel in a deceptively simple cream-colored dress with ruffles and a low neckline. Her usually blond hair was raven black for the moment, and it was styled straight with blunt bangs and a huge bow adorned with sea shells. Her feet were clad in her favorite Azzedine Alaïa black lace-up leather platform boots, which seem to be her go-to pair for comfort.
Lady Gaga in her final costume change in London: a cream-colored dress, platform boots, and raven black hair with bangs and a huge bow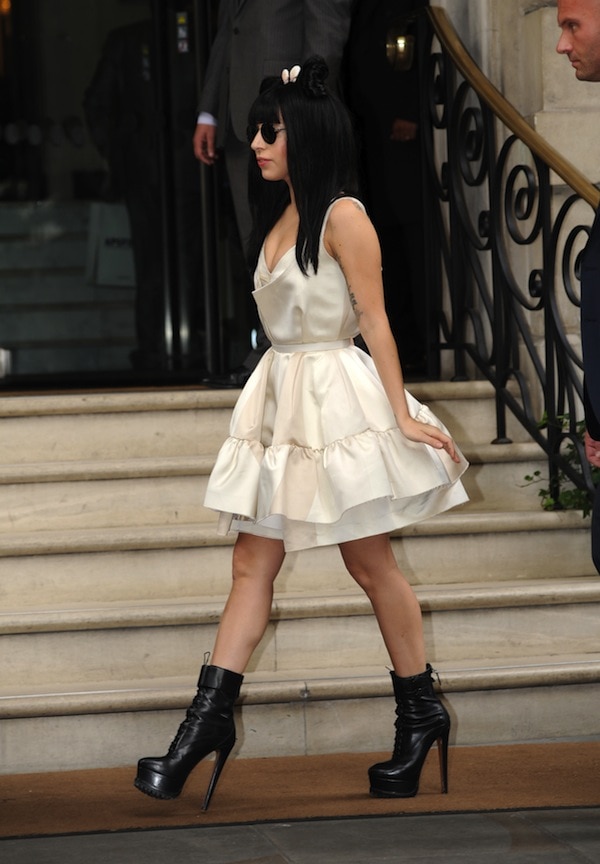 Lady Gaga leaving her hotel in London in her current favorite Azzedine Alaïa leather platform boots
She happily posed for pictures and signed autographs for her fans outside of the hotel before being ushered out of the crowd and bidding a final adieu to her "little monsters."
Lady Gaga gamely posing for pictures and interacting with her fans outside of her hotel in London
These Azzedine Alaia boots are clearly made for walking because it's not just Lady Gaga who has been spotted wearing them. We've also seen Kendall Jenner wearing these babies in gray chamois leather.
Credit: WENN