The internet means you no longer need to go to a department store or jet off to Europe to discover the latest luxury fashion. E-commerce stores like Farfetch, SSENSE, Net-a-Porter, and Mytheresa are putting the designer world right at your fingertips.
Luisaviaroma is one of the most popular luxury e-commerce stores and is heavily featured by celebrities and influencers on social media.
It offers international shipping with a selection of the best luxury designers for men, women, and children – along with an expanding range of designer homeware.
Luisaviaroma offers luxury fashion for men and women
We're deep diving into this luxury store to tell you everything you need to know about Luisaviaroma.
Planning on ticking something off your wish list? Read our frequently asked questions about Luisaviaroma below.
Luisaviaroma: The Leading Online Luxury Fashion Retailer
Luisaviaroma – also known as Luisa Via Roma – started in the 1920s in Florence as a small hat boutique that gradually expanded through the course of the 1930s to include clothing.
In 1968, the original owner's grandson, Andrea Panconesi, went to Paris on a buying trip and made the store the first one in Europe to carry the up-and-coming brand Kenzo.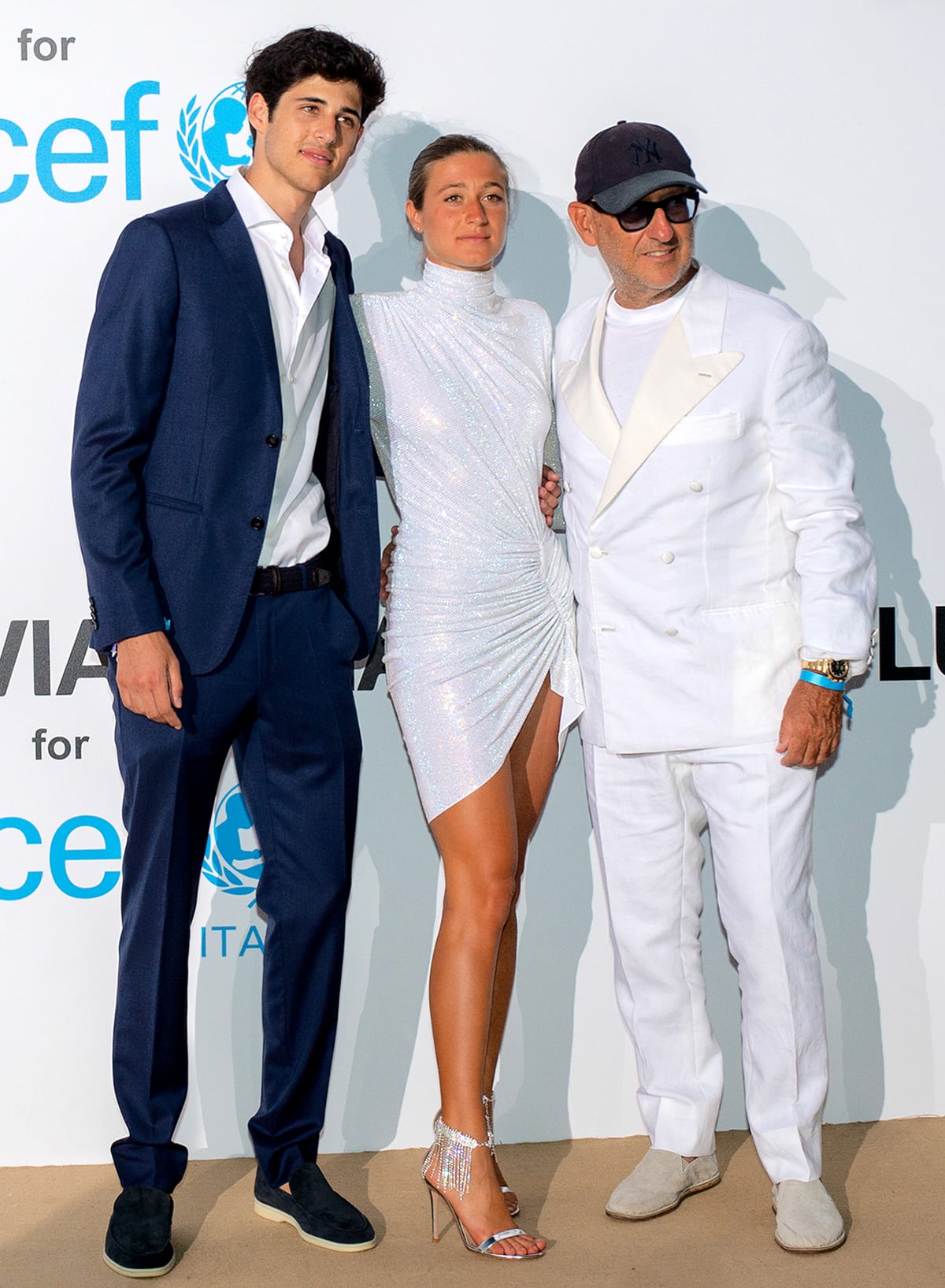 Luisaviaroma CEO Andrea Panconesi with children Nicolaus Panconesi and Luisaviaroma creative director Annagreta Panconesi at the Unicef Summer Gala on August 9, 2018 (Credit: ABACA / INSTARimages)
The original boutique is still operational today in Via Roma 19/21r in Florence and was renovated in 2008 with a design inspired by Claudio Nardi, with a restaurant on the top floor. A second store in Via Silvio Pellico opened the same year.
During the early 2000s, Luisaviaroma jumped on the e-commerce train and began to sell online to a selected number of clients. The website remained exclusive to the store's existing customers before being opened to the public in 2004.
Luisaviaroma has grown to become one of the top luxury e-commerce brands, utilizing influencer marketing to reach a wider audience and increase brand awareness.
Shop the Best Luxury Brands at Luisaviaroma
Luisaviaroma describes itself as the ultimate luxury destination, with menswear, womenswear, childrenswear, beauty, and homeware.

Luisaviaroma carries luxury brands like Saint Laurent, Roger Vivier, Aquazzura, and Gianvito Rossi
You can expect to find both household names and up-and-coming contemporary fashion brands on the Luisaviaroma website.
Brands like Saint Laurent, Roger Vivier, Aquazzura, and Gianvito Rossi can be purchased through the website. Luisaviaroma offers a range of top-level luxury brands alongside diffusion labels at a more accessible price point, such as Adidas by Stella McCartney.
Luisaviaroma Sneakers Club
Sneakers are amongst some of the most sought-after luxury items. Luisaviaroma's 'Sneakers Club' is an opportunity for collectors to get their hands on some of the best new releases.
Luisaviaroma's Sneakers Club offers access to purchase exclusive sneakers by simply registering on the store's website (Credit: Luisaviaroma)
You'll get access to purchase exclusive sneakers from the Luisaviaroma Sneakers Club by creating a free account on the store's website.
Users can access raffles, entering for a chance to purchase specific models of sneakers. You can only enter each raffle once per model and in only one size.
It's worth noting that Nike sneakers can only be purchased for users in the UK, EU, and Switzerland.

Nike shoes are only available for Luisaviaroma users in the United Kingdom, Europe, and Switzerland
Previous sneakers raffled through the Luisaviaroma Sneakers Club include the Yeezy Boost 350 V2 'Bone,' the Nike Air Jordan 1 Retro High OG 'Prototype,' and Converse x GOLF WANG Chunk 70.
Find the Best Luisaviaroma Discount Codes Here
Discount codes for Luisaviaroma are one of the best ways to save money on your designer purchases.
Luisaviaroma collaborates with a variety of luxury fashion influencers, often providing them with time-limited discount codes in the region of 15% off.
These site-wide discount codes often exclude popular luxury brands, such as Gucci, Moncler, Burberry, and Tom Ford.
Time-limited promotional codes from Luisaviaroma frequently appear on its website (Credit: Luisaviaroma)
We recommend signing up for the Luisaviaroma newsletter to stay up-to-date with the latest sales, discounts, and free shipping promotions.
Luisaviaroma Easy Returns and Shipping Policy
Every order placed on the Luisaviaroma website is shipped from the brand's warehouse in Florence, Italy. Luisaviaroma uses DHL Express for most of its deliveries, with a higher shipping cost than most standard e-commerce websites. It's worth looking out for free shipping promotions from Luisaviaroma.
You'll want to consider any potential customs charges or fees you may be charged when shopping internationally through Luisaviaroma.
We recommend using the relevant international version of Luisaviaroma's website when shopping with the store, as import fees should be included in your final price.
Luisaviaroma uses DHL Express for most of its deliveries (Credit: Octavio Hoyos / Shutterstock)
Luisaviaroma typically ships within 1-2 business days during the week. However, dispatch times may be longer during busier times. The cost of shipping on Luisaviaroma will depend on your location and the total cost of your order.
You will have 28 days to return an item purchased from Luisaviaroma after its delivery date. You may also request a replacement during this time. Returns will only be accepted by Luisaviaroma if the security tag is still intact and attached to the items.
Read Luisaviaroma Reviews Before You Shop
Luisaviaroma has a 4.2-star rating on Trustpilot with over 10,000 reviews, giving it a "great" rating.
Over 75% of reviews are 5-star, with shoppers praising the quick shipping time, packaging quality, and easy-to-use website. Several top-rated reviews comment on the positive customer service users received during returns or when they received a faulty item.

With almost 75% of its 10,000 reviews being five stars, Luisaviaroma now has a total 4.2-star rating on Trustpilot (Credit: Trustpilot)
Frequently Asked Questions About Luisaviaroma
Are you considering making a purchase from Luisaviaroma? Is it your first time shopping with a luxury e-commerce store? We're answering the most common questions about Luisaviaroma from our community below.
Can I pre-order an item on Luisaviaroma?
Luisaviaroma allows shoppers to pre-order items several months in advance, usually from upcoming collections.
You'll see the expected shipment date listed on the product page when checking out. You will be charged for your pre-order at the time of making your order.
What country did Luisaviaroma originate from?
Luisaviaroma began as a fashion boutique based in Roma, Florence, and continues to operate in Italy today.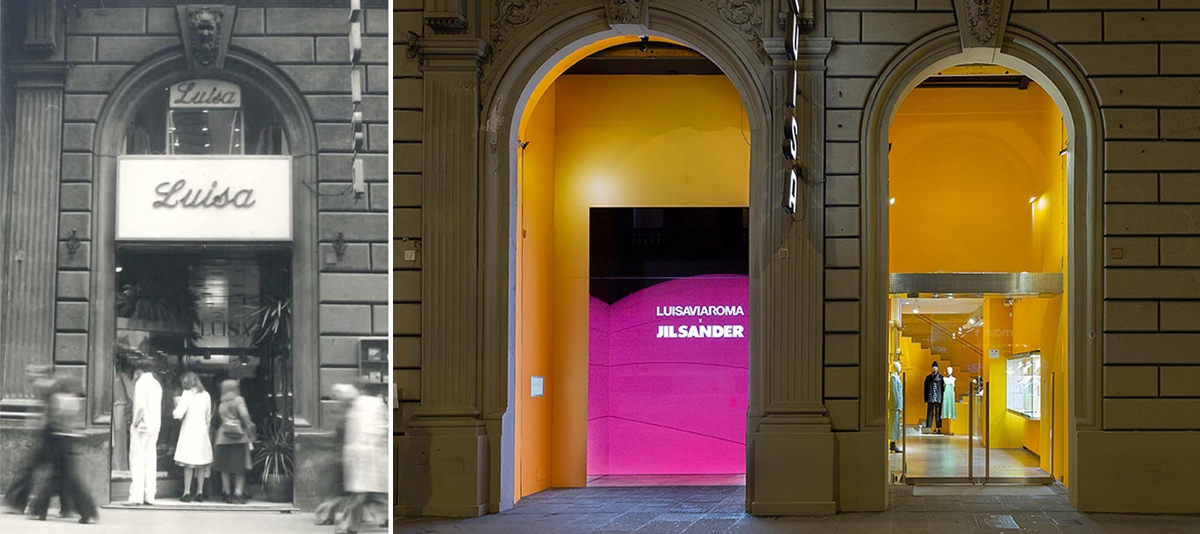 The first Luisaviaroma store, which debuted in Florence in 1929 under the name Luisa, continues to operate in Italy today (Credit: Luisaviaroma)
Who is the owner of Luisaviaroma?
The luxury e-commerce store Luisaviaroma is owned by Andrea Panconesi, who inherited the original boutique from his grandmother, who sold and designed hats.
Panconesi shifted the boutique's focus and began to stock luxury brands during the 1960s, beginning with Kenzo, which the store continues to stock today.
Andrea Panconesi with his daughter Annagreta Panconesi at the Green Carpet Fashion Awards Italia 2018 (Credit: IPA / INSTARimages)