Madison Bailey, the Outer Banks starlet, has been causing ripples in the fashion world with her stunning collection of little black dresses (LBDs).
This season, she's taken it up with her latest addition – a stunning black cutout dress that was sure to set hearts racing.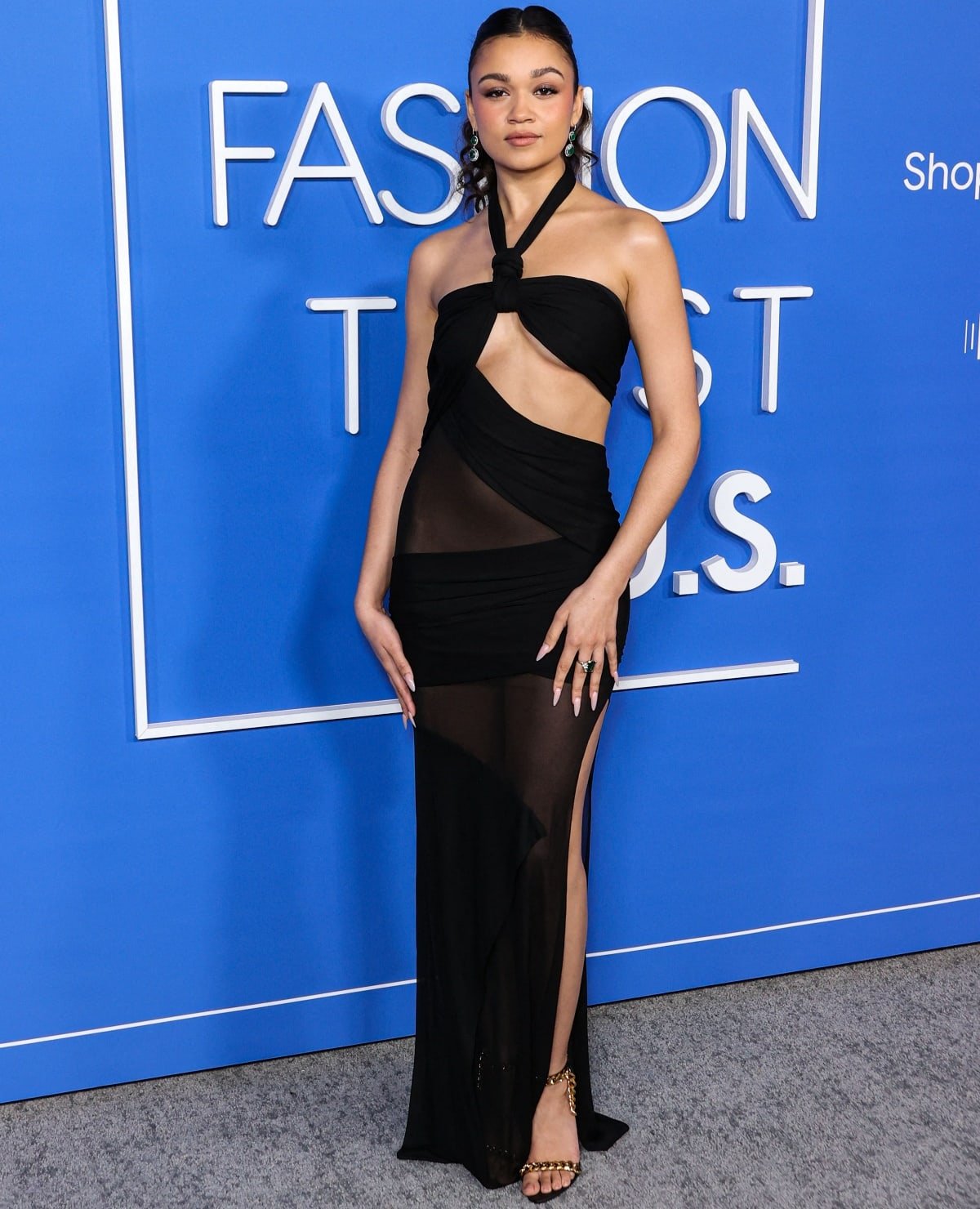 Madison Bailey stepping out in a daring black dress from Tom Ford at The Fashion Trust U.S. Awards 2023 held at Goya Studios in Hollywood, California on March 21, 2023 (Credit: Abaca Press / INSTARimages)
At the 2023 Fashion Trust US Awards in Los Angeles, the 24-year-old actress wowed the crowd with her daring yet sophisticated ensemble featuring Tom Ford's Spring/Summer 2023 collection.
Other stars in attendance include Kate Beckinsale, Demi Moore and Scout Willis, Paris Jackson, Heidi Klum, and Ciara.
Her dress boasts a translucent fabric with perfectly placed black strips that embrace the sheer trend. The halter neck is tied into a beach-like bralette with an asymmetrical cutout that curves around her waist and back.
Meanwhile, the thigh-high slit skirt, which drapes elegantly from her waist to the floor, adds a touch of glamour to the entire look.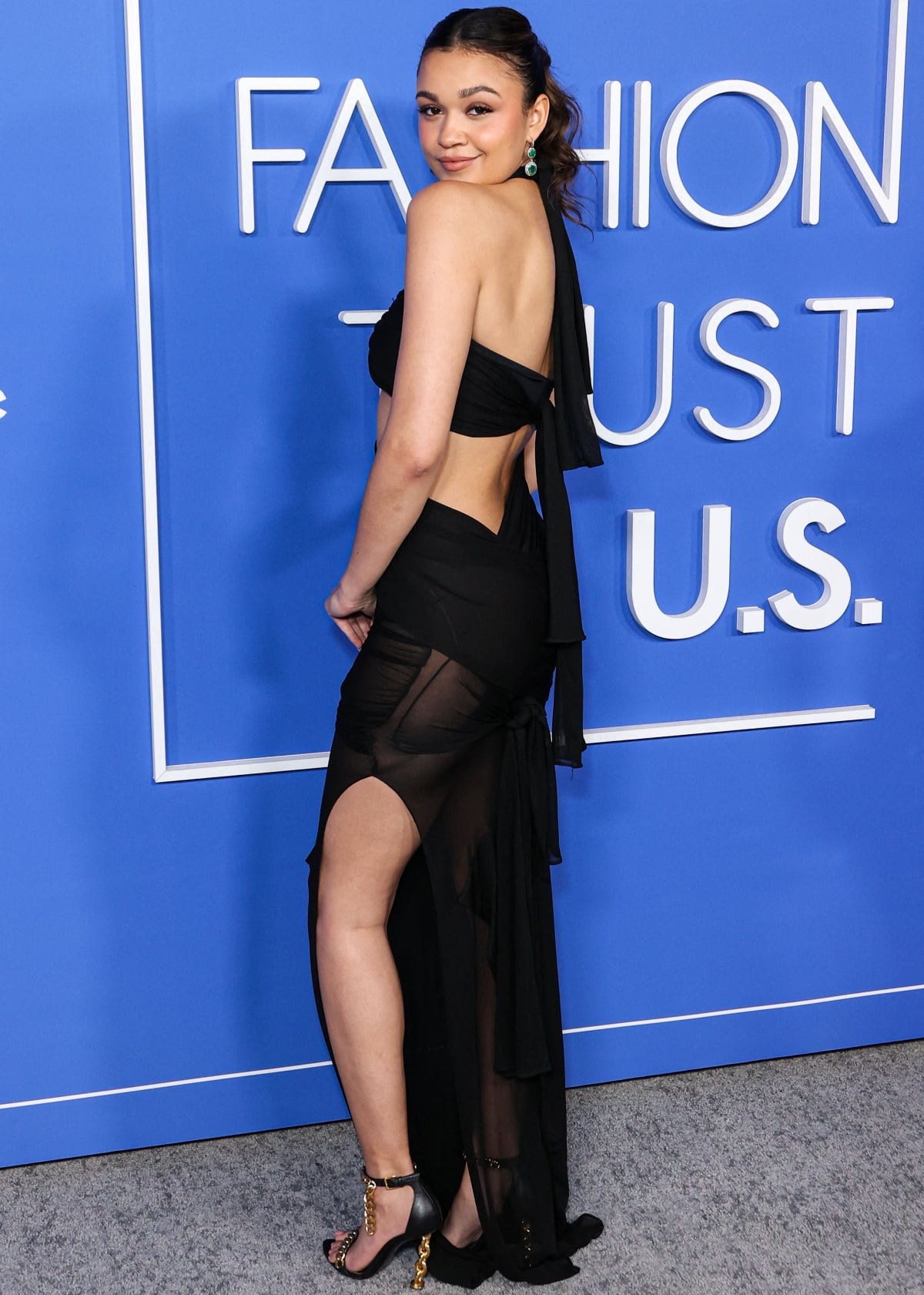 Madison Bailey's Tom Ford Spring/Summer 2023 dress featured cut-out detailing and a thigh-high slit that showed off her black-and-gold ankle-strap heels (Credit: Abaca Press / INSTARimages)
Bailey completed the outfit with silver-and-emerald drop earrings, coordinating rings on both wrists, and strappy-heeled sandals adorned with gold chains.
Her makeup artists finished her appearance with glossy lips, mascara, and pulled-back waves, making her look like a true fashion icon.
Madison Bailey's minimal beauty look allowed her gorgeous face to shine and her stunning drop earrings to add a touch of sparkle to her ensemble (Credit: Abaca Press / INSTARimages)
The actress posted photographs of her outfit on Instagram with the caption, "One more LBD 🤞🏽thank you for a beautiful night @fashiontrustus 🖤," which referenced her recent red-carpet outfits.
In the comments section, her Outer Banks co-star Madelyn Cline complimented Bailey's gorgeous ensemble.
Cline penned, "Ate it up. Goodnight moon."
The Instagram post also showcased photographs of Bailey and her longtime partner, Mariah Linney, who sported a white button-up and black suit with a complementary bowtie by Tom Ford.
View this post on Instagram
Bailey's LBD collection has been on complete turn this fashion season. In January, she launched her spree in a thigh-high slit asymmetrical Michael Kors gown, followed by a backless, high-slit maxi dress with gilt cutouts for the Dundas show during Paris Fashion Week.
On March 12, she wore the Luisa dress in black from Et Ochs's spring/summer 2023 collection to the annual Elton John's AIDS Foundation Oscars party.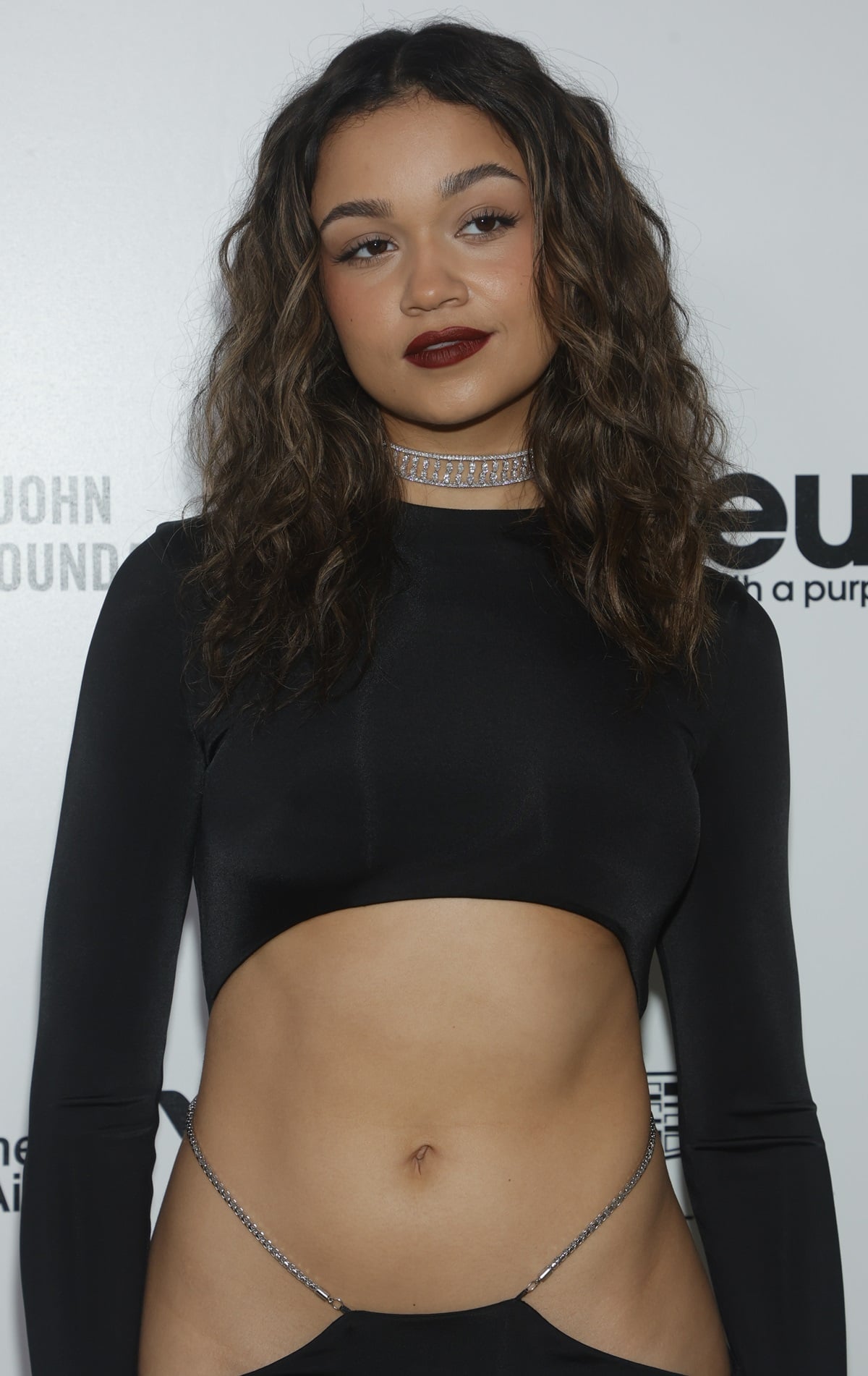 Madison Bailey stunned at the yearly Elton John's AIDS Foundation Oscars party in a black Luisa gown from Et Ochs's spring/summer 2023 collection featuring a two-piece design with plunging hip cutouts and strappy waist detailing (Credit: Faye's Vision / Cover Images)
The dress showcased a two-piece ensemble with plunging hip silhouettes and strappy waist detailing.
Madison Bailey made a head-turning entrance in a daring Et Ochs Spring/Summer 2023 creation at Elton John's AIDS Foundation Academy Awards Viewing Party in Los Angeles, California on March 12, 2023 (Credit: Faye's Vision / Cover Images)
On Instagram, Madison Bailey posted a series of photos taken during the star-studded event and included one with partner Mariah Linney in a blue suit.
In an interview with Entertainment Tonight in June 2020, Bailey shared the first time she met her girlfriend in person after the actress saw the UNC Charlotte basketball player on TikTok and started messaging on Instagram.
View this post on Instagram
Bailey said, "I was staying in a hotel in Charleston and was like, 'Just come hang out. We can chat, chill.' Everything's closed, so it's not like we can go out anywhere."
Since that time, the couple's relationship has been entirely blissful. The two frequently engage in PDA through flirtatious Instagram posts and comments and producing TikTok clips together.
Bailey told ET, "I had zero hesitation to post on social media about it because I was like, 'No matter what happens, you will be in my life forever.' I care about her so much."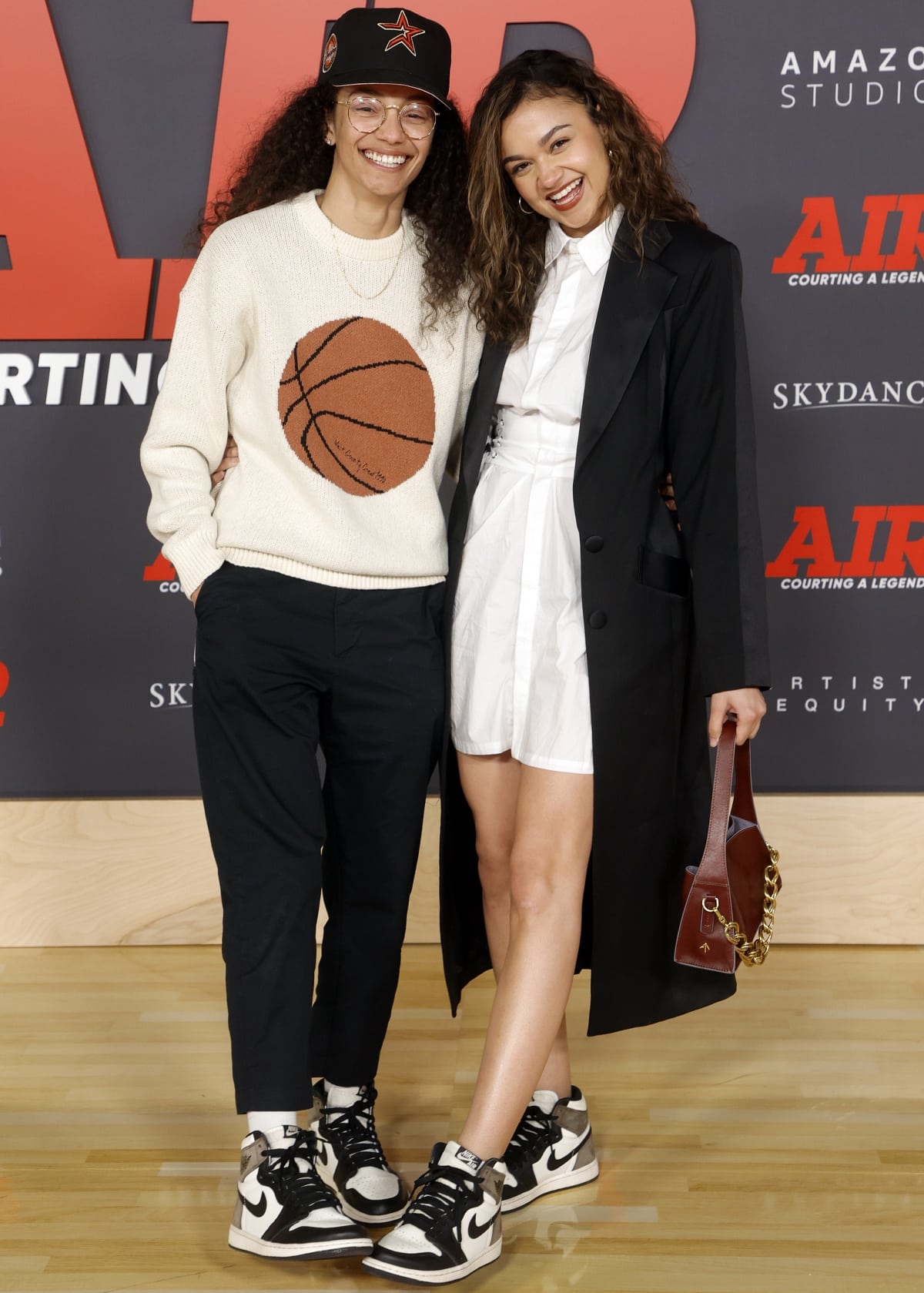 Mariah Linney and Madison Bailey looked every bit the happy couple at the premiere of AIR held at Regency Village Theatre in Los Angeles, California, on March 27, 2023 (Credit: Faye's Vision / Cover Images)