Ciara, who never shies away from making bold fashion statements, once again turned heads with her appearance at the Fashion Trust US Awards in Los Angeles.
She joined a bevy of stars like the mother-daughter duo Demi Moore and Scout Willis, Paris Jackson, Kate Beckinsale, and Heidi Klum.
It came after her controversial appearance at the 2023 Vanity Fair Oscar Party wearing a neck-breaking, barely-there Dundas gown that featured nothing but crystals, mesh, and underwear that emphasized her slim physique.
However, this time, the 37-year-old songstress departed from her usual style and made a bold fashion statement with a more modest ensemble. Dressed in head-to-toe black, Ciara exuded power and sophistication.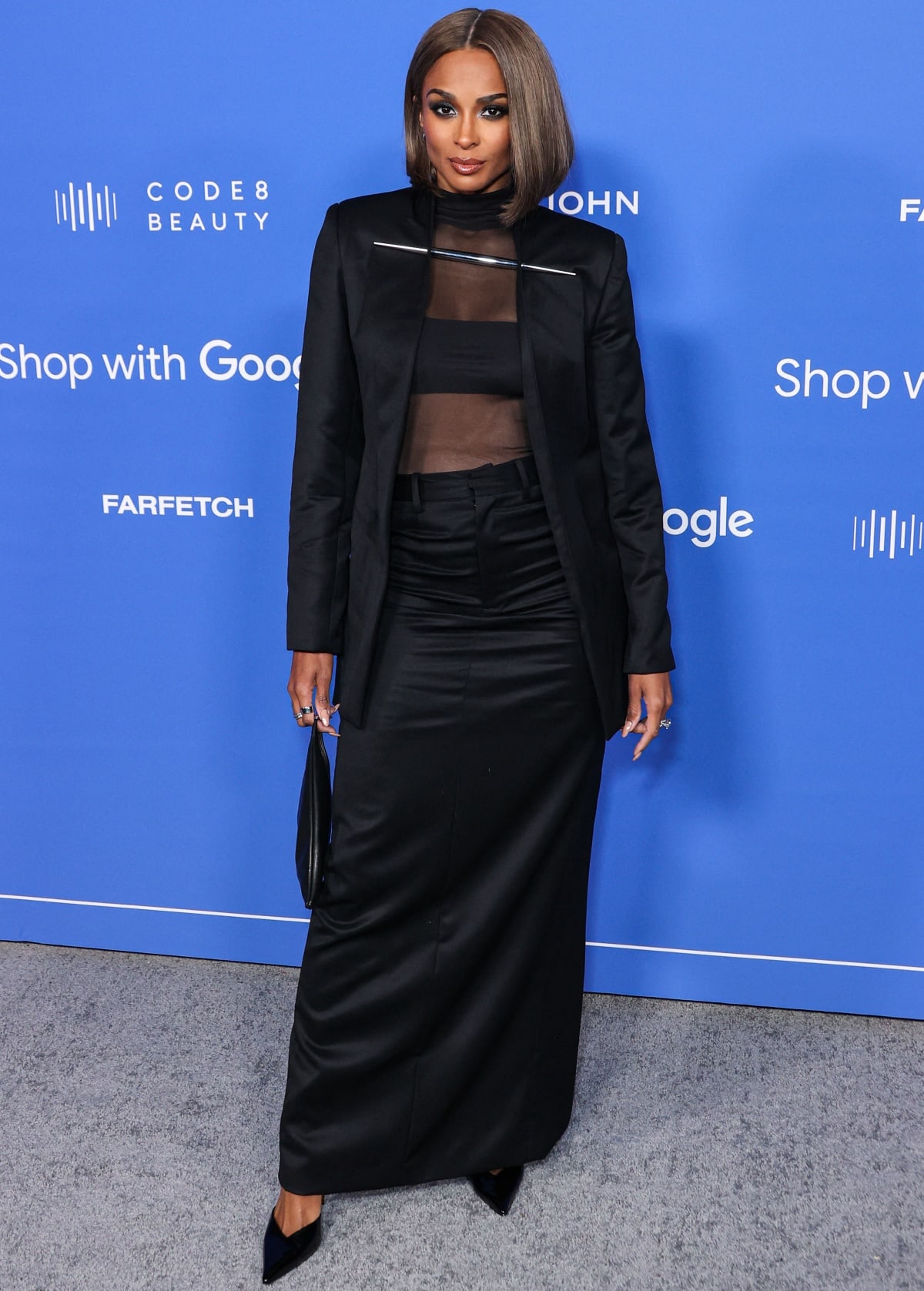 Ciara looked stunning at The Fashion Trust U.S. Awards 2023 held at Goya Studios in Hollywood, California on March 21, 2023 (Credit: Abaca Press / INSTARimages)
Her outfit from the Fall 2023 Collection of New York-based designer Grace Ling was a masterful blend of edgy and elegant, featuring a sheer black mesh turtleneck layered over a sleek black bralette. Ciara's glittering mesh top was tucked into a form-fitting Pillar skirt, creating a stunning silhouette highlighting her curves.
With its sculpted shoulders and sharp fastening that sliced through the fabric at her neckline, the Dagger Blazer completed the look, adding a touch of drama to the ensemble.
To accessorize, she layered silver jewelry for a chic and polished look and carried a black leather tote that added an extra edge.
Ciara was all sculpted shoulders and sharp angles at The Fashion Trust U.S. Awards 2023 (Credit: Faye's Vision / Cover Images)
Completing the outfit were shiny black pointed-toe shoes with ankle straps and her hair styled in a bold tapered cut, letting the singer exude confidence and power.
The absence of Ciara's husband, NFL star Russell Wilson, from the inaugural awards ceremony, prompted speculations that he was annoyed by her head-turning outfit at such a high-class event.
However, Ciara shut down these rumors in a recent interview with Essence magazine, claiming that her marriage is firmly grounded and her husband gives her the freedom to express herself however she chooses.
Ciara said, "The thing that I love about my husband is that he speaks life into my independence. Before I came into his life, he knew who I was. And he's always respected that from day one."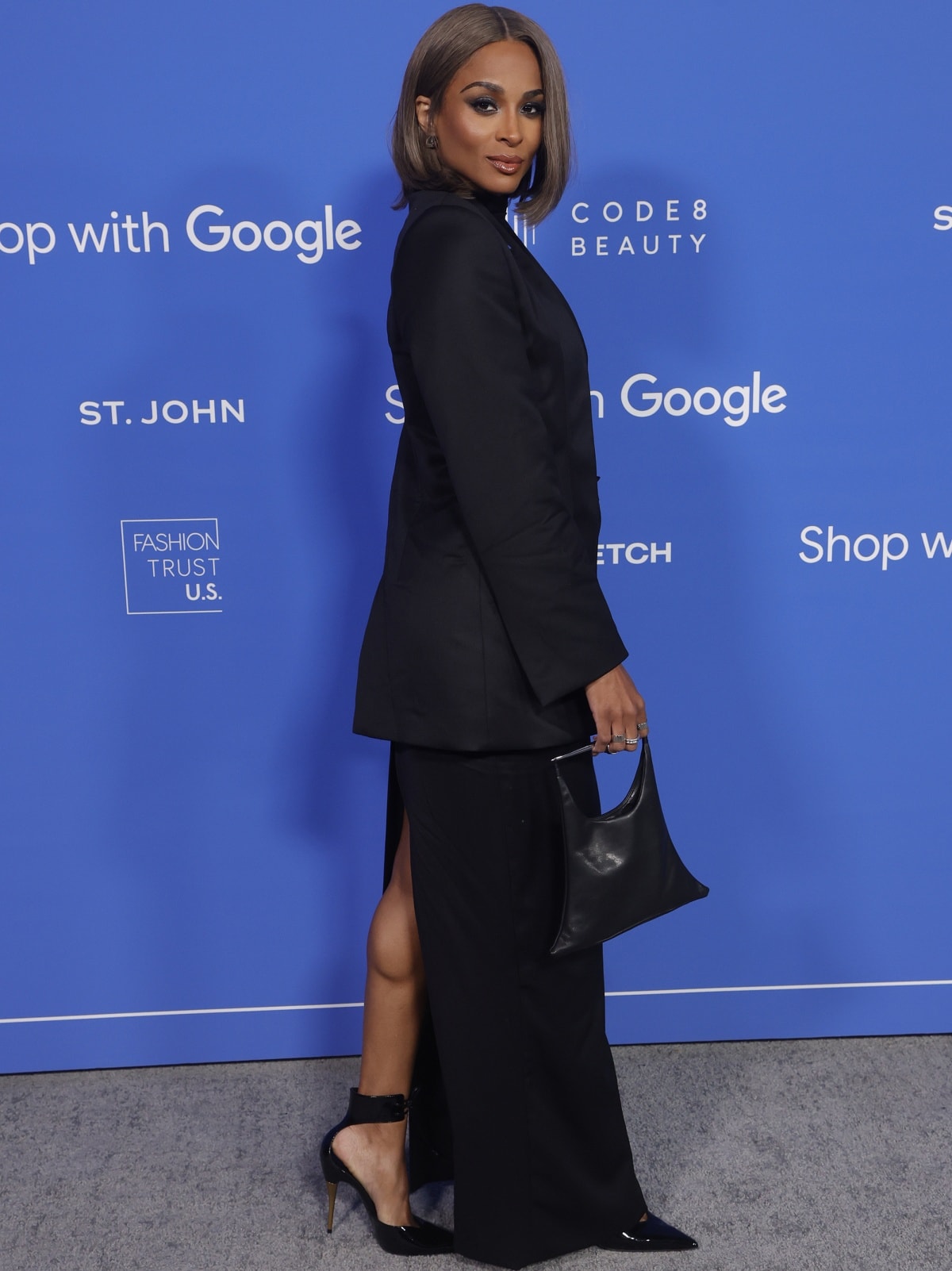 A black leather tote and black pointy-toe heels completed Ciara's ensemble (Credit: Faye's Vision / Cover Images)
Her fashion choices may not be everyone's cup of tea, but they reflect her confident and independent spirit.
She elaborated, "I think there's something really beautiful about the woman that knows who she is and is confident in who she is. She's fearless. She goes after what she wants. Even if you're a stay-at-home mom, there's still an independence that you have to make the house go round to make things happen. Or the girl that's out there grinding, trying to get it."
The singer shared, "I've been that girl since I was a little girl. I mean, I had to do a lot on my own. Whether it was from the vision of the songs I would write, starting with 'Goodies,' or whether it was from running my own label – that's who I am."
Meanwhile, Ciara was assured that the message of her new song "For Da Girls," which received backlash on social media, would eventually reach its intended audience.
The songstress noted, "I think those that may not be so confident may feel a certain kind of way, but those that are confident in themselves, especially [regardless of] a male's perspective, know what that is. And they love what that is, and they celebrate what that is, and they support what that is. They uplift what that is in us. So that's like a good bit of my inspiration and where I'm coming from with this record."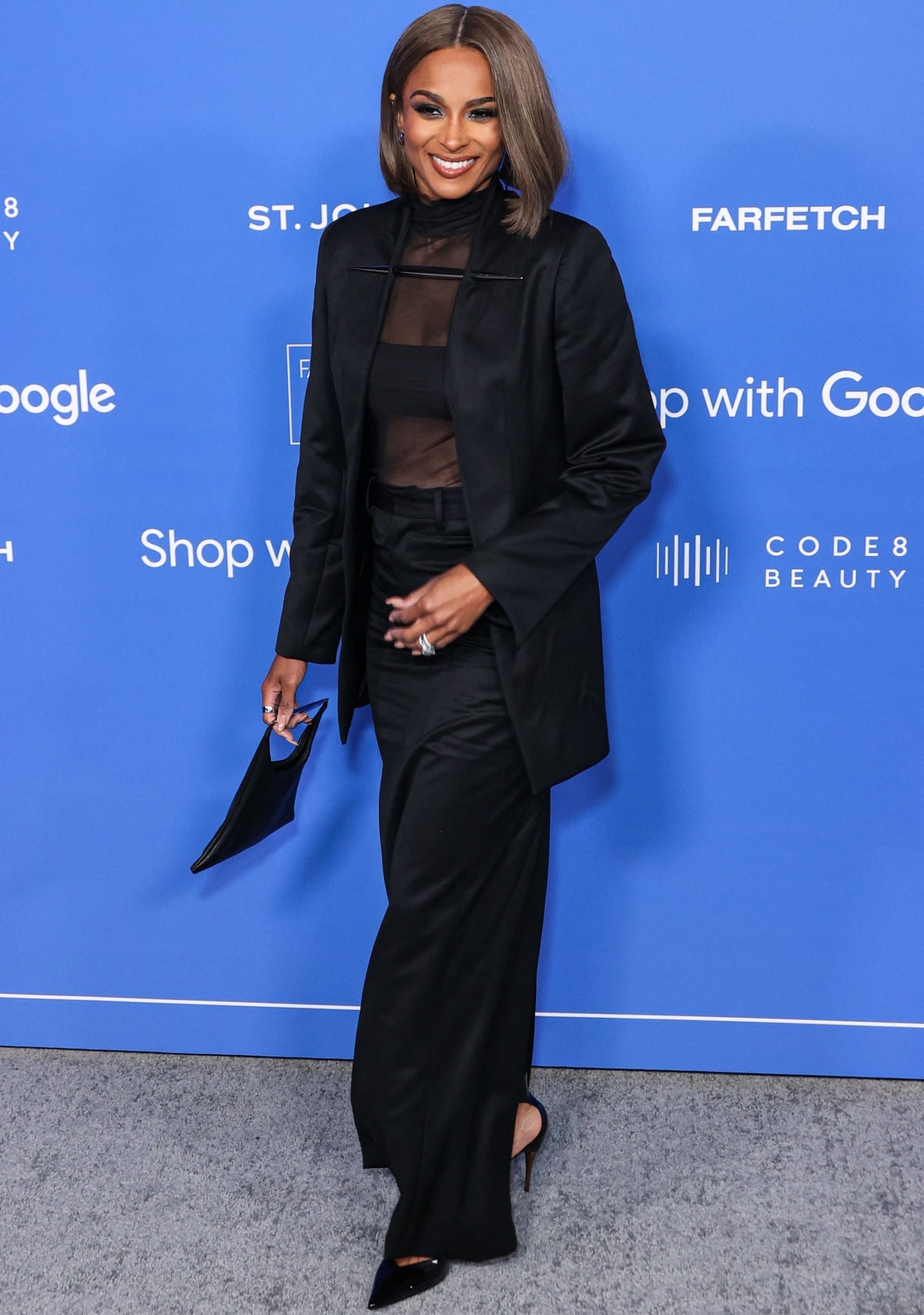 Ciara exuded confidence and sensual elegance at The Fashion Trust U.S. Awards 2023 (Credit: Abaca Press / INSTARimages)
In response to the controversies around her previous naked dress, Ciara posted a hilarious TikTok video of herself wearing a white bedsheet and walking on an imaginary red carpet. The clip had a background that sounded like paparazzi calling for her attention to strike a pose for the cameras.
She added a message to the video with, "POV: How I'm Pulling up to Vanity Fair Next Year," and captioned the post with, "Selective outrage."