If you like polka dot shoes, you will love Malone Souliers' Pre-Fall '18 footwear collection that features a capsule collaboration with Emanuel Ungaro. Don't be surprised if this turns out to be the hottest shoe collaboration of 2018. You can shop the entire collection at Matches Fashion!
Malone Souliers X Emanuel Ungaro Capsule Collection at Matches Fashion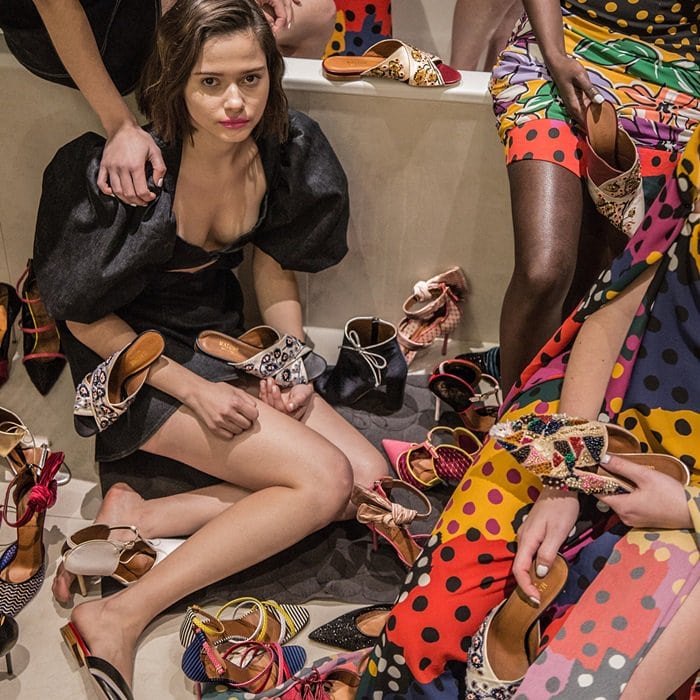 "Having drawn inspiration from the incredible archives of Emanuel Ungaro, I wanted to reinterpret key themes from the classic French couture house for to the Ungaro woman today," said Mary Alice Malone, co-founder and and creative director of Malone Souliers. She beautifully reinvented key Malone Souliers silhouettes, including the Maureen, the Robyn, the Maisie and the Imogen. Inspired by Emanuel Ungaro's vibrant aesthetic, the result feels feminine and frothy, and right in line with both brands' aesthetic.
Raspberry Purple 'Sanaa 1' Mules, $595 at Mytheresa
These elegant mules balance on a slim stiletto heel rendered in raspberry purple hue and feature a black lace band for ladylike statement detail. The two toe straps are transparent for a barely-there illusion.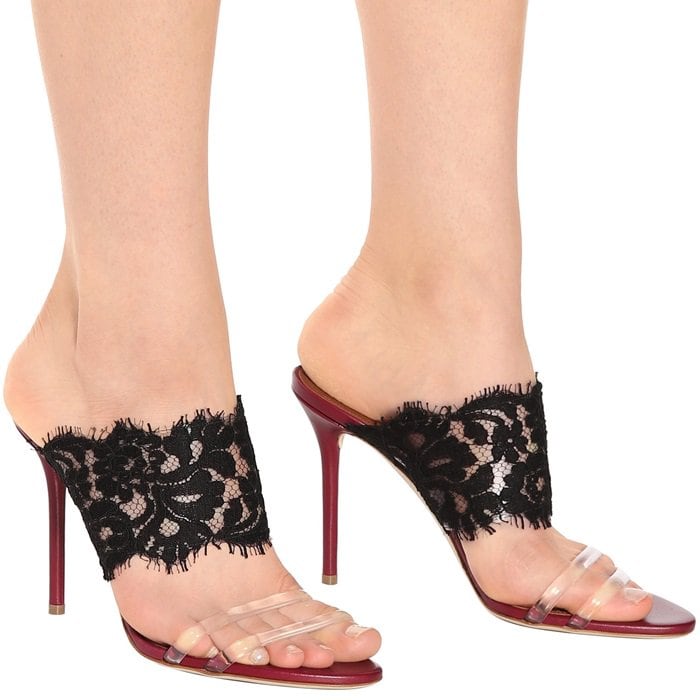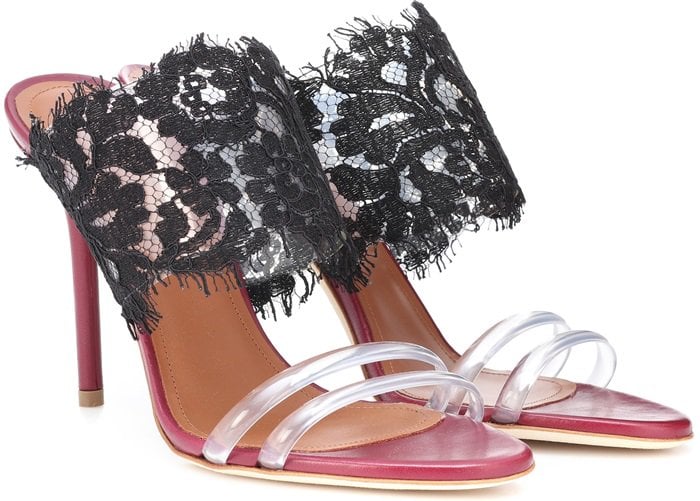 These stylish mules have been crafted from satin and covered in retro-influenced polka dots, with a modest kitten heel in daffodil yellow and red for chic balance. The lace band that holds this piece comfortably in place comes with plastic backing for a barely-there illusion.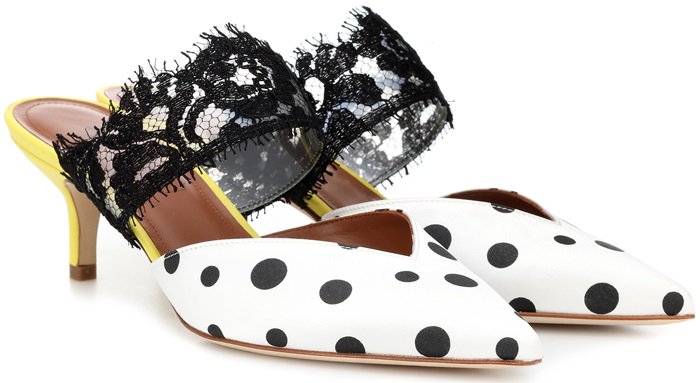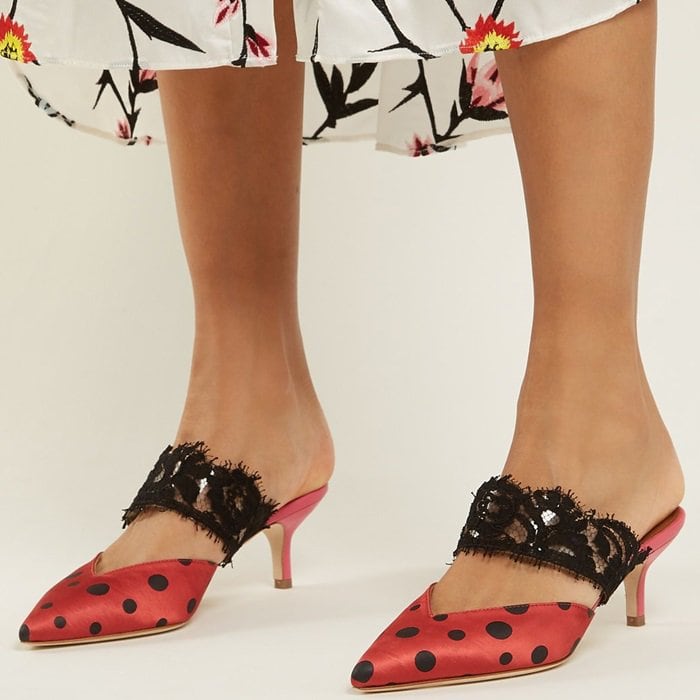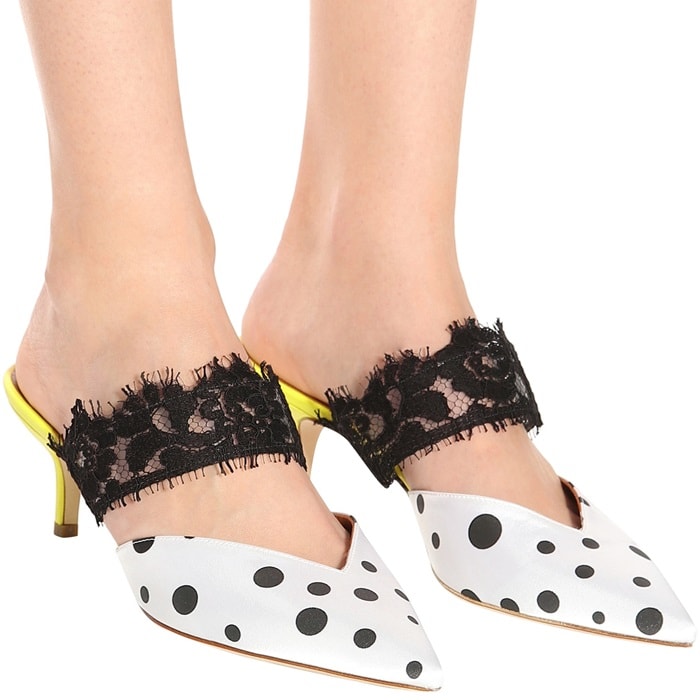 Pink 'Elle' Pumps With Metallic Waves, $677 at Matches Fashion
These pink pumps feature metallic waves across the pointed toes, hot-pink piped edge trim, and a dramatic pleated-bow ankle strap. Embrace the French house's bold sensibility by juxtaposing them with an equally striking dress.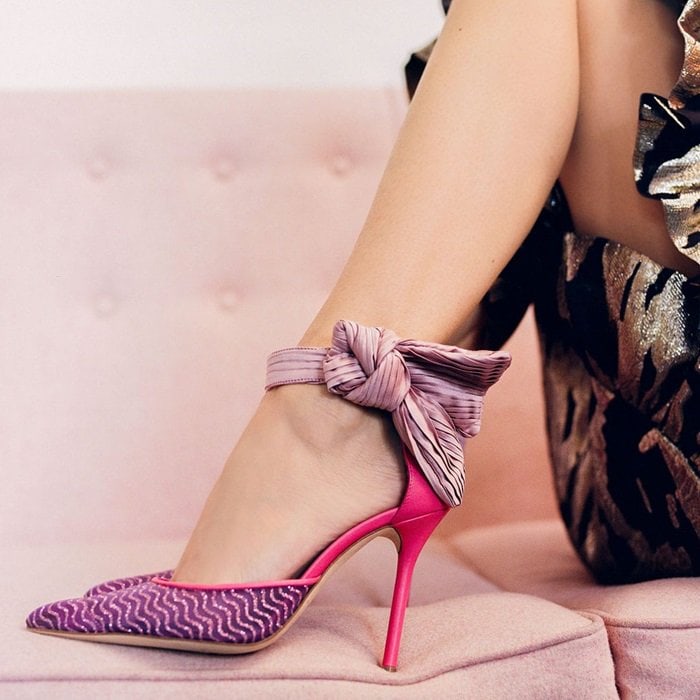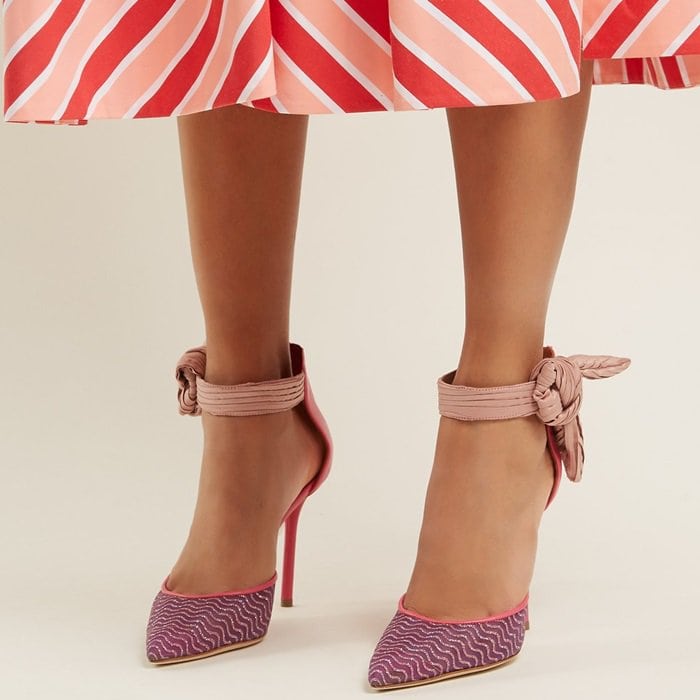 Black Satin 'Elouise' Pumps, $677 at Matches Fashion
These black satin pumps are made in Italy with a pleated ruby-red satin point toe and tongue, black polka dot-flecked mesh side panels and a high stiletto heel. Style them with an artistic dress as part of a contemporary evening edit, anchored by a refined leather tote.
Black and White 'Maureen' Polka-Dot Mules, $620 at Matches Fashion
The silhouette is crafted to the hallmark curved shape and is framed with burgundy-red straps, then set on a slender stiletto heel.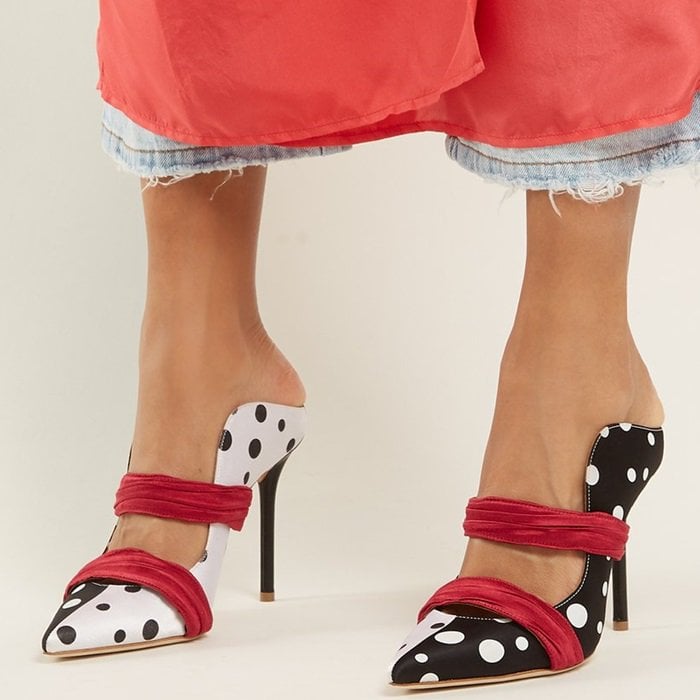 Black and White Polka-Dot 'Maureen' Pumps, $620 at Shopbop and Matches Fashion
These white polka-dot pumps reinterpret key themes from the archives of the classic French couture house. The silhouette is crafted from satin with a curved top edge which follows the natural shape of the foot, and is then framed with yellow and black front straps that coordinate with the slender heel.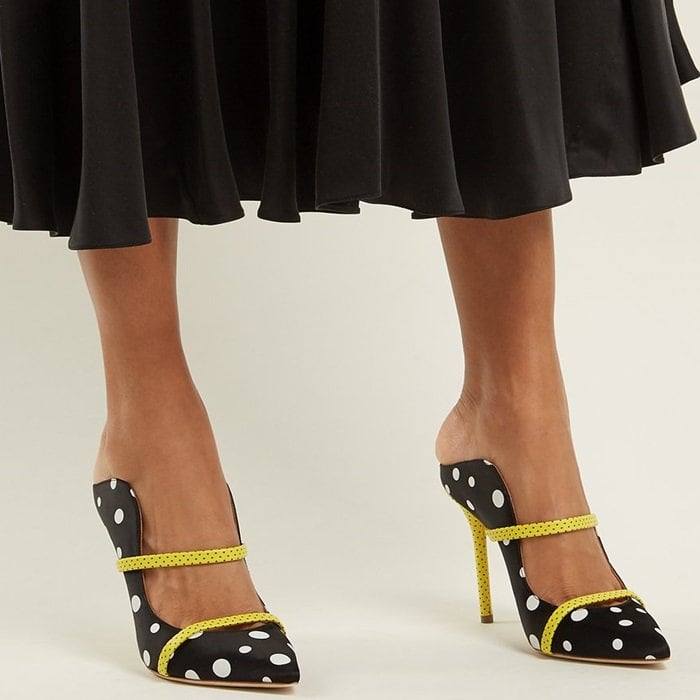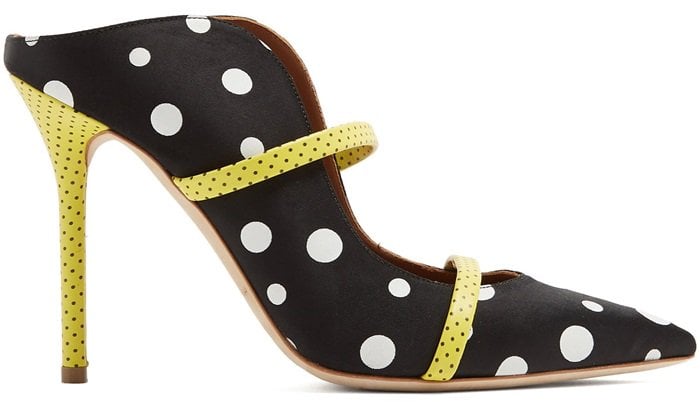 Black Mesh 'Robyn' Pointy-Toe Pumps, $689 at Matches Fashion
Crafted from mesh to a point-toe shape, these playful black pumps are printed with the French couture house's classic polka dots, secured with three yellow straps, and set on a flamingo-pink leather-covered stiletto heel.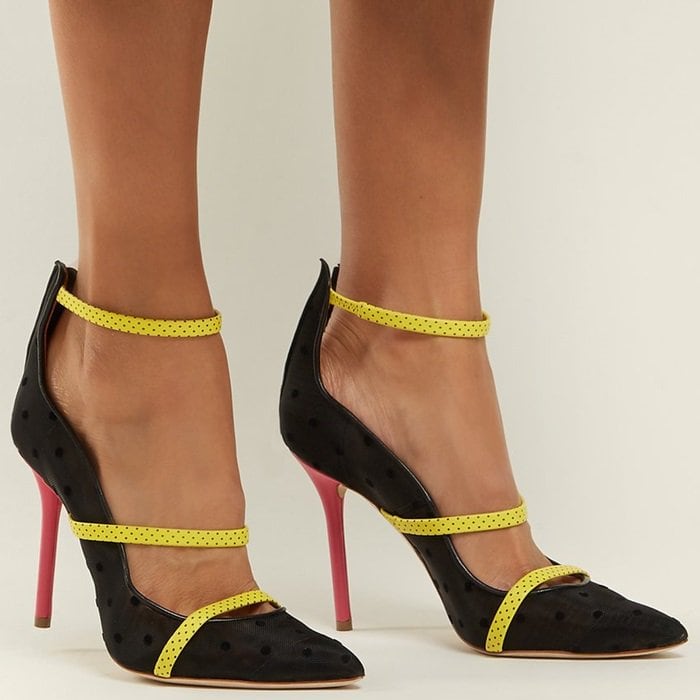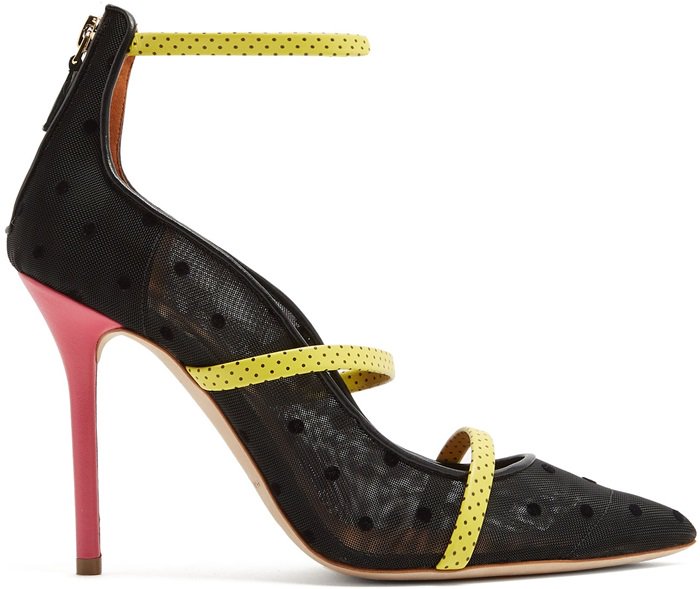 Red Leather Point-Toe 'Amelie' Booties, $804 at Matches Fashion
These red booties crafted from leather to asymmetrically encase the ankle, with geometric black trim along the folded edges, and slim black stiletto heels.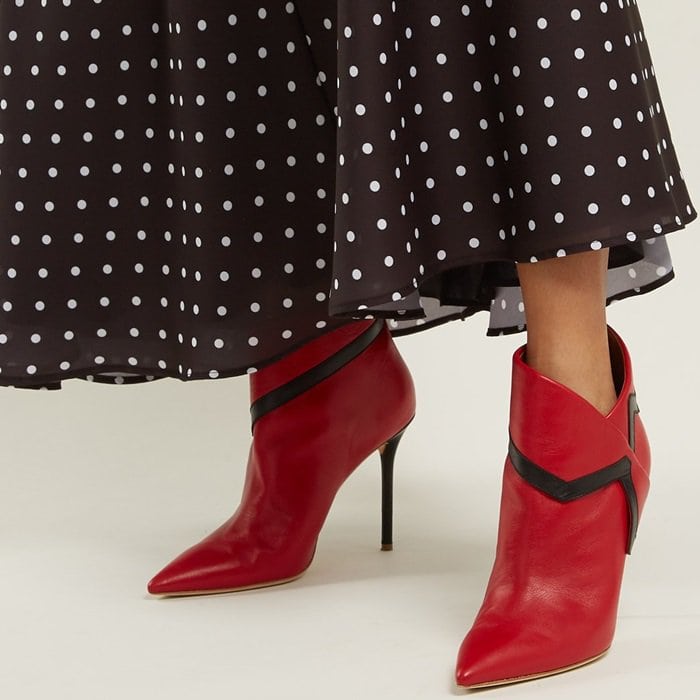 Hot-Pink Mesh 'Charlise' Boots, $748 at Matches Fashion
These hot-pink mesh boots feature the couture house's signature polka-dots in black. The point toes are paneled with pink pleated satin, whilst black leather trim lend a refined finish.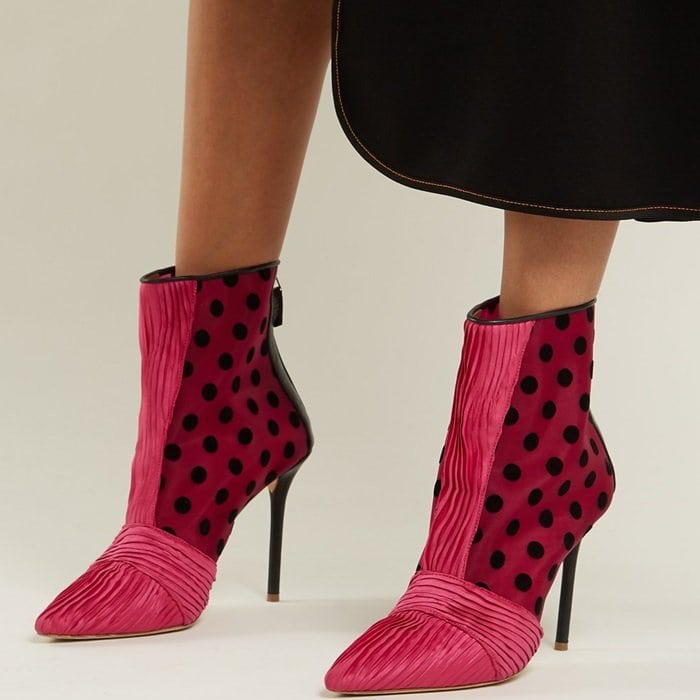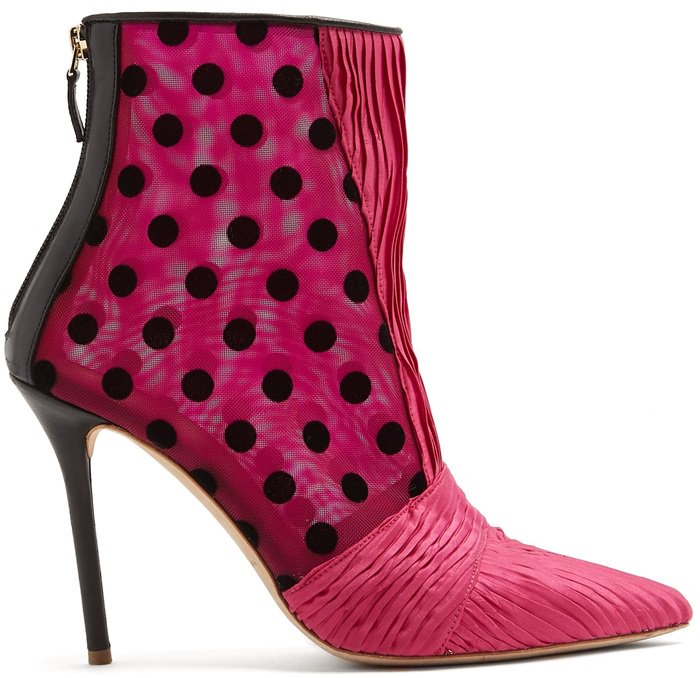 Yellow Polka-Dot 'Cindy' Sandals, $620 at Matches Fashion
This summer-ready stiletto style is crafted from leather and features slim crossover straps to anchor the foot, as well as a black and white striped heel panel held with a buckle-fastening ankle strap.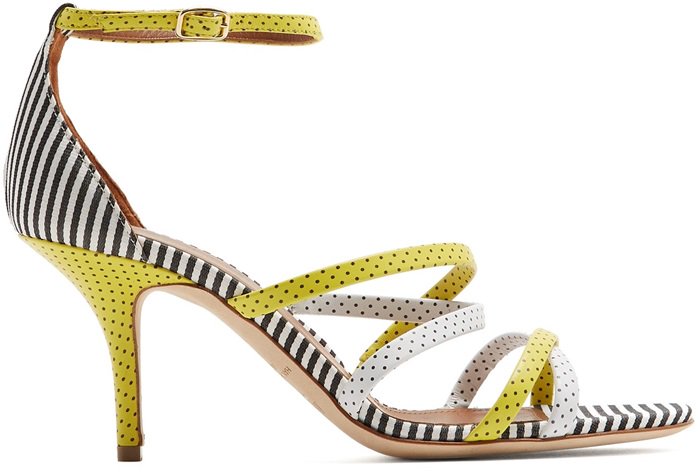 Charismatic Polka Dot 'Joan' Sandals, $748 at Matches Fashion
Graphic polka dots play out across the arched foot straps and side bows, while a daintier version decorates the white leather-covered stiletto heels.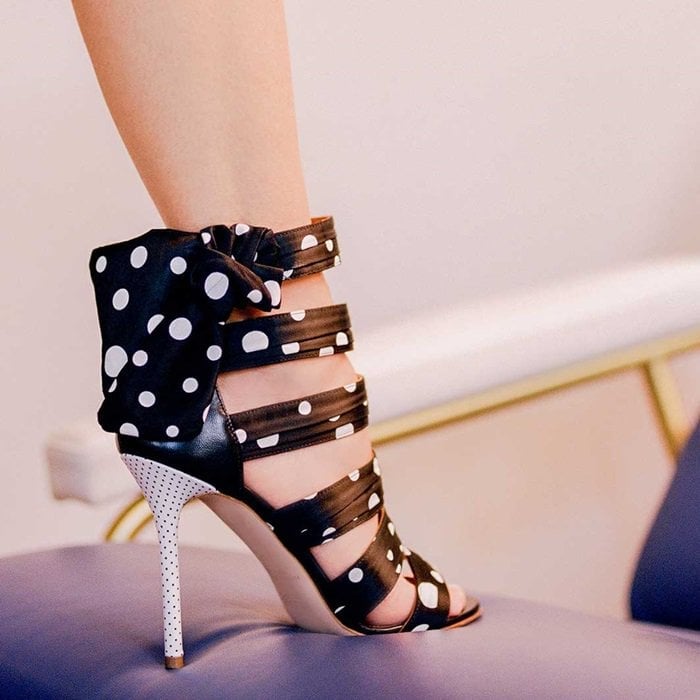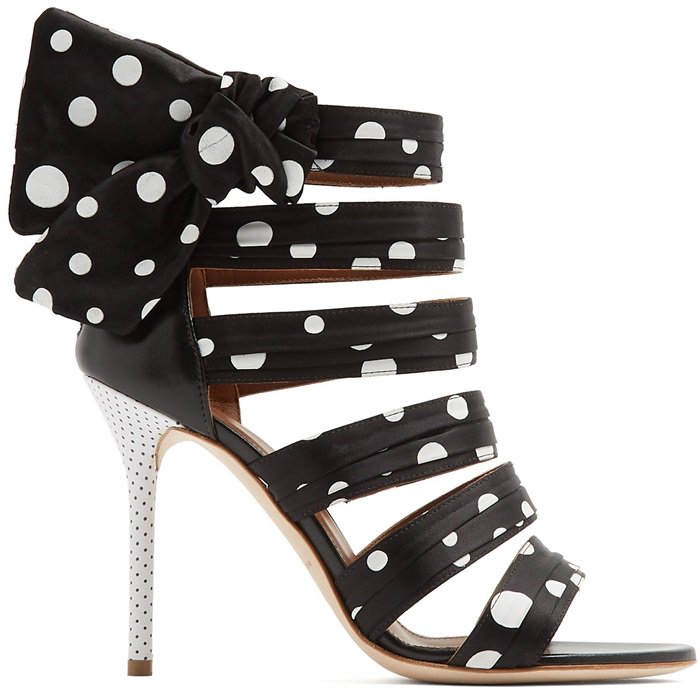 Black Mesh Point-Toe 'Robyn' Pumps, $689 at Matches Fashion
Malone Souliers's signature 'Robyn' pumps are revisited using the French fashion house's codes. This black mesh point-toe pair is detailed with crinkled blue straps and set on bright yellow heels.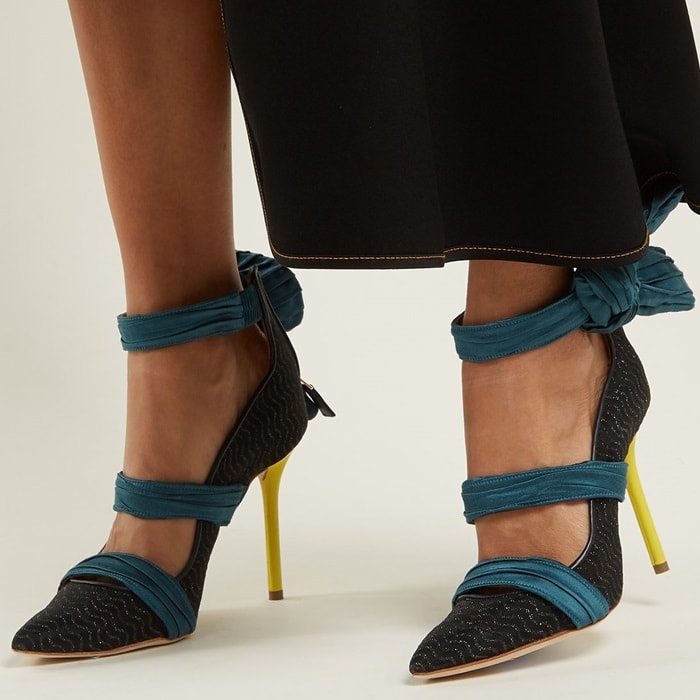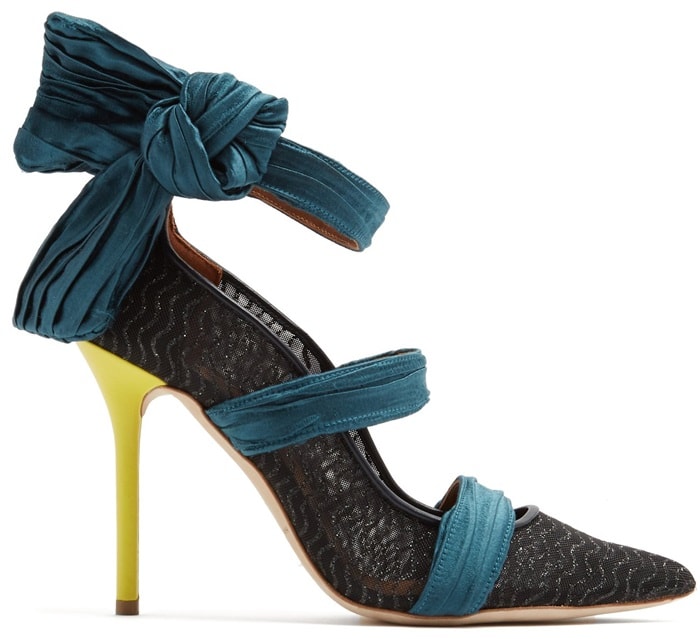 Black Leather 'Maisie' Mules, $620 at Matches Fashion
Taking inspiration from 1980s party dresses, they're shaped with a pointed toe and coordinating vamp, then set on a small stiletto heel that's encased in coral-red leather. Note the gentle gathers across the satin arch strap as a tactile finishing touch.