Emma Roberts is back with another rom-com, and she's starring alongside an award-winning ensemble cast, including Richard Gere, Diane Keaton, Susan Sarandon, and William H. Macy, in the new romantic-comedy movie, Maybe I Do.
The movie, which marks Michael Jacobs' feature directorial debut, focuses on Emma Roberts and Luke Bracey, who play Michelle and Allen, a young couple who are considering taking their relationship to the next level.
Emma Roberts and Luke Bracey star together in new rom-com movie Maybe I Do (Credit: Vertical Entertainment)
Last week, the Wild Child star had been busy making the rounds on the press circuit to promote her latest project.
She dropped by Watch What Happens Live with Andy Cohen on Tuesday, where she played the rom-com-themed version of the show's Phrased and Confused with fellow guest Julia Bowen.
With the help of her trusted stylists Brit and Kara Elkin, the same stylists that dress Hilary Duff, Roberts donned one of this season's trends: the flower corsage.
Emma Roberts wears a trendy corsage-embellished blouse by Carolina Herrera for her appearance on Watch What Happens Live on January 17, 2023 (Credit: Roger Wong / INSTARimages / Cover Images)
Evan Peters' ex flaunted her shoulders in a Carolina Herrera Spring/Summer 2023 ruffled silk blouse with tulle sleeves, ruffled trims, and a relaxed, cropped fit.
In addition, the sheer number featured the trendy rosette corsage placed right below the halter neck tie. You can pre-order this blouse for $1,590 (with a $795 deposit) at Moda Operandi.
Continuing with the monochromatic theme of the outfit, Emma paired her top with black flared trousers and a set of matching black pumps. Outside the studio, she was pictured bundled up in a long black coat.
A pair of stud earrings, heavy mascara, pink lipstick, and a low ponytail rounded out her look.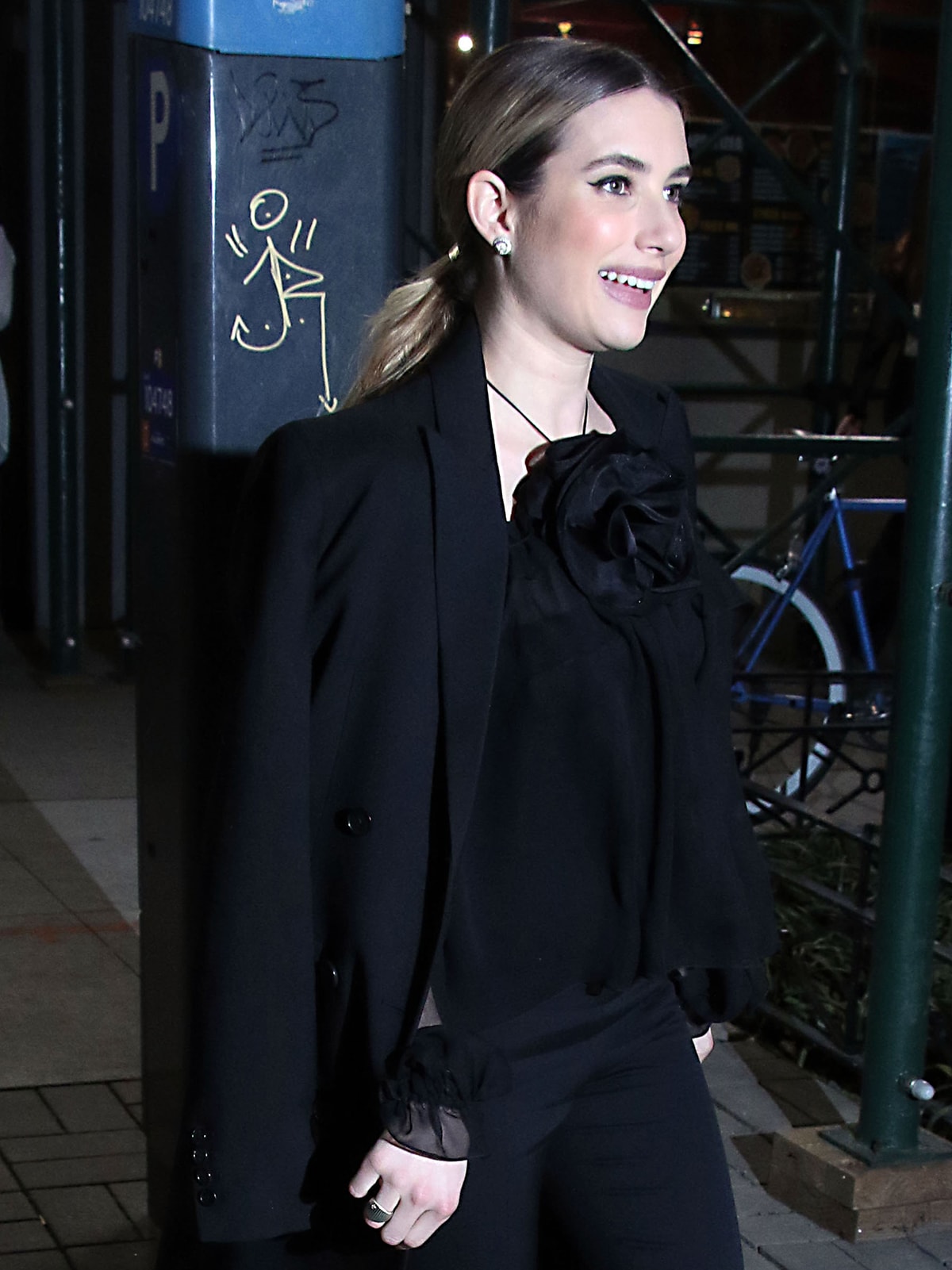 Emma Roberts pairs her monochromatic black ensemble with pink makeup and a low ponytail (Credit: ROGER WONG / INSTARimages / Cover Images)
That same day, Roberts opted for yet another monochromatic statement in a vibrant red maxi dress for the screening of Maybe I Do held at Crosby Street Hotel.
She looked elegant in the one-shoulder red dress from Philosophy Di Lorenzo Serafini's Spring 2023 collection, made from sheer chiffon fabric with front buttons, asymmetric elbow-length sleeves, and a ruched bodice that flows into a sheer softly pleated ankle-length skirt.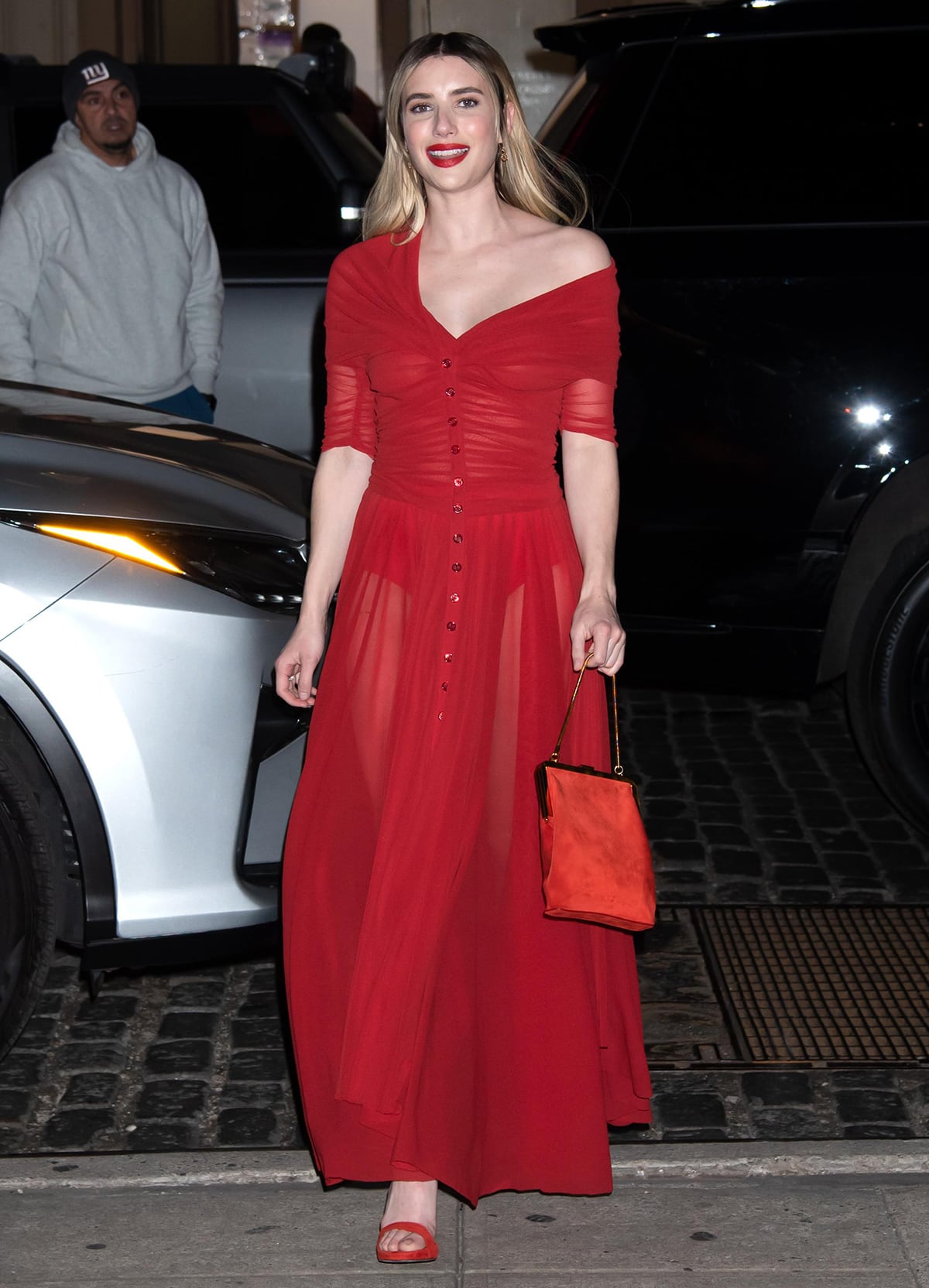 Emma Roberts goes monochromatic red in Philosophy Di Lorenzo Serafini see-through maxi dress with matching suede heels and red Khaite bag on her way to Maybe I Do screening (Credit: Janet Mayer / Startraksphoto / Cover Images)
Keeping the look coordinated, Garrett Hedlund's baby mama paired her frock with matching open-toe red sandals and a $2,200 Khaite "Lilith" bag in scarlet suede.
A pair of Fred Leighton diamond earrings and a statement ring rounded out her ensemble.
Her middle-parted blonde tresses fell down her back, while her facial features were enhanced with mascara, thick eyebrows, and red lipstick.
Emma Roberts completes her stunning look with coordinating bold red lipstick (Credit: Janet Mayer / Startraksphoto / Cover Images)
What Is Maybe I Do About?
Released on January 27, Maybe I Do follows couple Michelle and Allen, who have opposing views on marriage.
After an incident where Allen prevents Michelle from catching the bridal bouquet at her best friend's wedding, she gives him a 24-hour ultimatum to decide whether or not their relationship would end in marriage.
To make things more serious, the couple decides to host a dinner with both of their parents. Turns out, the parents already know each other and are having an affair. Michelle's dad (Gere) has been seeing Allen's mom (Sarandon), while Allen's dad (Macy) has been spending time with Michelle's mom (Keaton).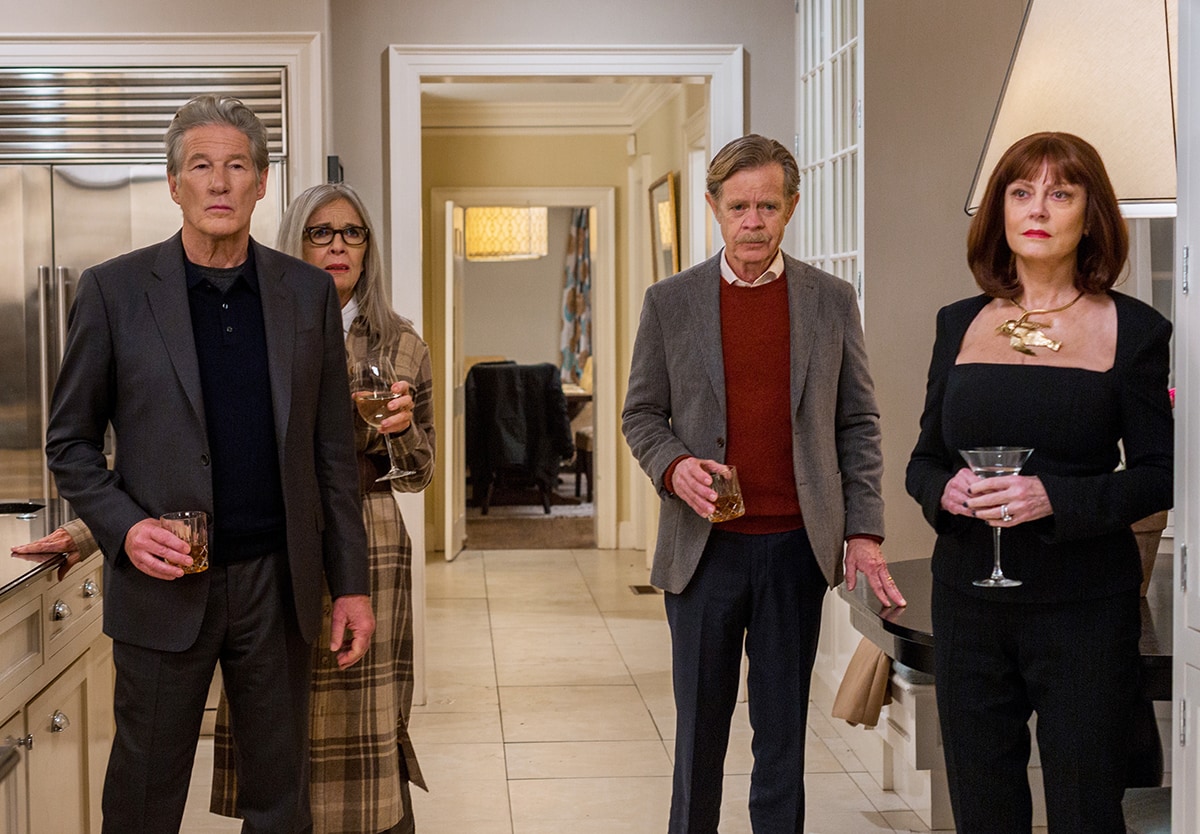 Maybe I Do follows couple Allen and Michelle and their parents who are caught up in a web of extramarital affairs (Credit: Vertical Entertainment)
Emma Roberts on Working with Richard Gere
Emma Roberts' aunt Julia Roberts has worked with Richard Gere in two romantic comedy movies, namely Runaway Bride and Pretty Woman.
When asked about how she felt having Richard Gere as her dad in Maybe I Do, Emma told MovieWeb: "I just couldn't believe how I lucky I got, having Richard Gere and Diane Keaton be my movie parents, since they've been in some of my favorite movies of all time."
"It was really a joy to get to work with them, and it did feel, like, very full circle, because obviously I've seen Runaway Bride and Pretty Woman so many times. So to now have Richard Gere playing my dad, I felt like it was a funny nod to my family."
Emma Roberts shares it was a full circle having Richard Gere play as her dad in Maybe I Do (Credit: Vertical Entertainment)
Roberts also told Page Six that it "just made so much sense" having Gere play as her father in the movie. "Obviously, he's worked with my aunt, so to get to work with him felt like full circle."
When People asked if she thought her aunt was "passing the torch" to her by working with Gere, Emma said, "It's not something we talked about, but I was so excited to work with him because Runaway Bride is one of my favorite movies that they did."
Emma also noted "coming to set so overly prepared" since she's working with Hollywood icons. "Hello, we're working with Diane Keaton and Susan Sarandon! So, I was like, 'If there's a blooper, it's not going to be because of me,'" she told Good Day Atlanta.
Emma Roberts reveals coming to set overly prepared as she's working with Hollywood icons (Credit: Vertical Entertainment)
A Reunion of Veteran Actors
Maybe I Do serves as a reunion for most of the cast members.
It reunites Diane Keaton and Richard Gere for the first time since starring in the 1977 crime drama Looking for Mr. Goodbar.
In addition, Gere and Sarandon co-starred as a married couple in the 2004 romantic comedy-drama Shall We Dance with Jennifer Lopez. Keaton and Sarandon also appeared together in the 2013 comedy The Big Wedding.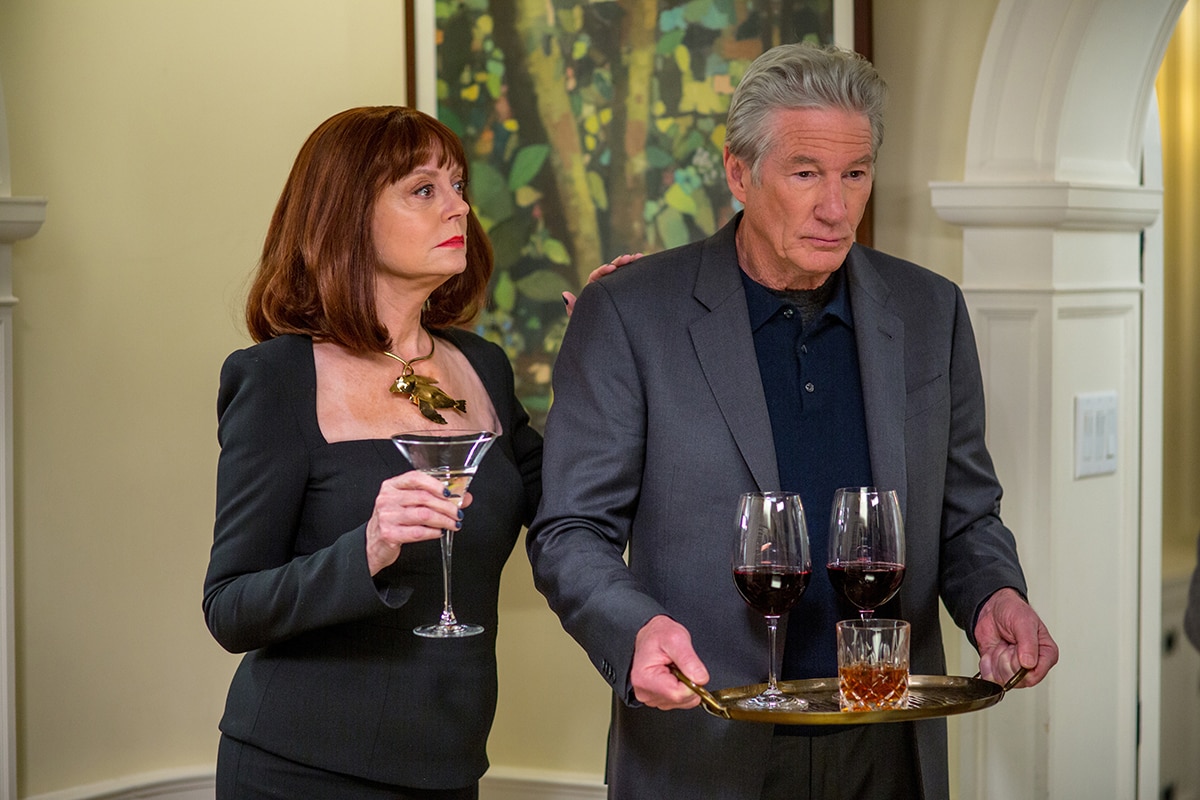 Susan Sarandon and Richard Gere reunite in Maybe I Do after starring as a married couple in 2004's Shall We Dance (Credit: Vertical Entertainment)
Maybe I Do also marks Roberts and Bracey's second romantic-comedy movie together after co-starring in the 2020 rom-com Holidate.
In an interview with MovieWeb, Emma shared she "couldn't ask for a better 'set husband' than Luke."
"So fun. I mean, we have a great time being on set together, and I love Holidate, that we did, and now Maybe I Do. I think it turned out really well."
Luke added: "Yeah, same with Emma. You know, we had such a great time making Holidate that we really just thought, oh, we'll have to do this again, if only for selfish reasons of really enjoying going to work with your friend."
Emma Roberts says she couldn't ask for a better-set husband than Luke Bracey (Credit: Vertical Entertainment)