Millie Bobby Brown recently added published author to her already impressive resume with her debut novel, Nineteen Steps. The release, however, has drawn criticism and reignited controversy about ghostwritten celebrity books.
Available on Amazon, Nineteen Steps is a historical novel inspired by true events of Brown's family's experience during World War II. While the actress laid the foundation for the story, her ghostwriter, Kathleen McGurl, helped bring the story to life.
View this post on Instagram
The use of ghostwriters isn't exactly new in Hollywood. Still, the lack of recognition that ghostwriters receive has continued to spark debate as some fans feel they should be given more credit than the celebrities who hire them.
Although Millie Bobby Brown openly acknowledged her ghostwriter on Instagram, social media users criticized the actress for her inability to write the novel herself and for not including McGurl's name on the cover.
In the photo she shared with her followers, Brown is seen clutching her book and posing with Kathleen McGurl. "a HUGE thank you to my collaborator," she captioned her post. "I couldn't have done this without you!"
View this post on Instagram
Her detractors quickly flooded her comment section, saying, "So u can become an author and not actually write it yourself these days … what's the point?"
"Her name should be on the cover. She was the one who actually wrote the book.." another said.
"You mean she wrote it for you and you're taking the credit," wrote another.
On the other hand, some congratulated the actress on her new endeavor. Actor Aaron Paul, for instance, said, "Amazing! So proud of you girl. This is so big. Congrats."
Another defended the actress, writing, "This author will be paid a shittone more because Millie's name is on it. Ghostwriting is not new, and by sharing this post she is literally acknowledging the author, who's name will also be in the book. The author will be very happy, and Millie supplied the whole story and all her families research. Everyone seriously needs to get off their high horse. Excellent work, Millie and Kathleen!"
View this post on Instagram

In a blog post, Kathleen McGurl recounted how she worked with Millie, mentioning that she "was sent a lot of research that had already been pulled together by Millie and her family." She also noted that they "had a couple of Zoom calls."
"And then I knuckled down and wrote the first draft, while Millie continued sending more ideas via WhatsApp. The book went through several drafts since then, as we refined the story."
Jake Bongiovi and Millie Bobby Brown leaving the Today Show in New York City after discussing her debut novel Nineteen Steps on September 14, 2023 (Credit: BauerGriffin / INSTARimages)
Amid the backlash, Millie has the support of her fiancé Jake Bongiovi, son of legendary musician Jon Bon Jovi, who was seen accompanying the actress while she was doing book press in NYC last week. The two subtly announced their engagement on Instagram in April.
Dropping by the Today show, the Stranger Things star highlighted her figure in a form-fitting tie-dye midi dress from British contemporary designer brand Joseph.
Tie-dye was popularized by the hippie movement in the 1960s. It saw a resurgence in the fashion industry in the early 2000s and has recently been making a huge comeback.
Millie Bobby Brown highlights her toned figure in a form-fitting tie-dye midi dress with a high neck and long sleeves by Joseph (Credit: BauerGriffin / INSTARimages)
Millie's $515 soft and delicate knitted tie-dye dress is a slim fit-and-flare dress cut from soft merino wool with a seamless high neck, fine rib detailing at the cuffs, and fitted long sleeves.
She kept the look cohesive with a denim-effect "Petite Malle" box clutch from Louis Vuitton's Spring/Summer 2017 collection, decorated with gold-tone hardware that matched her statement hoop earrings.
A pair of white heels balanced out Millie's busy tie-dye look. She slid her size 6 feet into the Steve Madden "Kloss" white sandals, which boosted her 5'3" height.
These slides are made from vegan leather and have two sculptural puffed straps across the foot, creating a rounded bubble silhouette. They also have trendy square toes and 3.75-inch angled heels.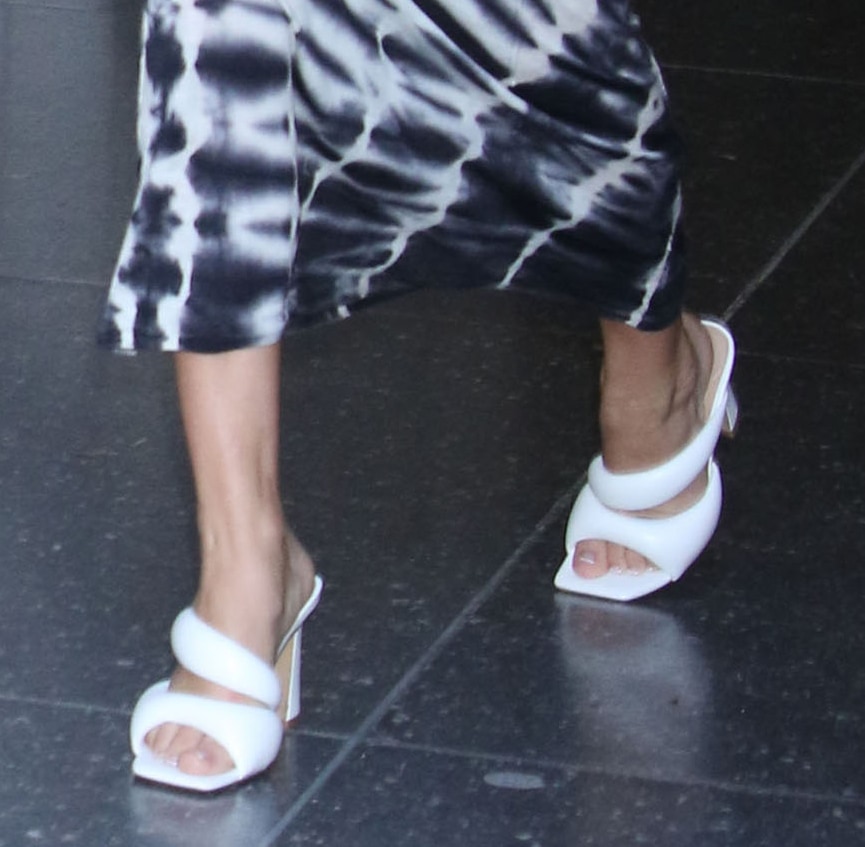 Millie Bobby Brown pairs her tie-dye midi dress with white vegan leather slide sandals featuring sculptural puffed straps by Steve Madden (Credit: Roger Wong / INSTARimages)
Natalie Portman's look-alike hid her eyes behind oversized brown sunnies and pulled her tresses back into a tight ponytail.
She then wore glossy lipstick and heavy blush, completing the look with French tip nails.
Her fiancé Jake Bongiovi, on the other hand, allowed her to shine by keeping a low-key look. He wore a brown tee with ripped baggy jeans and a pair of green and white sneakers.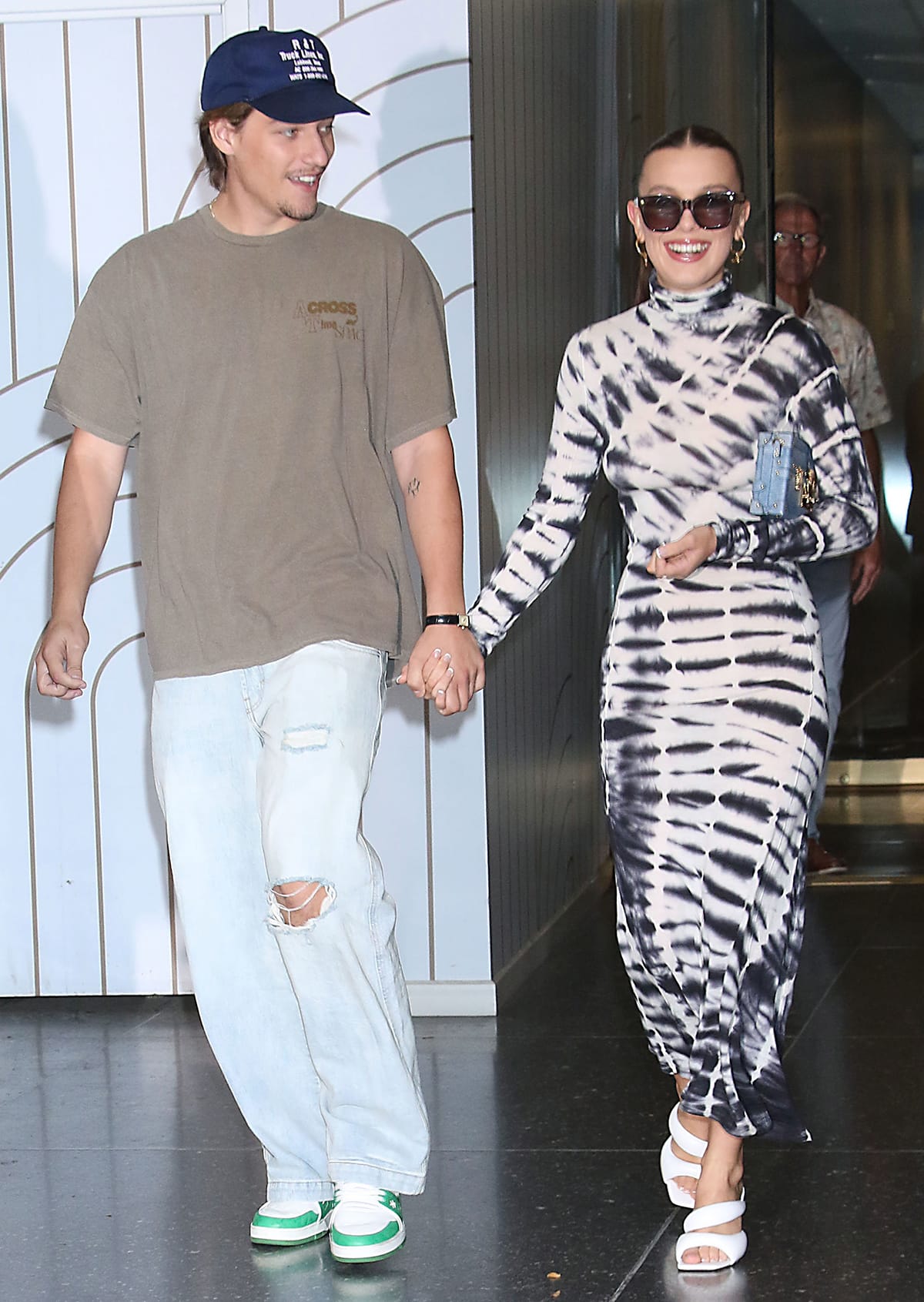 Jake Bongiovi keeps a low-key look in a brown tee, ripped baggy jeans, and sneakers as he holds Millie's hand (Credit: Roger Wong / INSTARimages)
Days before, the two appeared put together at Millie's debut novel's book launch held at London's Hackney Empire.
Jake looked dapper in a beige shirt with matching khaki trousers and white sneakers while walking hand-in-hand with Millie, who was pictured holding a black umbrella to keep them dry.
The actress opted for quiet elegance in a black one-shoulder top, revealing her toned arms. She tucked it into black trousers and paired the look with black open-toe heels for a seamless finish.
She then wore her signature cat eye makeup and styled her tresses in a sleek center-parted ponytail with softly curled waist-length hair extensions.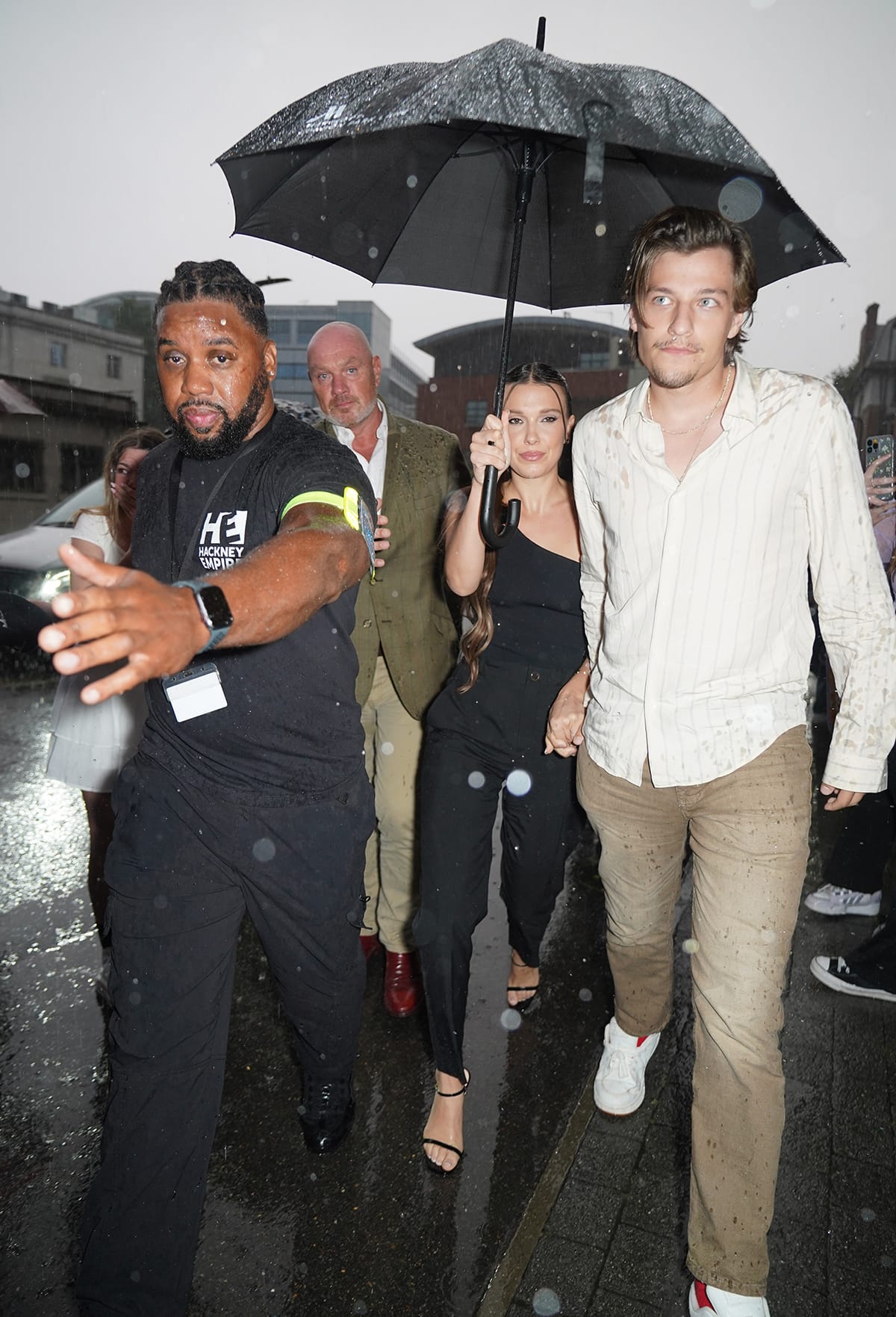 Millie Bobby Brown and Jake Bongiovi look put together as they attend Millie's Nineteen Steps book launch at London's Hackney Empire on September 12, 2023 (Credit: PA Images / INSTARimages)