In Hollywood, the term "child star" brings to mind two different images: sweet, fresh-faced youngsters on the silver screen; and young adults with far too much money, spiraling out of control in the public eye.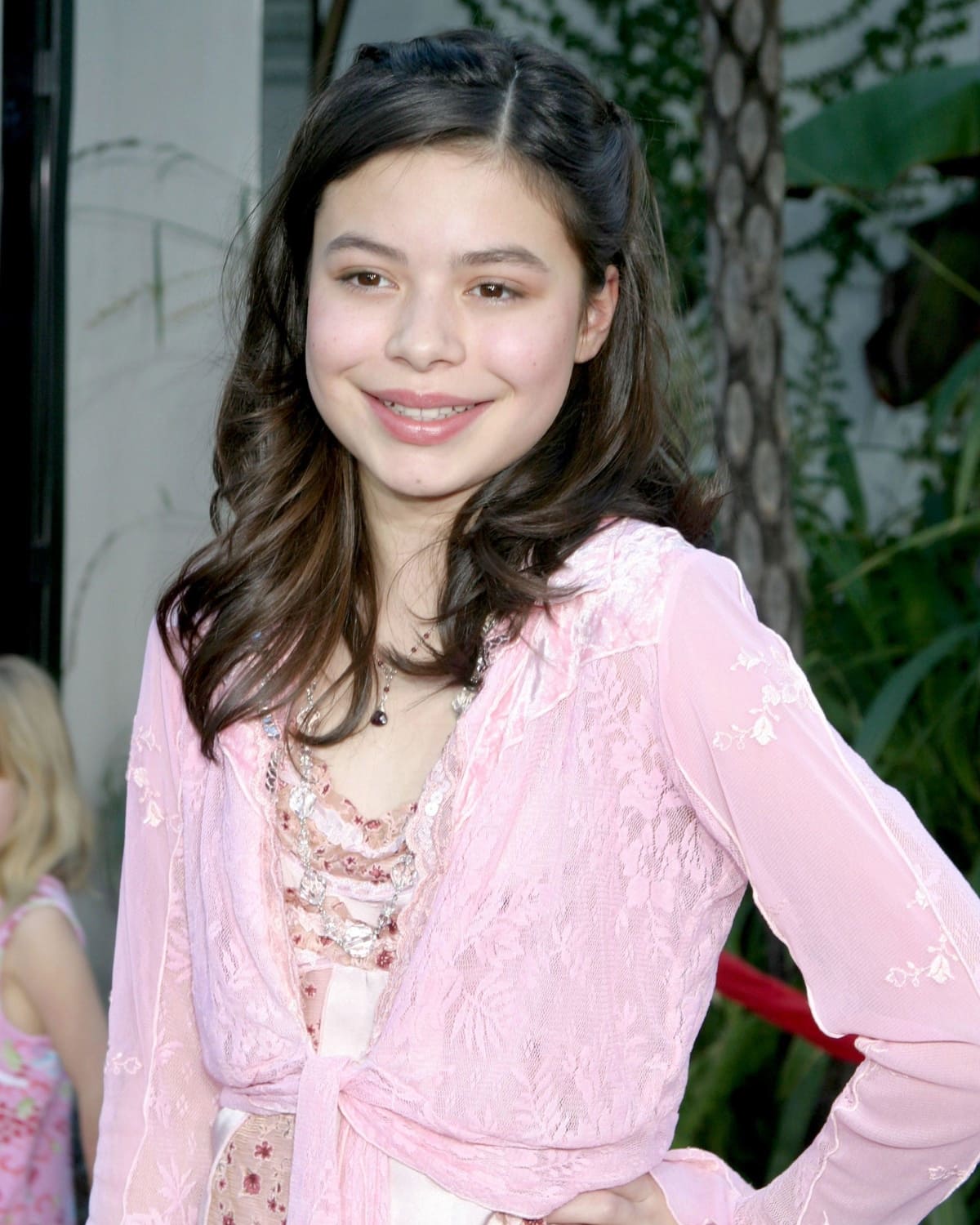 Miranda Taylor Cosgrove was listed in the Guinness World Records as the highest-paid child actress of 2012 (Credit: Lia Toby / WENN)
The pressure of becoming famous at such a young age puts an extreme amount of stress on these individuals, as they struggle to live up to the high standards of the public… all while going through puberty.
No stranger to society's high expectations for young starlets, Miranda Cosgrove has carved out a name for herself.
The 28-year-old actress, best known for her roles as the devious younger sister in Drake & Josh and the titular character of iCarly, has worked hard to prove that she's more than just a Nickelodeon channel star — albeit with a few bumps along the way.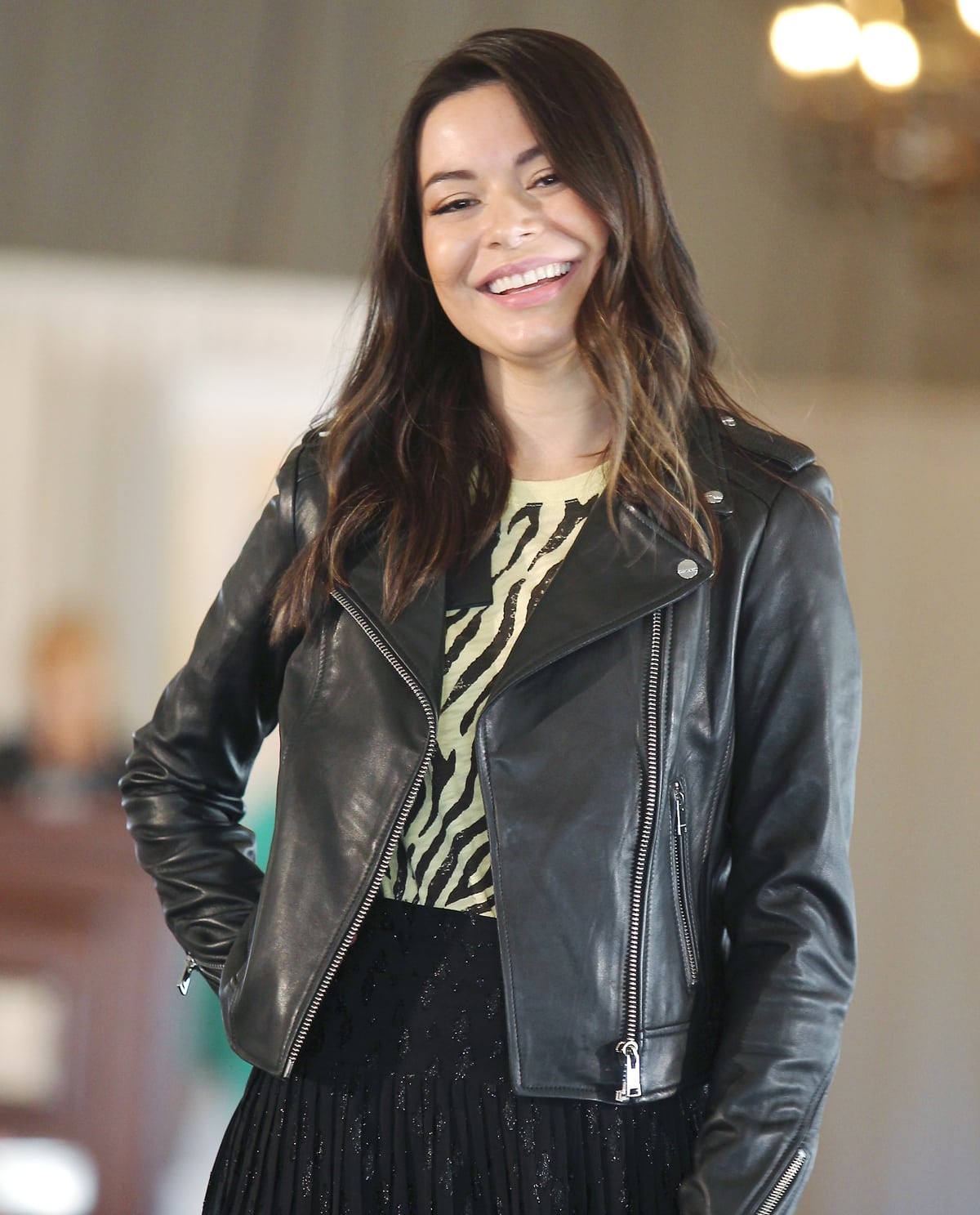 Miranda Taylor Cosgrove made her musical debut in 2008 with a soundtrack album for the series iCarly (Credit: Avalon / WENN)
Nowadays, Cosgrove is worth a whopping $10 million, proving to fans and producers alike that she is not going anywhere any time soon.
Follow along to learn all about the rise and fall (and rise again) of the child star and Michael Jackson look-alike Miranda Cosgrove.
Miranda Cosgrove came from humble beginnings
Though Miranda Cosgrove was born and raised in Los Angeles, California, she did not have the same Hollywood connections that many of her co-stars did.
Her father was the owner of a dry cleaning business, while her mother was a homemaker — neither having much to do with the film and television industry at all.
Actress Miranda Cosgrove arrives at "Dr. Seuss' Horton Hears A Who" premiere at The Mann Village on March 8, 2008, in Westwood, California (Credit: Apega / WENN)
In fact, it was young Miranda Cosgrove's own talent that got her noticed. At the tender age of three, Cosgrove was spotted by a talent agent as the toddler was singing and dancing at the restaurant Taste of L.A.
The agent approached Cosgrove and her mother at the restaurant, and after that, the young girl appeared in a bevy of commercials for brands such as Mello Yello, Burger King, and McDonald's.
Miranda Cosgrove explained to The Star Scoop that, unlike many little girls, she didn't have dreams of being a star — though most three-year-olds don't have much time to consider their future at all — saying that she "never really thought of being an actress" before that fateful evening at the restaurant. She acknowledges the amazing incident, simply saying that she was "lucky."
Beyond commercial success and becoming a household name
Beginning at age three, Miranda Cosgrove had been getting steady commercial work for almost five years, (and one off-screen appearance, as the voice of the young Lana Lang in the pilot episode of the CW's Smallville), but the world did not truly take notice of the charming adolescent actress until 2003.
That year, Cosgrove made her film debut in the smash hit blockbuster, School of Rock. Alongside iconic funnyman Jack Black, the ten-year-old actress played the uptight teacher's pet — and band manager — Summer Hathaway.
Jordan-Claire Green as Michelle (groupie), Miranda Cosgrove as Summer "Tinkerbell" Hathaway (band manager), and Veronica Afflerbach as Eleni (groupie) in the 2003 comedy film School of Rock (Credit: Paramount Pictures)
School of Rock became an instant classic with fans and critics alike, the latter of whom specifically praised Cosgrove's performance, with Newsweek's senior editor, David Ansen, saying her portrayal of Summer was "spot on".
Despite all of the praise, Cosgrove said that getting into the character proved a bit difficult, especially considering how different the actress is from her on-screen counterpart, Summer.
In an interview with Biography Today, she explained that the singing scenes were the hardest, saying, "I'd been taking singing lessons for about five years, so getting to sing badly was new. The director kept saying, 'Try to sing even worse, Miranda,' so it was weird."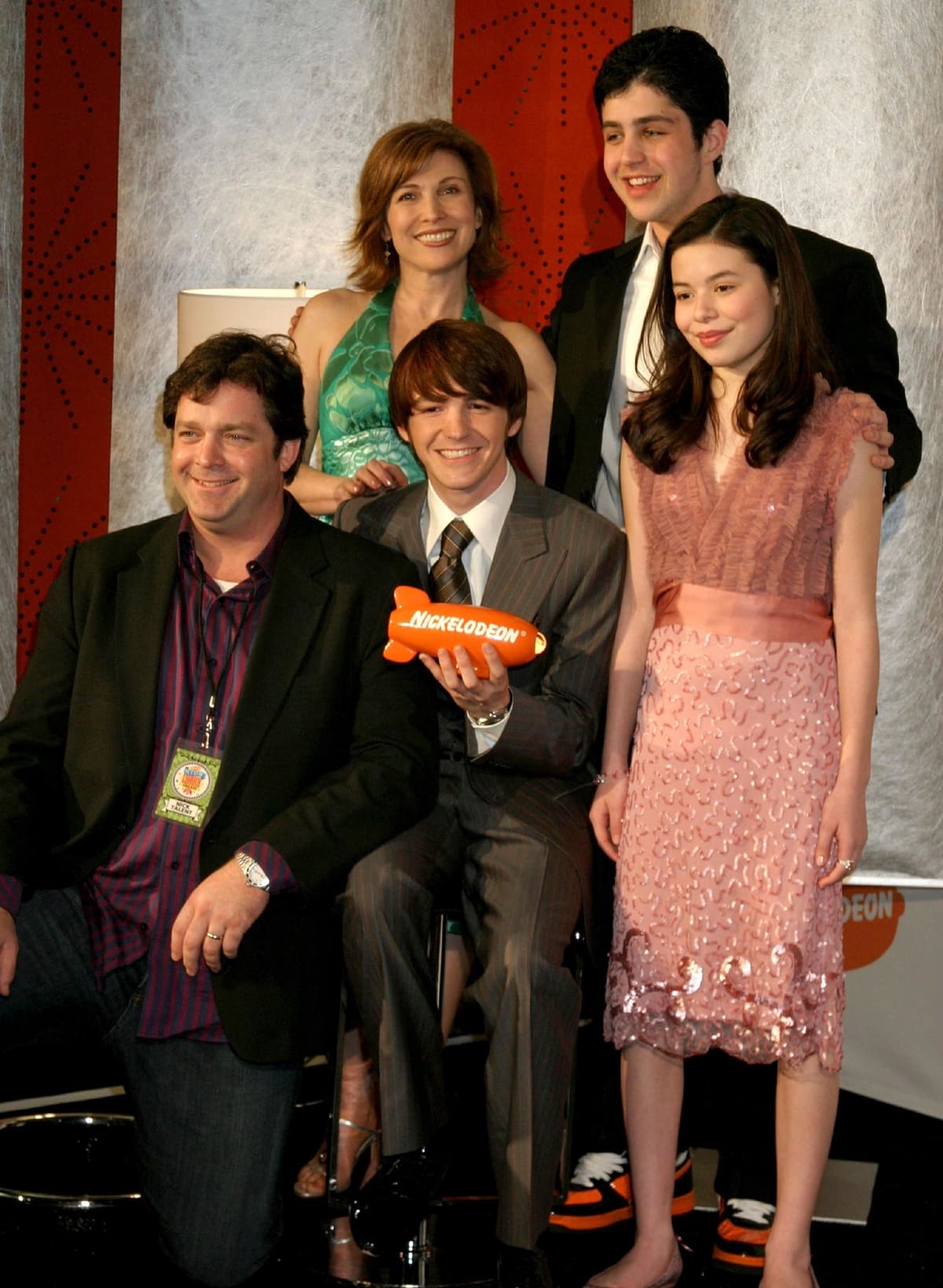 Drake & Josh cast members Jonathan Goldstein, Nancy Sullivan, Drake Bell, Josh Peck, and Miranda Cosgrove at the 19th Annual Nickelodeon Kids' Choice Awards held on April 1, 2006, at UCLA's Pauley Pavilion (Credit: Nikki Nelson / WENN)
After the success of School of Rock, doors began to open left and right for Miranda Cosgrove's career. Only a year after the film's release, the young actress secured the role as Megan Parker, the devious and slightly evil little sister of the titular characters on Drake & Josh.
Premiering on the Nickelodeon channel — much like the Disney channel, it is a coveted gig for any budding performer — Cosgrove starred alongside Drake Bell and Josh Peck.
Much like School of Rock, Drake & Josh proved to be a fast hit among its target demographic, and Miranda Cosgrove's Megan was a fan favorite.
Miranda Cosgrove promotes the iCarly iPlaylist at the Licensing 2008 International on June 10, 2008, at the Jacob K. Javits Convention Center in New York City (Credit: PNP / WENN)
During her time on the show, Cosgrove made appearances in a number of other programs on the network before eventually earning herself the starring gig in her own show in 2007: iCarly.
Miranda Cosgrove as Carly Shay
At fourteen years old, Miranda Cosgrove played the titular character, Charly Shay, who is the host of a ridiculous and goofy online television show — playing on the popularity of YouTube stars during this time.
Alongside Cosgrove, the show also starred Jennette Michelle Faye McCurdy as Carly's best friend, Sam Puckett, Nathan Kress as cameraman Freddie Benson, and Jerry Trainor as Carly's kooky older brother who cares for his sister in their parents' stead.
iCarly not only entertained its viewers but gave it the unique opportunity to interact with the show, allowing fans to submit their own videos that may be included in an episode of iCarly.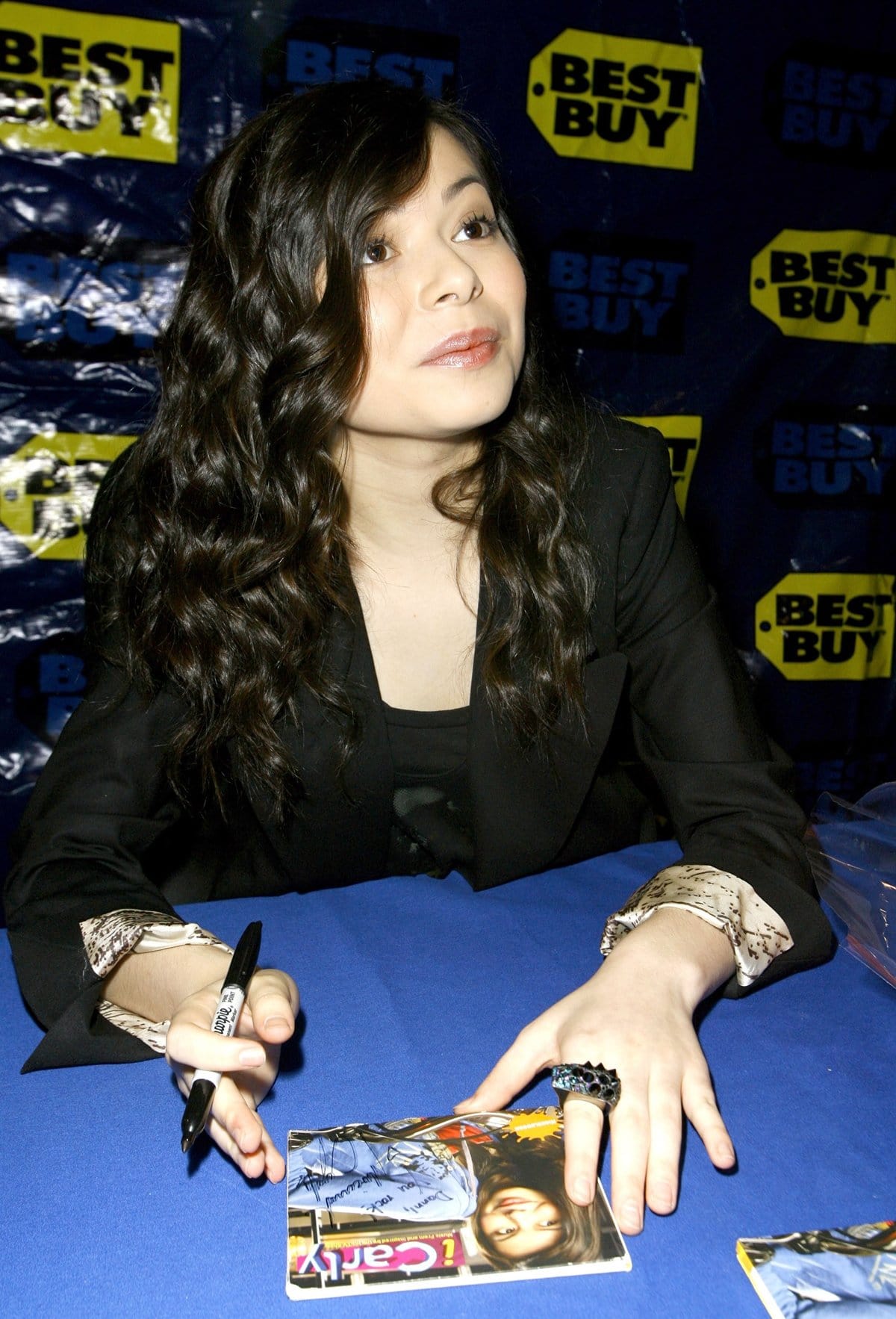 Miranda Cosgrove at a CD signing promoting the new album of music from her hit TV show iCarly at Best Buy in Los Angeles on July 8, 2008 (Credit: Kavi / WENN)
"When I first heard about the idea, I thought it was so cool. If I were home and watching TV, I'd want to send in a video," Cosgrove told Biography Today.
Fans loved the idea, too. By 2008, iCarly clinched the honor of being one of the highest-rated shows for kids between the ages of 9 and 14, and by 2008, it became the most-watched television show on cable TV.
The show's popularity ultimately led to Miranda Cosgrove earning the title of the highest-paid child star (at the time), receiving a whopping $180,000 per episode.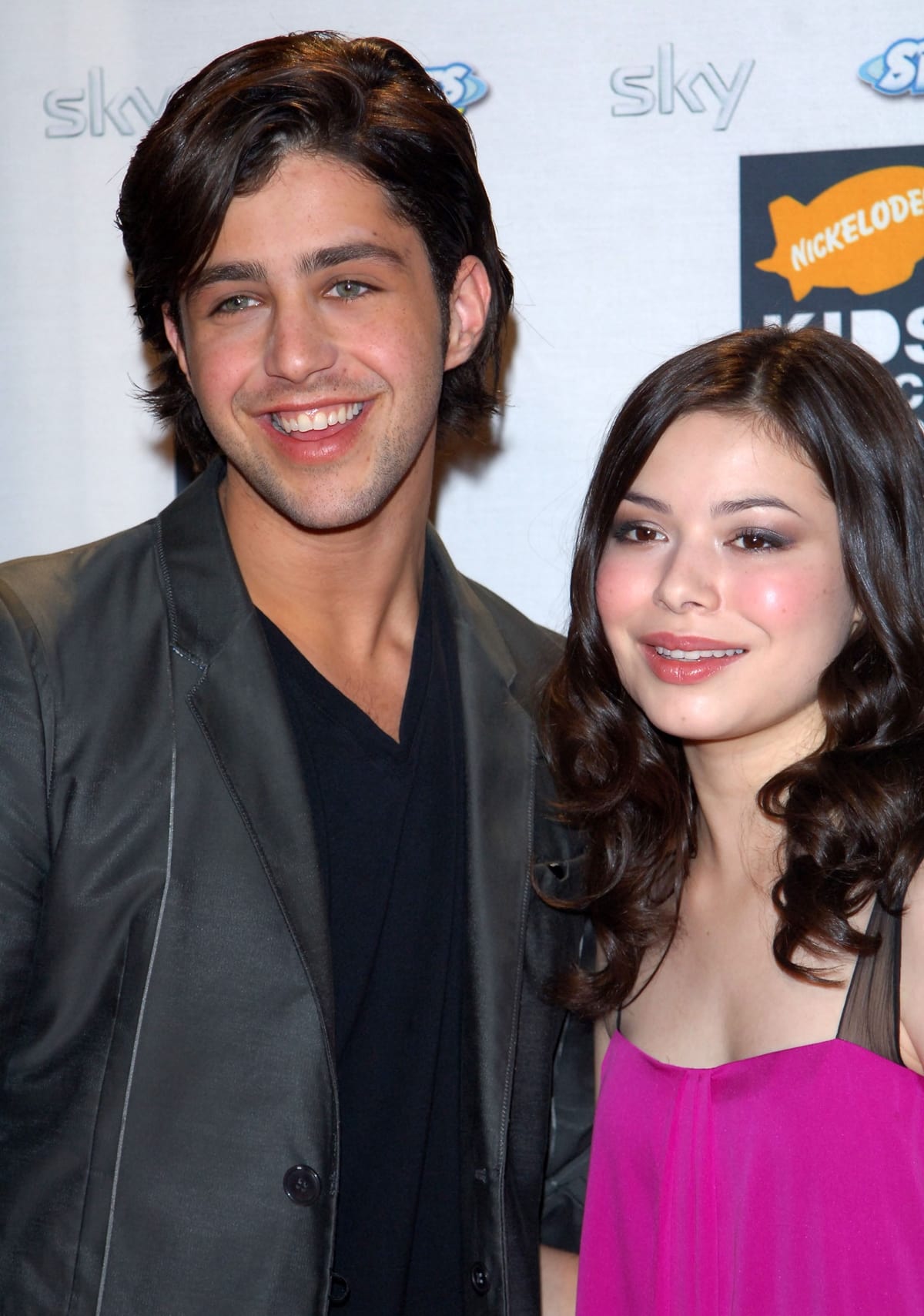 Miranda Cosgrove posing with Josh Peck, who played her stepbrother Josh Nichols in Drake & Josh (Credit: Vince Maher / WENN)
During this same time, Cosgrove — like many other Nickelodeon and Disney channel stars — embarked upon her first foray into a music career.
Her first song was none other than "Leave It All To Me", the iCarly theme song. During 2008 and the years after, the actress turned recording artist released a number of tracks that eventually found their footing on the Billboard Kids lists.
iCarly scandal and how it affected Miranda Cosgrove and Jennette McCurdy's friendship
Despite iCarly's popularity, it was not immune from the scandal that was to follow years later. At the height of the #MeToo movement, statements were released about the iCarly showrunner, Dan Schneider.
Schneider, who also produced other children's shows for the Nickelodeon network, such as The Amanda Show, Drake & Josh, Victorious, and Sam & Cat, was accused of having less than proper interactions with many of the young actresses who starred in his television shows.
Specifically, internet users speculated about the producer's alleged foot fetish, noting that many of his shows feature young actresses in compromising positions displaying their toes and the soles of their feet in, frankly, quite sexual ways.
Jennette McCurdy has accused American television producer Dan Schneider of having an unhealthy foot fetish (Credit: Apega / WENN)
This accusation was only made more possible when a Twitter user unearthed an old post from the Sam & Cat Twitter account, asking young (underage!) fans to "write on the bottom of ur foot, take a pic and use #SAMandCATSaturday we'll RT and follow until our fingers get sore!"
Definitely suspicious.
Schneider was asked about his alleged foot fetish by The New York Times, which he vehemently denied, saying that it was "the comedy" and "totally innocent."
After these allegations surfaced, Cosgrove's iCarly costar, Jennette McCurdy, began to share her own story online.
In a now-deleted video on the Vine app, McCurdy addresses Schneider by name, saying, "Look what you've done to me," but does not provide much additional content, which worried fans at the time.
Since then, McCurdy has been open about the abuse she faced during her time as an actress and has moved away from the spotlight, citing the unfair treatment she received, the death of her mother, and embarrassing roles as her reasons for quitting television.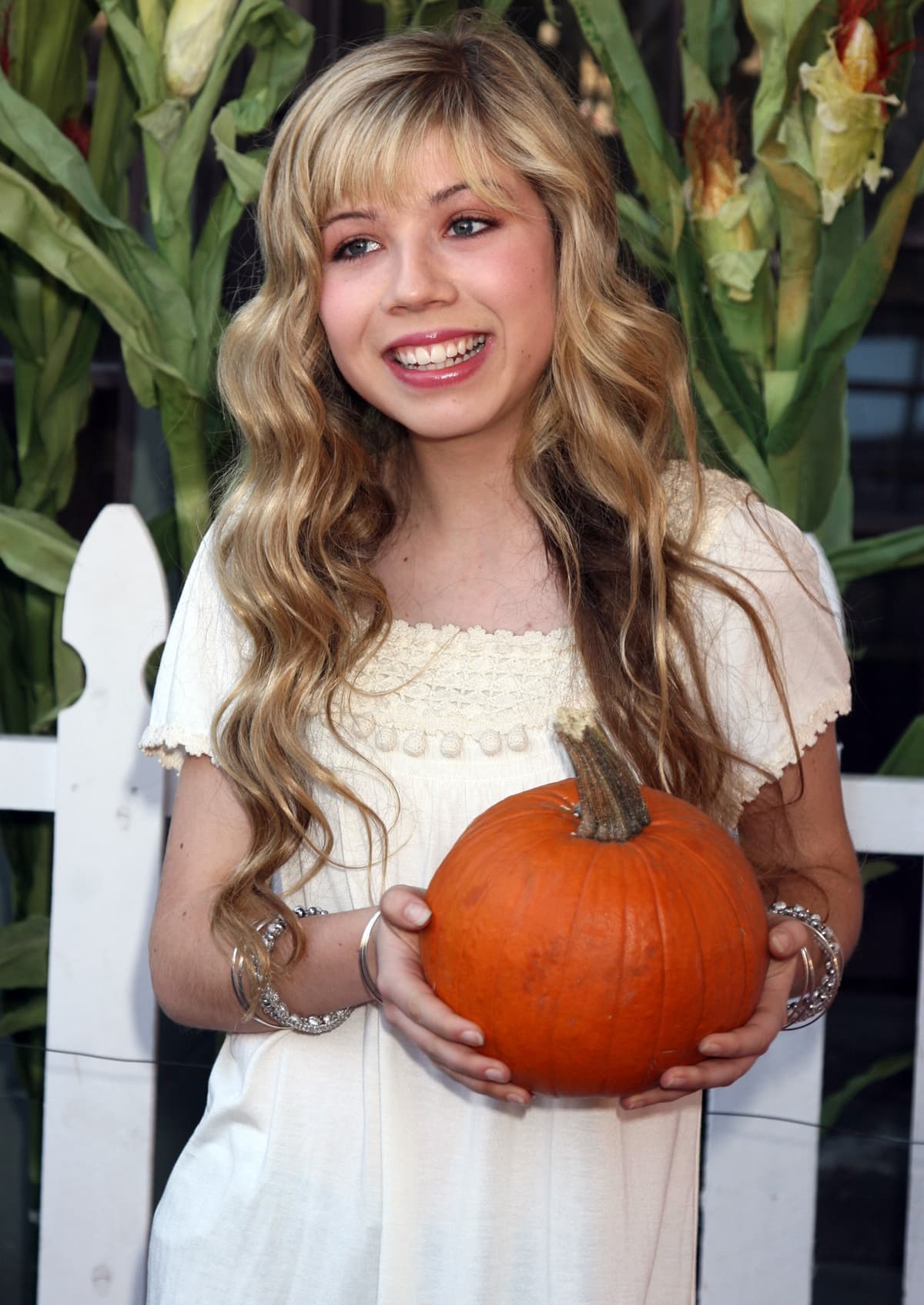 Jennette McCurdy says she was forced by her mom to become a child actress (Nikki Nelson/ WENN)
"I resent my career in a lot of ways. I feel so unfulfilled by the roles that I played and felt like it was the most just cheesy, embarrassing [experience]," McCurdy said to Deadline.
In an op-ed for HuffPost in 2019, McCurdy explained how stressful being a child actress was for her, saying, "At 14, I was cast in the Nickelodeon series iCarly and by the time I was 15, the show was starting to get popular. The stress of having to be 'on'' all the time got to me. I became even more fixated on food and my body. I monitored every bite I took. I exercised obsessively. I measured my thighs with a measuring tape every night before bed."
Meanwhile, Cosgrove never publicly spoke out about Dan Schneider or any sort of mistreatment during her time on the show. In fact, none of the other iCarly cast members spoke out after McCurdy did — neither in support for their former costar or against Schneider's treatment of her. Fans speculate this might be the reason that she and McCurdy are no longer as close as they once were.
Miranda Cosgrove and Jennette McCurdy became friends starring in the American teen sitcom iCarly created by Dan Schneider (Credit: FayesVision / WENN)
During iCarly, Cosgrove and McCurdy were inseparable, talking about one another in interviews and spending time together outside of filming. Their friendship lasted long after iCarly wrapped.
"My best friend is Jennette McCurdy, who was on iCarly with me. We live really close to each other. We have sleepovers all the time. Like, I literally see her every other day," Cosgrove said in an interview for AOL's BUILD Series.
"With iCarly, it was so fun being best friends with Jennette and getting to travel all over. Getting to go through something like that with your best friend — it was really fun."
However, that does not seem to be the case now. In fact, neither Cosgrove nor McCurdy have spoken about one another in public, not via social media or in interviews. The actresses still follow one another on social media, but that seems to be where the relationship ends.
Life after iCarly: College, car crashes, stalkers, and what she's up to now
After iCarly wrapped in 2012, Miranda Cosgrove took the chance to pursue higher education, ultimately attending the University of Southern California.
College was the first time in a long time that Cosgrove was not constantly filming, attending premieres and award shows, and being photographed by paparazzi. However, the actress was still not immune to her own fame and didn't have the traditional college experience.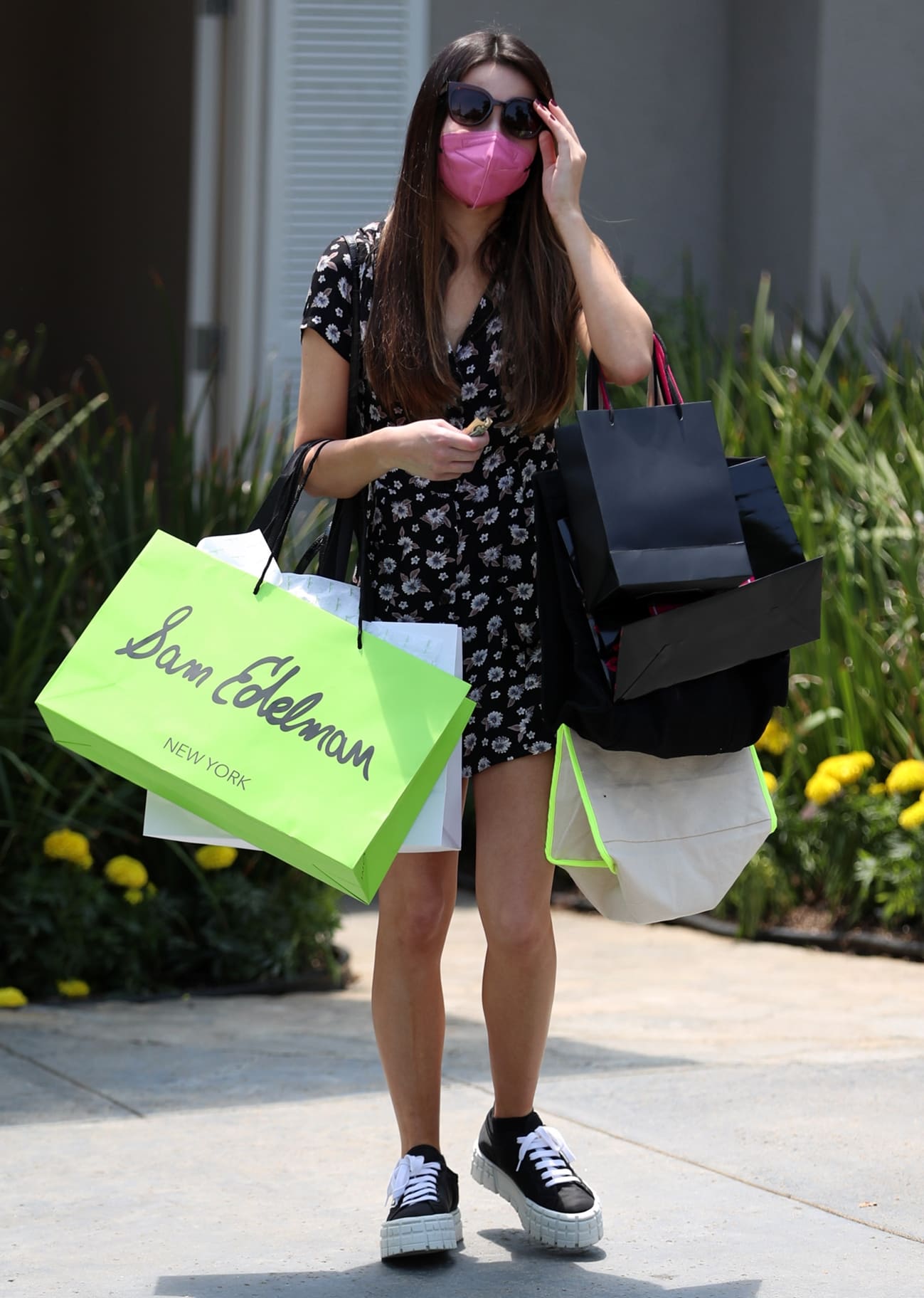 Miranda Cosgrove attended producer Jennifer Klein's annual Day of Indulgence party on August 15, 2021, in Brentwood, California (Credit: MEGA / WENN)
In 2014, Cosgrove told ABC News she struggled to feel like a normal college student, as she was regularly followed and photographed on campus by other students.
"The weirdest part is after a day at school, I'll go on Instagram or the Internet and there will be pictures of me from school that random people took and I didn't know they took," the actress said, but explained that her fame did help her come out of her shell on campus, explaining, "People come up to me and introduce themselves and it kind of opens the door, so that part of it's nice. I feel like I'm not the kind of person that would just go up to somebody and introduce myself, so it's helped me in a lot of ways."
College was not Miranda Cosgrove's only experience with being photographed and followed, though. The actress recently found herself at the center of a silly internet meme, where users compared her looks to the pop star Michael Jackson.
Miranda Cosgrove looks a lot like Michael Jackson (Credit: Avalon / WENN / Chris Connor)
Strangely enough, Cosgrove does somewhat resemble the late musician. Thankfully, the actress doesn't seem to be too offended about the comparison.
Unfortunately, not all of Miranda Cosgrove's experiences with the public have been positive.
In 2017, then 24-year-old Cosgrove had a terrifying experience with a stalker. The stalker, a man who was a complete stranger to the actress, arrived at Cosgrove's home while she was at the movie theatre.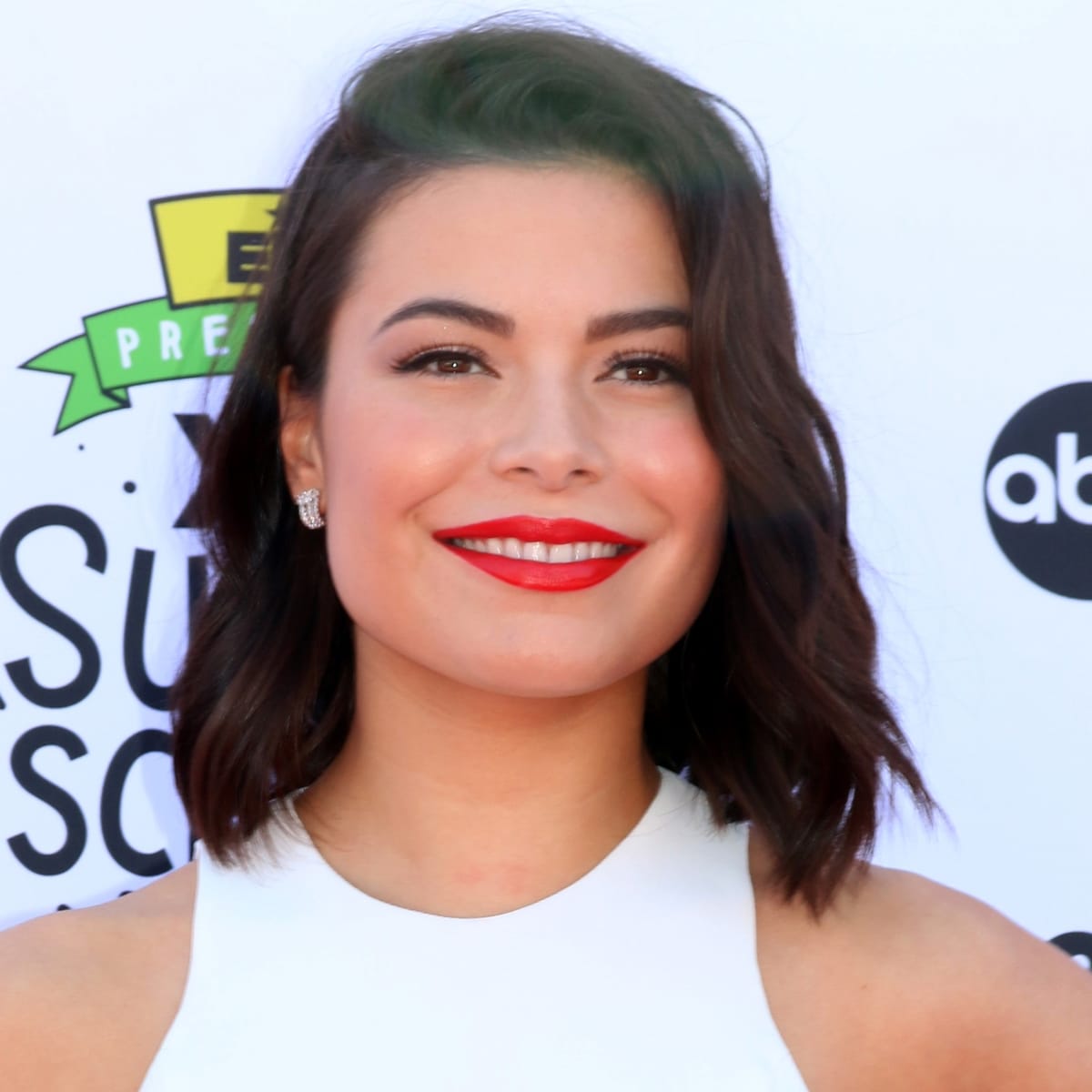 Actress Miranda Cosgrove in a white Georges Chakra Couture dress at the EIF Presents: XQ Super School Live event at The Barker Hanger on September 8, 2017, in Santa Monica, California (Credit: Nicky Nelson / WENN)
The man spent hours sneaking around her front yard but apparently became frustrated that Cosgrove was not home.
The stalker then took out his anger at an innocent bystander, shooting seven times at a woman that looked vaguely like Cosgrove as she drove by in her car— thankfully he missed, and the woman survived — before proceeding to shoot himself and light himself on fire.
Miranda Cosgrove in a patterned Marc Jacobs dress and black Prada heels at the Kids' Choice Awards held at USC Galen Center on March 11, 2017, in Los Angeles (Credit: FayesVision / WENN)
Cosgrove did not even know the horrors that had occurred that night until the next day, as she had chosen to spend the night at her mom's house instead of returning home.
Nowadays, Miranda Cosgrove lives a quieter life, even though she has returned back to the silver screen, once again as Carly Shay in the show's reboot, iCarly Reunion.
Unlike the first series, iCarly Reunion is a bit more mature, catering to the now grown-up audience of the original show. This time, Cosgrove serves also as a producer for the show, which has received rave reviews from fans, showing that the actress is maturing just as much as her on-screen counterpart.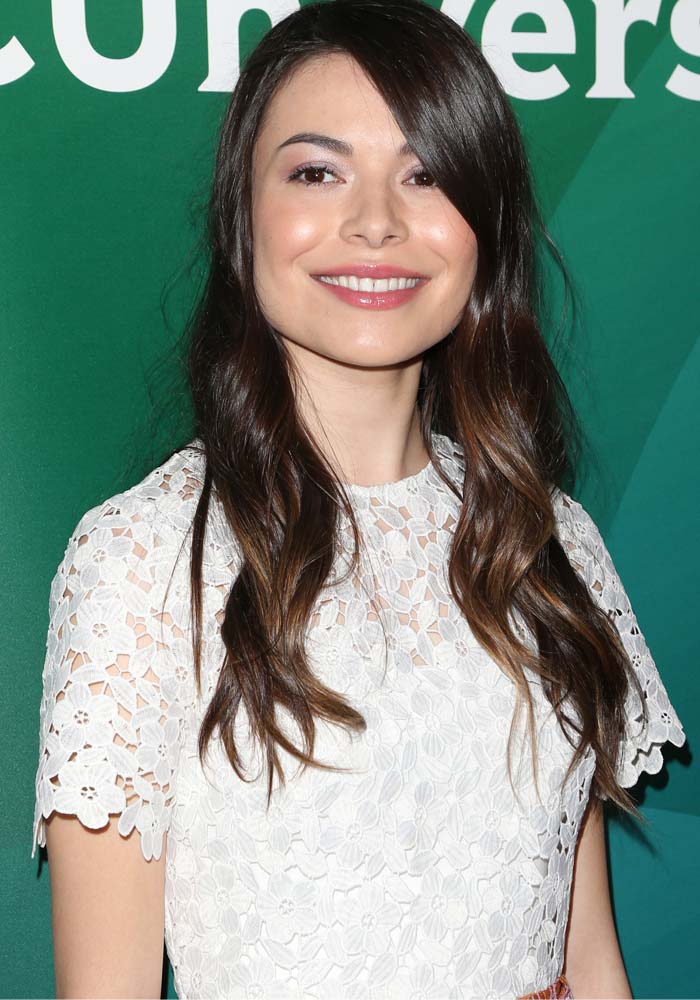 Miranda Cosgrove portrays astrophysicist Shea Moore in the American sitcom television series Crowded (Credit: FayesVision / WENN)
"Crowded" stars Miranda Cosgrove and Mia Serafino followed in the footsteps of Vanessa Hudgens and Ashley Tisdale — two children show stars with an enviable friendship.
But unlike the former two who started out as onscreen enemies, Miranda and co-star Mia are blood sisters on the small screen and have naturally become sisters-from-another-mister in real life.
In April 2016, Miranda shared just how well the two get along off-screen as she graced the red carpet of the 2016 NBCUniversal Summer Press Day in Los Angeles.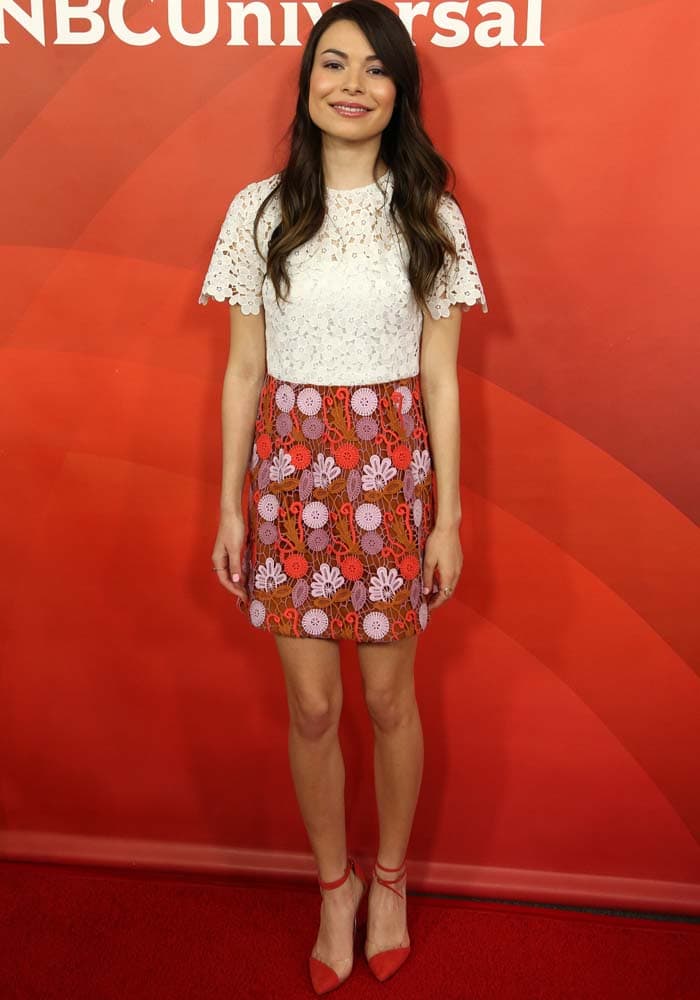 Miranda Cosgrove flaunts her legs in an orange skirt at the 2016 NBCUniversal Summer Press Day at Westlake Village on April 1, 2016 (Credit: FayesVision / WENN)
Miranda was obviously past her Nickelodeon days. She looked all grown up in a dainty dress with a white lace bodice attached to an orange skirt with gorgeous floral appliques on it.
The "iCarly" star wore matching orange toe cap PVC heels to finish her youthful look.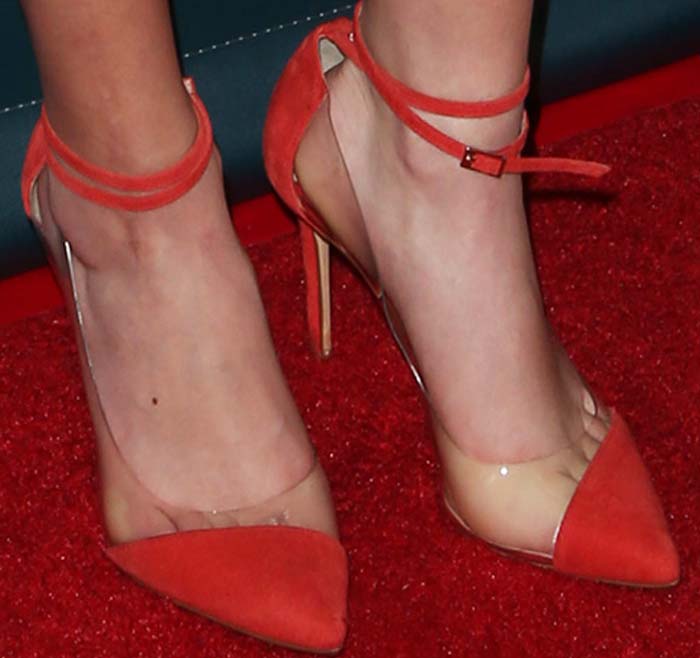 Miranda Cosgrove displays her size 7 (US) feet in PVC toe cap pumps (Credit: FayesVision / WENN)
In an interview during the NBCUniversal Press Day, Miranda mentioned that she and Mia actually spend a lot of time together when not working.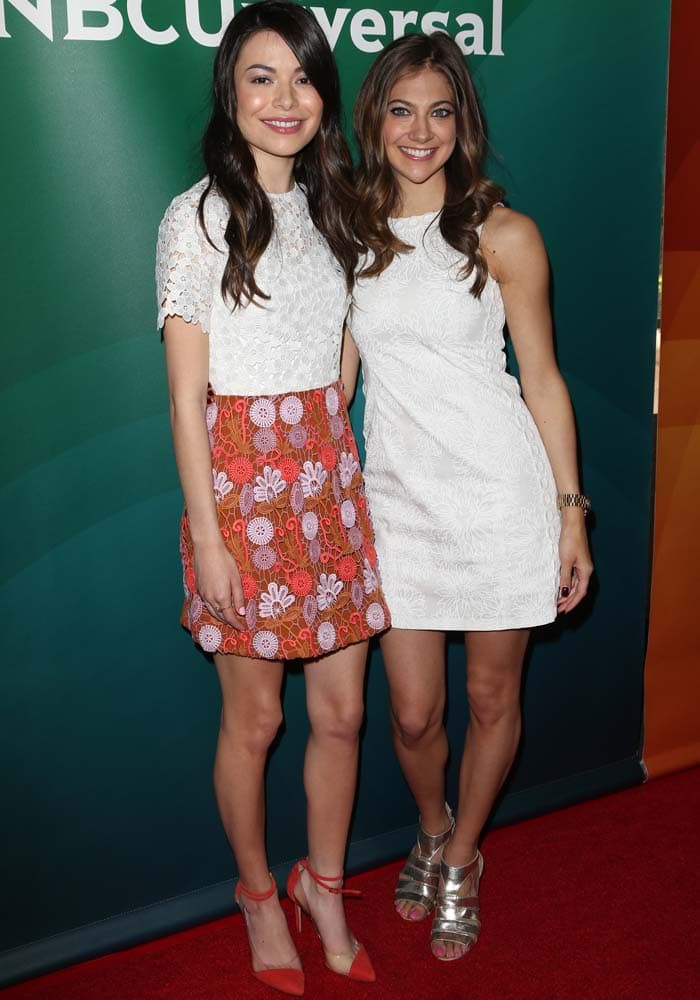 Miranda Cosgrove shows off her friendship with "Crowded" co-star Mia Serafino (Credit: FayesVision / WENN)
The reason? Neither actress has sisters, and they live near each other. The two also shared how their director would scold them because they both couldn't control their laughter.
Miranda Cosgrove uploaded a photo of herself and her new BFF Mia Serafino during the 2016 NBCUniversal Summer Press Day (Credit: Miranda Cosgrove's Instagram)
You can order PVC toe cap heels similar to Miranda's at Net-A-Porter and Mytheresa.
Gianvito Rossi Patent PVC Illusion Pump in Mandarin/Cyan, $745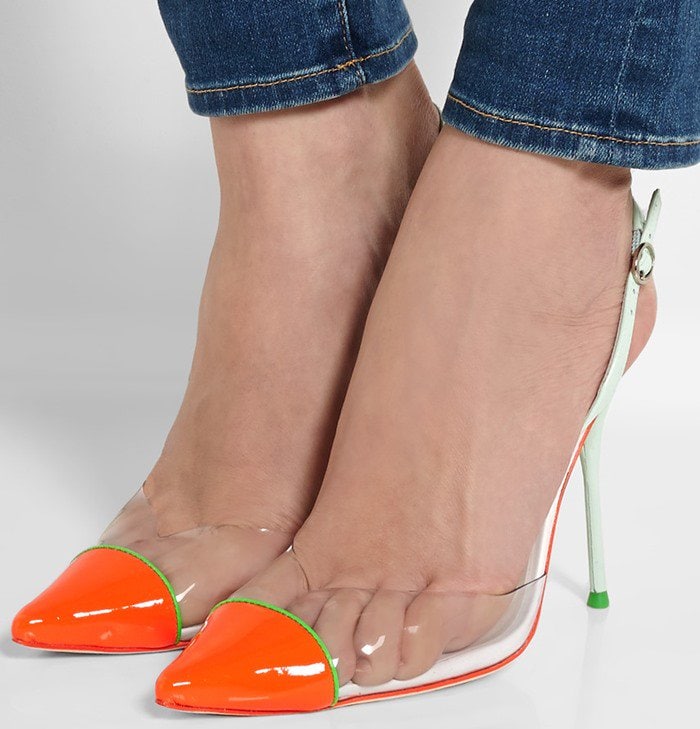 Sophia Webster "Daria" Patent Leather and PVC Pumps, $395