Kendall Jenner is one celebrity who is no stranger to causing a stir. The reality TV star turned international supermodel can be seen on the runways of everywhere from Paris to New York.
It's not unusual to see Jenner front a center at the heart of a household name's campaign. After all, who can forget her infamous Pepsi ad?
Kendall Jenner poses naked in the bold La Montagne winter 2021 campaign photographed by Drew Vickers (Credit: Drew Vickers for Jacquemus/MEGA/WENN)
Jenner is causing a stir in another way with her recent Jacquemus campaign. She appears butt-naked, dangling onto a ball of green yard, wearing only stockings and a matching Jacquemus bag and mules.
The imagery mirrors that of a pole dancer, with a distinct feeling that is similar to Miley Cyrus' equally hyped Wrecking Ball music video when she got rid of her 'Disney star' image.
The styling behind Jenner's Jacquemus campaign
The photo is part of a campaign to promote Jacquemus' new collection, La Montagne. The bubblegum pink Le sac Ciuciu takes center stage, covering Jenner up while showing that shoulder bags are for more than just holding your lip gloss and credit card.
The bag is paired with knee-high neon pink socks and Jacquemeus' latest shoes, the Les mules carres ronds.
Kendall Jenner dangling from a Kelly green rope (Credit: Drew Vickers for Jacquemus / MEGA / WENN)
Jenner's makeup is given a soft-glam look with a dewy glow base and a sharp brow.
Her brunette locks are kept sleek and straight for a laidback look, with oversized gold hoops peeking out from underneath. The gold earrings are yet to hit the Jacquemus site.
The internet reacts to the now-infamous campaign
There's no denying that this campaign has had its intended effect. Everyone and their mother are talking about the Le sac Ciuciu bag. While nudity is something usually reserved for editorial magazine shoots instead of fashion campaigns, the subtle styling makes it high fashion.
Jacquemus seem to have adopted the mantra of 'sex sells' for this collection. The brand has also been promoting their 'La Maille Neve' knitwear piece, nicknamed 'the pin top' with an up-close cleavage photograph.
The tiny gold Jacquemus logo is all that's holding the piece together over a voluminous set of assets. It's exactly what we've come to expect from Jacquemus.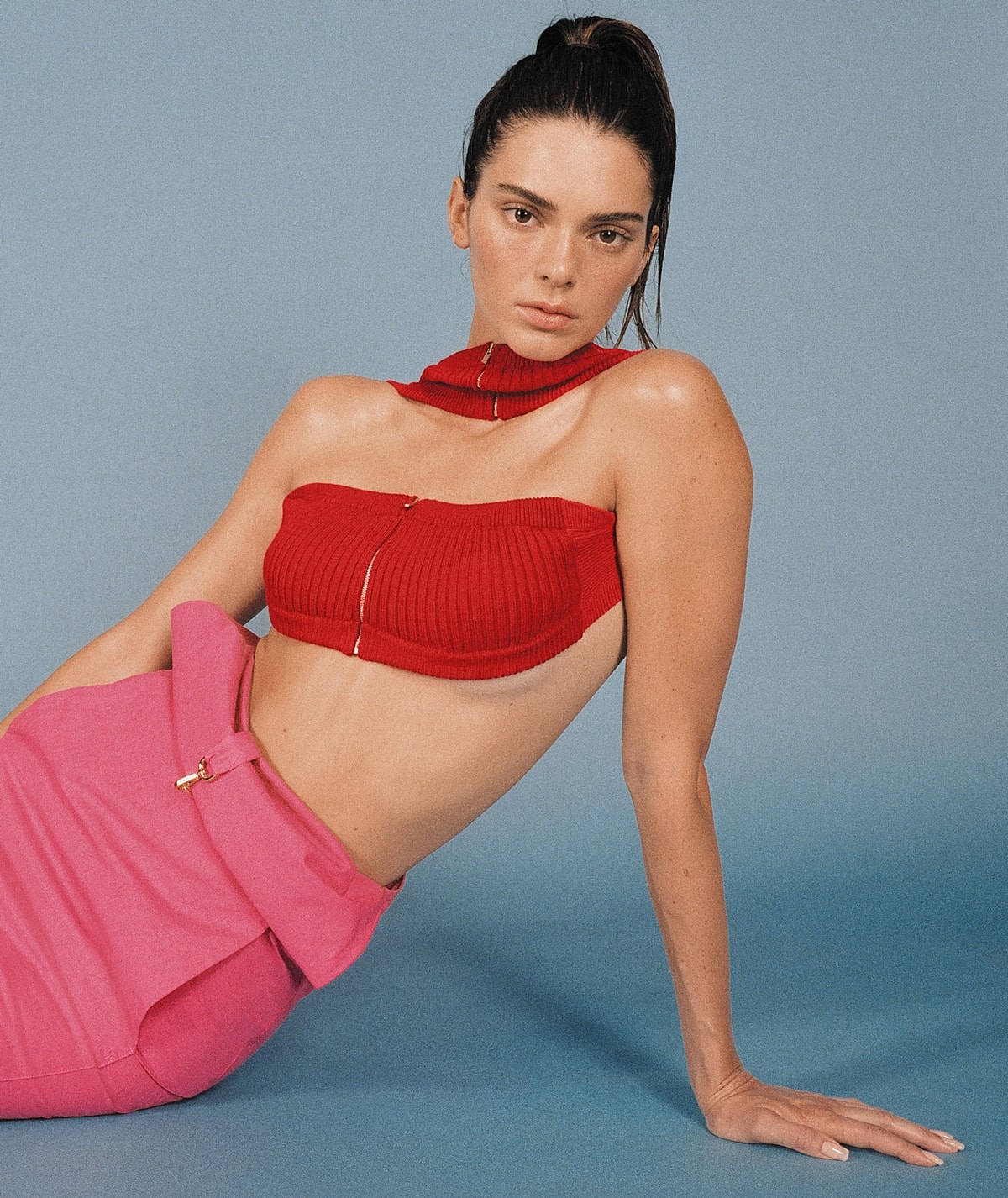 Kendall Jenner in a photoshoot with Jacquemus to promote the brand's new collection, La Montagne (Credit: Drew Vickers for Jacquemus / MEGA / WENN)
But has it been a hit online? Well…it's caused a stir.
The campaign photos debuted on Instagram seven weeks after the collaboration was first teased. After such a long wait, did the fashion world applaud or take to Twitter to share less than impressed thoughts?
Perhaps Jacquemus has become too predictable with its branding style. Drew Vickers, the photographer for the campaign, has been the source of criticism across social media.
Kendall Jenner's La Maille Neve knit cropped top is secured with a tiny gold Jacquemus logo (Credit: Drew Vickers for Jacquemus / MEGA / WENN)
Some fans on Twitter have pointed out Jenner's lack of enthusiasm in the photo, saying "go on girl give us nothing!". While Kendall Jenner is one of the most sought-after supermodels in the world, this is another campaign getting a lackluster reaction with Jenner at the forefront.
One Twitter user even went as far as to ask how Jenner could be the muse of Jacquemus when her aura and presence are "so uninspiring".
Kendall is known for her minimalistic styling during photoshoots, but perhaps it's time the reality TV star brings her personality to her modeling.
Kendall Jenner relaxes in a hammock for the Jacquemus Fall-Winter 2021 campaign (Credit: Drew Vickers for Jacquemus / MEGA / WENN)
On the flip side of the internet's reaction
While it's easy to criticize the campaign as being bland and unoriginal, this campaign may have been deliberately styled as such.
It's no secret that the internet holds the power in modern advertising. Brands across every niche have launched campaigns and content for the simple purpose of going viral online. How often have you seen ads going viral for being good? Not very often.
With Jacquemus' audience being social-savvy streetwear aficionados – who aren't afraid to make their thoughts known – this might be a clever move by the brand.
The rise of Jacquemus
Whether the campaign was curated to go viral online or not, one thing we can be sure about is that Jacquemus remains one of the brands of the moment.
While Bottega Veneta remains its biggest competition amongst minimalistic streetwear, Jacquemus is just as popular amongst celebrities and influencers.
It's a go-to brand for fellow supermodel Bella Hadid who is rarely seen without her tiny Jacquemus knitwear cardigan.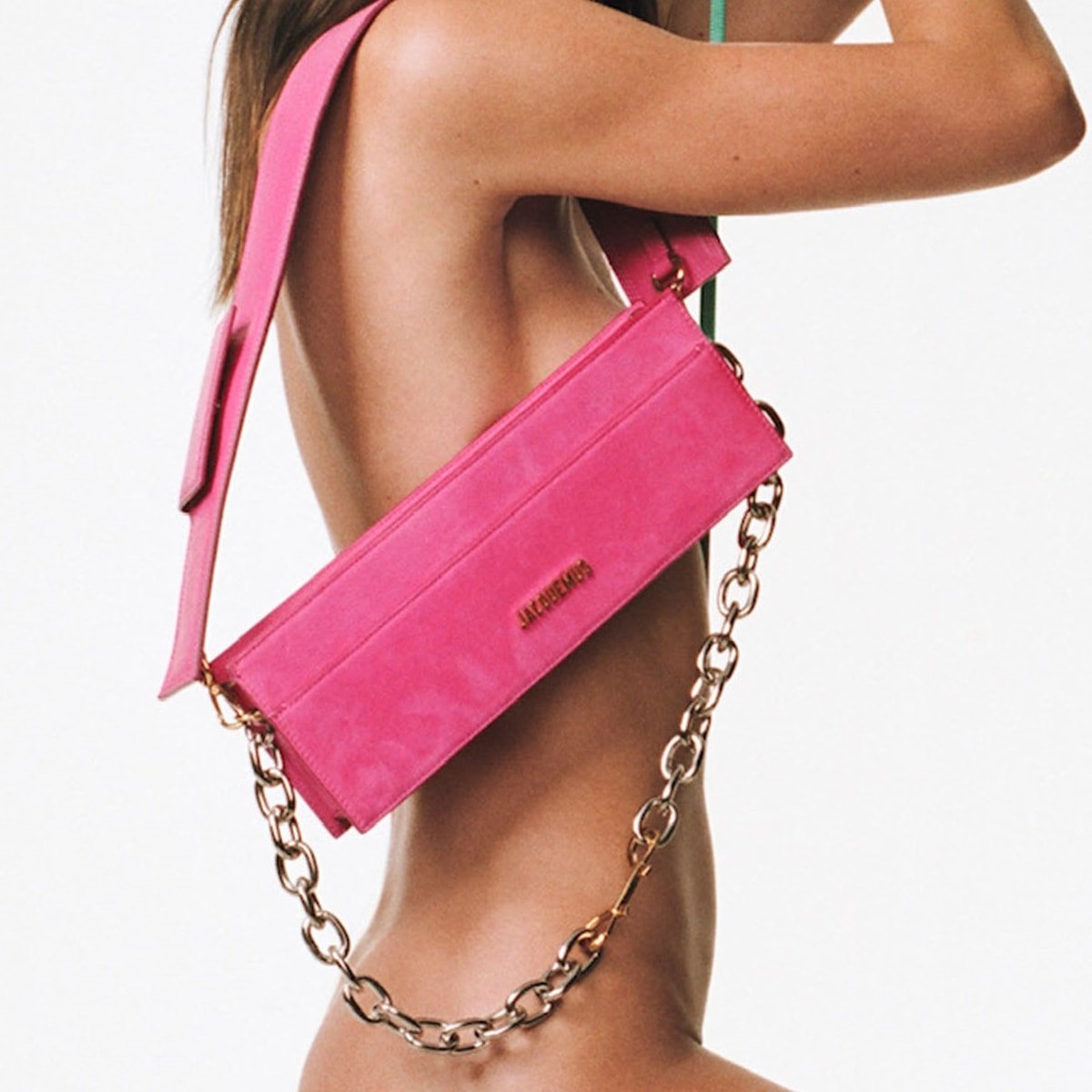 Kendall Jenner poses naked with a pink Jacquemus 'Le sac Ciuciu' bag (Credit: Drew Vickers for Jacquemus / MEGA / WENN)
The brand has its Le Chiquito bag to thank for its explosion onto the mainstream fashion scene as the most famous 'mini' bag. The smallest size looks more like a keychain than a functional accessory.
Consistently for several seasons, the Le Chiquito has been the centerpiece. If it ain't broke, don't fix it!
There's no denying that Jacquemus is one of the most influential contemporary brands of the 2020s. From spearheading the mini handbag resurgence to making knitwear hot again, this brand has solidified its image as a next-generation brand.
While this controversial Kendall Jenner ad might not have hit a home run, it shows the star power that the brand has.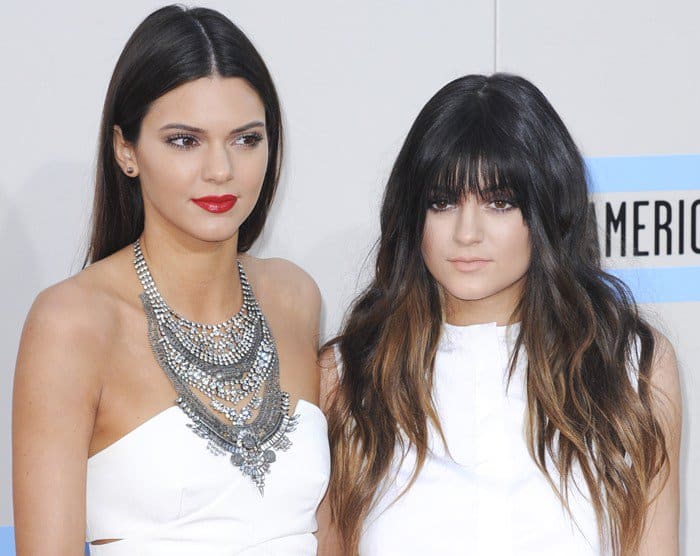 Kendall and Kylie were both cheerleaders when attending Sierra Canyon High School (Credit: Apega / WENN)
In November 2013, Kendall Jenner made quite an entrance in a daring white outfit that was both sexy and classy at the 2013 American Music Awards.
She looked ravishing in a simple yet very stylish ensemble that showed off her legs and impressive fashion sense.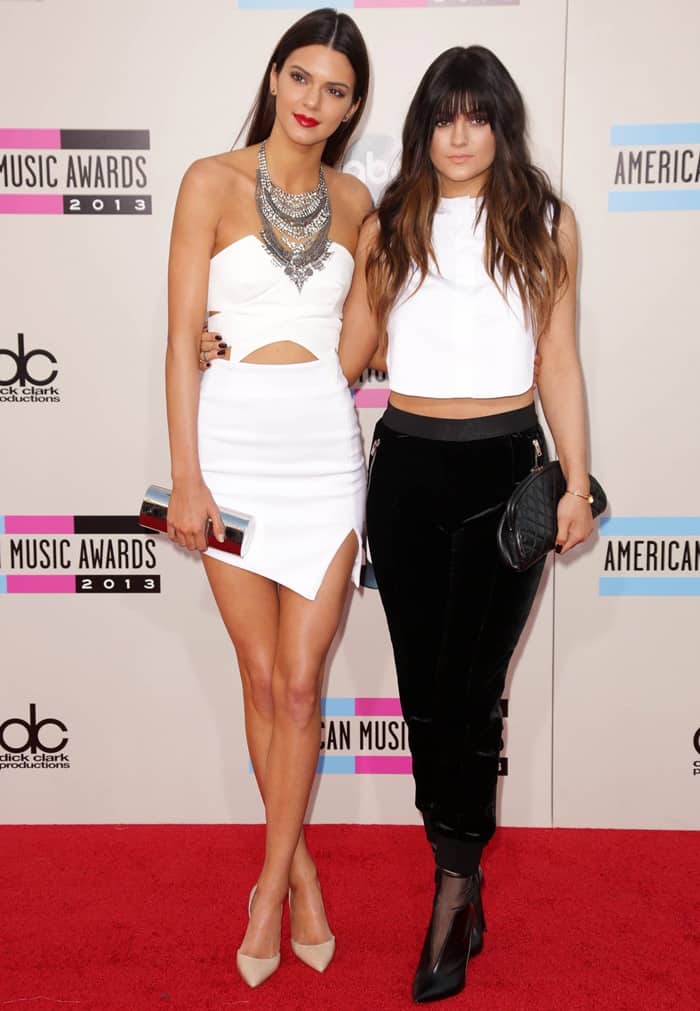 Kendall Jenner with sister Kylie Jenner at the 2013 American Music Awards held at the Nokia Theatre L.A. Live in Los Angeles, California, on November 24, 2013 (Credit: FayesVision / WENN)
The gorgeous star attended the event with her sister, Kylie Jenner, who debuted her new hairstyle and opted for a rocker-chic look.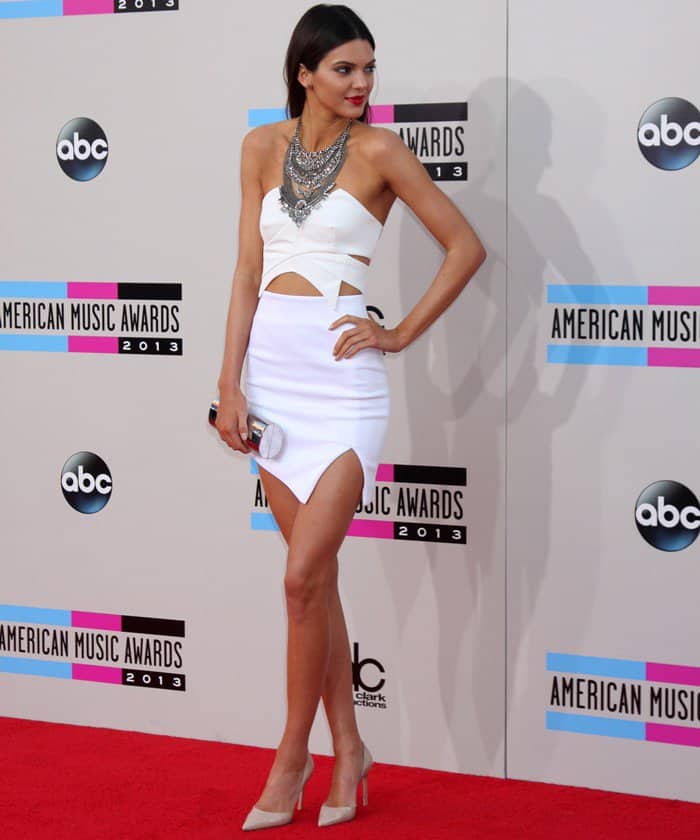 Kendall Jenner wore a strapless and cutout white dress from Keepsake (Credit: Nikki Nelson / WENN)
Rumored to have undergone plastic surgery, Kendall turned heads in a white Keepsake dress, a gorgeous statement necklace, and a pair of nude pumps from Manolo Blahnik.
Kendall Jenner's hair was neatly tucked behind her ears and flowed loosely down her back (Credit: FayesVision / WENN)
The stunning reality star wore a strapless and cutout white dress from Keepsake with a short asymmetrical hemline that showed off her endless pins.
Kendall Jenner wearing a Dylanex Falkor antiqued crystal Swarovski necklace made with signature coins and detailed Indian filigree (Credit: Adriana M. Barraza / WENN)
Her hair was neatly tucked behind her ears and flowed loosely down her back.
She carried a clutch from Jimmy Choo and wore a beautiful Falkor necklace with rhinestone details from Dylanlex. Bright red lips and nude pumps from Manolo Blahnik completed Kendall's look.
Kendall Jenner's hot feet in nude pumps from Manolo Blahnik (Credit: FayesVision / WENN)
Kendall was seen wearing the "Tayler" pumps from Manolo Blahnik. She also showed off her feet in another pair of Manolos before her much-discussed date with One Direction's Harry Styles.
They remained coy about the status of their relationship, but Kendall was reportedly seen getting excited upon seeing Harry on the red carpet.
The "Tayler" pumps feature nude patent leather, pointed toes, and covered stiletto heels. Take a cue from Kendall, and wear this classic nude pair of shoes to elongate your legs and to add sophistication to any outfit.
Tayler Patent Pointed d'Orsay Pumps in Nude, $695
Check out these other style variations of the Tayler pumps from Manolo Blahnik:
Tayler Pumps in Rose Gold Leather, $735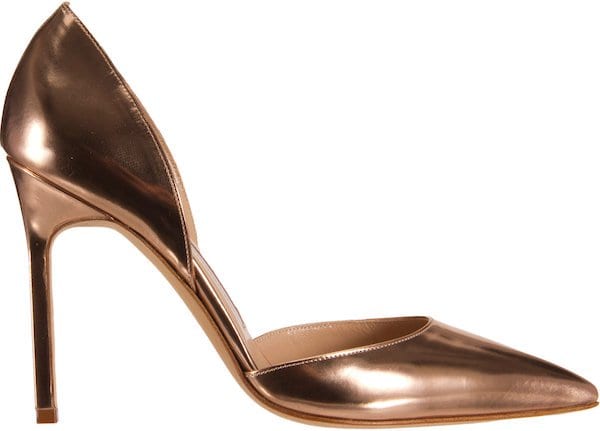 Tayler Pumps in Watermelon, $735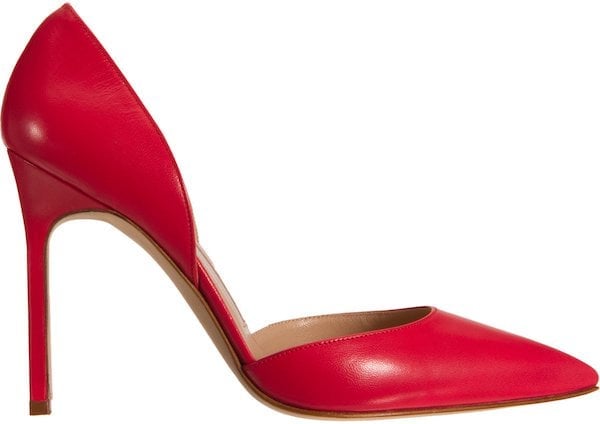 Tayler Bicolor Leather Pumps, $735
Tayler Bicolor Suede Pumps, $735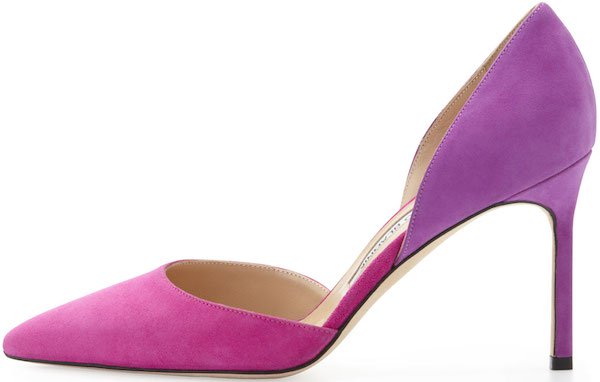 Tayler Pumps in Black Suede, $735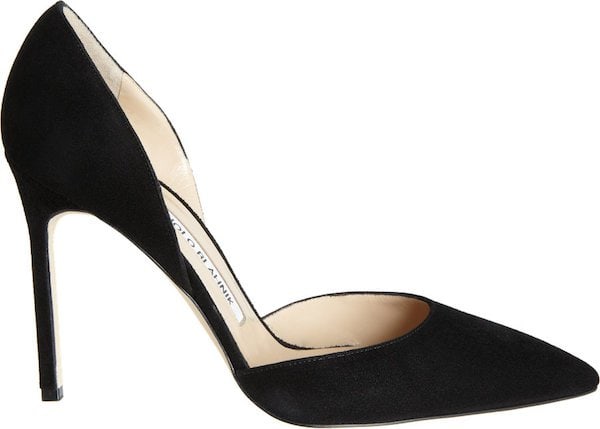 Tayler Lace Pumps in Black, $735