She's turning 54 this year, and Naomi Watts recently addressed aging and the stigma surrounding menopause.
Admitting that the word "menopause" used to freak her out, the actress now hopes to bring to light "uncomfortable conversations" and "conquer the stigma and address the secrecy and shame we've felt and help create a healthier foundation for future generations."
Shocked over her early menopause, the Gypsy star said, "When I was in my late 30s, I was finally ready to start thinking about creating a family. Then the M word swiftly blew my doors down, it felt like a head-on collision with a Mack truck."
View this post on Instagram
She added that "getting older is a privilege" and that women in this phase should be better represented in the media.
"How could I figure this out when no one was talking? I was earlier to it than my peers. My mentors and mum didn't seem up for discussing it, I didn't know how to ask for help and they didn't know how to provide… even doctors had little to say."
"It's oddly like an unwritten code of silence: women should suck it up and cope, because that's how generations passed have done it."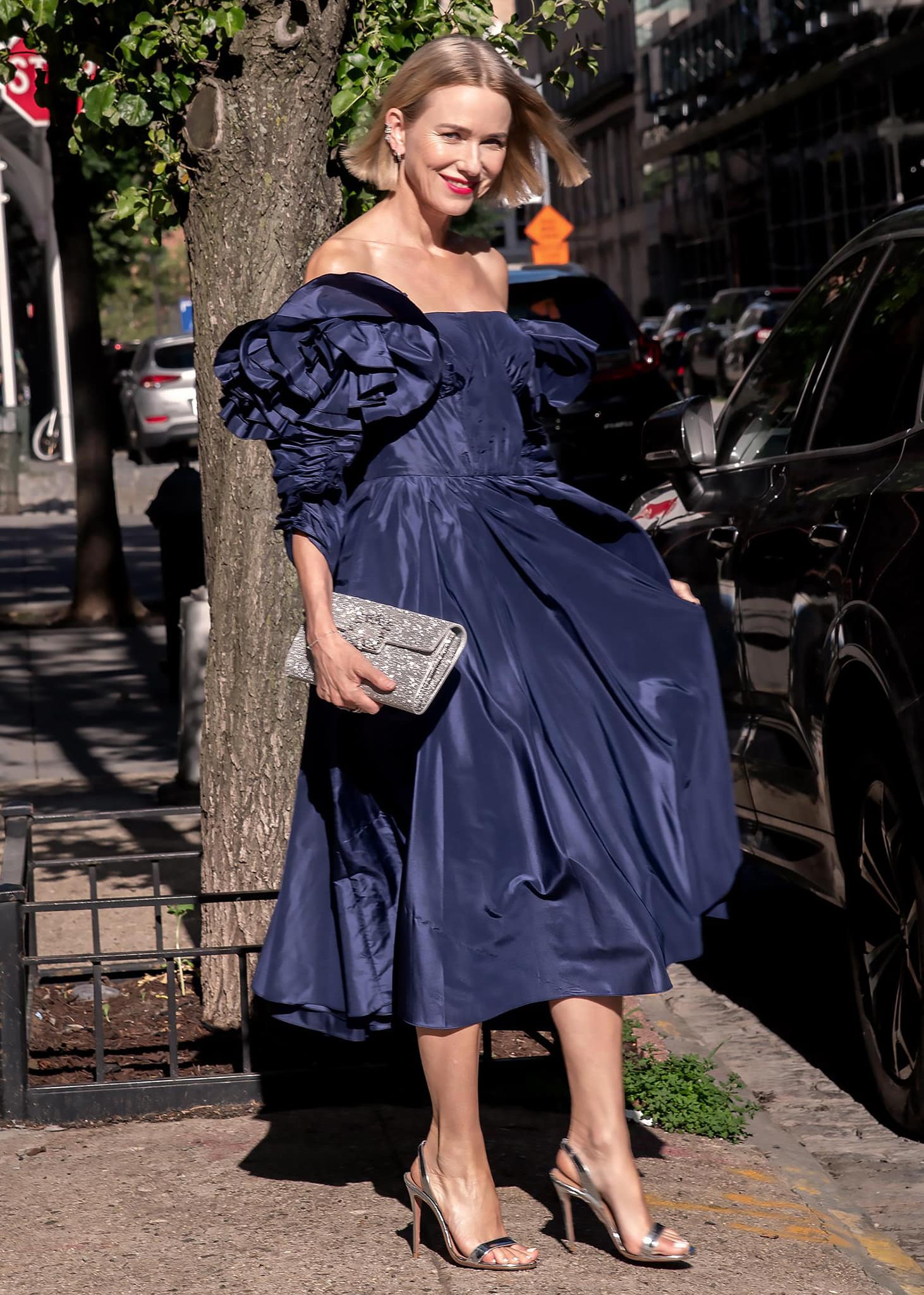 Naomi Watts hopes to bring to light uncomfortable conversations and conquer the stigma around menopause (Credit: Janet Mayer / Startraksphoto)
At the Fragrance Foundation Awards, where she presented the Packaging of the Year to MCM Eau de Parfum, Liev Schreiber's ex-wife confessed she "wasn't prepared" when menopause hit her.
"It happened far too early for me, and I wasn't prepared. It was a shock and no one gives you any preparation," she told Page Six.
"I did have in the back of my mind that my mother went early, but I didn't know what that meant. I didn't know that you could have eight years of perimenopause."
Naomi Watts has developed a brand that aims to support women going through menopause (Credit: JOHN NACION / startraksphoto)
Understanding the struggles of women going through this phase, Watts revealed she has developed a brand with the "intention to support women through this phase of life."
"I wanted to create a space where people can laugh and cry and bitch and moan and also feel really great about this point in our lives. We've gone through lots of things and we're still here."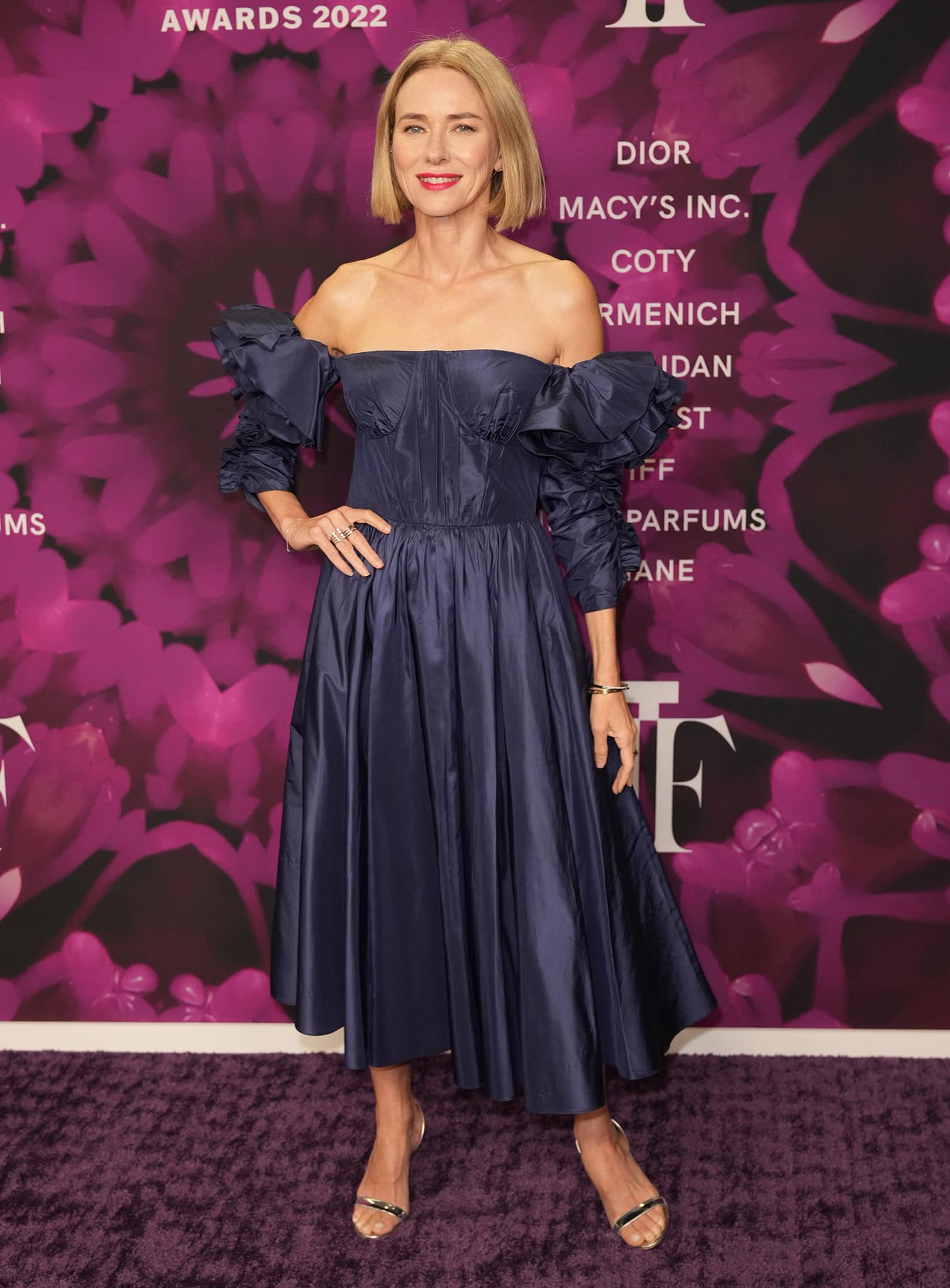 Naomi Watts attends the Fragrance Foundation Awards in Jason Wu off-the-shoulder dress (Credit: JOHN NACION / startraksphoto)
For the event, the King Kong star opted for a glamorous navy gown from Jason Wu's Pre-Fall 2022 collection.
It's an off-the-shoulder number with huge, ruffled sleeves, seamed cups, and a softly pleated ankle-length skirt.
With the help of her stylist Jeanann Williams, the 21 Grams actress styled her look with a selection of silver accessories. She wore several rings, bracelets, and multiple earrings that included an edgy ear cuff.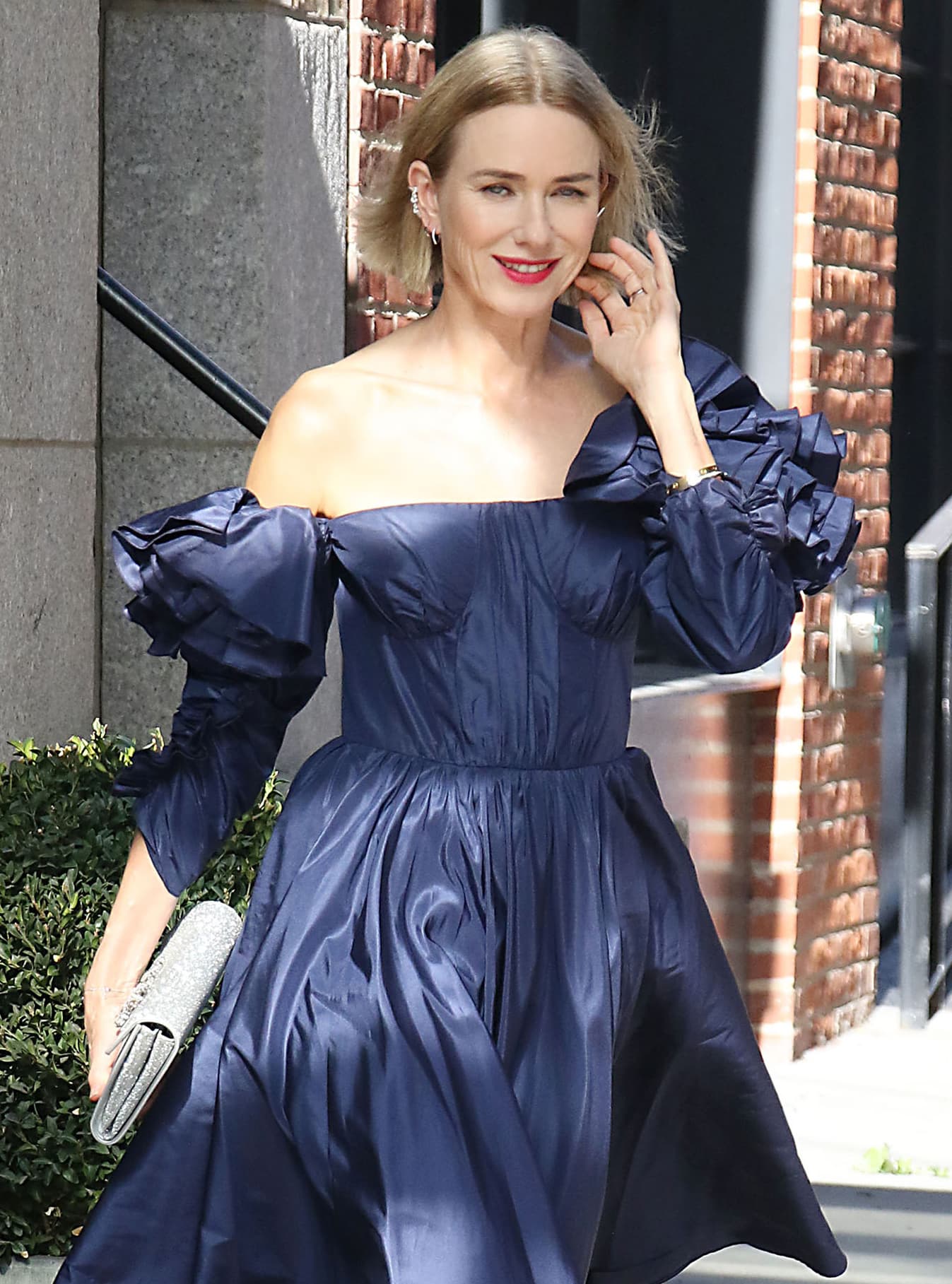 Naomi Watts styles her navy dress with silver jewelry and a coordinating Roger Vivier silver clutch (Credit: Roger Wong / INSTARimages)
Her signature cropped bob was simply styled straight by Renato Campora, while her features were enhanced with mascara, a hint of blush, and a swipe of red lipstick by makeup artist Mary Wiles.
Naomi Watts slips her feet into a pair of Aquazzura So Nude sandals in silver leather (Credit: Janet Mayer / Startraksphoto)
A $1,675 Roger Vivier Buckle clutch in glittery silver fabric and a pair of Aquazzura "So Nude" sandals in metallic silver leather tied Naomi's look together. You can check out her shoes at Farfetch and Shopbop.
Aquazzura 'So Nude' Sandals, $650
The So Nude heels feature a minimalist silhouette with front straps and slingback straps
On Tuesday, the mom-of-two was pictured strolling around NYC in a stylish casual ensemble that included a long-sleeved white top, floaty red culottes, and white sneakers.
She accessorized her look with layered gold chain necklaces, gold earrings, bracelets, and a pair of black sunnies.
Naomi Watts shows how to wear a loose white top and a pair of floaty red culottes in New York City on June 14, 2022 (Credit: Janet Mayer / Startraksphoto)