She has few movies lined up for big-screen releases, with the latest being Goodnight Mommy—a remake of the Austrian cult horror film from 2014.
The story "follows twin brothers who, when sent to stay with their mother, are surprised to find her swathed in bandages from a recent procedure."
Naomi Watts enjoys a rare public outing with her sons in New York City on May 9, 2021 (Credit: Instar / WENN)
Naomi Watts is set to executive produce and take on the role of the bandaged mother in the psychological thriller for Amazon Studios.
In real life, Naomi is a mother of two kids, Alexander "Sasha" Pete and Samuel "Sammy" Kai, whom she shares with her ex Liev Schreiber.
On Mother's Day, the 52-year-old actress enjoyed a rare public appearance with her sons in New York City.
The trio was seen wearing face masks as they strolled around town with their pet pooch.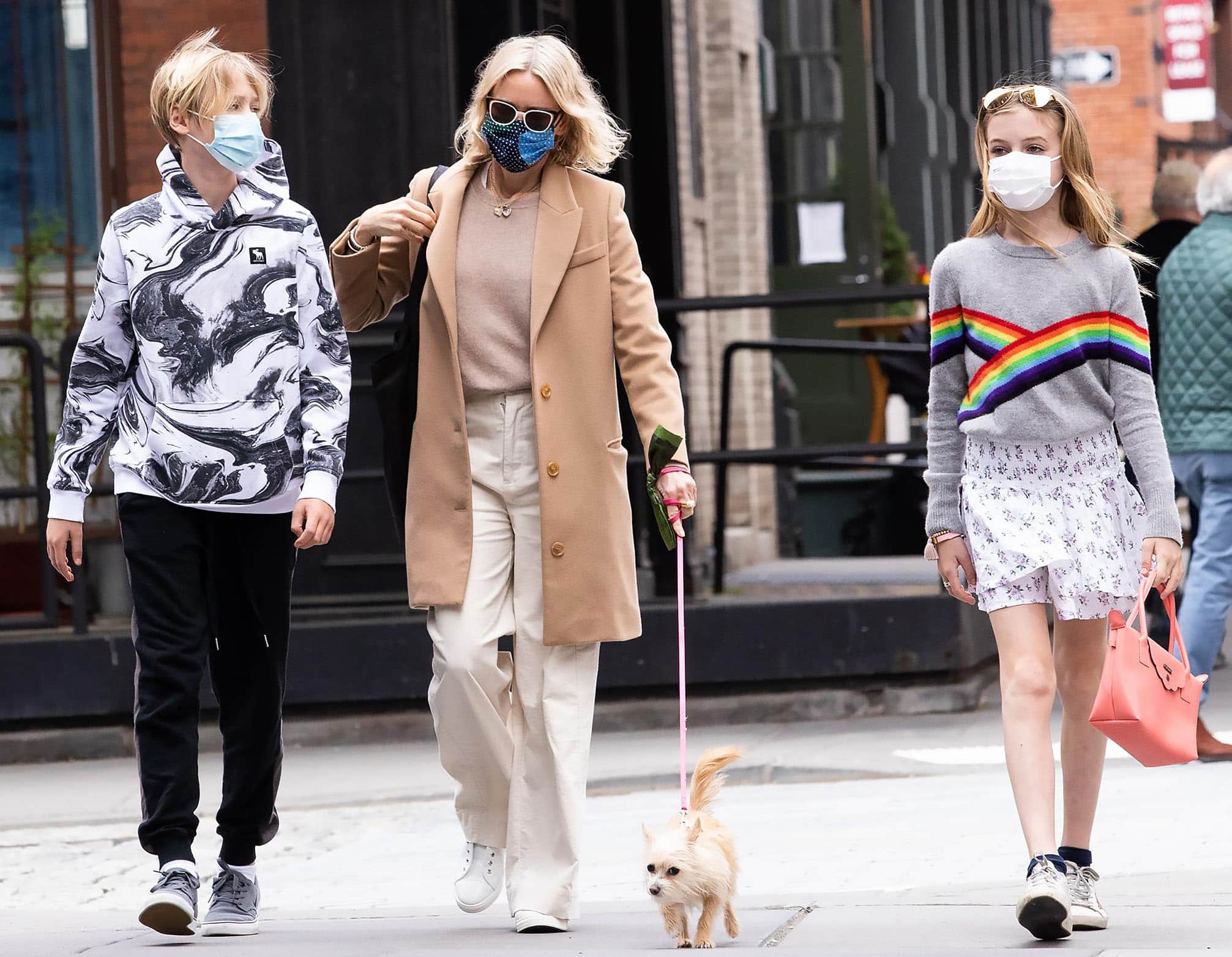 Naomi Watts, her eldest son Alexander Sasha and her youngest son Samuel Kai all wearing face masks during their Mother's Day outing (Credit: Instar / WENN)
She welcomed the adorable rescue dog, Izzy, into her family in May 2020.
Opting for neutral colors, the Gypsy star bundled up in a knee-length camel coat with a beige sweater tucked into a pair of cream-colored baggy pants.
Naomi Watts opts for a neutral-colored outfit with a camel coat, a beige sweater, and cream pants (Credit: Instar / WENN)
For her jewelry, the King Kong star layered two gold heart pendant necklaces around her neck and added a pair of stud earrings and a gold ring.
She carried her stuff in a large black shoulder bag and stayed low-key with a pair of Vera Wang tortoise sunglasses and a Barriere Dot Collage face mask for a pop of color.
Naomi Watts keeps things low-key with Vera Wang sunnies and Barriere Dot Collage face mask (Credit: Instar / WENN)
Wearing her signature short blonde hair in waves, Naomi completed her casual-chic outfit with a pair of white leather laceless sneakers.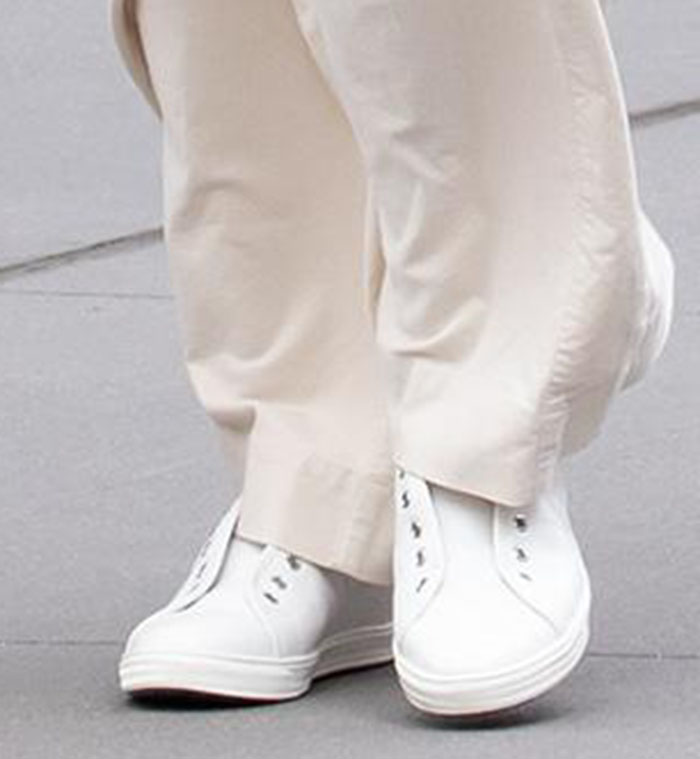 Naomi Watts completes her chic casual look with laceless white leather sneakers (Credit: Instar / WENN)
Meanwhile, her eldest son Sasha looked cool in his swirl-patterned black-and-white hoodie with black joggers and gray Nike shoes.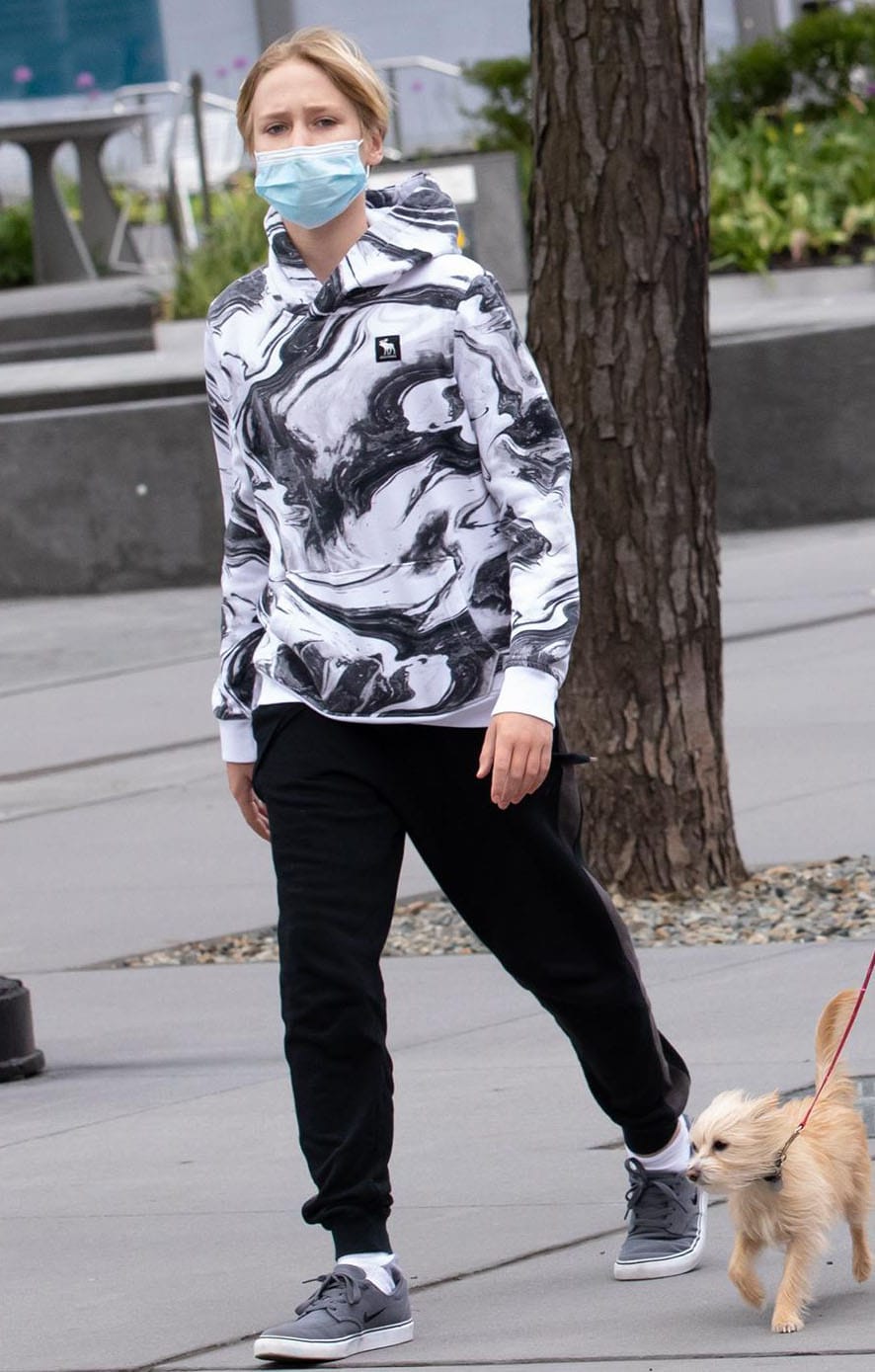 Naomi Watts' eldest son Alexander keeps it cool with a swirl-print hoodie and jogger pants (Credit: Instar / WENN)
On the other hand, her youngest Kai, who's often seen wearing girl clothes, was pictured in a floral ruffle mini skirt with a rainbow-print gray sweater.
With his long blonde hair down, Kai accessorized with hoop earrings and carried a salmon pink handbag.
He stayed safe with a white face mask and completed his look with gold aviators resting on his head, black socks, and Golden Goose sneakers.
Naomi Watts' youngest son Kai wears a girly floral mini skirt and a rainbow-printed sweater (Credit: Instar / WENN)