We never really know what to expect from Nicki Minaj on the red carpet, but we were hoping for something a little bit more fashion and a little less bold from her at the 2017 CFDA/Vogue Fashion Fund Awards.
We had our hopes dashed when Nicki showed up to the glamorous occasion in a tacky high-low satin gown and snap-front leather short shorts combo. She pulled together her custom Alexander Wang look with a ball-studded leather harness that gave it an even more event-inappropriate, kinky S&M vibe.
The 34-year-old rapper toted her essentials in a fringed leather drawstring bag and donned barbed leather-lace-up sandals on her feet. She completed her look with long, platinum-blonde locks, pale pink talons and Barbie-pink makeup.
To us, Nicki's open-front gown and shorts getup is reminiscent of her 2017 Met Gala bodysuit and Kimono ensemble, which was also not well-received by fashion critics.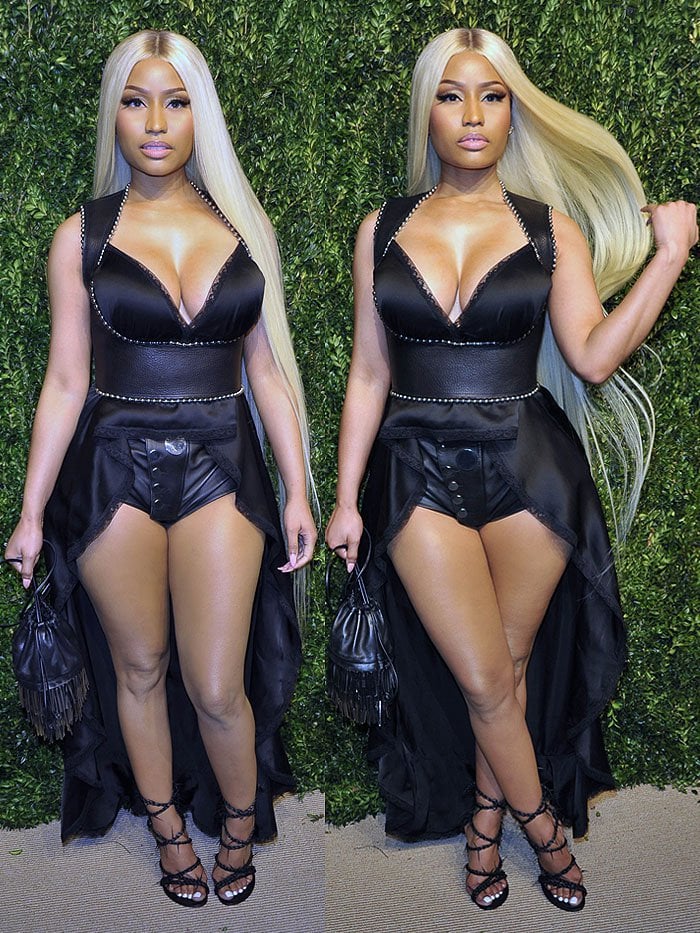 Nicki Minaj arriving at the 2017 CFDA/Vogue Fashion Fund Awards  at Weylin B. Seymour's in the Brooklyn borough of New York City on November 6, 2017.
Nicki Minaj posing with designer Alexander Wang in her custom Alexander Wang lace-trimmed silk gown, ball-studded leather harness, snap-front leather shorts, fringed leather bag, and barbed leather lace-up sandals.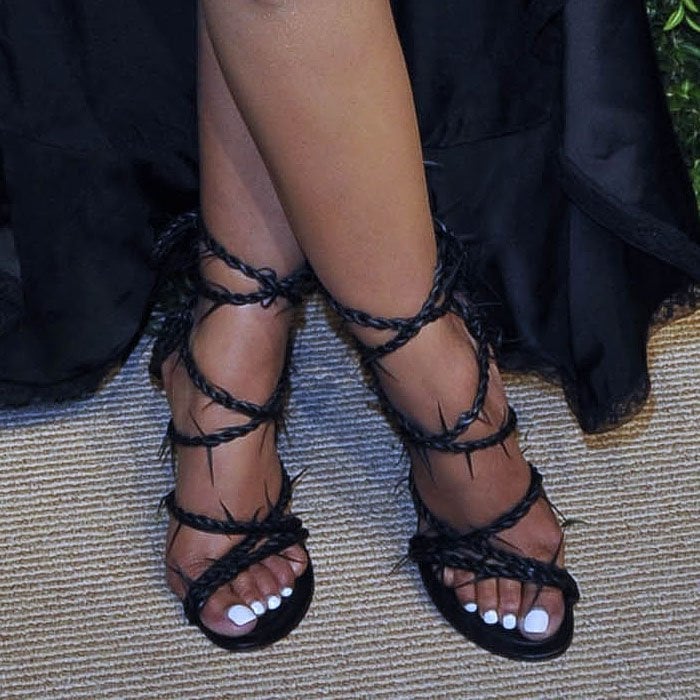 Nicki Minaj's Alexander Wang lace-up sandals with barbed-effect leather straps.
Barbed wire has long been an inspiration for shoe designers. Who do you think did barbed wire heels best, Alexander Wang, DSquared2, or Gio Diev?
While we wait for Nicki Minaj's custom Alexander Wang barbed lace-up sandals to hit stores, check out other studded and chained Alexander Wang shoe styles like the "Tilda" below at Farfetch.
Alexander Wang "Tilda" ball-studded chain-ankle-strap sandals, $695
Credit: Patricia Schlein / WENN