In recent pictures shared by Khloé Alexandra Kardashian on Instagram, her nose is looking visibly thinner. Speculation is rampant that the media personality has had a nose job.
View this post on Instagram
"You can achieve some of these effects with appropriate makeup and photo filters, but the amount of decrease in width of the tip suggests to me a rhinoplasty procedure," board-certified plastic surgeon Dr. Hootan Zandifar told Insider.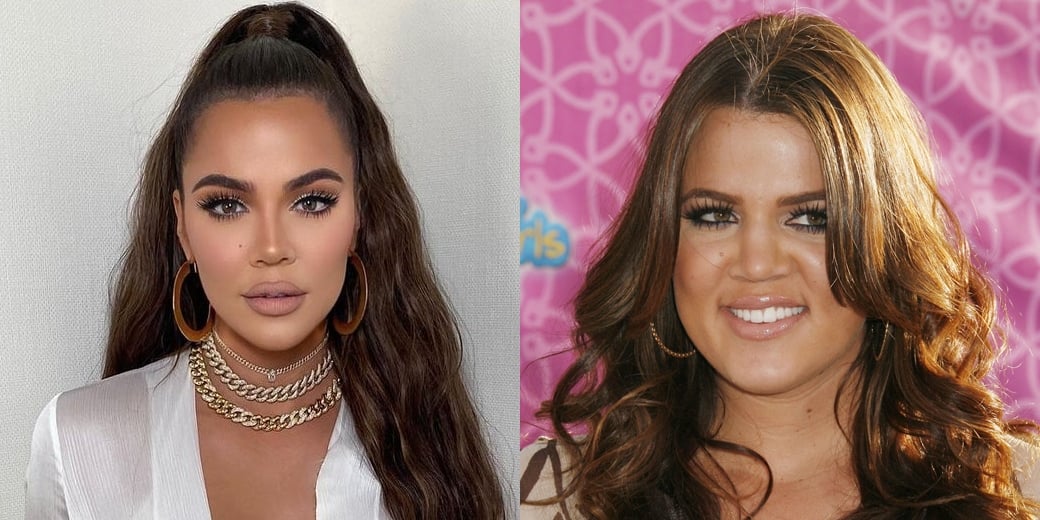 Khloé Kardashian's nose before and after: Selfie shared in November 2020 (Credit: @khloekardashian) and from the premiere of The Cheetah Girls in 2008
Rumored to be O.J. Simpson's daughter, she has recently been busy promoting her Glam Bag x Khloé beauty collection.
"I am thrilled to share my Glam Bag X collection," she said in a statement. "For me, beauty is the ultimate form of self-expression, and through the years I've experimented with it all. I've been so fortunate to be able to learn from my sisters and I've developed my own tips and tricks along the way. With this collaboration, I get to share the products that I consider a part of my daily routine as well as a few that I've more recently discovered and simply cannot live without. I'm incredibly proud of what we've been able to put together and I can't wait to reveal the full collection!"
View this post on Instagram
Revealing how she feels about stories focusing on her appearance, earlier this month Khloe took to the comments section in an Instagram post to share her thoughts.
"I don't want anyone to kiss my ass. I'm not asking for that," Khloe started. "But what I am asking for is for people to realize just what articles like this does to someone's soul and confidence."
"I am so very grateful and appreciative of anyone who stands up to bullying or people writing story's [sic] simply for clickbait," Khloe added. "Defending someone, Especially when we don't know one another makes me heart happy. That's the person I am. I like to defend what is right. Thank you everyone for you sweet comments and thank you @mackincasey for being so kind 🙏🏽🙏🏽🙏🏽"
View this post on Instagram
"At first, [mean comments] would definitely bug me, and I'm like, what in the world?" she told Elle in an October 2020 interview.
"I would never take my time to shame someone or be negative. I only comment nice and positive things. At first, I would let stuff like that affect me. And now I really don't care. Maybe if I'm having a bad day. But typically, I would say 90 percent of the time, it doesn't affect me."
This is how Khloé Kardashian's nose and face looked in 2008
"I appreciate that I didn't succumb to what everyone has always said in the past, like, 'You gotta get a nose job, you gotta get a nose job,'" Khloe told Cosmpolitan in 2016 about feeling pressured to have plastic surgery on her nose.
"If I felt like I wanted one, I would've. And if I want to do something, I'll totally do it—I don't care and I'll be the first one to say, 'Look what I just did! This is my doctor, let's do an interview with him and give me the free nose job!'"
Sitting down with plastic surgeon Terry Dubrow, M.D. on her show Kocktails with Khloe, the Keeping Up with the Kardashians star addressed the plastic surgery rumors.
Khloé Kardashian's nose and face in 2007
"Everyone says I've had a nose job because my nose is smaller now and I swear I haven't," she revealed. "Do you think I have?"
"No, but when you were bigger, your nose can get wider,' Terry responded.
"It's like when you're pregnant, your nose spreads because there's fat pockets in there, I guess. So when I lost weight, my nose did get smaller, and also I now know about contouring. Like when I wash my face, my nose is wider," Khloe added.
"I think plastic surgery should be viewed almost like makeup, because we're all putting on a f*cking mask basically every day anyway," she told Cosmopolitan about plastic surgery.
"When you dye your hair, you're changing who you are, and I don't think there's anything wrong with that. I think people should get plastic surgery or fillers or lasers or whatever if they want it — that should be your own personal decision. I just don't like when someone else is like, 'Man, I only want to date a girl if they have big t*ts,' and then a girl's like, 'I gotta get double-Ds.' If you want them, great. If you're doing that for your man, that's when it bothers me."
Khloe Kardashian says plastic surgery should be viewed like makeup
Do you think she's had a nose job? In November 2014, Khloe Kardashian sported a hipster ensemble while jetting out of the Los Angeles International Airport (LAX).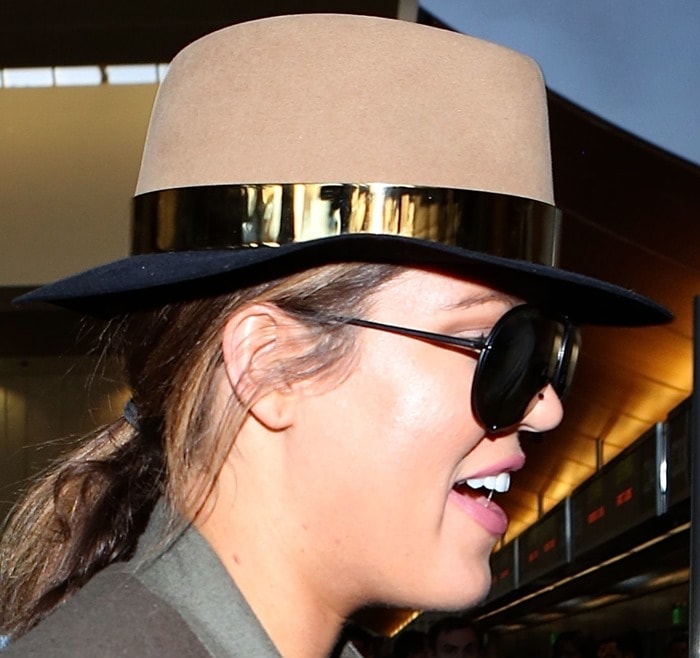 Khloe Kardashian rocking a hat by Maison Michel
The then 30-year-old reality star sported a pair of ripped jeans by Frame Denim, a t-shirt by Splendid, a trench coat by Haider Ackermann, a hat by Maison Michel, sunglasses by Porche, and open-toe booties by Off-White c/o Virgil Abloh.
Khloe Kardashian wearing a trench coat by Haider Ackermann
Would you wear this outfit to the airport? Khloe's black open-toe booties are unfortunately not available online.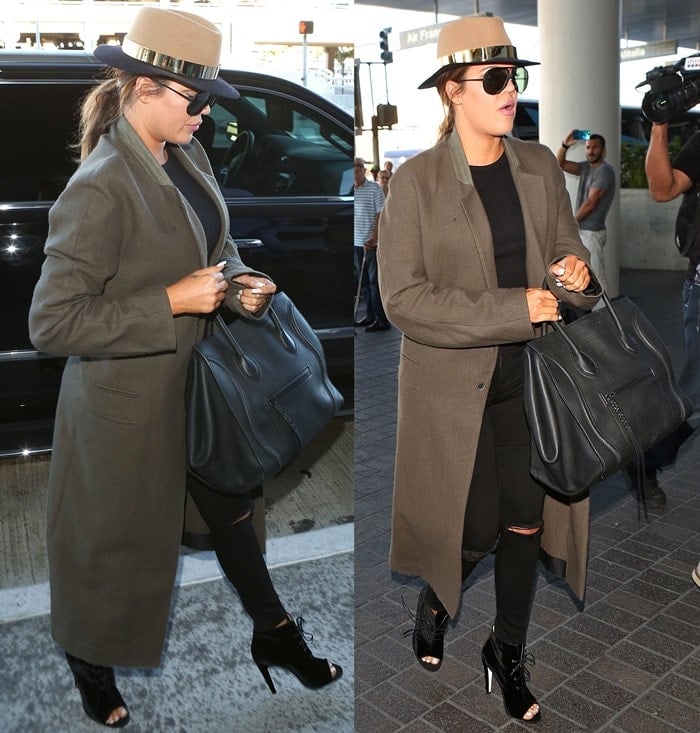 Khloe Kardashian totes a Celine tote while departing from Los Angeles International Airport (LAX) in ripped denim jeans on November 8, 2014
Credit: WENN / Adriana M. Barraza / Chris Connor / Rachel Worth