Bradley Cooper's ex-girlfriend recently talked about elevating her street style after the COVID-19 pandemic halted her professional and social calendar.
Prior to the coronavirus outbreak, Irina Shayk wouldn't really dress up just to go outside. She told Vogue: "In my normal life, I never got dressed up because for me it was all about comfort."
During quarantine, however, she learned to explore her closet and experiment with her style. "Before, we used to go to big events and parties with makeup and get dressed up. Now, I think I miss those fun moments, so I decided that I can have fun with a street style."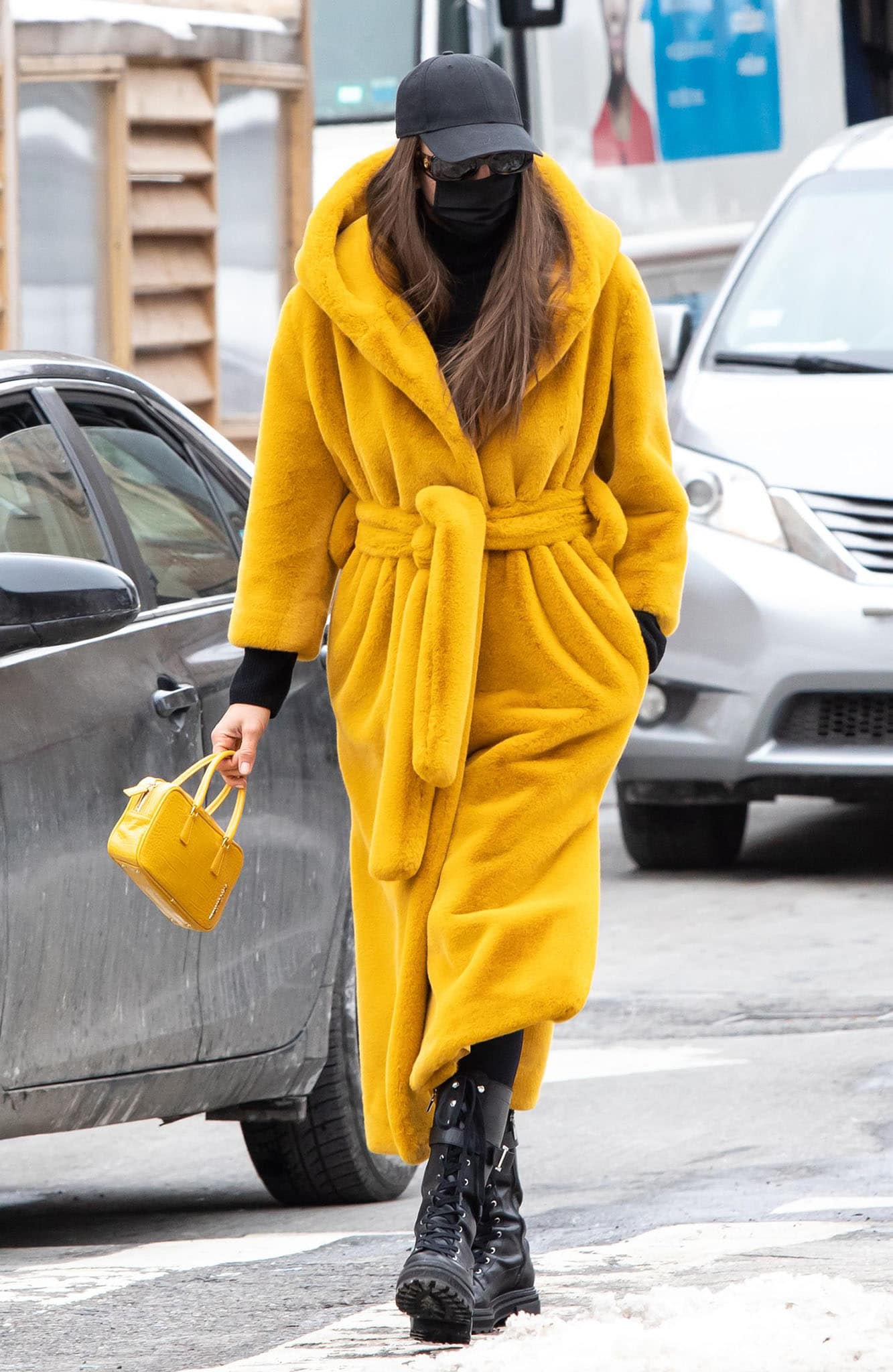 Irina Shayk explores her street style with bright-colored outfits
The 35-year-old model also revealed working on brighter color palettes, which is evident in her recent outings.
"I had so many different pieces sitting in my closet from years ago. When I didn't know what to wear, I'd wear something simple and black. Now, I figured it is time to use a splash of color in my wardrobe. When you put on some color, it just brings your mood to a different level."
Last week, Irina embraced this year's hottest color while strolling with her daughter, Lea De Seine, in NYC's Greenwich Village.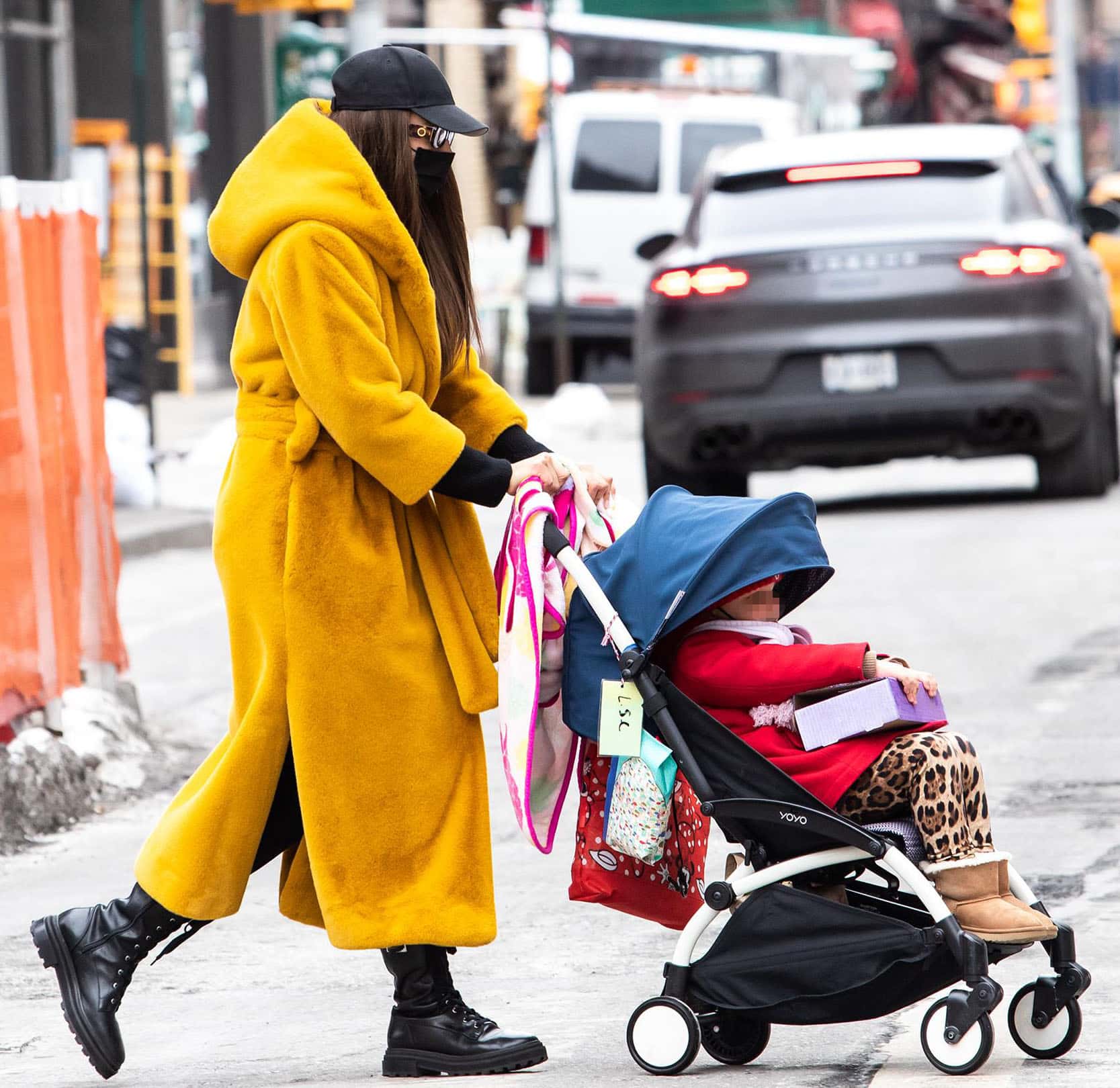 Irina Shayk pushes her daughter's stroller while strolling around Greenwich Village on February 12, 2021
Brightening up the rather gloomy day, the mom-of-one wore a hooded faux-fur wrap-style midi coat in Curcuma color from the Ukrainian slow-fashion clothing label Olēnich.
She teamed her mustard outerwear with a black long-sleeved top and a pair of black cashmere leggings from the Italian clothing label Intimissimi or a chic and comfy off-duty winter look.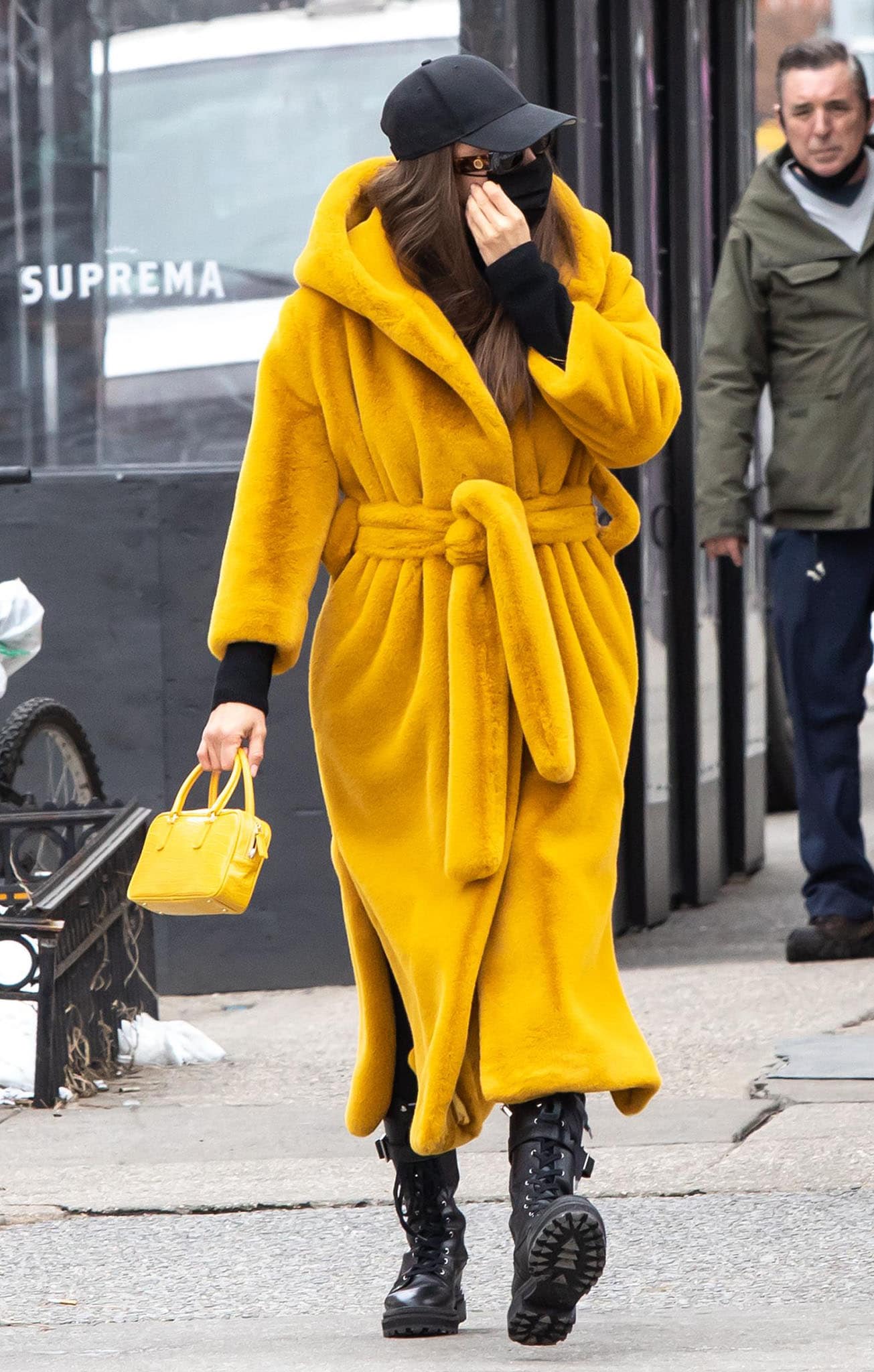 Irina Shayk wears Olēnich faux-fur yellow wrap-style coat with black Intimissimi cashmere leggings
In an attempt to keep a low profile, Irina hid her eyes behind a pair of $475-Linda Farrow Lola rectangular tortoiseshell sunglasses.
She also covered her loose tresses underneath a black '47 Brand Classic baseball cap and stayed safe with a black face mask.
Irina Shayk keeps the rest of her look low-key with a black cap and Linda Farrow sunglasses
Irina packed her essentials in a tiny Poppy Lissiman Snapper Sac Croc bag in a matching yellow colorway and completed her look with combat boots.
She opted for Schutz "Moly" Combat boots, which feature a leather upper secured with a removable silver-tone buckled strap. Available at Schutz Shoes, they also have cotton laces, pull tabs, 1.5-inch platforms, and 2-inch heels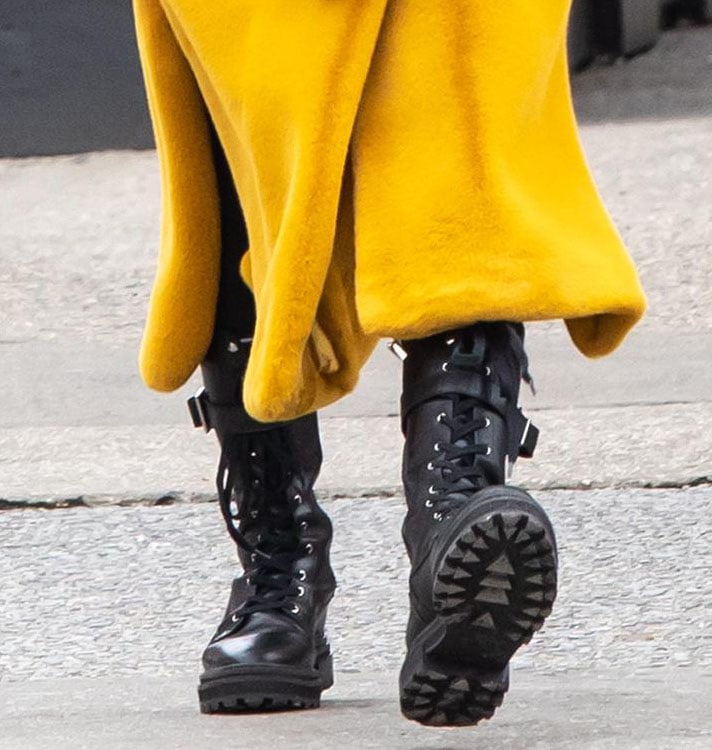 Irina Shayk completes her look with Schutz Moly combat boots
Schutz 'Moly' Tall Combat Boots, $268 at Bloomingdale's
Schutz Moly combat boots feature removable buckled straps and thick platform heels
On Tuesday last week, Irina showed off her wild side in a tiger-print coat while out and about in Manhattan.
Irina Shayk runs errands in a tiger-print coat in Manhattan on February 9, 2021
Turning the street into her runway, the supermodel wore her bold topper over a black long-sleeved turtleneck sweater and a pair of straight-leg mid-waist leather trousers from the London-based startup clothing brand NiiHai.
These pants have white contrast stitching and knee zips that can detach the bottom panels and turn the trousers into a pair of knee-length shorts.
Irina Shayk wears a striking tiger-print coat with Niihai leather trousers
Keeping the rest of her look understated, Irina accessorized with a black Ruslan Baginskiy monogram-embellished beanie, a black Maskc face mask, and a pair of Illesteva East Houston sunglasses.
She carried a small black By Far Cush textured-leather shoulder bag, which you can buy for $500 at Net-A-Porter.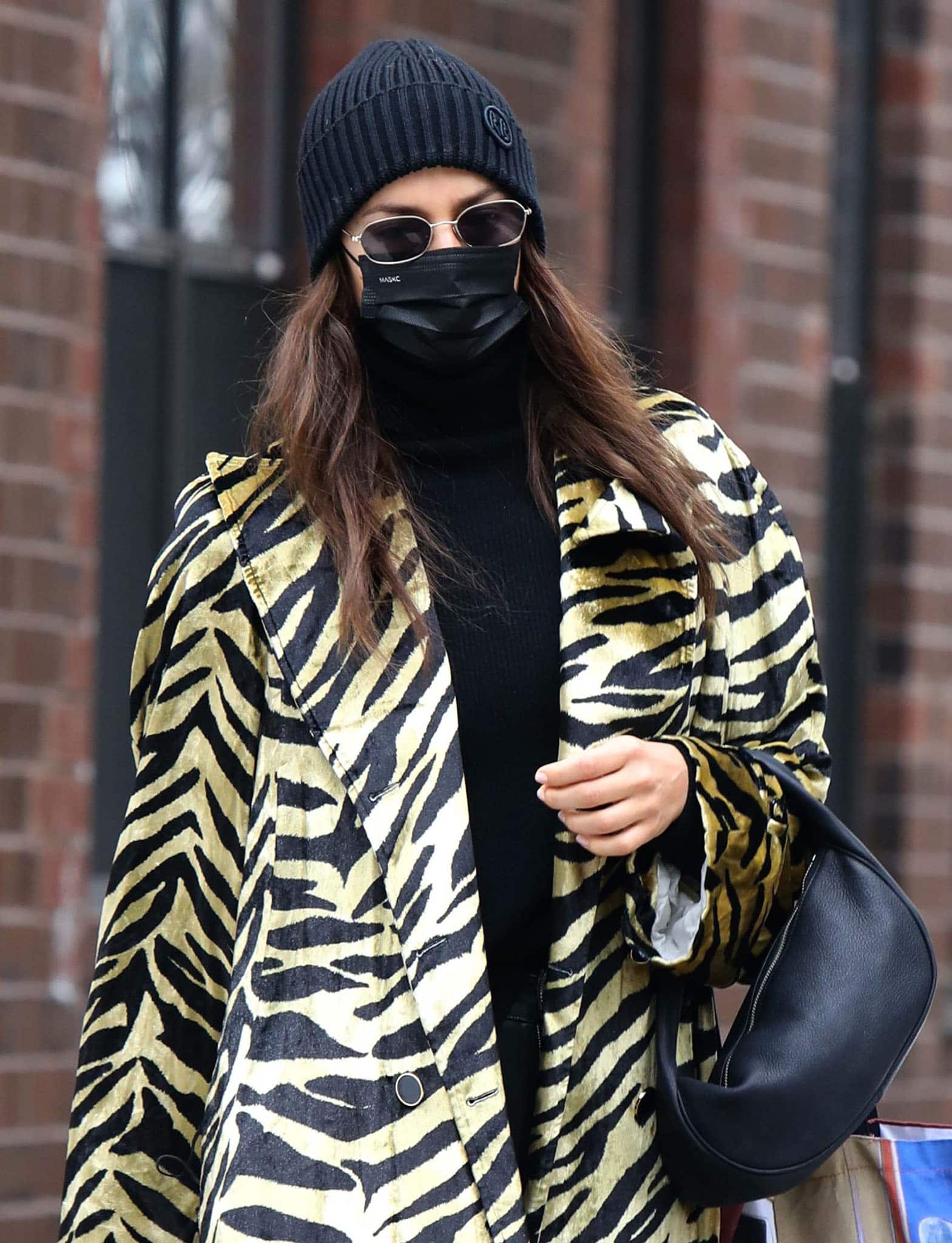 Irina Shayk accessorizes with Ruslan Baginskiy beanie, By Far bag, and Illesteva sunglasses
A pair of Burberry "Arthur" sneakers in black-and-red rounded out her look.
Available in different colorways at Farfetch and Saks Fifth Avenue, these chunky sneakers feature a calf leather paneled upper with round toes, lace-up fastenings, rear pull tabs, and chunky rubber soles.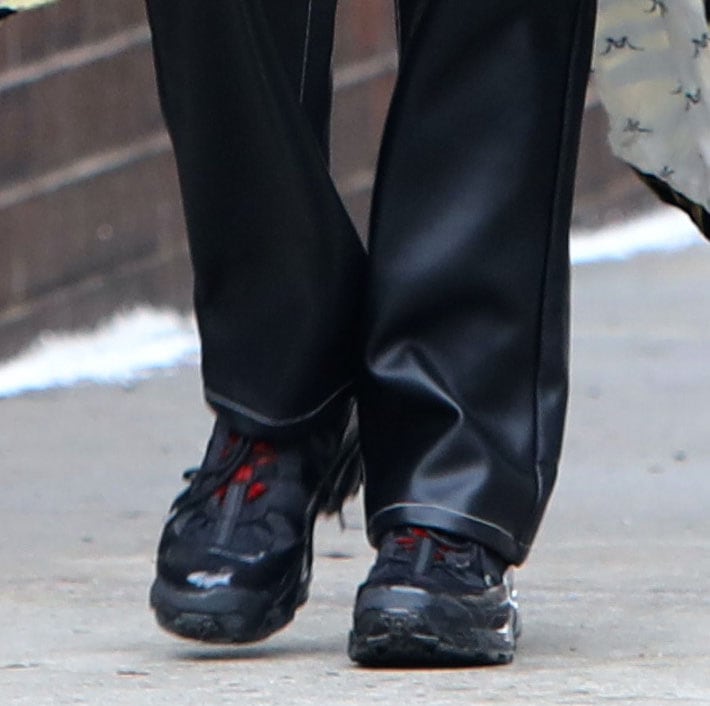 Irina Shayk keeps it casual with Burberry Arthur sneakers
Burberry 'Arthur' Low-Top Sneakers, $790
These white Burberry Arthur calf leather sneakers also prove to be a sleek addition to your casual looks
Burberry Vintage Check 'Arthur' Sneakers, $850 at Farfetch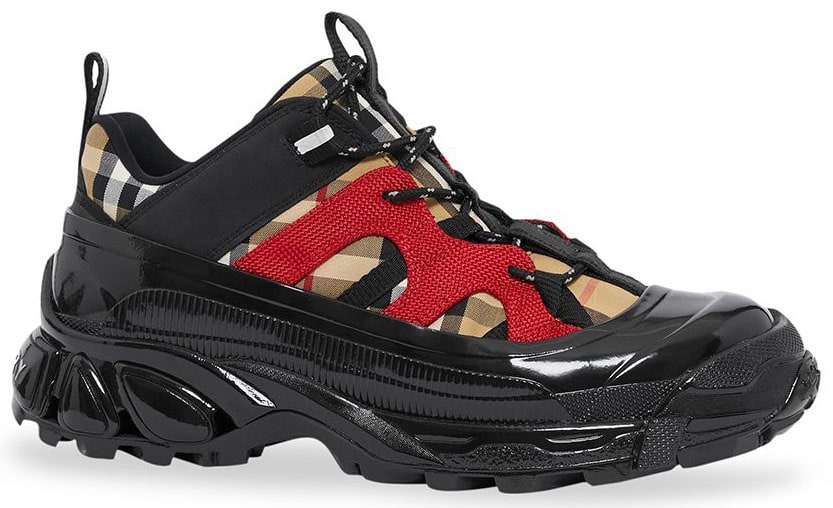 These black sheepskin vintage check Arthur sneakers from Burberry are perfect for when you'll be rushed off your feet all day
Credit: Instar / WENN