In March 2010, Once Upon a Time actress Emilie de Ravin looked ravishing at the New York premiere of her romantic coming-of-age drama film "Remember Me," which she attended with co-star Robert Pattinson.
Emilie de Ravin wears her hair back at the New York premiere of "Remember Me" held on March 1, 2010, at the Paris Theatre in New York City (Credit: Andres Otero / WENN)
The Australian-American actress wore a nude cocktail dress from Gianfranco Ferre's Spring 2010 Runway Collection, paired with some uber-dreamy twisted band platform sandals from the British luxury fashion house Burberry.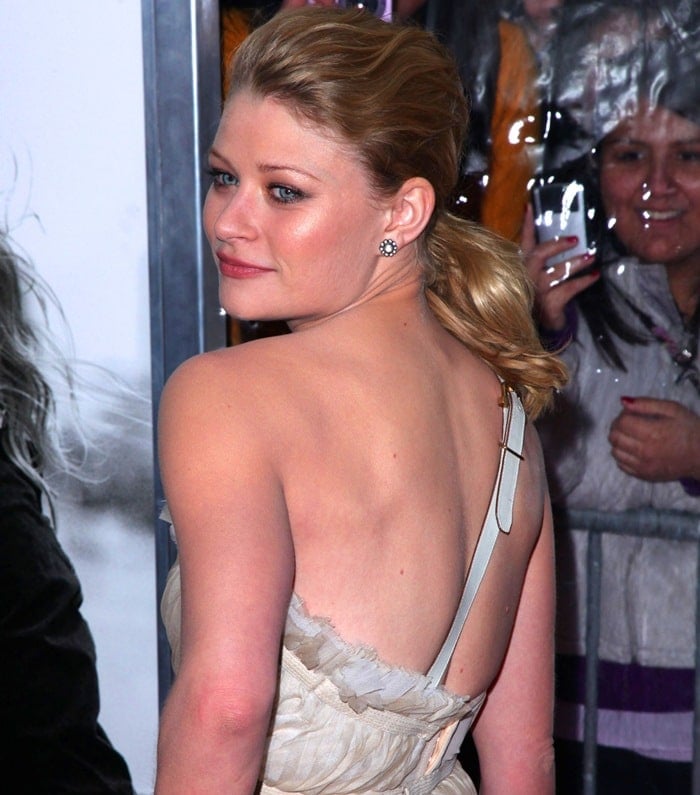 Emilie de Ravin wears a Gianfranco Ferre dress to her movie premiere (Credit: Andres Otero / WENN)
One year later, Emilie was cast as Belle French on the ABC drama Once Upon a Time. Promoted to a regular character from the second season, she made her first appearance in the twelfth episode of the first season.
Based on the character of the same name from the Disney film "Beauty and the Beast," Belle Gold​ (née French) dies of old age in "Beauty," the fourth episode of the seventh season.
Emilie De Ravin in a yellow Marmar Halim Fall 2019 dress at the after-party for Elton John AIDS Foundation 28th Annual Academy Awards Viewing Party at West Hollywood Park on February 9, 2020 (Credit: WENN / Avalon)
"While I would have loved to continue exploring Belle's journey, the show has decided to move in a different creative direction. Massive thank you to all the fans for your incredible love & support towards me & this character over the past 6 yrs," she wrote on Instagram regarding her departure from the American fantasy adventure drama television series.
 

View this post on Instagram
The actress discussed the death scene in an interview with Entertainment Weekly in 2017.
"That was the hardest day of work, that scene. It was really emotional. The feeling and vibe on set were so special and so respectful and loving and warm. It brought out a lot of feelings for a lot of the crew and cast. I suppose it was really just me and Bobby and the crew that day, but we were so lucky to have Mick Garris as our director, who is a lovely guy and such a sensitive man."
Emilie de Ravin shows off her size 6.5 (US) feet at the Disney Media Networks International Upfront at the Walt Disney Studios Lot in Los Angeles on May 19, 2013 (Credit: FayesVision / WENN)
"He did a beautiful job with the episode. It's such a safe — safe is probably the best word. I felt very safe and respected that whole day. But it was sad, we were crying. It was very hard to stop crying between takes. It was hard for me as I was trying to, as Emilie, not cry watching Bobby — not as the characters," she added.
Emilie de Ravin shows off her legs in a Gianfranco Ferre minidress (Credit: Michael Carpenter / WENN / Andres Otero)
"I really wanted Belle to be, in essence, the strong one of accepting her moving on to whatever she believes is the next chapter after mortal existence, and being the strong one for him as well as for herself, and not breaking down. You can't have her breaking down and crying all over her prosthetics."
Emilie de Ravin's feet in platform Burberry Prorsum heels (Credit: WENN)

Platform sandals that feature twisted bands and ties that wrap around the ankles — while not as popular as clip-toe booties and gladiator sandals — were one of the most popular shoe styles at the time.
Ashley Olsen also wore a pair of twisted Fendi sandals to the 2010 ELLE Style Awards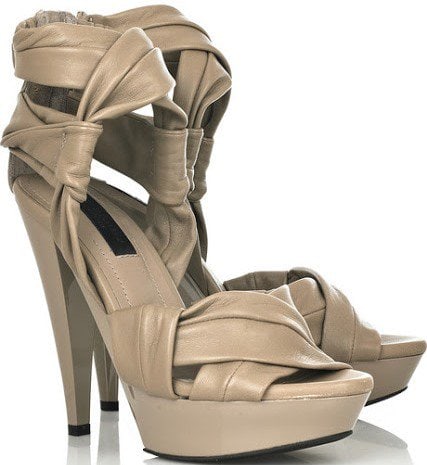 Burberry Prorsum Twisted Band Platform Sandals, $795