Check out these bullet studded platform shoes from Pleaser USA. Do you have what it takes to be a total killer in these crazy heels?
1. 'Bond Girl 703' Platform Sandal, $67.71 – $68.93 at Amazon
2. 'Bondgirl-768' Platform Sandals, $114.95 – $116.45 at Amazon
3. 'Bondgirl-702' Platform Sandals, $36.95 at Amazon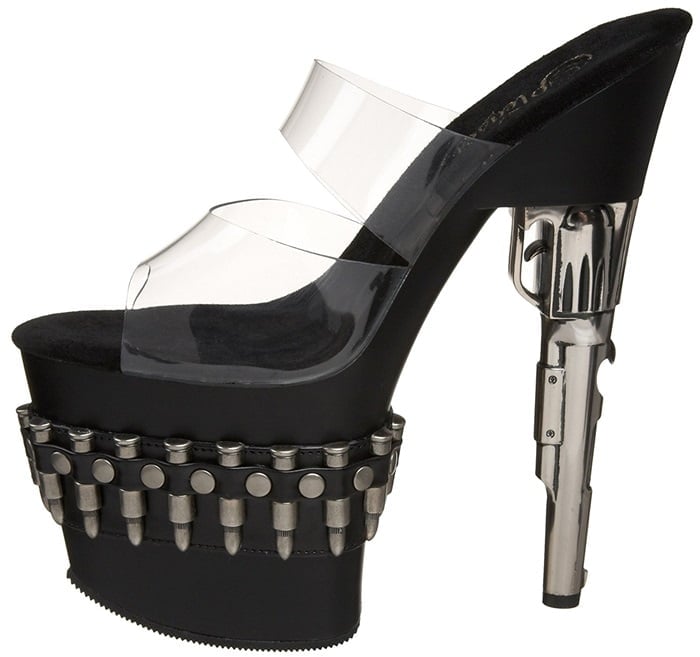 4. 'Bondgirl-712 Platform' Sandal, $74.95 – $80.07 at Amazon

Ok, seriously, does anyone actually want to wear these shoes? Perhaps as costume shoes for Halloween? The platforms are extremely thick and the heels are extremely high, but I guess some really go for such extraordinary pieces. Why would Pleaser USA make these shoes if no one would buy them, right?
This 'Bond Girl' collection comes with gun-inspired studs (notice the bullet-like metal detailing?) and gun-inspired sky high 7.5" sculptured heels. There's even one shoe that comes with a detachable studded ankle cuff in case you want to use it as a bracelet.
5. 'Bondgirl-701-3' Bullet Studded Shoes, $41.99 – $80.00 at Amazon
I truly wonder how these shoes will feel like when worn. So what do you think of this fresh set? Like it or wouldn't even think about wearing these bullet studded shoes?