With The Marvelous Mrs. Maisel coming to an end later this month, it's natural for Mrs. Miriam Maisel herself, Rachel Brosnahan, to finally eschew the 1950s era and experiment with fashion trends that resonate with her personal sense of style.
As she mingled with other high-profile guests, including Anne Hathaway, Jessica Chastain, and Nicole Kidman, at the 2023 Met Gala on Monday, the actress ditched her character's signature modest vintage style in favor of a sleeker, more contemporary look.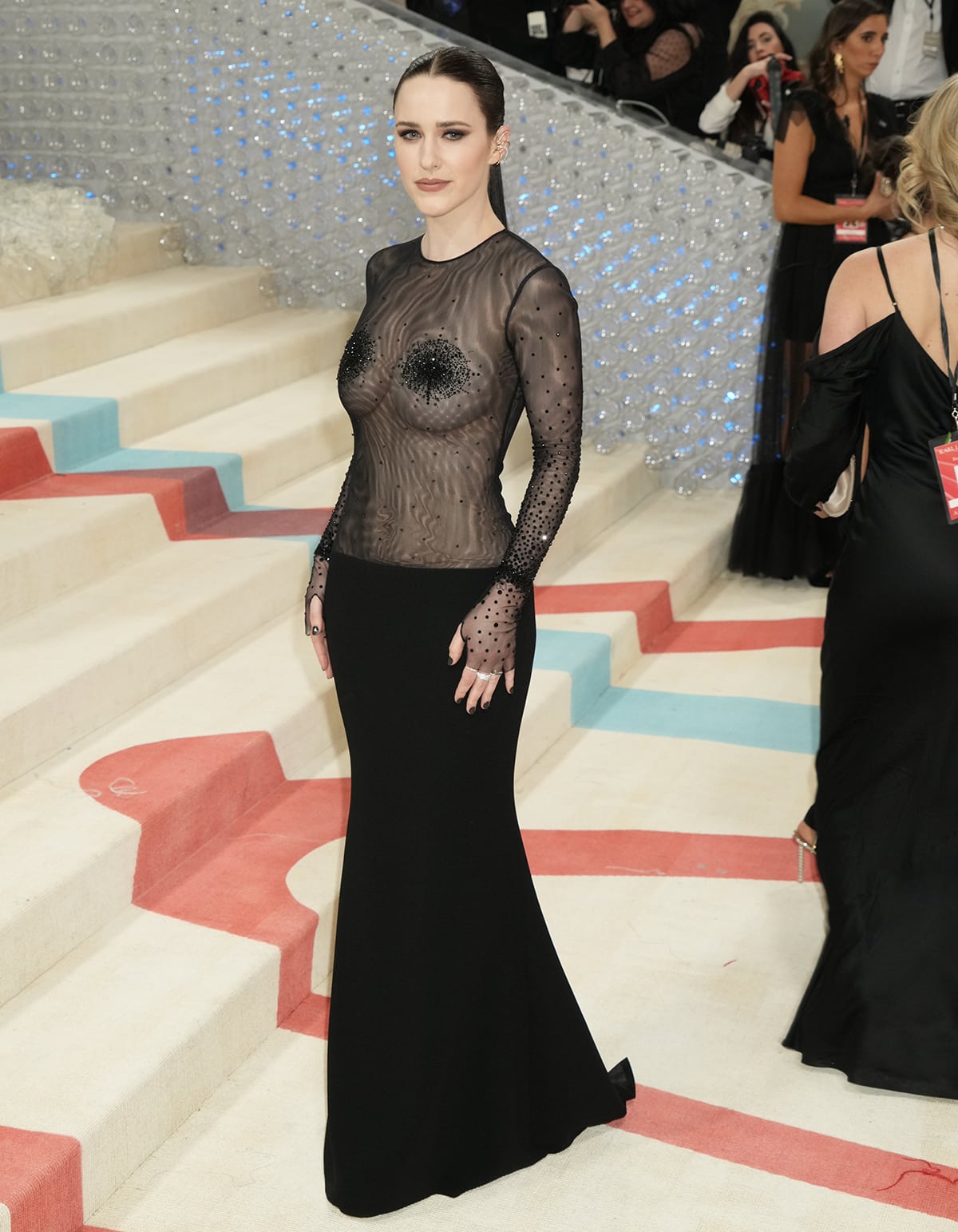 Rachel Brosnahan eschews Mrs. Maison's 1950s style for a sleek, contemporary look for the 2023 Met Gala on May 1, 2023 (Credit: Jennifer Graylock / INSTARimages)
Her stylist Alexandra Mandelkorn collaborated with American fashion designer Sergio Hudson for Brosnahan's third Met Gala look, inspired by the lesser-known facets of Karl Lagerfeld's signatures.
They drew inspiration from Lagerfeld's 1992 collection for Chloe, which, according to Brosnahan, "featured a lot of pure black mesh, beautiful crystal work, and embracing the female body."
"We all agreed this is going to be a really fun and different direction to swing in for me—what better place to take a big swing than the Met Gala, a place where we're there to celebrate a great art through design?" she told Town and Country.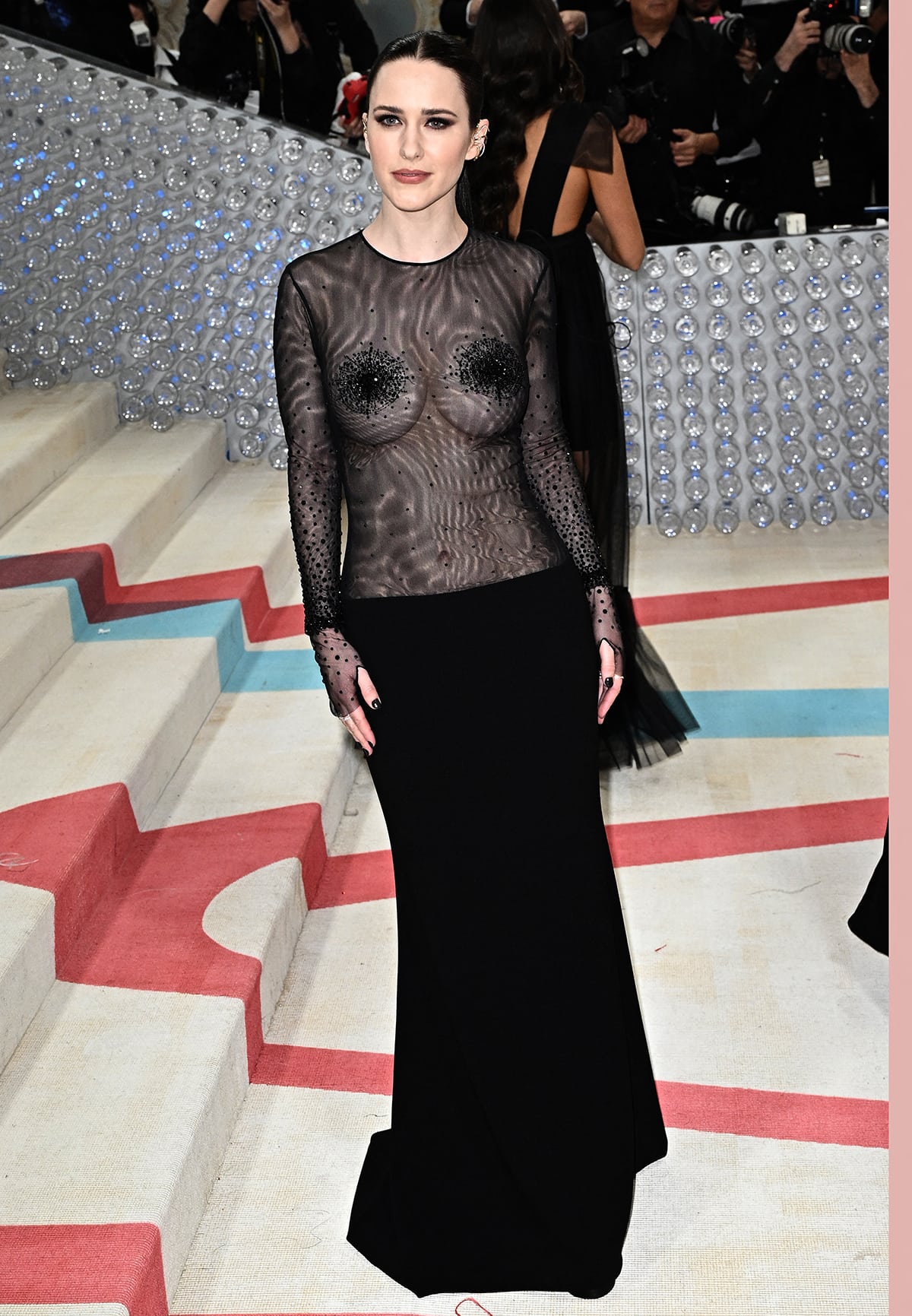 Rachel Brosnahan frees the nipple in a Sergio Hudson black dress with a see-through sheer bodice and a column skirt (Credit: Abaca Press / INSTARimages)
The House of Cards star gracefully walked up the Met steps in one of her most daring looks yet.
She donned a seductive black dress with a see-through sheer bodice and strategically placed black Swarovski crystals that served as nipple pasties, leaving very little to the imagination.
"Sergio has been inspired by Karl for a long time," Rachel told Extra's Adam Glassman on the red carpet.
"He sent some reference images through from a '90s show that Karl did for Chloe, a lot of black mesh. He freed the nipple first, and so we are back in the black mesh, a little bit of Goth glam in honor of the '90s."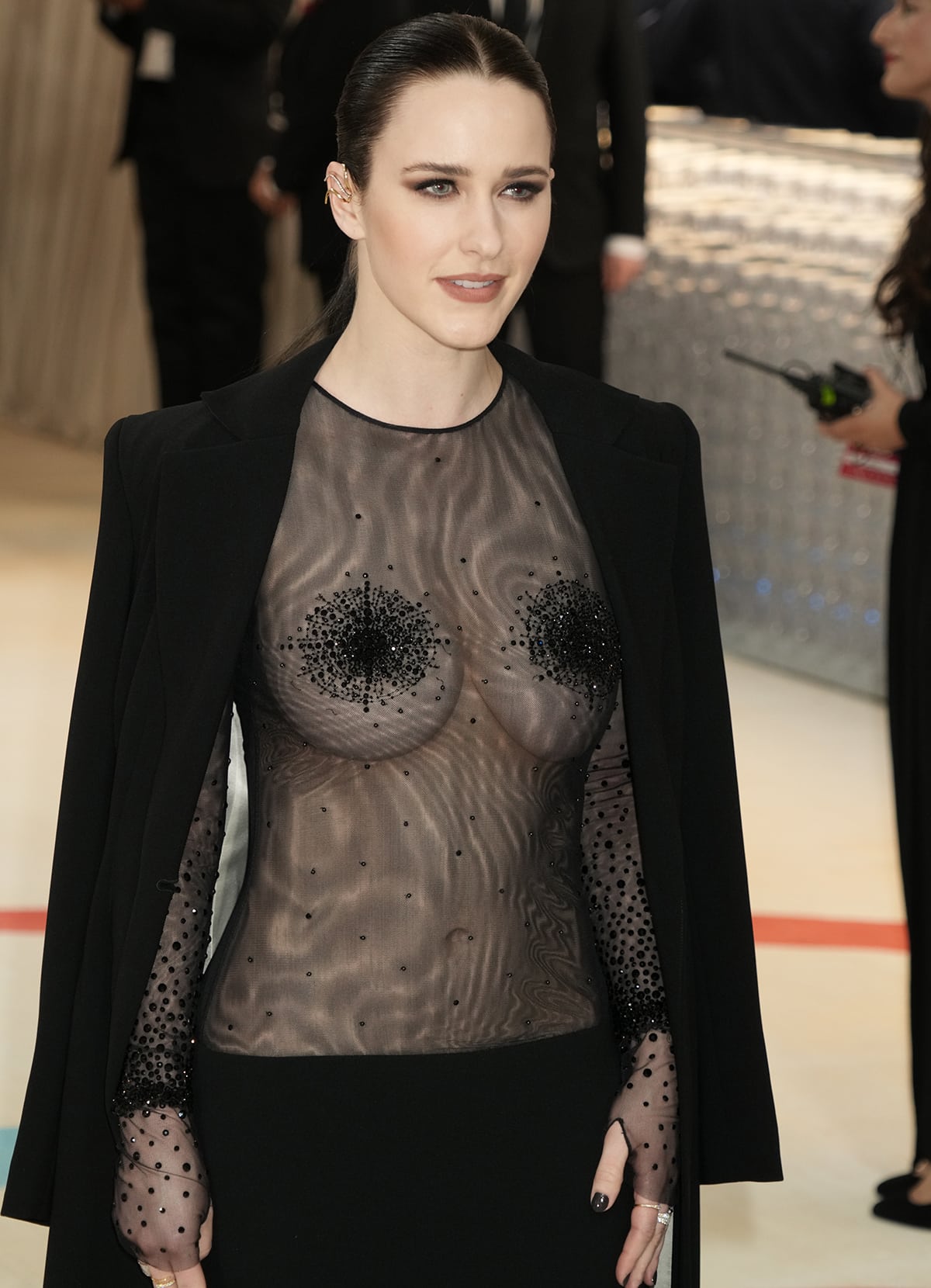 Rachel Brosnahan pairs her revealing sheer dress with a trailing black coat and jewelry by Simon G. (Credit: Jennifer Graylock / INSTARimages)
Featuring scattered Swarovski crystals throughout the sheer sleeves and midsection, built-in fingerless gloves, and a low-rise column skirt, the sultry, gothic gown has the perfect balance of sultry and refined elements.
At one point on the red carpet, Brosnahan elegantly draped a chic trailing black coat over her shoulders for some coverage.
Stylist Mandelkorn gave Rachel's naked look a dash of edge with jewelry from Simon G. She wore a selection of statement rings and ear climbers "inspired by the brilliant light radiating from the rising sun."
Rachel Brosnahan wears her long, dark tresses in a sleek ponytail and highlights her eyes with smoked-out eyeshadow and fake lashes (Credit: Abaca Press / INSTARimages)
Her glam team, composed of hairstylist Owen Gould, makeup artist Lisa Aharon, and nail artist Gina Eppolito, amped up the dramatic goth aesthetic of Brosnahan's look.
She had her long, dark tresses pulled back into a sleek center-parted ponytail using hair products from Better Not Younger.
"For Rachel's Met look, we wanted the hair to be sexy, sleek, and sophisticated," Gould said in a press release shared with Marie Claire. "Her custom Sergio Hudson dress really lent itself to that overall vibe so we decided on a modern take on the classic ponytail."
View this post on Instagram

Meanwhile, her gorgeous features were accentuated using products from Clarins.
Her makeup featured dark, smoked-out winged eyeshadow, eyeliner, and brown lip color. Aharon also brushed Rachel's eyebrows up and added fake long lashes to her eyes for a more dramatic look.
"The custom Sergio Hudson dress was inspired by Karl Lagerfeld's Fall/Winter '92 runway show for Chloe, so the glam was an easy call. It had to be a dark eye, high cheekbones, and a brown lip which was, and still is, a look that I love," Aharon told Marie Claire.
"Lashes can get lost against an intense eye, so a full lash was needed. I used KISS Lash Couture The Muses Collection Supreme for a soft layered finish."
View this post on Instagram