With a deep, low-pitch husky voice as one of her trademark features, Emma Stone never fails to impress us with her elegant style choices. In June 2016, she further cemented her status as a fashion icon when she stepped out for dinner in New York City.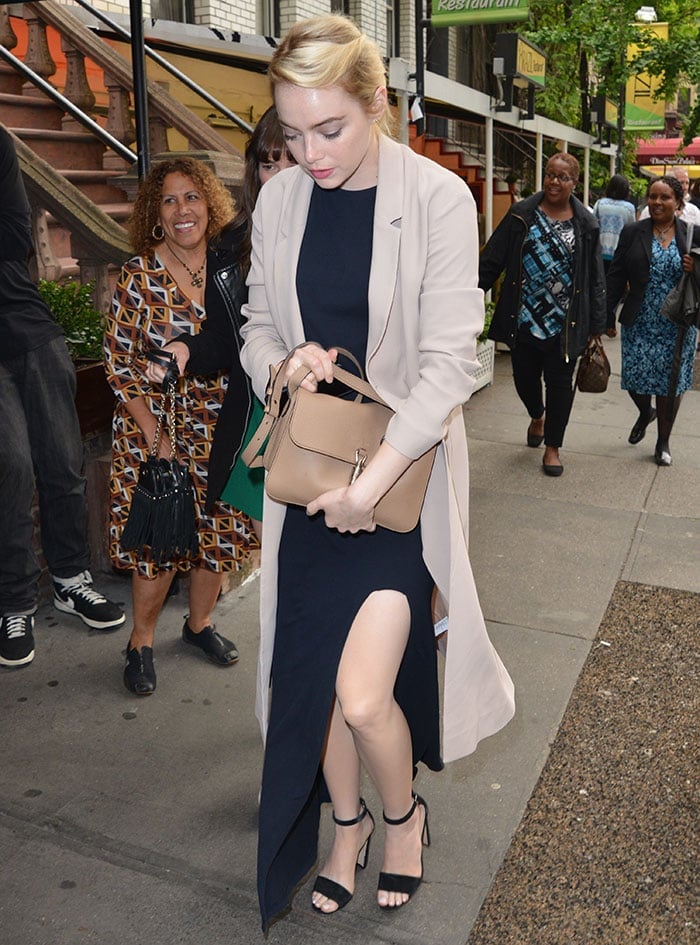 Emma Stone claims she has permanent vocal damage from screaming as a baby
"I smoked when I was four," she joked in an interview about her husky voice in an interview with Now Toronto in 2011. "I was like that baby in those YouTube videos [laughs]. No, I had colic from zero to six months."
"My mom dealt with a screaming baby 24 hours a day for the first six months of my life – I screamed myself hoarse every day and developed nodules as an infant," she added. According to Mayo Clinic, "colic is frequent, prolonged and intense crying or fussiness in a healthy infant."
"So I have calluses on my vocal cords, which makes me lose my voice all the time and makes doing something like screaming in a scene, over and over, really rough, because then I lose my voice for, like, a week. So I'm always trying to be pretty protective of it, but, yeah – I've sounded like this since I was a kid.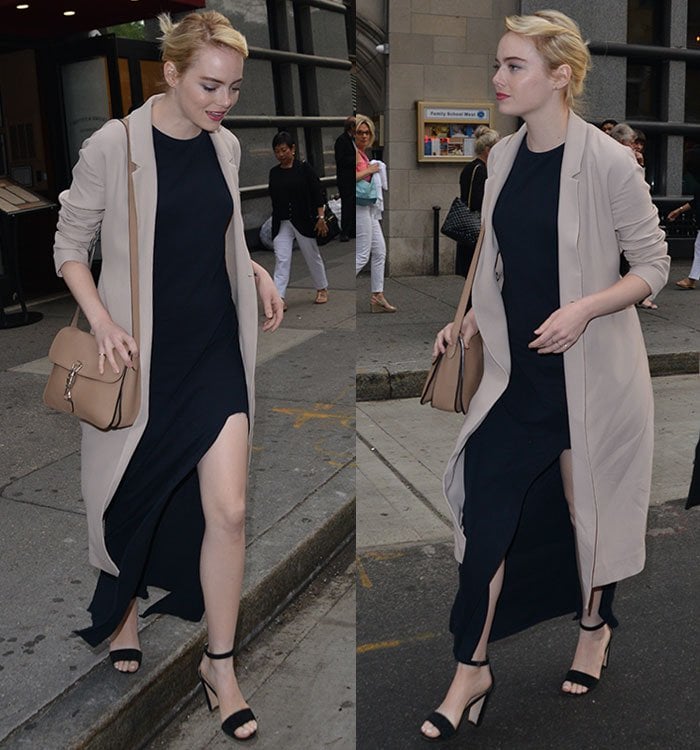 Emma Stone wears a nude trench coat with a navy dress for dinner in New York City on June 3, 2016 (Credit: TNYF / WENN)
"I think it came because I was a colicky baby, but I don't know that for a fact. That's just what I attribute it to. Nobody's ever really said I was getting a part because of my voice, but it's the only one I've got so I'm sticking with it!" she revealed about her trademark husky voice in an interview with The Mirror.
"Emma was completely awkward and dorky, with her raspy voice," director Tate Taylor told EW about casting Emma Stone as Eugenia "Skeeter" Phelan in the 2011 period drama film The Help, "and she sat down and we got a little intoxicated and had a blast, and I just thought, 'God! God! This is Skeeter."'
Emma Stone says her low-pitched husky voice is a result of having baby colic (Credit: TNYF / WENN)
The House Bunny actress looked classy, as usual, in an ankle-length navy dress, which featured a thigh-high split. She showed just the right amount of leg and kept the rest of her look modest by layering a nude trench coat over the unfussy but chic frock.
Emma accessorized the minimalist look with simple gold jewelry, a Gucci purse in beige leather, and a pair of black Manolo Blahnik sandals.
Her blonde locks were styled in a chic updo and her makeup was kept minimal, with soft blush, eyeshadow, and a swipe of pink lipstick.
Called "Lauratopri," Emma's sandals feature adjustable ankle straps, wide toe bands, and about four-inch curved heels.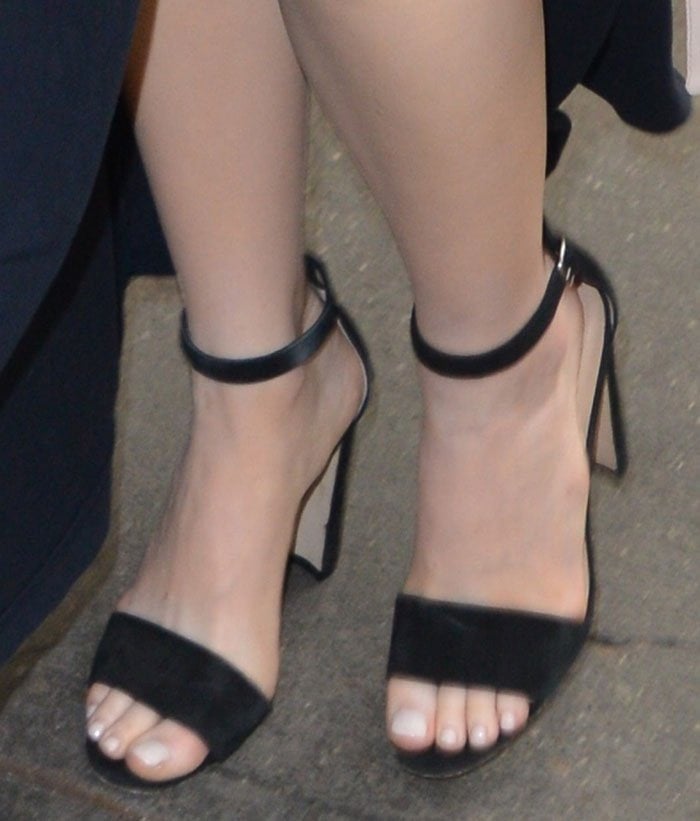 Emma Stone shows off her feet in Manolo Blahnik sandals (Credit: TNYF / WENN)
You can get these Manolo Blahnik sandals in different colorways at Nordstrom, Farfetch, and Saks Fifth Avenue. We spotted Kirsten Dunst wearing the same style earlier this year.
Manolo Blahnik Lauratopri Ankle-Strap Sandals, $446.98-$745