It's no secret that Reese Witherspoon shares a tight friendship with comedian/actress Mindy Kaling. In fact, the two are good enough friends that Mindy even gave Reese a shoutout in her newly-released book.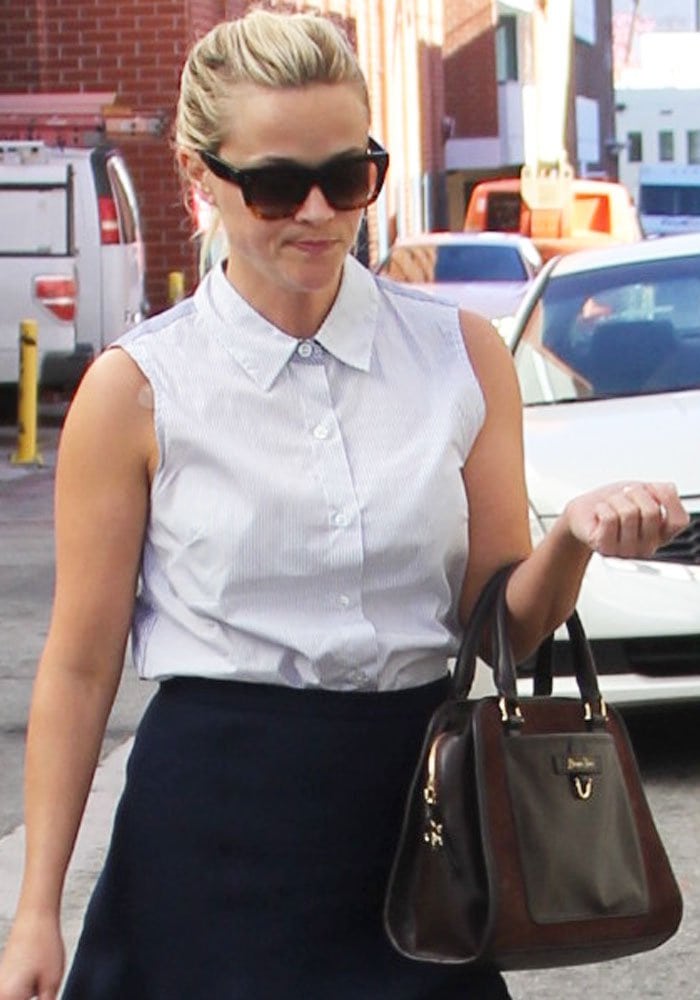 Reese Witherspoon goes shopping in Beverly Hills on September 28, 2015
Reese was recently photographed hopping from building to building in Beverly Hills, eventually ending up with Mindy's latest book "Why Not Me?" in her arms. You can buy the bestselling collection of essays at Amazon.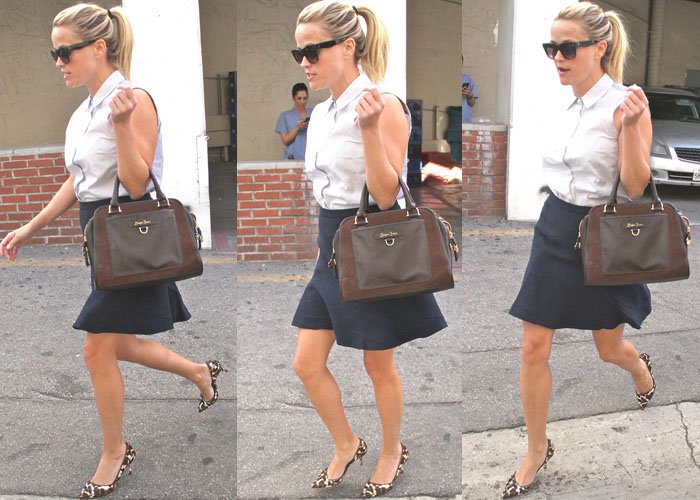 Reese Witherspoon runs errands in a collared top and a navy blue skirt
In her book, Mindy wrote about an interaction she once had with Reese. Ava Phillippe's mother once told her not to frown, and then said nobody wants to see the two of them frowning in photos.
"About a year ago, I had lunch with Reese Witherspoon in Brentwood," she writes in her memoir.
"When we walked out to the car, a couple of photographers were waiting to take her photo. She whispered to me, 'Smile.' 'Why?' I asked. 'We're just walking out to our cars.' Reese responded 'No one who sees a photograph of us wants to see that we are anything other than totally happy all the time.'"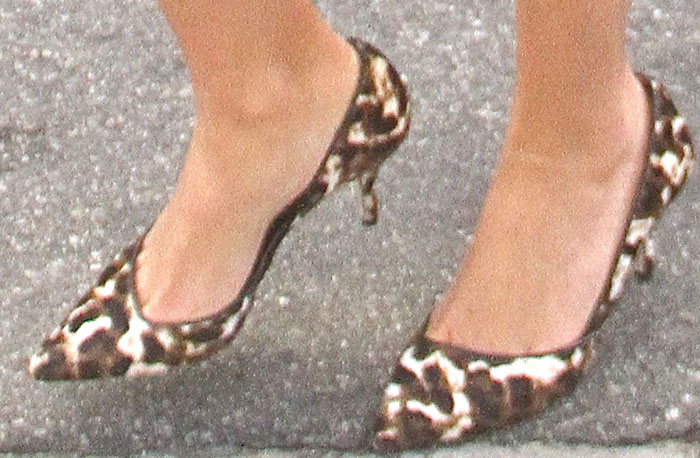 Reese Witherspoon finishes her ensemble with a pair of leopard-print J. Crew heels on her feet
Reese said to consider it part of their "image upkeep." For her book pick-up, Reese wore a collared top with a navy blue skirt, which she paired with a bag from Draper James and Colette leopard kitten heel pumps from J. Crew.
Reese Witherspoon shows off her legs in a polished errand look
Reese Witherspoon's nickname for Mindy Kaling is reportedly Min Diesel.
Mindy Kaling uploads a photo of Reese Witherspoon picking up a copy of her book, "Why Not Me?"
We adore this classic pair of leopard pumps. These d'Orsay kitten heels feature an asymmetrical cut with black piping. They are a great pick for a casual day.
J.Crew Collection Colette Calf Hair d'Orsay Pumps, £378
Credit: WENN