Rihanna shared a photo on Instagram showing her outfit of the day (July 13) — a matching shirt and trousers from the Givenchy men's spring 2013 collection. She was pictured alongside her best friend, Melissa Forde, who donned a cropped top and a pair of skinny jeans.
While Melissa's outfit looks more wearable than Rihanna's, we love the heels that RiRi styled with her outfit.
Rihanna and Melissa Forde on July 13, 2013
Two days after Rihanna posted this photo, we saw her in the very same heels while leaving her London hotel for a performance in Manchester. She donned an all-white ensemble with touches of gold accessories.
Rihanna leaving her hotel in London on July 15, 2013
Which look do you like more?
It's not the first time we've seen a celebrity in these sandals. We've previously spotted them in black on Khloe Kardashian and Iggy Azalea. Miley Cyrus sported the white version just one month ago.
They're made of white leather and feature buckled ankle straps and two front straps that are embellished with gold-tone signature Medusa studs.
Unfortunately, the very elegant white-and-gold combination is no longer available. However, you can find other color variations at Shopbop.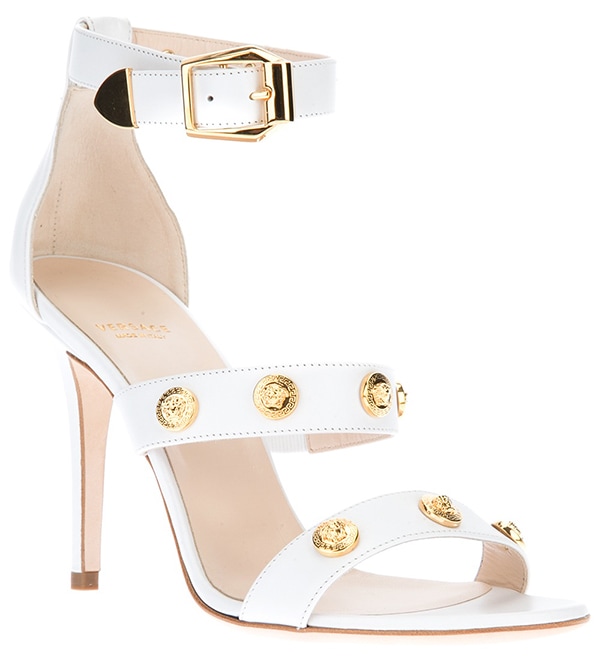 Versace Medusa Strappy Sandal in White, $718
Versace Medusa Strappy Sandals in Black, $795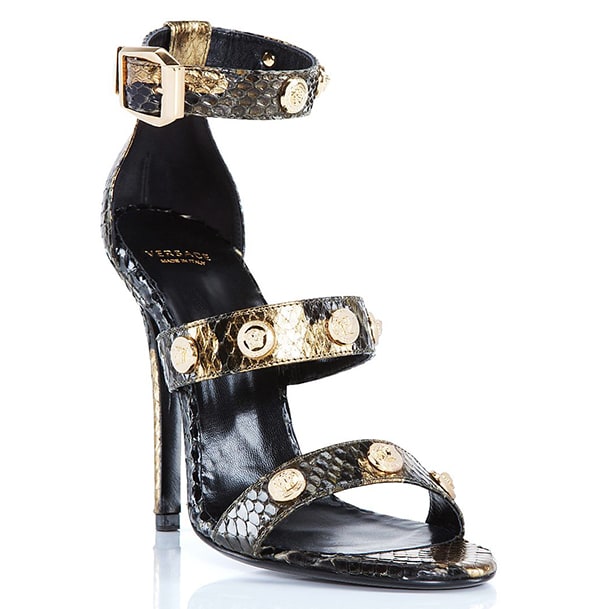 Versace Medusa Strappy Sandals in Python, £740
Credit: Rihanna's Instagram/Will Alexander/WENN