If you're anything like us, you simply cannot resist a good deal, especially when it comes to clothes. We bargain shoppers of the world know that there are few better places to snag a cute, trendy outfit for a low price than Ross Dress for Less—discounts are in the name, after all!
Walking into Ross Dress For Less is like walking into a different world. The color scheme reminds you of Walmart ten years ago (before it was rebranded).
The racks are either nearly bare or so full that they make it difficult to walk through the aisles, and every customer seems to have a crazed look in their eye…
Ross Dress for Less is an American chain of discount department stores headquartered in Dublin, California (Credit: Michael Berlfein / Shutterstock)
Shopping at Ross Dress For Less is a weird and often tiring experience, but man, they sure do have some great deals. Here's everything you need to know (or don't need to know) about Ross Dress For Less.
Ross Dress For Less was first launched in 1950, but it wasn't the store we know today
Ross Dress For Less began as a simple venture called Ross Department Store (named after its founder, Morris Ross) in San Bruno, California.
The store changed hands in 1958, and then-owner William Isackson opened six more stores under the same name across the San Francisco Bay area.
In 1982, a group of investors purchased these six department stores and turned the Ross Department Stores into the sales goliath we know today: Ross Dress For Less.
Ross Dress for Less sells overstocked shoes and unpopular shoe sizes for cheap (Credit: ZikG / Shutterstock)
This discount, off-price department store model was a huge hit for consumers. More Ross Dress For Less stores started opening like wildfire, and the chain went public with an IPO in 1985, just three years after its acquisition.
Now, Ross Dress For Less stores are scattered all over the country, offering customers the deals they crave.
Ross Dress For Less is cheap due to the way it sources its inventory
If you haven't already noticed, Ross sells clothes (and other types of items) for far cheaper than large department stores like Macy's or Dillards.
This is because Ross Dress For Less is considered an off-price department store. This is a popular model with shoppers, as Ross has many competitors, such as TJ Maxx, Marshalls, Saks Off 5th, Burlington, DSW, and Nordstrom Rack.
The business model of an off-price department store is simple: to sell designer brands at prices that are far cheaper than regular department stores.
Off-price retailers Ross Dress For Less and TJ Maxx are competitors and are not part of the same group (Credit: Kristi Blokhin / Shutterstock)
Typically, off-price department stores like Ross Dress For Less will buy overstock or unsold merchandise from larger, full-price designers.
Since this is excess inventory or items that simply haven't sold, Ross Dress For Less is able to purchase them for a fraction of the price. Then, they can offer this wholesale merchandise to customers at a severely discounted price.
In addition, Ross Dress For Less is also able to purchase designer items that have small defects or irregularities, making them worthless to large, full-price department stores. This is one of the reasons why some of the merchandise at Ross looks like it has seen better days.
Ross Dress For Less keeps prices low by cutting costs
As it turns out, there is a reason why Ross looks like an ugly mess every time you walk in. In addition to purchasing merchandise for wholesale prices, Ross Dress For Less cuts expenses in a few different ways.
First, Ross doesn't spend any money on decor—save for the company's usual bland, blue branding—and keeps the store bare bones. As a result, customers are just paying for the merchandise, not an added cost for store ambiance. Perhaps that is why Anthropologie is so expensive.
Ross Dress for Less is known for paying its employees rather well and normally pays more than the minimum wage (Credit: Colleen Michaels / Shutterstock)
Second, Ross Dress For Less doesn't hire that many employees, or at least, that's how it seems to us. During any trip to Ross, you'll be lucky to spot more than three employees, and two of them are usually swamped at the registers.
One would think that Ross would cut costs when it comes to employee pay, but according to employee reports, the off-price department store seems to pay rather well for sales associate positions, though stockers make little above minimum wage (depending on the state).
You might not be getting as good of a deal as you think at Ross Dress For Less
Sure, shopping at Ross is far cheaper on your wallet than other shops, but as it turns out, the off-price department store has been sued for employing shady practices.
Every price tag at Ross displays two prices: the "original" retail value of the item and the price Ross is selling it for. This price comparison makes you feel like you're getting the item for a steal!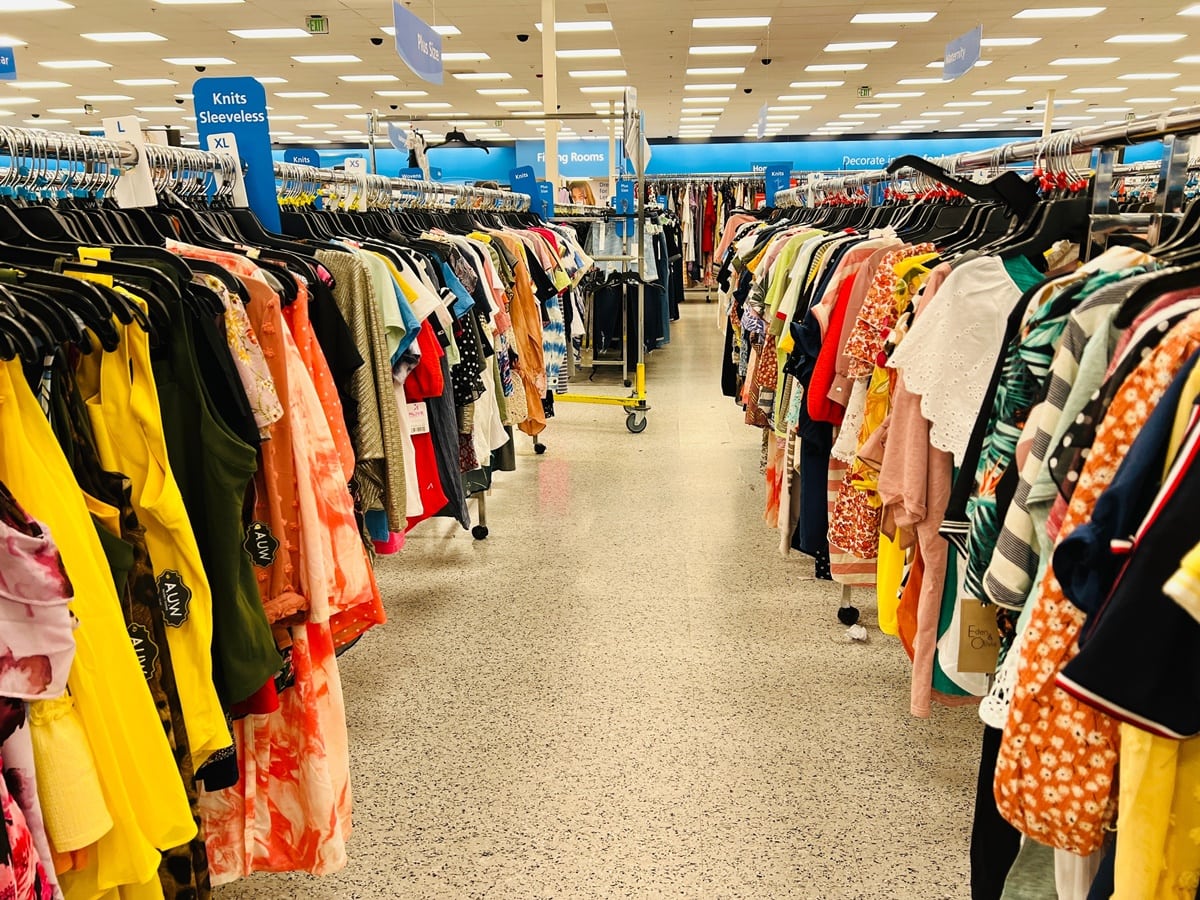 Ross Dress for Less is able to offer steep discounts by keeping their stores simple and buying unwanted merchandise from suppliers (Credit: ZikG / Shutterstock)
In 2015, a number of shoppers filed a lawsuit against Ross Stores, alleging that the "original" retail value was inflated far higher than the actual original price, effectively lying to customers about how discounted the item was. The plaintiffs described the practice as "deceptive" and "misleading"—rightly so—and demanded justice.
Ross Stores spent three years in court, eventually settling for $4.9 million in 2018.
If there's one thing we know about corporate settlements, it's that if a rich company that has a solid legal team actually settles in court, it probably means that they are guilty of doing whatever they were originally sued for.
Ross Dress For Less isn't the only company that has been accused of duping customers in this manner—TJ Maxx, Marshalls, Home Goods, Kohl's, Zara, Amazon, and J.C. Penney have all been criticized or sued for inflating the value of discounted goods.