Rumer Willis turned 35 last week, four months after welcoming her first child with musician Derek Richard Thomas in April.
Marking her first birthday as a new mom, Demi Moore's look-alike daughter shared a selfie of herself breastfeeding her newborn, Louetta.
"This is 35. Ridiculously Sunburnt and Feeding my Lou," she captioned her topless photo, noting that she has "never felt more beautiful" in her entire life.
View this post on Instagram

Recalling her life a year ago, she added, "Last year on my birthday I had just found out I was pregnant with Lou and I was so tired and kinda nauseous and I hadn't really told anyone. So many new sensations and changes going on within me. I was nervous and excited and felt so many tiny little butterflies in my belly and in deep wondering of who this little soul may be."
Rumer shared in her lengthy post that now that she has her daughter in her arms, it feels like "every birthday wish I have ever had has come true ten fold."
"This past year has come with so much growth, so many challenges and fears to overcome but right along side more joy than I could ever imagine. I truly learned what it is to surrender into the deepest core of myself and find a strength and a primal power I didn't know I had," she added.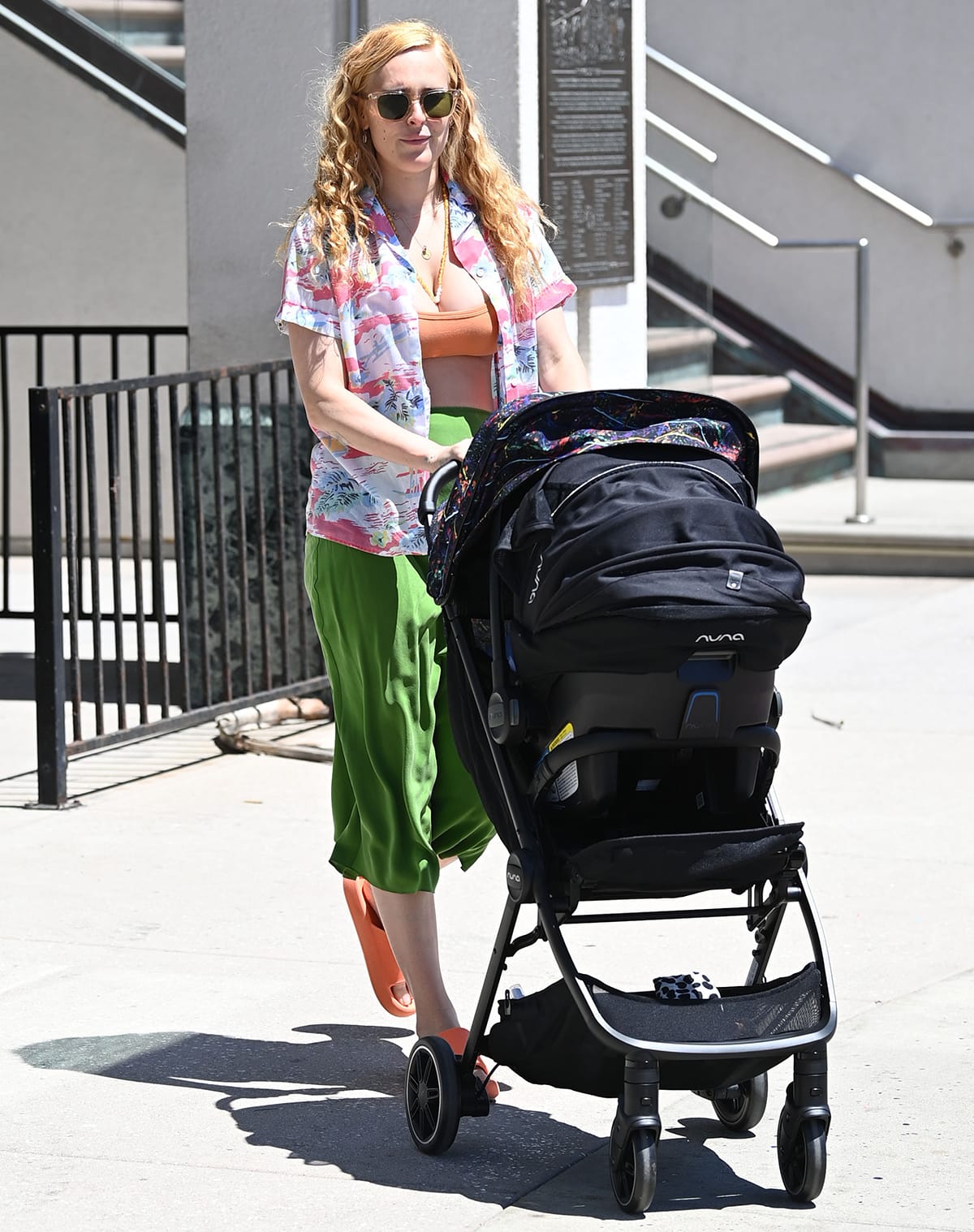 Rumer Willis strolls with her newborn daughter Louetta in an orange bralette, a green midi skirt, and a printed shirt in Huntington Beach on August 4, 2023 (Credit: INSTARimages)
Reflecting on how motherhood has positively changed her life, Willis said she loves "this new version" of herself. "I feel more comfortable in my skin. More confident than I ever imagined," she noted.
Rumer wrapped up her post by sharing her goal for the year ahead, which is "to have the strength and trust to let go of any pattern, any thinking, really ANYTHING that are no longer serving my or my daughters highest good. And surrender into the deepest trust within myself and with the universe that the life I have always dreamed of is unfolding."
Rumer Willis is joined by her sister Tallulah by the beach both clad in breezy summer outfits (Credit: INSTARimages)
In a similar context, Rumer's mom, actress Demi Moore, penned a heartfelt tribute to her daughter on her 35th birthday, describing how Rumer changed her life when she was born.
She shared a few photos of them together, along with the caption, "My life changed the day you were born. You brought a depth, meaning, and purpose to my existence along with an understanding of love that I had never known. Now here you are my baby, with your own baby, bringing even greater meaning, magic, and love into all of our lives."
View this post on Instagram

Prior to celebrating her birthday, Rumer Willis shared with her Instagram followers a naked photo of herself to celebrate her "little softer and rounder and jiggly and different" postpartum body.
"This body of mine made a human from scratch…and she looks and feels a little different now but I am truly in awe everyday when I look at my daughter and see her smile or look at her perfect face and tiny toes and the way her eyes light up when she wakes up in the morning and recognizes my face. She is the love of my life."
View this post on Instagram

Bruce Willis' daughter shared how grateful she is for her body's transformation, noting how her "bigger and perhaps ever so drifting downward" breasts can feed and nourish her daughter and her "softer and rounder" hips and stomach can cradle her in "safety, warmth, and love."
Although unsure of what shape her body might end up in, she added that she is "just grateful for all that it did and continues to do."
Rumer Willis steps out with her daughter Louetta in Beverly Hills on August 13, 2023 (Credit: INSTARimages)
Just recently, Rumer revealed to People how she came up with her newborn's name, admitting it was inspired by a typographical error.
She and her partner Derek Thomas initially thought of the name "Loretta" but while they were exchanging text messages, Thomas "left the 'R' out of Loretta, and it was just Louetta."
"I was like, 'Oh, I love that!' I feel like it was one of those kind of divine intervention universe moments, and we figured it out actually quite early in my pregnancy," Willis said.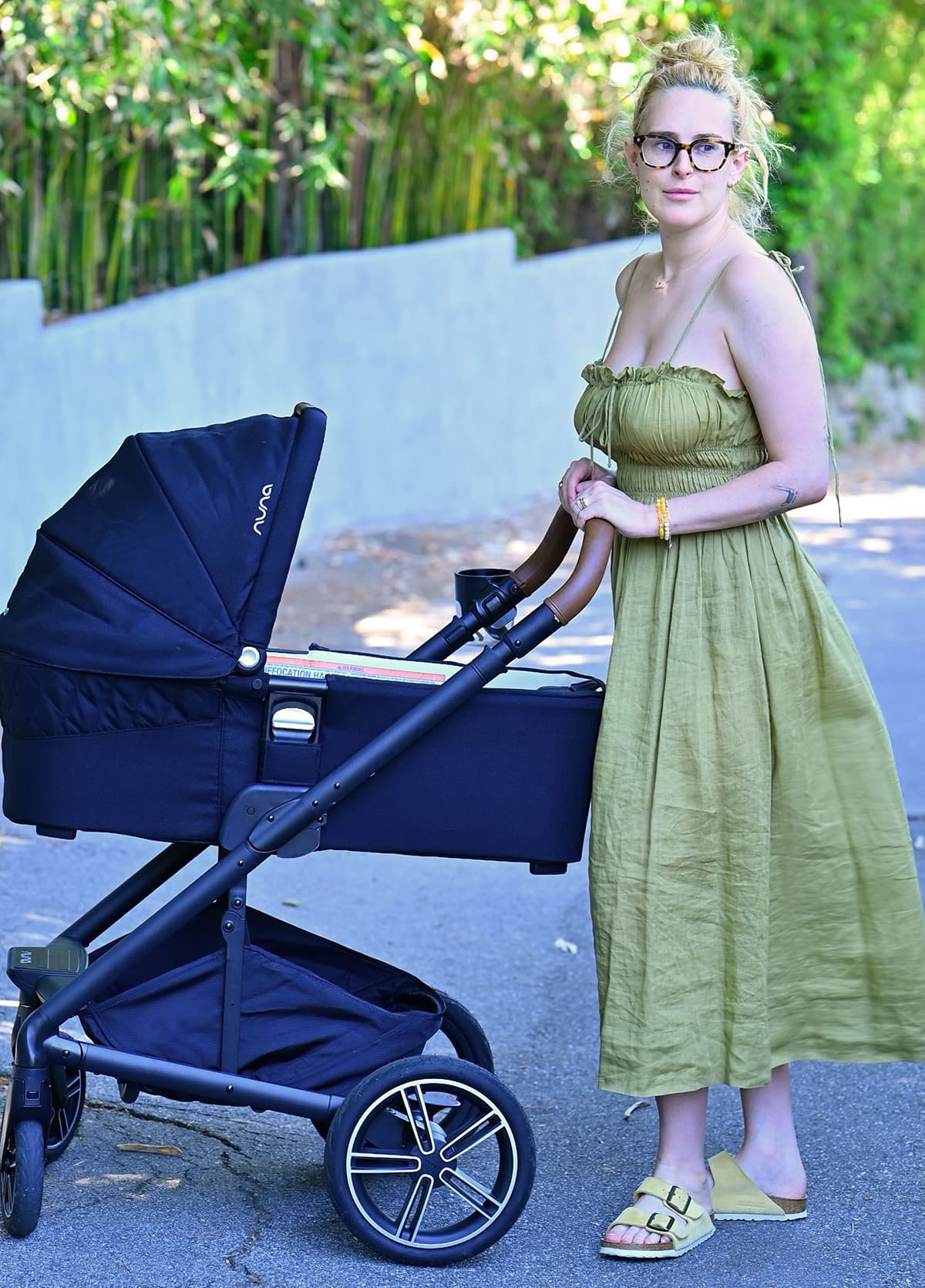 Rumer Willis opts for comfort in a summery green midi dress with yellow Birkenstock sandals (Credit: INSTARimages)
Although they got the name early on, Rumer, who embraced her mom's unmedicated childbirth approach, admitted having reservations about it.
"What was scary was, I love this name, but oh man, is it going to be her name? Is it the right name? What if she comes out and doesn't look like this?"
She continued, "I fell in love with the name so much, so early on, that I was then worried that it wouldn't work. But then she came out, and I mean, to me, at least right now, I was going to name her Lou, whether she was a boy or a girl."
Willis also liked the "versatility" of the name, adding that "If she [Louetta] doesn't feel like a Louetta, she can go by Lou, she can go by Etta. She can go change it up throughout her life. Whatever she wants."