Selena Gomez vowed to never become a meme again after her relatable reactions during the 2023 MTV Video Music Awards went viral on social media on Tuesday.
Sharing her genuine feelings about her viral moment, Gomez wrote on her Instagram story, "I will never be a meme again. I'd rather sit still than be dragged for being myself. Much love."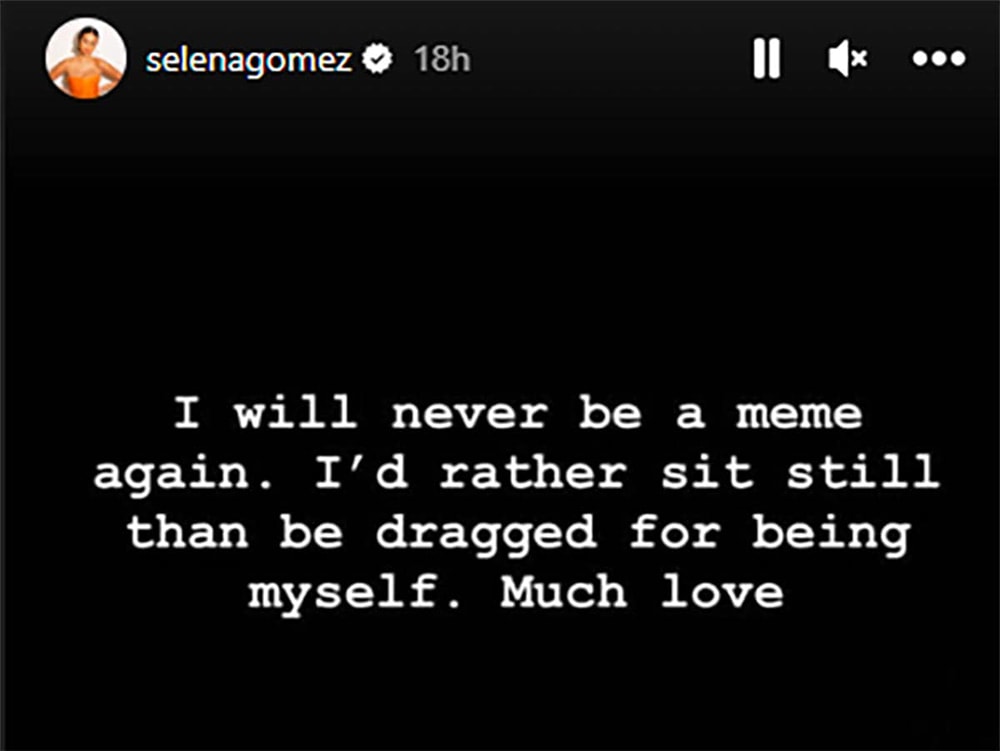 Selena Gomez vows to never become a meme again after her relatable reactions during the 2023 VMAs went viral on social media (Credit: @selenagomez / Instagram)
Selena Gomez's Reactions to Chris Brown's Nomination and Sza's Absence
While it was unclear whether she was serious or not, Selena Gomez indeed became the subject of a meme that evening, particularly when she was captured scrunching up her face in disapproval upon hearing Chris Brown's name as one of the nominees in the Best R&B category.
At the 2023 VMAs, Selena Gomez, seated front row alongside collaborator Rema, visibly reacted when Chris Brown's nomination in the Best R&B category was announced. Caught on camera, Gomez scrunched her nose and paused her applause. #VMAReactions #SelenaGomez https://t.co/70yfqOVgo0

— Your Next Shoes (@yournextshoes) September 17, 2023
Brown, known for his controversial reputation and long history of violence against women, was nominated alongside Chloe Bailey for their collab song How Does It Feel.
Gomez's expression changed when it was revealed that SZA had won the Moon Person trophy for the said category with her song "Shirt." She was ecstatic, throwing her hands up and mouthing "yes," but her excitement quickly turned into disappointment when Sza was not present to collect her award.
At the 2023 VMAs, Selena Gomez's joy was palpable when SZA clinched Best R&B for "Shirt." Caught on camera, she excitedly scanned the crowd, mouthing "Where is she?" Her enthusiasm dimmed upon learning SZA wasn't present to receive the honor. #VMAMoments #SelenaGomezSupportsSZA https://t.co/gRvz24P57d

— Your Next Shoes (@yournextshoes) September 17, 2023
Selena Gomez Covers Her Ear During Olivia Rodrigo's VMAs Set
During Olivia Rodrigo's mash-up performance of Vampire and Get Him Back, in which she pretended to have a stage malfunction, Selena was caught on camera seemingly confused while covering her ear.
During Rodrigo's VMAs performance of "Vampire," a snapshot of Selena Gomez covering her ears made rounds, thanks to Buzzfeed Celeb. The narrative? Speculation about why Gomez seemed to do so during Rodrigo's act. But Gomez, ever candid, quickly clarified, commenting, "I heard a… https://t.co/roxwY7tVbm

— Your Next Shoes (@yournextshoes) September 17, 2023
Social media users quickly accused Gomez of subtly throwing shade at Rodrigo, claiming she was trying to block out the 19-year-old's singing. Others defended the Same Old Love singer, saying she was merely reacting to the planned set collapse.
Gomez immediately dispelled rumors, writing, "I heard a loud noise and it scared me," under a BuzzFeed Celeb Instagram post.
Selena Gomez clarifies viral reaction to Olivia Rodrigo's VMA performance (Credit: @buzzfeedceleb / Instagram)
Selena Gomez Takes Home Best Afrobeats Award in Oscar de la Renta Dress
Elsewhere during the awards ceremony, Selena Gomez and Nigerian rapper Rema took to the stage to receive their Moon Person trophy for Best Afrobeats for their collaboration Calm Down.
Rema first released the song in February, and the remix featuring Selena followed in August, hitting number one on both the Billboard US Afrobeats Songs and the Billboard Global Excl. US charts.
Calm Down remix was also up for Song of the Year, which went to Taylor Swift's Anti-Hero, and Best Collaboration, won by Karol G and Shakira for their song TQG.
Rema and Selena Gomez take to the stage to receive their Moon Person trophy for Best Afrobeats at the 2023 Video Music Awards on September 12, 2023 (Credit: PA Images / INSTARimages)
Making a bold entrance at New Jersey's Prudential Center, Selena Gomez embraced the cutout trend in a bespoke red dress by Oscar de la Renta.
The ethereal creation clung flawlessly to her curves, with intricate floral cutwork covered in dazzling red beads. Beneath the hand-beaded gown was a skin-tone underlay, providing a semi-sheer peek-a-boo look.
The Wizards of Waverly Place actress offered an eyeful of her cleavage in the breathtaking design with a plunging sweetheart neckline and a beaded halter neck strap. It was fitted around the hips and flowed into a floral tendril skirt with a daring thigh-high slit.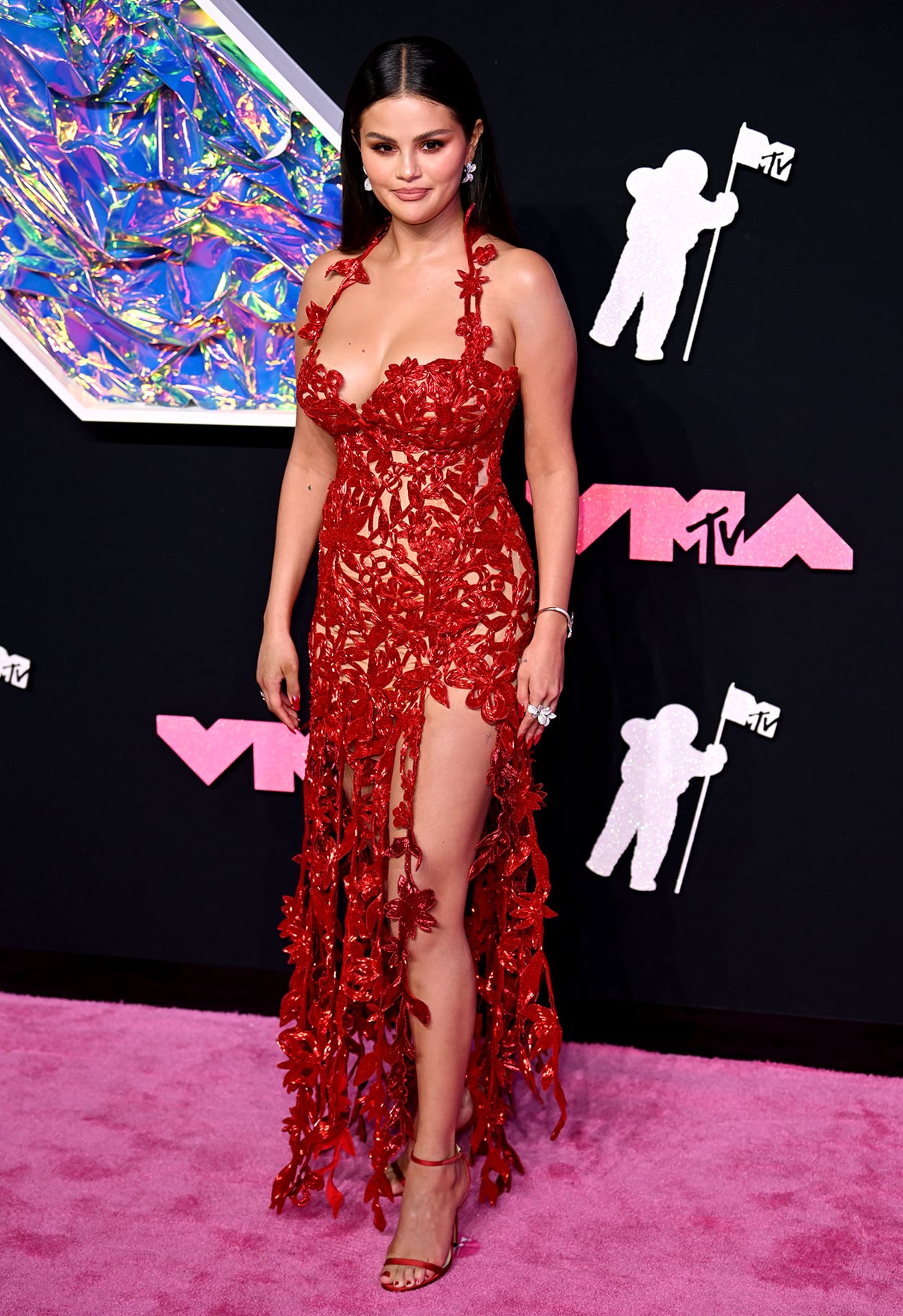 Selena Gomez steals the show in a bespoke Oscar de la Renta gown, created with floral cutwork and dazzling red beads (Credit: PA Images / INSTARimages)
The Only Murders in the Building actress worked with celebrity stylist Erin Walsh to select her look for the evening. Walsh counts superstars Anne Hathaway, Jessica Alba, and Lucy Hale as some of her clients.
She paired the exquisite gown with red satin Jimmy Choo "Minny" sandals and a matching red silk Roger Vivier clutch bag for a monochromatic finish.
A set of petal-shaped diamond jewelry from Pasquale Bruni's Giardini Segreti collection further elevated Selena's look. She wore a pair of $42,700 diamond floral earrings in 18k white gold, a $32,000 bracelet, a $4,950 petite ring, and a $36,800 double ring.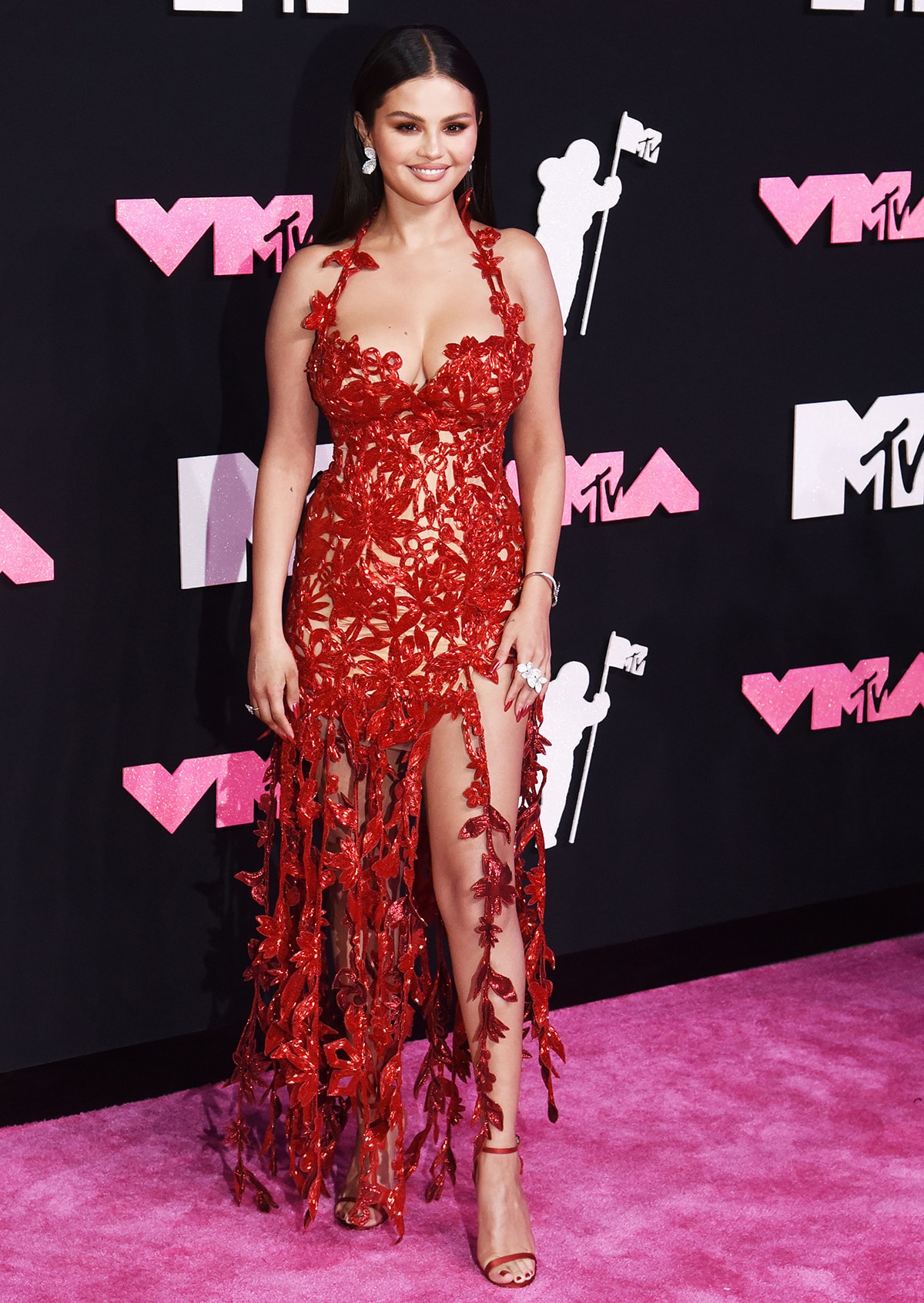 Selena Gomez flashes her ample cleavage and shapely legs in the exquisite red gown with red Jimmy Choo heels and Pasquale Bruni jewelry (Credit: Darla Khazei / INSTARimages)
Her glam team allowed her magnificent gown to shine by keeping her beauty look minimal.
Makeup artist Hung Vanngo strayed away from red and chose a neutral makeup palette from Selena's Rare Beauty line. He accentuated her eyes with smokey bronze eyeshadow, mascara, and full lashes before adding a sweep of peachy blush on her cheeks and a swipe of creamy nude lipstick on her lips.
Tom Bachik gave her glazed red nails while Anh Co Tran straightened her locks, parted in the middle and tucked behind her ears.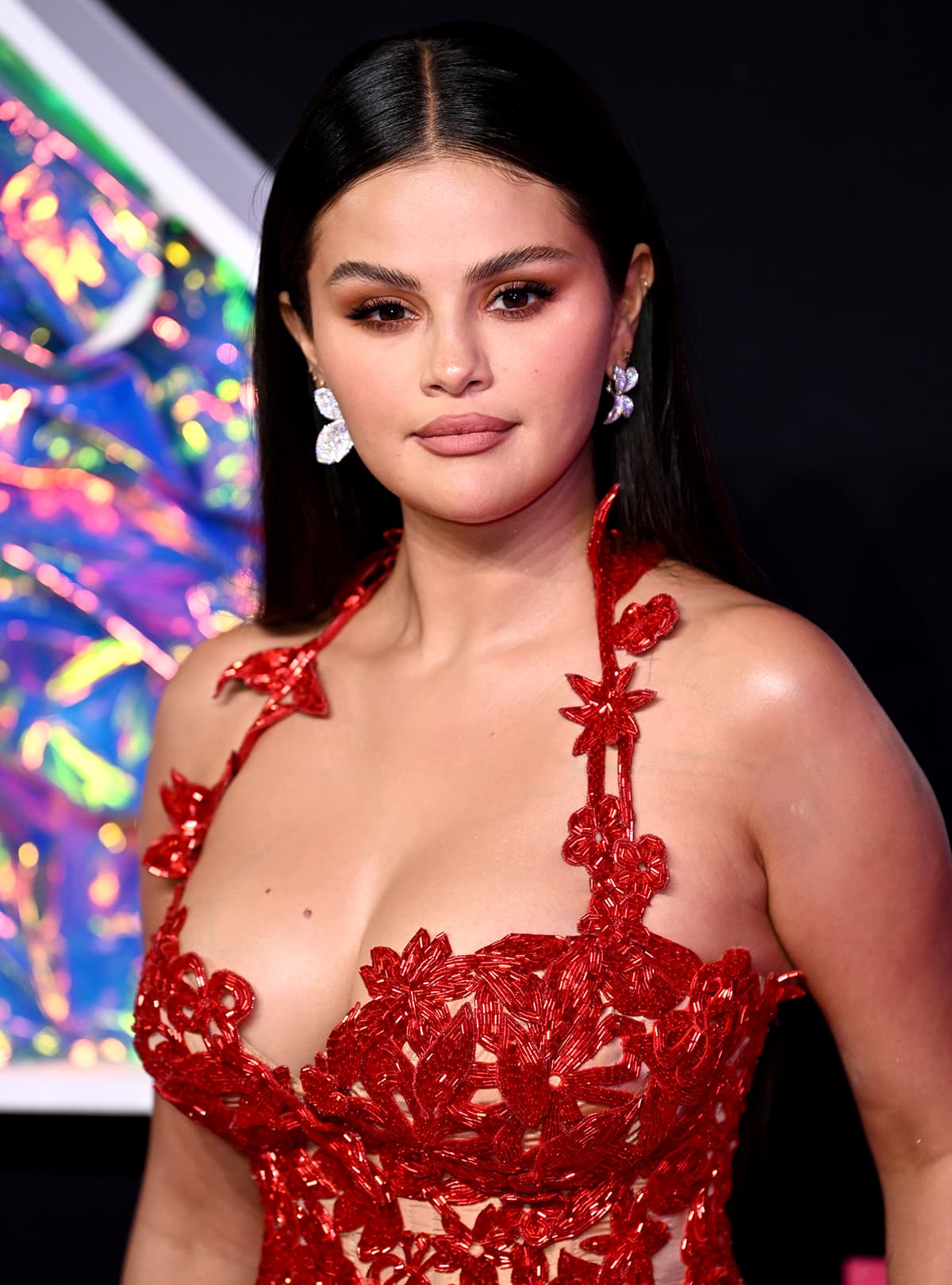 Selena Gomez wears neutral makeup with bronze eyeshadow and nude lipstick and styles her tresses straight and tucked behind her ears (Credit: PA Images / INSTARimages)
Selena Gomez on Taking a Break from Social Media
She's the most-followed woman, actress, and singer on Instagram, with over 429 million followers. But now and then, Selena Gomez still feels the need to disconnect from social media.
"I say that because that's a huge, significant part of why I feel like I've been as healthy as I have been," Gomez told WWD's Beauty Inc in 2021.
"I'm completely unaware of actually what's going on in pop culture, and that makes me really happy. And maybe that doesn't make everybody else happy, but for me, it's really saved my life."

Selena Gomez, the first woman to reach 400 million Instagram followers, is also the most-followed woman, actress, and singer on Instagram (Credit: @selenagomez / Instagram)
"To be honest, I was just, like, 'This is too much information,'" she continued. "This is too much of my personal life spread out everywhere, and it just felt uncontrollable. I felt like my thoughts and everything I was consuming revolved around a million different other people in the world saying good things and bad things. And I just thought, 'Why would I—I don't get anything from it. Nothing is giving me life.'"
"And I just snapped, and I was over it. I wanted to delete it altogether, but my team was smart enough to convince me not to. But I'm happy I didn't because it is such a wonderful way to stay connected, and when I do go on, it makes me happy to know that I'm just being completely honest and being true to who I am."