Justin Bieber has recently achieved a feat in his career as the only artist to date to have the most top 5 hits on the Billboard Hot 100 in 2020. On Saturday, however, it was his wife, Hailey Bieber, who stole his spotlight with her incredible slender physique.
The 23-year-old model turned heads while leaving a medical building in Los Angeles with her husband, Justin, whom she met for the first time behind the scenes of the TODAY Show on NBC.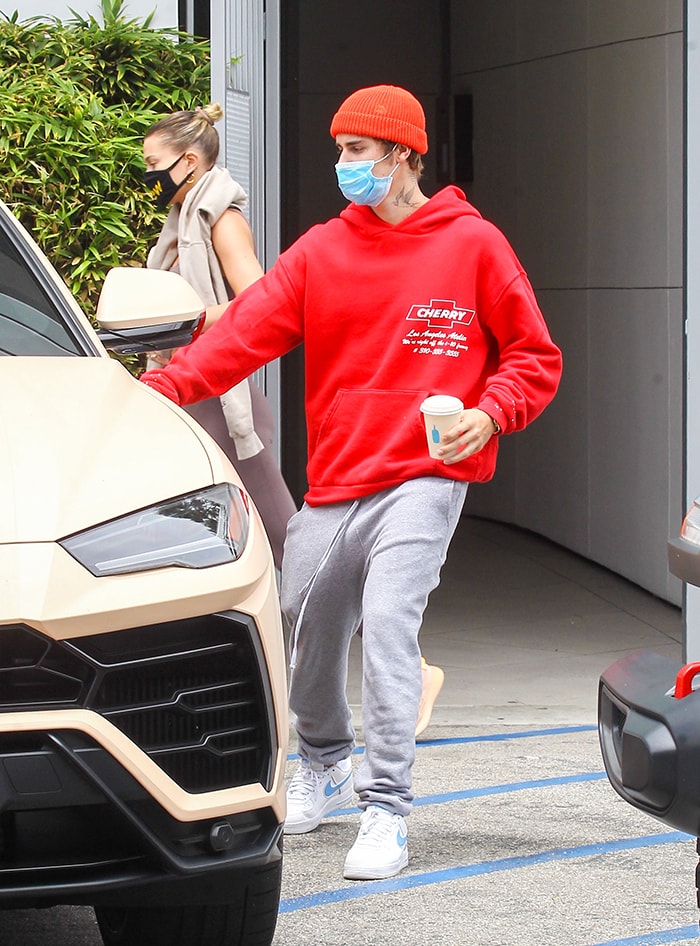 Justin and Hailey Bieber leaving a medical building in Los Angeles on June 20, 2020
Showing off her abs and toned body, Hailey wore a pepper-colored Set Active box-cut bra top and matching leggings. The direct-to-consumer activewear brand was founded by Lindsey Carter in 2018.
She removed her Fear of God crew neck sweatshirt and wrapped it around her neck to give onlookers a nice view of her enviable figure.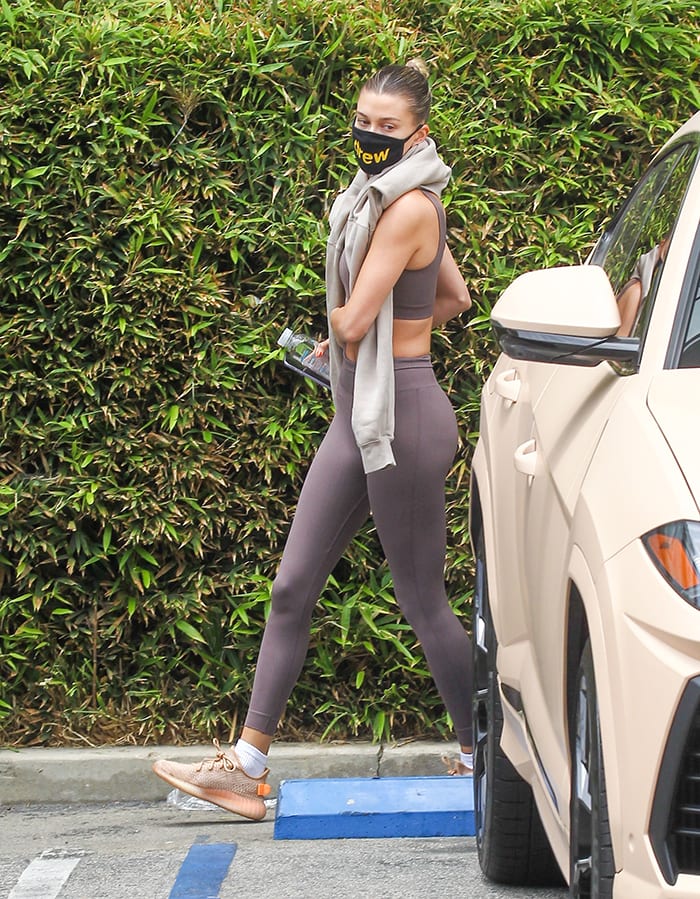 Hailey Bieber shows off her toned physique in Set Active bra top and leggings
Giving her athleisure look a touch of luxe, she accessorized with Anita Ko Meryl hoop earrings and a black face mask from a collaboration between Ello Masks and her husband's streetwear clothing label, Drew House.
Hailey Bieber wears a black face mask from Ello x Drew
Hailey completed her chic athleisure outfit with a pair of Adidas Yeezy Boost 350 V2 sneakers. Her shoes come in Clay colorway, which is available only in North America and is one of the three regional exclusive colorways released in March 2019.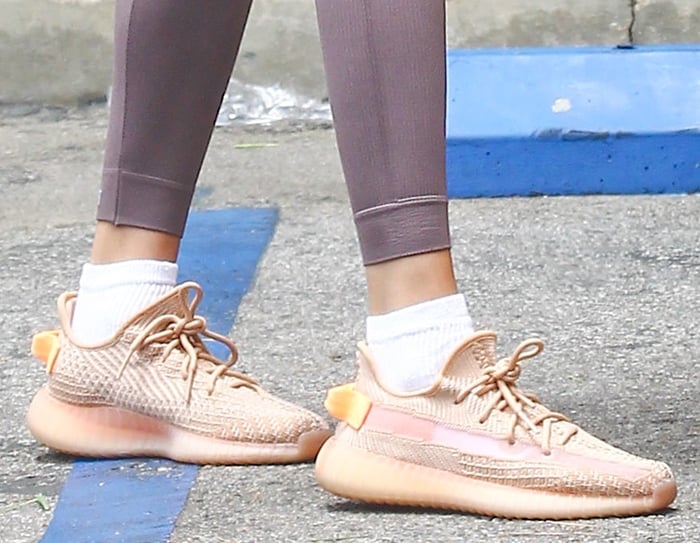 Hailey Bieber completes her athleisure look with Adidas Yeezy sneakers
Adidas Yeezy 350 V2 in Clay, $309 at Farfetch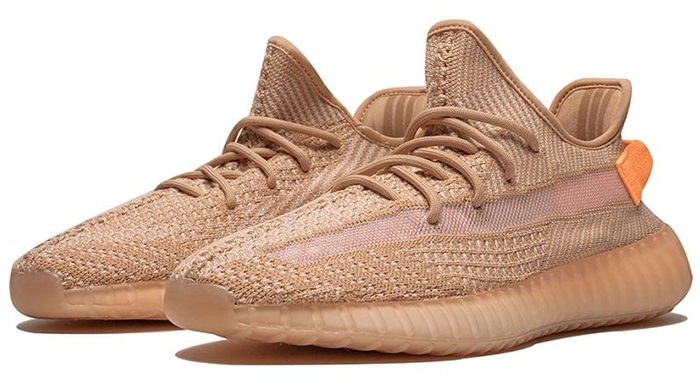 Hailey's husband, Justin, donned a pair of gray sweatpants, a red sweatshirt, a matching beanie, and white Nike sneakers. He was seen holding a cup of coffee, which he earlier bought at Blue Bottle Coffee Company.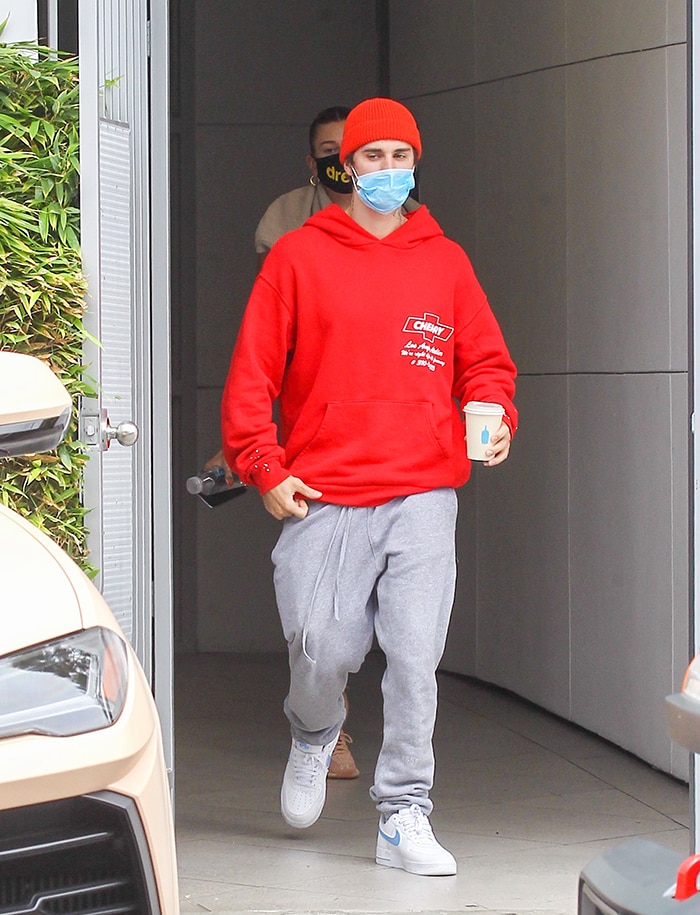 Justin Bieber in gray sweatpants with a red sweatshirt and matching beanie
Two days following their outing, Justin Bieber denied sexual assault allegations against him, saying it was "factually impossible."
A woman named Danielle took to Twitter on Saturday to release a statement about the alleged incident that happened in March 2014 in Austin, Texas. She claimed she met Justin after his surprise performance at SXSW.
"A man then approached me and my friends and asked us if we would like to wait after the show to meet Justin. Of course we said yes. My friends and I thought it was strange at first and sketchy, but as promised, we all waited after the show because we were fans. Justin came up to us, we took some pictures and chatted for about 20 minutes."
She said that Justin took her and her friends to the Four Seasons Hotel, where he allegedly forced himself inside her.
Justin refuted the claims in a series of tweets with pictures and receipts as proof that the accusations never happened. He also said that he has confirmed with the Four Seasons regional manager that he was never on the property on the said date of the incident.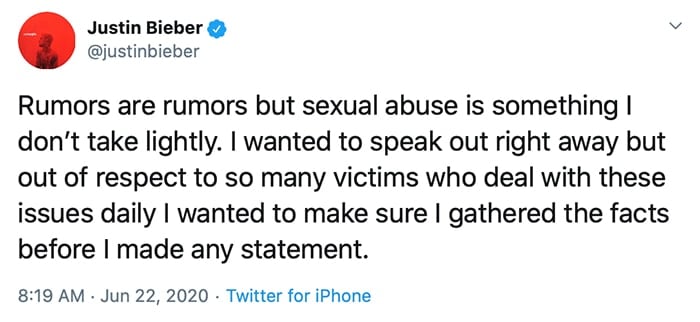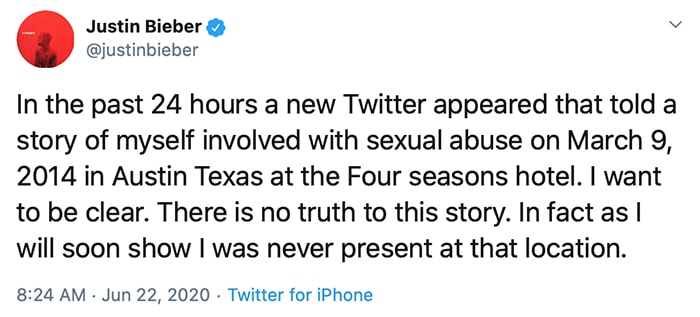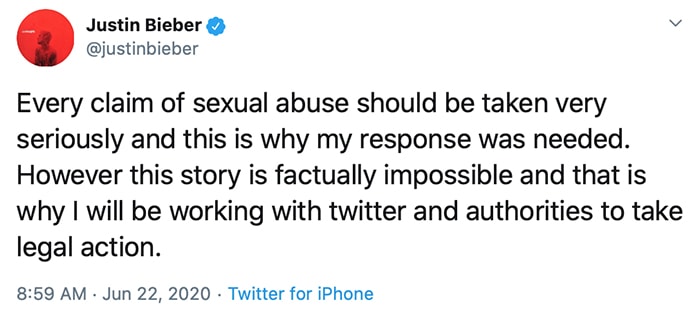 Justin Bieber has denied an allegation of rape made on Twitter by an anonymous account
Credit: Instar / WENN