If you aren't one of the 249 million people that have downloaded Snapchat, then you likely know someone who has!
The image and video messaging app has skyrocketed in popularity since it was first launched in 2011. To most users, the biggest appeal of the app is the ability to send 'snaps' that are only viewable for 1 to 10 seconds, after which they disappear.
Since it first launched, the app is consistently undergoing updates and has become well-known for its selection of creative filters and stickers.
Evan Spiegel of Snapchat attends the Berggruen Prize Gala on December 16, 2019, at The New York Public Library in New York
In fact, Snapchat created many of the features that apps like Facebook, Instagram, and TikTok now use.
Aside from Mark Zuckerberg and Facebook, social media founders usually remain under the radar, which has left many wondering – who owns Snapchat?
Well, if you are familiar with the origin story of Facebook, or have seen the 2010 film The Social Network, then you will notice a few similarities to Snapchat.
The Origin Story of Snapchat
Reggie Brown, a student at Stanford University, was sitting in his dorm room, smoking weed and talking with his fraternity brothers. The boys were discussing the past weekend's events before the conversation moved on to the topic of girls.
Reggie mentioned that he wished he could "send disappearing photos." The friends agreed, and as their conversation moved on – Reggie was fixated on the idea.
The ability to send images confidently, knowing they disappeared, was nothing short of brilliant! He shot up and ran down the hall to find his friend and fellow student, Evan Spiegel.
Reggie burst through Evan's dorm room door and explained his awesome idea. Evan was pumped, saying it was a "million-dollar idea." Evan had always been determined to start the next legendary tech company and instantly knew this was it!
The two agreed they would split the company 50/50. Evan had more experience in this area, so he would be the CEO, and Reggie would be the chief marketing officer.
Snap Inc. Founder Evan Spiegel (L) and Chairman of the Berggruen Institute Nicolas Berggruen attend the Berggruen Prize Gala at the New York Public Library on December 14, 2017, in New York City
There was still a missing piece – neither Evan nor Reggie could code. Evan recruited Bobby Murphy, another student, who was an excellent coder. Their initial efforts began as a website but quickly moved to an app.
Originally, it was named Picaboo, and before exams, they had their first prototype ready. Evan contacted his former frat brothers (he had been kicked out of his fraternity) and asked them to test it out.
Evan imagined the same success as Facebook's launch and pictured it spreading through Stanford like a wildfire, but it didn't catch on that quickly. The three had a few kinks to work out.
In one of Evan's classes, he had to create an app and present the prototype to a panel of venture capitalists. It would account for a third of his grade. He had hoped his classmates, professor, and six venture capitalists would be blown away by his brilliance and all the work that went into creating this app.
Unfortunately, this was not the case, and no one was impressed. In fact, a teacher's assistant took him aside to ask if it was a sexting app.
Evan Spiegel and model Miranda Kerr are one of the most influential power couples in the world
Despite the failure, they believed in the app and persevered. Just months after it launched, Reggie Brown was ousted from the company for reasons that have not been made public.
A couple of years later, Reggie Brown sued Evan Spiegel and Bobby Murphy and was awarded $157.5 million. He has since kept a low profile.
Shortly after Brown was ousted, the app was rebranded from Picaboo to Snapchat. Instead of pitching it as a party app, he described it as a solution to online security.
He said it would allow people to share photos without having to worry about the permanence of it being on the internet. By May 2012, Snapchat had finally caught on, and by November of that year, 20 million photos were being shared every day!
Submitted as evidence in the suit filed by Reggie Brown, the picture shows Reggie Brown (L), Bobby Murphy (C), and Evan Spiegel (R) celebrating the creation of the app that would become Snapchat
The company's user base has continued to grow. Originally Snapchat Inc., it became Snap Inc. as they expanded the business. Evan's company introduced a pair of smart glasses with a built-in camera that could be purchased online.
Snapchat Today
Despite experiencing its share of controversy and growing pains, Snapchat is still one of the top five most downloaded apps. Estimates suggest that Snapchat's stock price will continue to rise.
Tech analysts believe that in 2022, the app will profit $48 million. Despite a number of offers, including an offer from Facebook's Zuckerberg for $3 billion in 2013, Evan Spiegel and Bobby Murphey remain co-owners of Snapchat.
The app will be ten years old next year. An awe-inspiring accomplishment, especially for a couple of college students. Before they had even graduated, they were running a mega-successful social media app. As you can imagine, the net worth of these founders is astounding.
Evan Spiegel Net Worth
Even grew up with a silver spoon. As the son of two Ivy-League lawyers, he grew up in the high-end Pacific Palisades neighborhood of Los Angeles.
On his 16th birthday, he received a brand new Cadillac Escalade, which was presented to him when it was parked outside the gates of his ultra-exclusive private school.
Evan attended Crossroads in Santa Monica, a celebrity school for rich kids with alumni including Gwyneth Paltrow, Jack Black, Kate Hudson, Jonah Hill, and Tinder founder Sean Rad. After graduating from Crossroads, Evan went on to study at Stanford.
Snapchat is an American multimedia messaging app developed by Snap Inc., originally Snapchat Inc
Although he was a few credits short of graduating, his career hasn't suffered — another similarity he shares with Zuckerberg. Evan has served as the CEO of Snap Inc., the parent company of Snapchat since it launched in 2011.
These founders have never struggled for money. Their first headquarters was his dad's large home in Palisades before setting up an office right on the Venice boardwalk. The Snapchat story was never one of financial sacrifice and working out of a garage.
Evan has always surrounded himself with well-known and wealthy people. He was rumored to have dated Taylor Swift after meeting at a party.
This was before he met supermodel and now-wife Miranda Kerr at a Louis Vuitton dinner. In 2016, the two purchased a home together that cost $12 million! That same year, he spent $890,399 on security to follow him at all times.
Evan Spiegel is a French-American entrepreneur who has a net worth of $5 billion
When the company went public in 2017, Evan was given a nice bonus of $800 million! That same year both Spiegel and Murphy donated 13 million shares of stock over the next 15 to 20 years to Snap Foundation. This non-profit focuses on arts, education, and youth in LA.
Since the company has gone public, his salary was reduced to $1, on paper. But based on the company's worth and previous assets, Evan is said to have a net worth of an incredible $5 billion!
Understandably, he has been named the youngest self-made billionaire in the world by Forbes. Evan is now 30 years old and has been a billionaire since his 25th birthday.
Power Couple: Evan Spiegel and Miranda Kerr
Spiegel's income isn't the only one in his household. His wife, Miranda Kerr, is a successful businesswoman with multiple businesses. Kerr still owns a beautiful Malibu cottage and runs a decade old beauty company called Kora Organic.
She has also recently launched a furniture collection. At one of the most notorious Victoria's Secret Angels, model, product ambassador, and businesswoman, she has an estimated net worth of $60 million.
As you can imagine, they are considered one of the world's richest power couples!
Miranda Kerr is a model and the founder and CEO of Kora Organics and her husband Evan Spiegel is the founder and CEO of social-media company Snap
The pair have two children together, Hart and Myles, and she also had her 9-year-old son Flynn with ex-husband Orlando Bloom. Since quarantine, the power-couple has been working from home.
Miranda has described her husband's routine, saying he wakes up at 5:30 am every day, in his office by 6:30 am, where he works until about 7 pm, has something to eat, showers, and goes to bed. He works a lot because he loves what he does.
The pair are quite cozy in their 7,164 square foot home with city views, pool, pool house, home gym, and guest home. Their nanny has moved it to help with the kids while they both work.
With an impending second lockdown, they are comfortable keeping to the same routine they've had for most of the year and working from home.
Their children have big shoes to fill and parents they can be very proud of. Evan has gushed about the love he has for his family, and although he does spend a lot of time working on Snapchat and growing the Snap Inc. empire, he makes a conscious effort to get in that family time.
At only 30 years old and with a net worth of $5 billion, Evan Spiegel is not only one of the youngest and richest men globally, but he is a fascinating person who has remained out of the spotlight. With a long career ahead of him, we can only imagine how much more his wealth will continue to grow.
You wouldn't think a Victoria's Secret Angel would have the same insecurities any normal woman would. However, it seems they do!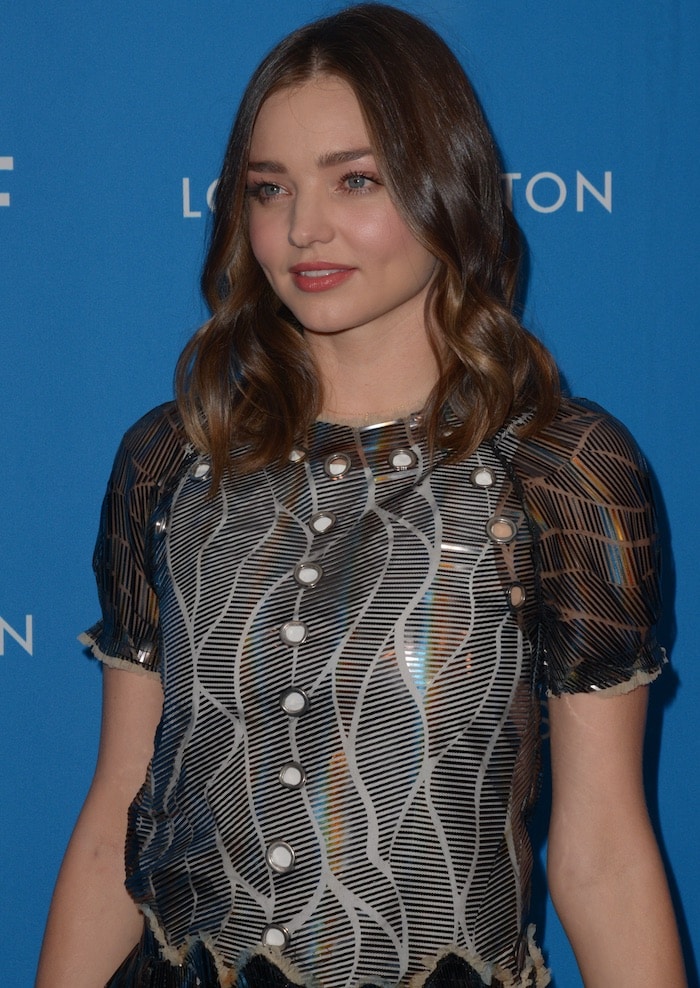 Miranda Kerr wears her hair down at the Sixth Biennial UNICEF Ball Honoring David Beckham and C. L. Max Nikias presented by Louis Vuitton at Regent Beverly Wilshire Hotel on January 12, 2016, in Beverly Hills, California
At least former Victoria's Secret Angel Miranda Kerr does, anyway.
In preparation for the 6th Biennial UNICEF Ball held at the Beverly Wilshire Four Seasons Hotel in January 2016, the model asked her Instagram followers if her booty looked big in the metallic dress she was wearing.
In our opinion, nothing could make her look big — not even that poofy, metallic Louis Vuitton dress. What do you think?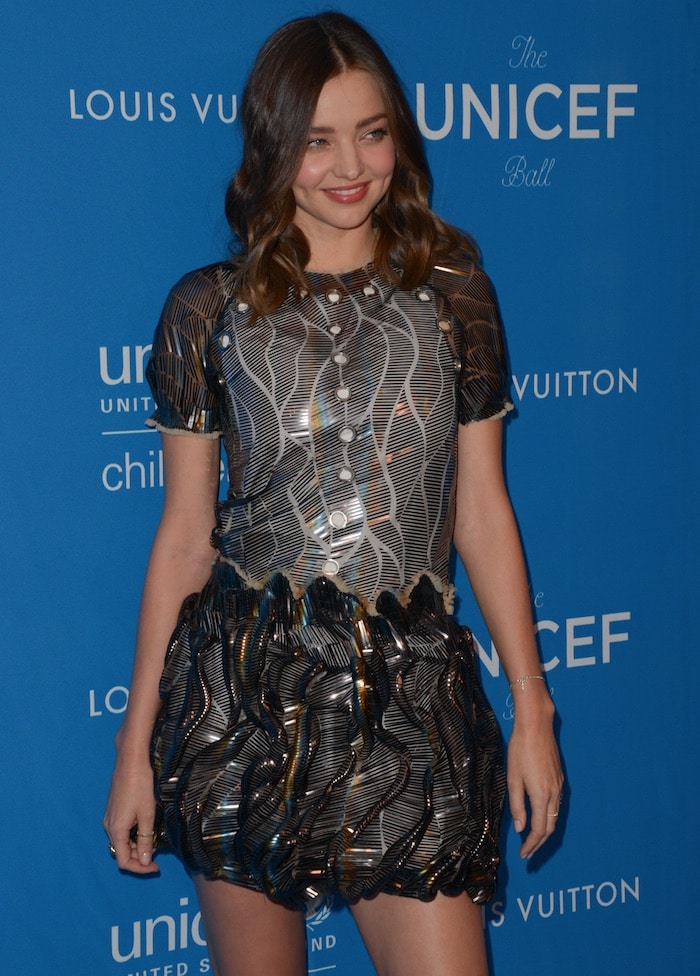 Miranda Kerr wears a poofy metallic Louis Vuitton dress on the red carpet
The then 32-year-old model paired the dress with studded black Louis Vuitton sandals.
Miranda Kerr wears a head-to-toe Louis Vuitton look at the UNICEF Ball
She kept everything else simple, accessorizing with just a thin bracelet and simple earrings.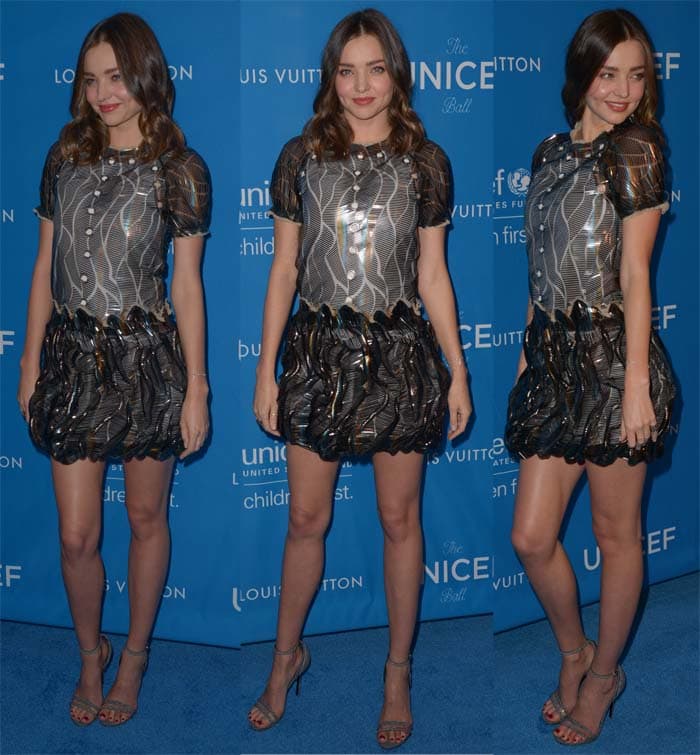 Miranda Kerr shows off her endless legs in a Louis Vuitton dress-and-heels combo
Her legs looked absolutely fantastic in the short dress and high heels!
Miranda Kerr's feet in strappy Louis Vuitton heels
Credit: Charlie Steffens / WENN / Avalon / Patricia Schlein / Adriana M. Barraza