Making her way to rehearsals for Saturday Night Live (SNL), Kim Kardashian left her hotel in New York City on Tuesday. She will be hosting the show for the first time this coming Saturday and Halsey will be the musical guest.
Kim Kardashian is hosting Saturday Night Live on October 9 with Halsey as her musical guest (Credit: MEGA / WENN)
No one quite knows why the Skims founder is hosting the show. "Why Kim Kardashian? I mean, I know she is a cultural icon, but SNL has hosts, generally, who are performers who are there to promote a film, TV show, or album launch," Amerian actress Debra Messing asked on Twitter. "Am I missing something?"
"I just finished the documentary, Love, Gilda and I'm so disappointed SNL is having Kim Kardashian host next week. It's such a f**k you to all women comedians/actors/musicians with actual talent," Stephanie Sidley tweeted.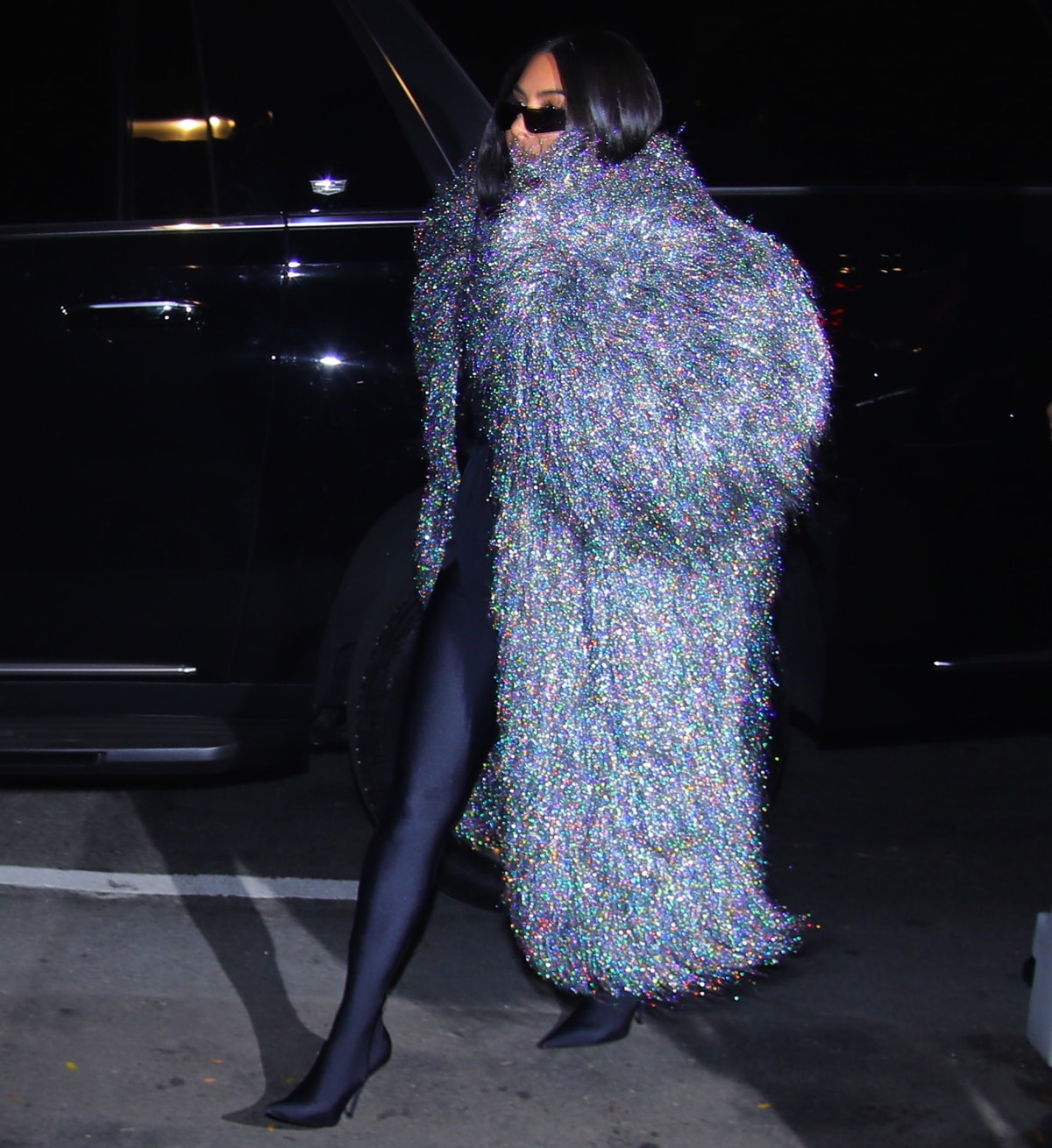 Kim Kardashian arrives at her 1st SNL host dinner in an amazing 70's inspired look in New York City on October 5, 2021 (Credit: MEGA / WENN)
According to Page Six, her ex-husband Kanye West is helping her prepare for the show. "Kim is nervous about hosting SNL, it's a big challenge but she is determined to be a success."
"Kanye is quietly advising her on her performance, her opening monologue, even her costumes for the show," the source added.
Kim Kardashian heads to Saturday Night Live rehearsals in New York City (Credit: MEGA / WENN)
"Kim is very excited to host SNL and plans to poke fun at herself and the family. She has a great sense of humor," a source told ET last month.
"Kim takes everything she does very seriously and has already started preparing for the big night," the source added. "Kim also has a lot of famous comedian friends she can lean on for help."
The 40-year-old reality star wore black Balenciaga Synthetic Cosmetic Pantashoes with Balenciaga Bb0041S sunglasses, a knotted crepe top, 3D print earrings in shiny silver brass with rhinestones, and long gloves while leaving her midtown hotel. She carried an enormous burgundy leather bag.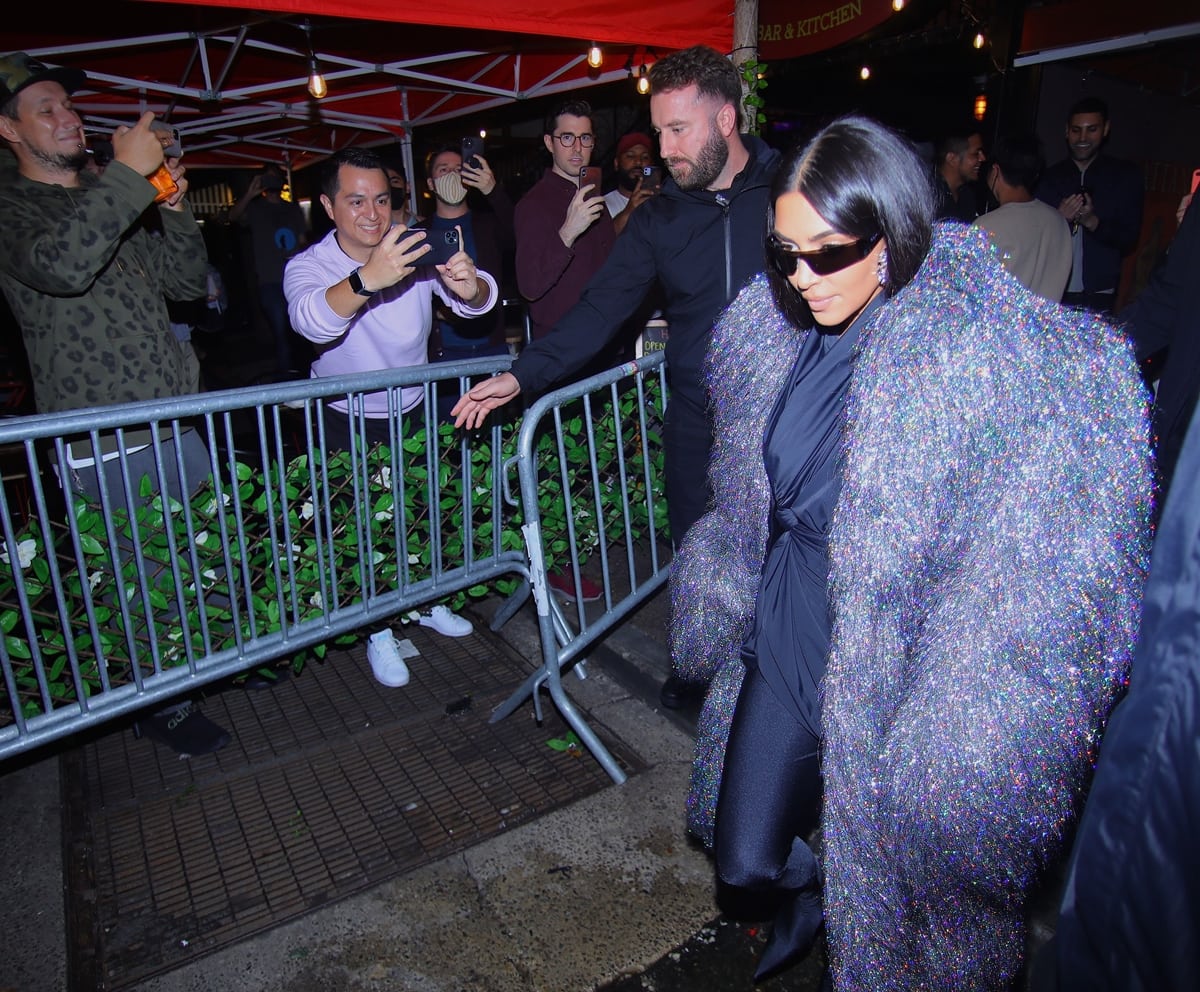 Kim Kardashian styled her lightweight crepe Balenciaga top with a coat from the label's Pre-Fall 2021 collection (Credit: MEGA / WENN)
Available at Matches Fashion, her black lightweight crepe Balenciaga top is gently ruched at the bodice with a knotted waist. It features a shawl neckline and mismatched sleeves that heighten the directional mood.
Heading to the dinner at Lattanzi Cucina Italiana on Tuesday night, she styled her black top with a fuzzy Balenciaga Pre-Fall 2021 coat
Kim Kardashian styled her Gucci SS11 dress with a gold obi belt (Credit: WENN)
In June 2011, Kim decided to display her feet in a pair of Gucci sandals for a perfume launch event in London.
Kim Kardashian wears a purple front knot dress by Gucci (Credit: WENN)
She paired Gucci's 'Kelis' suede & python ankle-strap platform sandals with a color-blocked ensemble from the same label's Spring/Summer 2011 collection.
Kim Kardashian rocks Gucci's metallic gold wide adjustable tassel python belt (Credit: WENN)
She was in the British capital to promote Gold by Kim Kardashian, a perfume that is "luxurious, rich, and has a full body, just like Kim Kardashian." It's available at Amazon.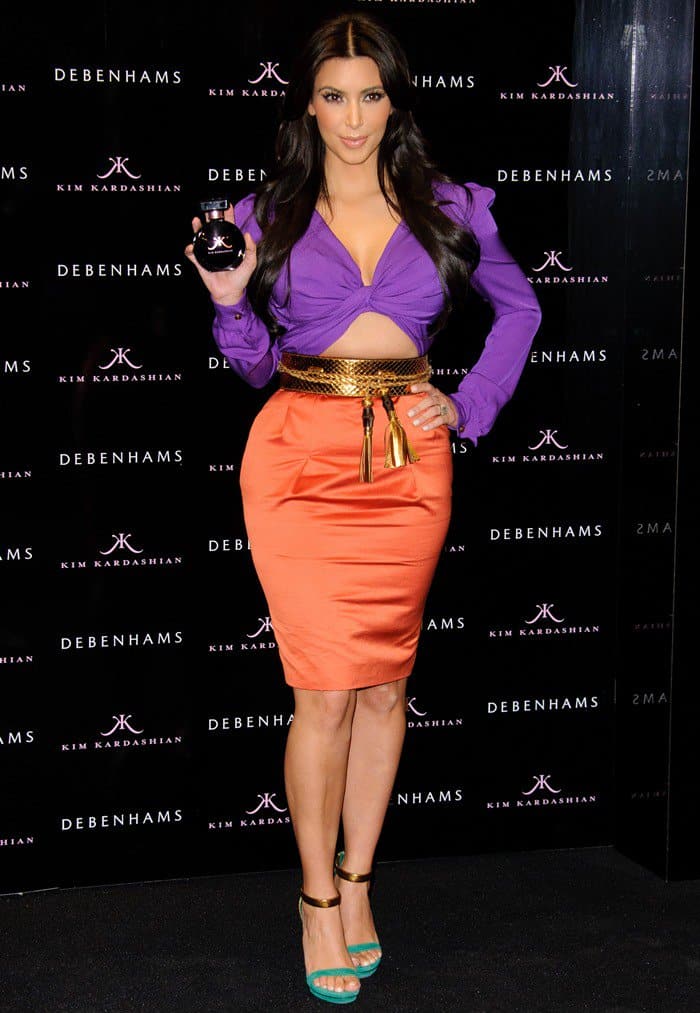 Kim Kardashian launches her self-titled new scent exclusively at Debenhams in London, England on June 8, 2011 (Credit: WENN)
She paired her Gucci front knot dress with a wide adjustable tassel python belt. Do you like her outfit?
Kim Kardashian shows off her feet in Gucci 'Kelis' suede and python ankle-strap platform sandals (Credit: WENN)