Oftentimes in Hollywood, onscreen talent and film directors can face conflict over what is demanded out of the performers during certain instances of the film's production.
Particularly with female performers, these conflicts can sometimes involve the willingness to appear nude in a film.
Sorority Row is a 2009 American slasher film starring Briana Evigan, Leah Pipes, Rumer Willis, Jamie Chung, Margo Harshman, and Audrina Patridge as a group of sorority sisters (Credit: Summit Entertainment)
In a famous interview with Emilia Clarke (of Game of Thrones fame), Clarke stated her regret for famously appearing nude in the first season of Game of Thrones, describing her nude experience onset as "terrifying".
Unfortunately, this is more common in Hollywood productions than we'd like to believe. When it comes to young Hollywood actresses, oftentimes they feel immense pressure to bend to the wills of Hollywood directors and producers, causing them to appear nude in instances that they may regret in the future.
This was the case during the production of 2009's Sorority Row, but more on that later.
The Humble Start of Actress Jamie Chung
Jamie Chung was born on April 10, 1983, in San Francisco, California, where she was raised. The daughter of Korean immigrants who immigrated to the U.S. in the 80s, Chung had aspirations to act but instead opted to pursue a B.A. in economics.
In November 2021, she wore Bottega Veneta's popular Dot feather-trimmed leather sandals to the premiere of Dexter: New Blood held at Alice Tully Hall, Lincoln Center.
Made in Italy from lamb leather with ostrich feathers, her turquoise sandals are available at Mytheresa. She carried a matching Poker Face bag from Apede Mod.
Jamie Chung in a lime-green Jonathan Simkhai pantsuit at the "Dexter: New Blood" Series World Premiere at Alice Tully Hall, Lincoln Center on November 1, 2021, in New York City (Credit: Lev Radin / Shutterstock)
She successfully graduated from the University of California, Riverside in 2005.
During her time in university, she was interestingly a member of the Kappa Kappa Gamma sorority, which undoubtedly influenced her performance in the horror film Sorority Row.
In 2004, Chung would begin her career in entertainment as a cast member of The Real World: San Diego, which was the 14th season of MTV's popular reality show The Real World.
Jamie Chung wears turquoise Bottega Veneta Dot feather-trimmed leather sandals (Credit: Lev Radin / Shutterstock)
Chung was successful during her involvement in the spin-off of The Real World (called The Challenge) as well, where she would walk away with winnings totaling $57,500 USD.
Her time involved in the reality TV scene would prove to be a launching pad for her acting career, and she would continue to land guest roles in television series' including Days of Our Lives, CSI: NY, and Veronica Mars.
She would also land a small role in the film I Now Pronounce You Chuck and Larry, and would appear in the music video for R&B superstar Rihanna's Umbrella.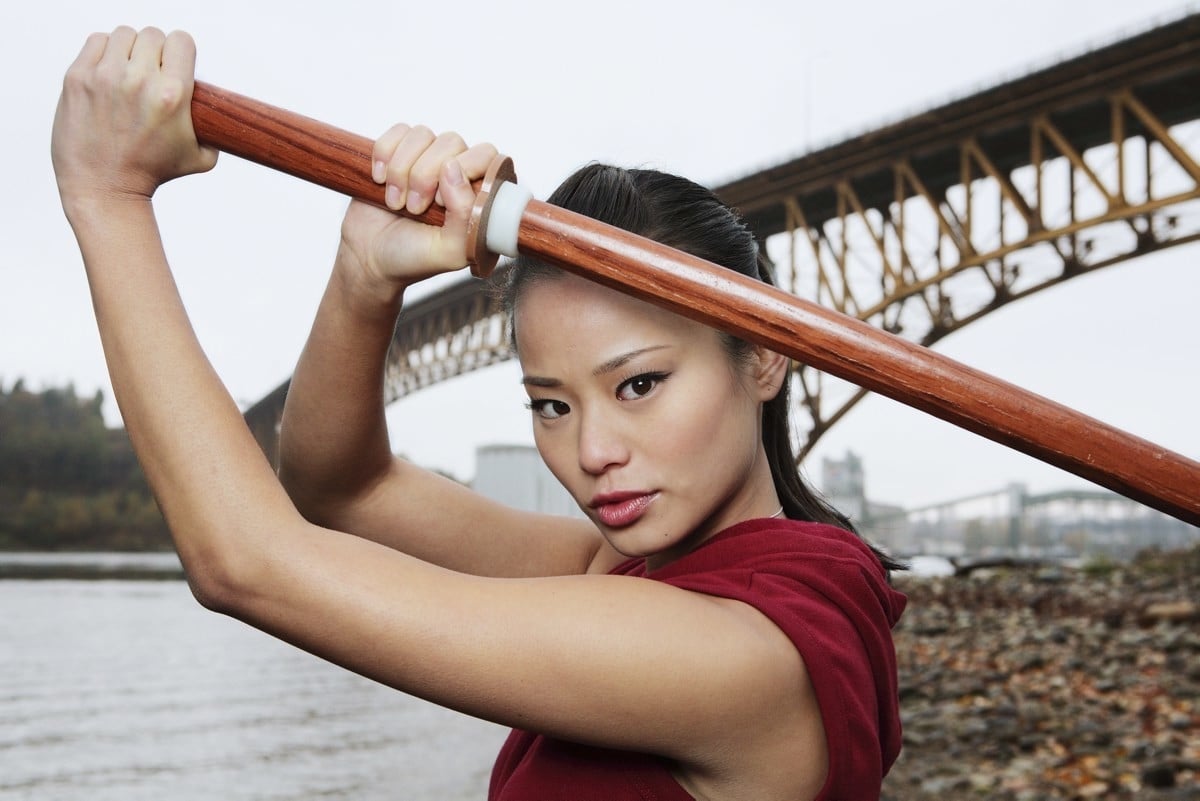 Jamie Chung as Heaven Kogo in the six-hour mini-series Samurai Girl (Credit: ABC Family)
She would score her first major onscreen role as Heaven Kogo in the six-part ABC miniseries Samurai Girl, based on the young-adult book series by Carrie Asai, in 2008.
By 2009, Chung would appear on the radar for the casting directors of Sorority Row, who would cast her as the role of Claire Wen alongside young actresses Briana Evigan, Leah Pipes, and Rumer Willis.
Chung would obviously dazzle talent scouts with her inclination towards intelligence, her acting talent, and her naturally stunning beauty.
The Story Behind Sorority Row
Conceived as a reimagining of the iconic 1982 slasher film The House on Sorority Row from director Mark Rosman, Sorority Row came off the heels of a resurgence of popularity for slasher films, following their original heyday in the 1970s-1980s, and the beginnings of their resurgence in mid to late 1990s.
Films such as the remake of The Texas Chainsaw Massacre (2003), See No Evil (2006), The Hills Have Eyes (2006), and the remake of Halloween (2007) proved that there was indeed a strong appetite for a new crop of Hollywood slasher films, especially films which remade and reimagined the original slasher films which typified the genre, like Halloween.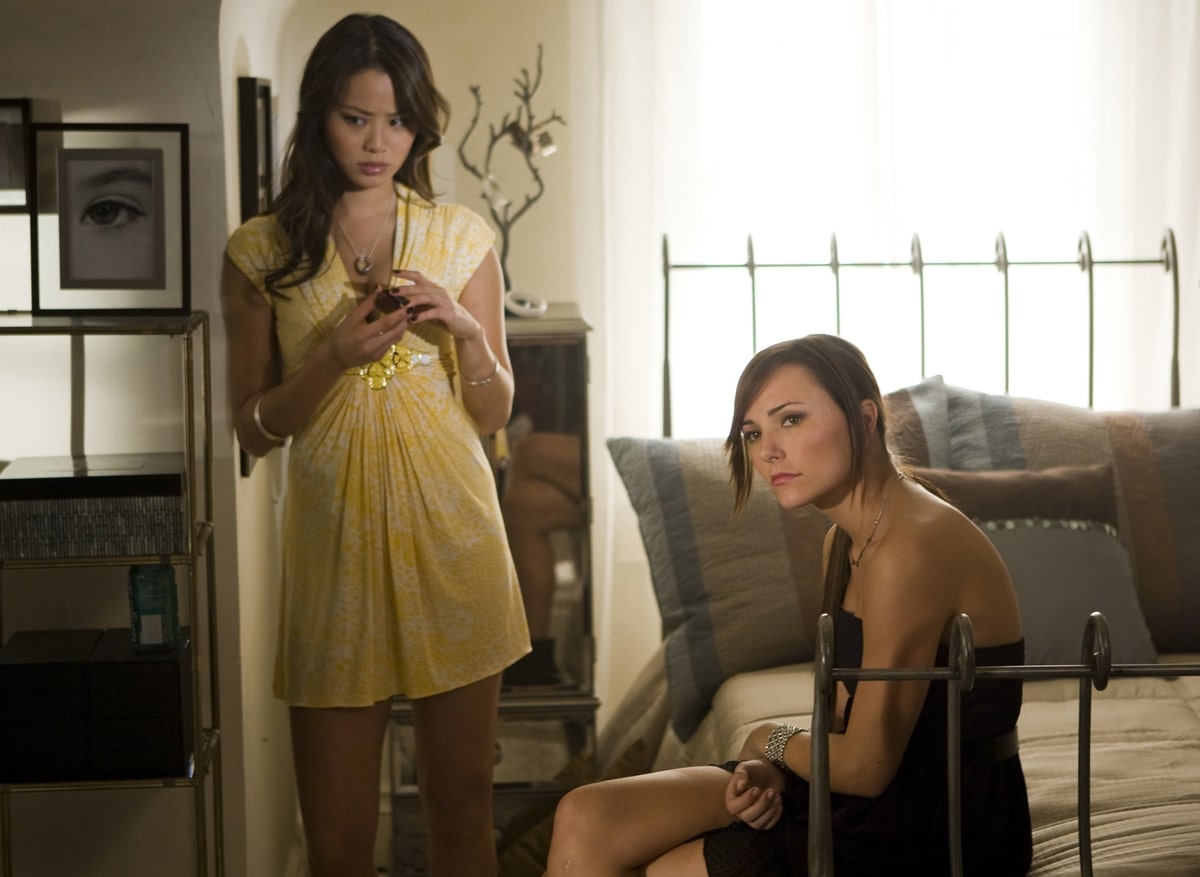 Briana Evigan as Cassidy Tappan and Jamie Chung as Claire Wen in Sorority Row (Credit: Summit Entertainment)
The hallmarks of the slasher film are simple, as each film usually has some sort of murderous character picking off a group of protagonists one by one until the final protagonist is forced to face the murderer and defeat them.
The production of Sorority Row began in October 2008, as the producers of the film desired to take advantage of local film crews and the Pennsylvania state tax credit. The shooting of the film took place in Pittsburgh, PA.
The film revolves around a group of Theta Pi sorority girls, Cassidy, Jessica, Ellie, and Claire (Jamie Chung). Following the tragic accidental death of their close Megan (which they caused), the girls swear to never speak of the accident again.
Jamie Chung in a Giorgio Armani dress and Brian Atwood heels at the premiere of Sorority Row held at the Arclight Cinemas in Hollywood on September 3, 2009 (Credit: Tinseltown / Shutterstock)
Upon their graduation, the secrets of that night begin to remerge, and a murderer begins killing the group of girls one by one, seemingly in an act of revenge for Megan's death.
Eventually, the girls discover that the murderer is Cassidy's boyfriend, Andy. Andy wanted a bright future for his girlfriend and feared that the murder would eventually come to light. To protect her reputation, he decided to murder everyone involved in Megan's untimely death.
Jamie Chung's Nudity Conflict
During the production of the film, actress Jamie Chung refused to appear nude, much to the film director and producers' dismay.
In a 2012 interview, Chung revealed her stance towards nudity in acting, stating: "There's always room for negotiation, but if it doesn't really help with my character and it's not really necessary, no, I'll pass."
Jamie Chung refused to appear nude in Sorority Row (Credit: Summit Entertainment)
She would eventually appear in a fully nude sex scene eleven years later, during the production of the horror TV series Lovecraft Country in 2020.
Regardless, the film still featured plenty of nudity, as mentioned by film critic Perri Nemiroff described the film as a "Typical slasher film filled packed with boobs, boys, booze and blood."
The Reception and Success of Sorority Row
Sorority Row was eventually released on September 11, 2009, to lukewarm critical reception. Many critics felt as though the film did nothing to add to the already established lexicon of popular slasher films.
Regardless of the critical reception, the film did manage to make a modest gross of $27.2 million USD at the box office, compared to its budget of $12 million USD. Many critics did remark on the film's attempt to add a touch of comedy to the generic slasher film structure.
Jamie Chung was 26 years old when attending the premiere of Sorority Row in September 2009 (Credit: Tinseltown / Shutterstock)
Nevertheless, the film does provide some interest as a typical slasher film of the 2000s, alongside the films previously mentioned.
Actresses Audrina Patridge (Megan) and Rumer Willis were both nominated for a Teen Choice Award for their performances in the film, which is a testament to the more positive popular reception of the film.
Leave it to Jamie Chung to arrive at Coachella with the ultimate accessory: A copper chopper.
Jamie Chung tops her hair with a hat on day one of Coachella held on April 15, 2016, in Los Angeles (Credit: Michael Wright / WENNCHELLA / WENN)
That's right — in April 2016 Jamie arrived at the Los Angeles music festival in a copper-plated helicopter care of luxury vodka brand Absolut Elyx.
Aside from the helicopter, Jamie also accessorized with nipple-covering floral pasties.
The then 33-year-old actress wore a flower pasty bra from lingerie line Tezenis underneath a plunging ribbed knit dress.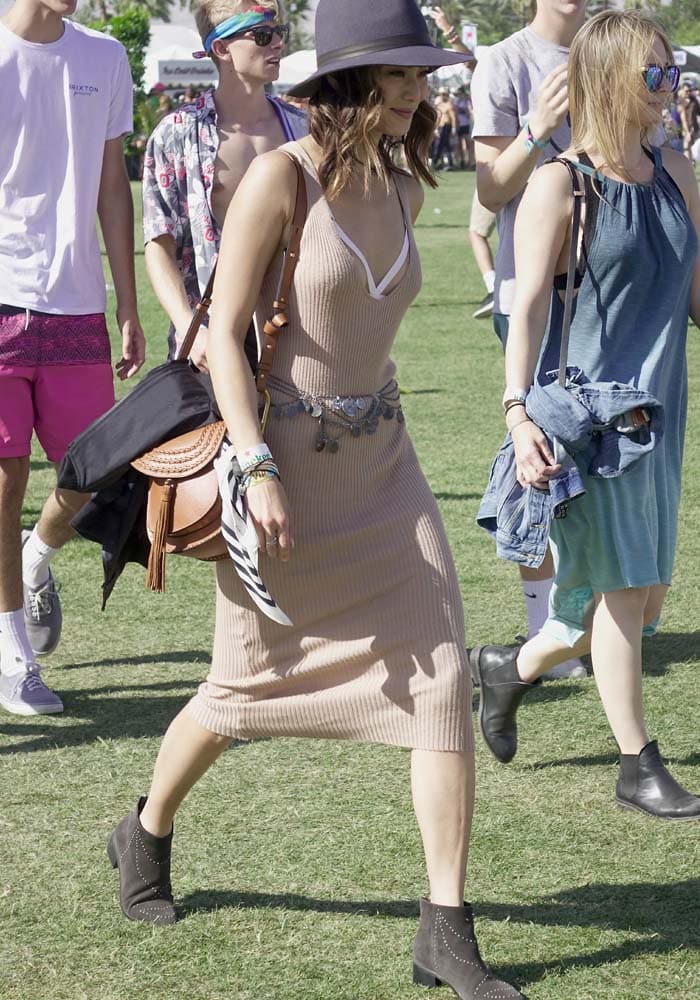 Jamie Chung covers her Tezenis nipple pasties with a ribbed knit dress at Coachella (Credit: Michael Wright / WENNCHELLA / WENN)
She piled on the accessories in true Jamie Chung style, which included jewelry from Pandora.
Jamie polished her look with a navy blue hat, a Chloé shoulder bag, and a pair of Grey City "Wendy" suede boots.
Jamie Chung wears studded Grey City boots to Coachella (Credit: Michael Wright / WENNCHELLA / WENN)
Jamie seemed to enjoy her grand entrance to Coachella, which she conducted with a friend. She documented her experience on her Snapchat, showing moments in the chopper and right after getting off.
"Copper chopper, get down! Lol Coachella ella here we come! Thank you @absolutelyx #raiseitforward #copperchopper BEST WAY to beat the traffic. Check out the journey on my snap," she shared on Instagram.
Jamie Chung arrived at Coachella in a helicopter arranged by Absolut Elyx Vodka (Credit: Jamie Chung's Instagram)
You can order Jamie's studded suede "Wendy" boots by Grey City on Amazon.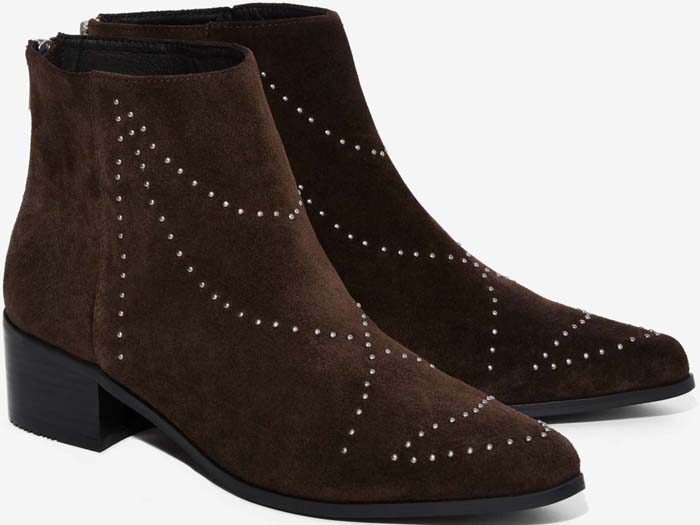 Grey City "Wendy" Studded Suede Ankle Boots, $210